Bambi Trees and Biking in Bariloche
We got a bus from El Chalten to El Calafate at 6:30am in readiness to get our flight to Bariloche.
Our flight wasn't until 6pm so we had 6 hours to kill, we walked around El Calafate's main streets admiring the local crafts and souvenirs before finding a nice little cafe with good wifi where we plonked ourselves for 4 hours. Alex did some emails and vlog editing whilst I wrote up blogs and played on Disney games 😇.
Finally it was time to head to the airport, earlier in the day Alex had tried bargaining hard with the local taxis and remises (a type of private taxi) to try and get a good deal for the airport transfer but with no real luck, we eventfully found a local shuttle company's number and Alex managed to use a pay phone to order one for a set time. We waited and waited for the shuttle to come (well, a whole 15 minutes) and then luck seemed to be on our side… The remise that had taken us and the American's we met in Puerto Madryn pulled up by the bus station, Alex managed to put on his friendliest face and get a set cost to the airport which worked out a better deal than the shuttle, happy days!
Finally at El Calafate airport we sat in the cafe and paid a fairly respectable price for a sandwich and drink, the airport was quaint but just the right size, although security was amazingly simple; 2 people with a single bag scanner and some friendly faces.
The flight was only one hour but cabin crew still came around twice, first with drinks and then with a small snack packet. We're beginning to hate these packages — they're such a waste of plastic and cardboard in comparison to the contents. The South American buses are the worst for this, on particularly long journeys you get breakfast, lunch and dinner all which come wrapped in polystyrene, cellophane and more wrapping, including yet more polystyrene cups than I thought they could fit on a bus!
Anyway, the flight was very smooth with beautiful views over Patagonia and glistening snow topped mountains.
After arriving in the airport Alex went to book a taxi and whilst he did a girl asked if she could share the taxi with us which was great for us, 33% cheaper taxi journey! We stayed at the "Hostel 41 Below" which was really lovely, it had a Swiss lodge feel about it and had some great views over the lakes and mountains.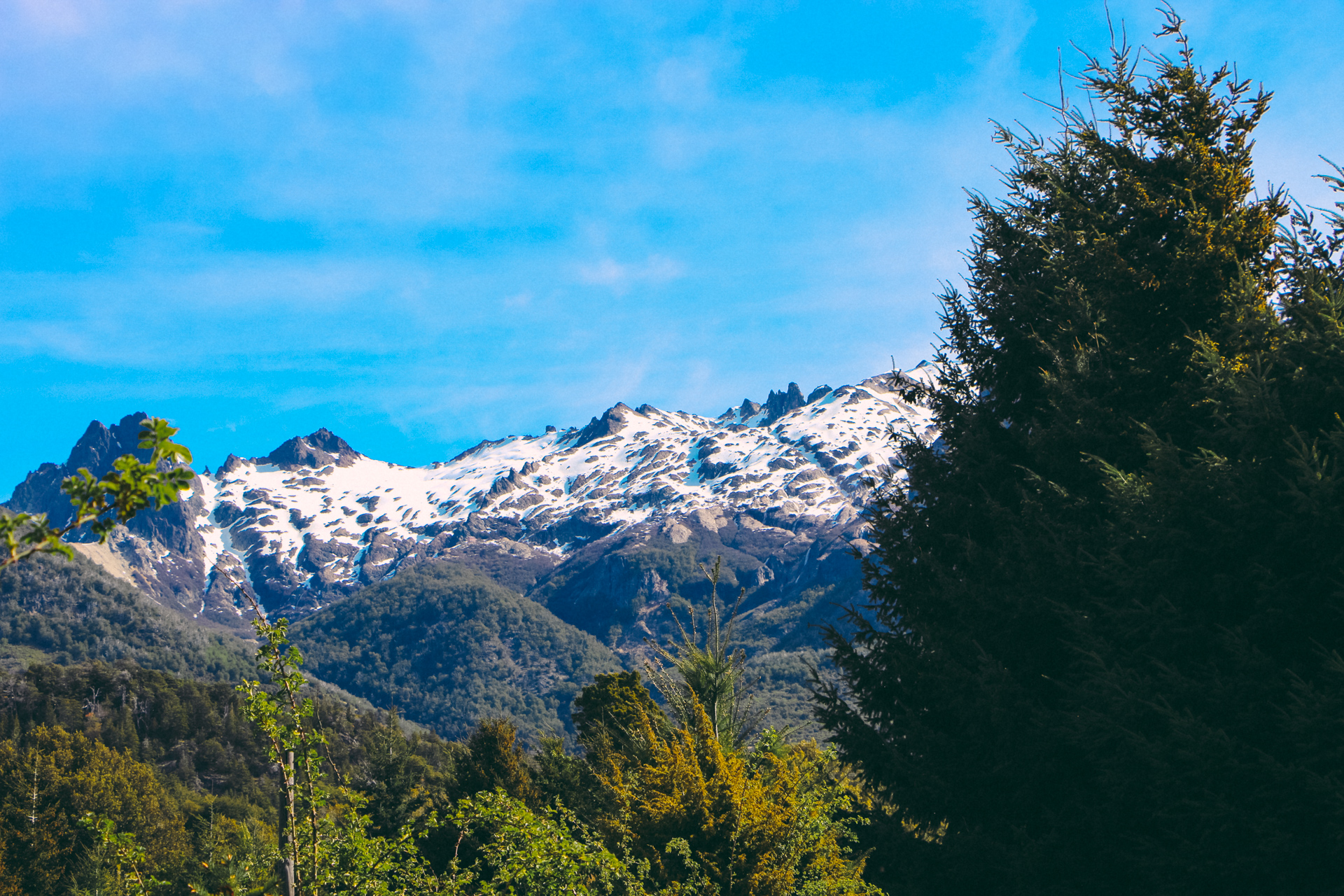 On our first and only full day in Bariloche we had hoped to go to Isla Victoria to see the trees (named arrayan trees) that apparently inspired the multicoloured tress in the Disney film, bambi. As we ate our lovely spread of breakfast, a combination of homemade coconut and raspberry jam, fresh bread and coconut milk our hostel manager came and gave us the bad news that the tour was fully booked, we took it on the chin and went with our second option: a 25km bicycle ride around the northern part of Bariloche, through forests, past lagoons and up many steep inclines! We set off around 10am and managed to work out the bus card system and caught it to the bike rental location.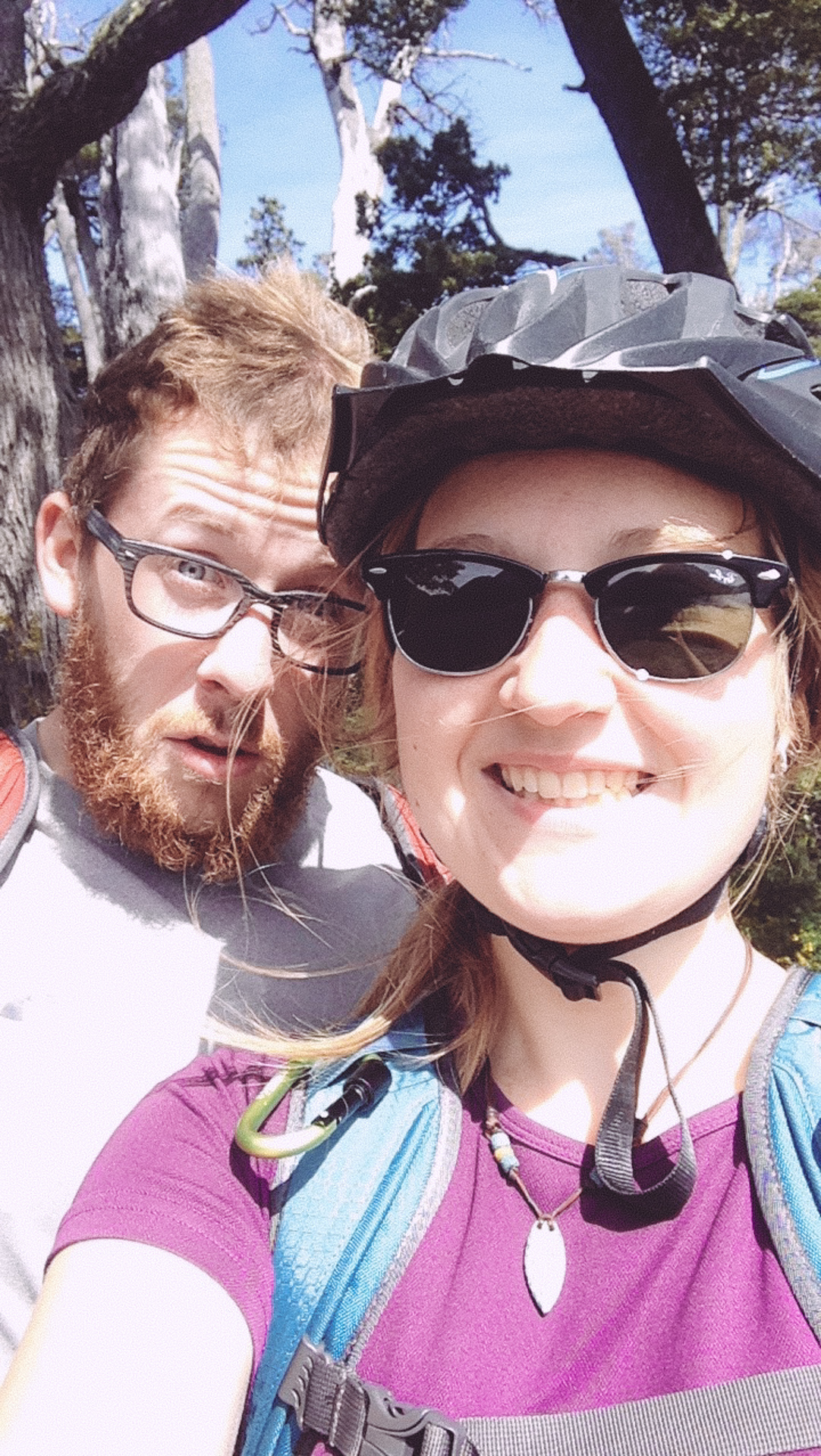 The bikes were pretty good quality, a nice mix of mountain and road bike with a front suspension that had a locking mechanism for making the road sections a lot more efficient, and then the bumpy bits smooth! Best of all the seat was actually padded in comparison to our horrendous bikes we had rented in Puerto Madryn! We set off at a respectable speed admiring the glistening lagoons and Swiss feeling forests. We stocked up on snacks along the way which consisted of bananas, crisps and industrial size bag of misshaped biscuits for £1.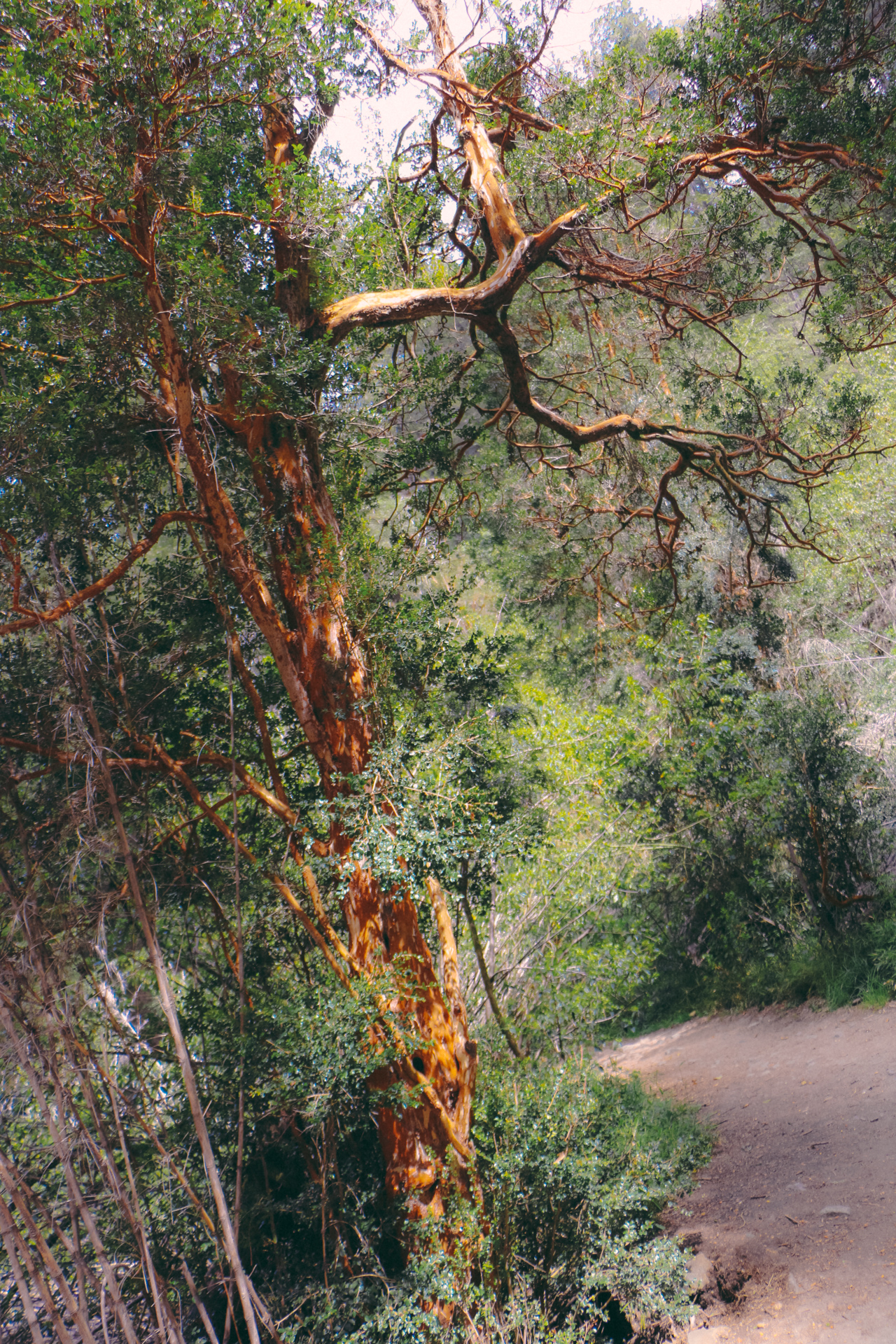 Our first stop we had been suggested was a 15 minute walk through a forest, it was here we ate snacks and suddenly became very happy we had chosen the bike ride over the island tour. Why? Because we saw the Bambi trees anyway, which was our only reason we had wanted to go the island. The island tour would also have cost over £80 each, so we had the best of both worlds. The trees also weren't really that remarkable, they certainly had a colourful combination of yellows, browns and whites twisted together but it's still only a theory that Walt Disney actually got the inspiration from Bariloche.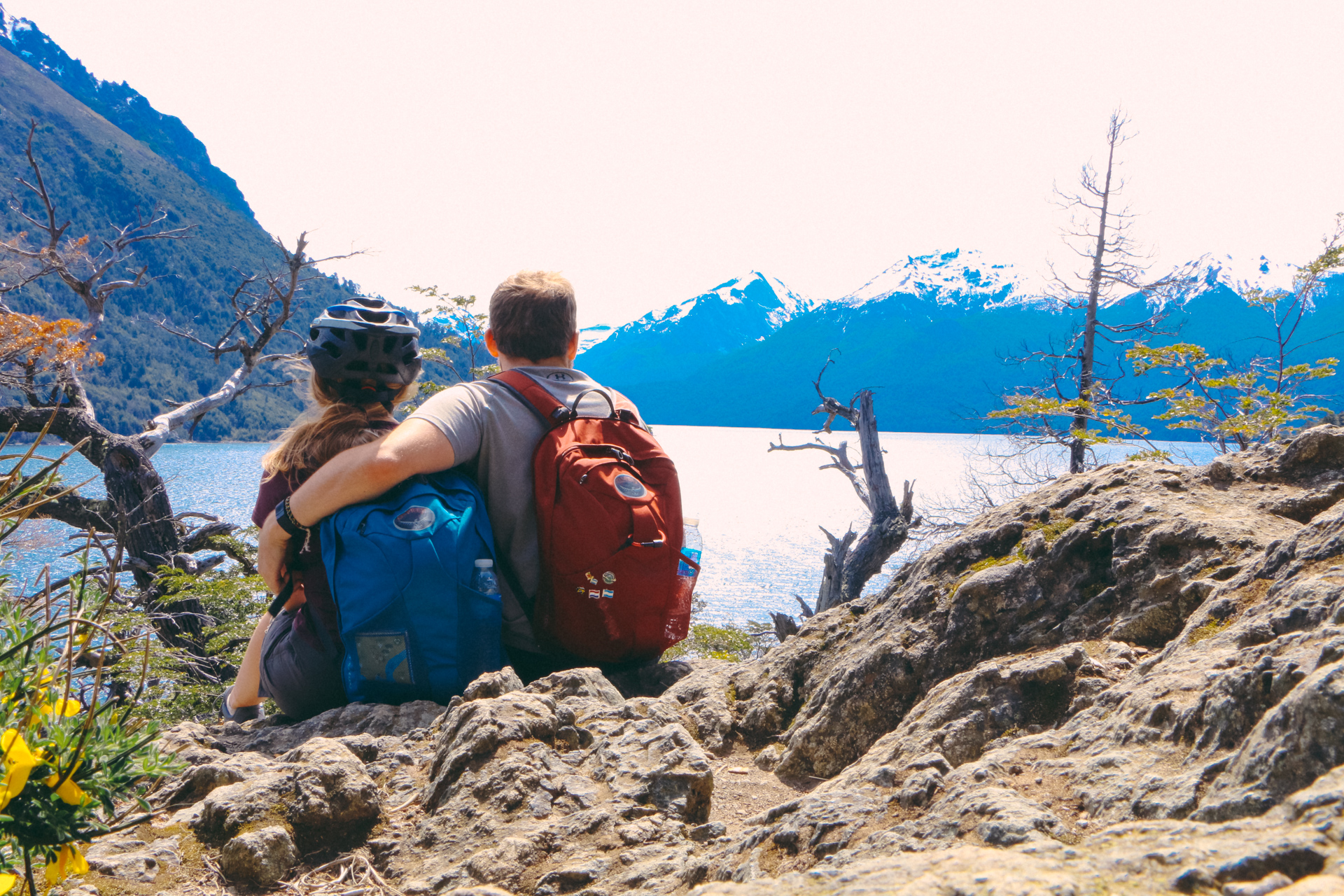 From here we continued cycling up many steep hills, Alex managed them all but I walked a few to save my poor knees! The views we had were incredible, I've never been to Switzerland but I imagine it would look very much the same.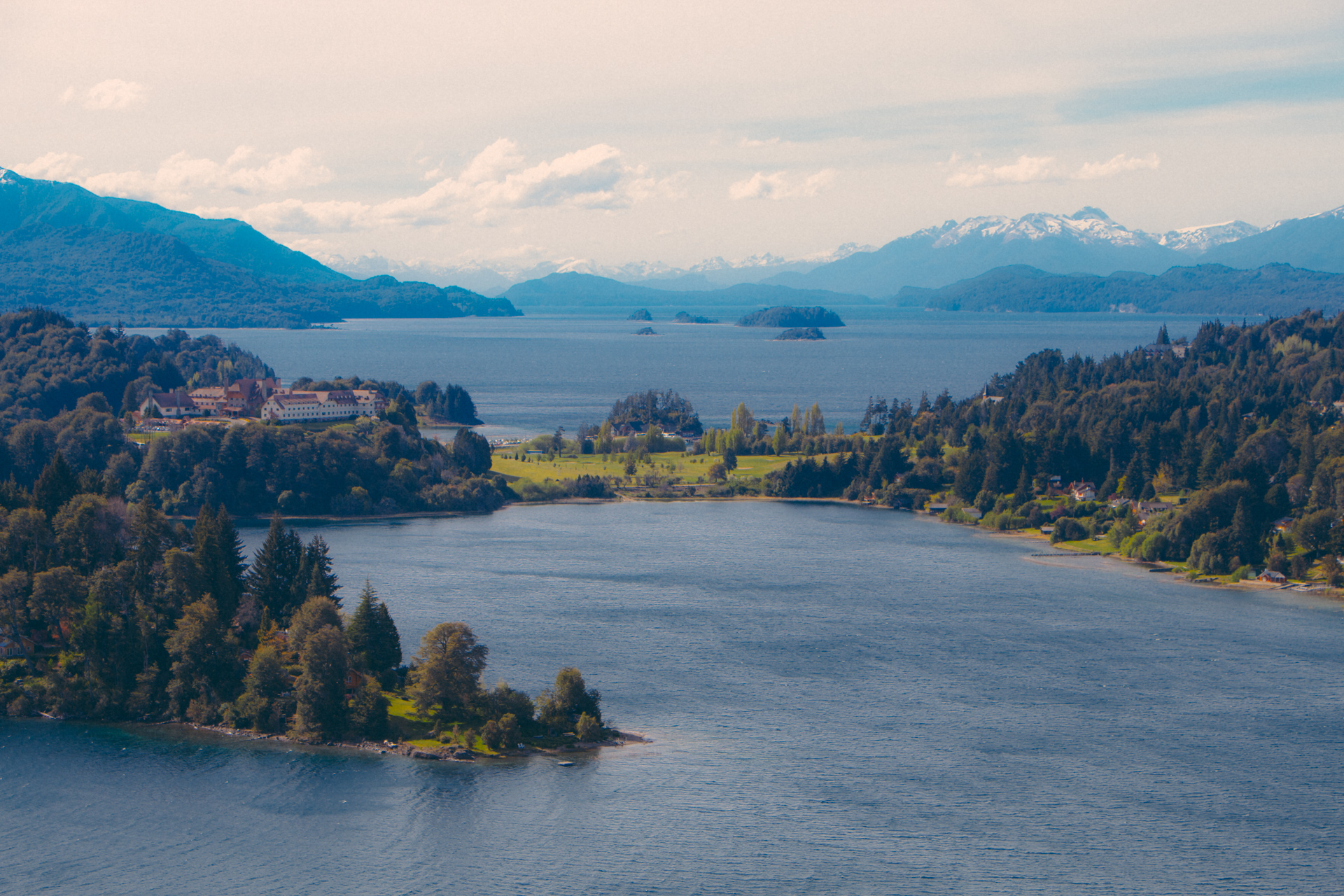 The viewing point on the southern side of the lagoon gave us a panoramic splendour of all the surrounding mountains and lakes and lagoons below, it was a truly refreshing sight and a beautiful place to have a 15 minute sit down. After finishing the 25km ride and arriving back at the bike rental location we were feeling quite happy with ourselves in the time we completed it in and had a celebratory high five!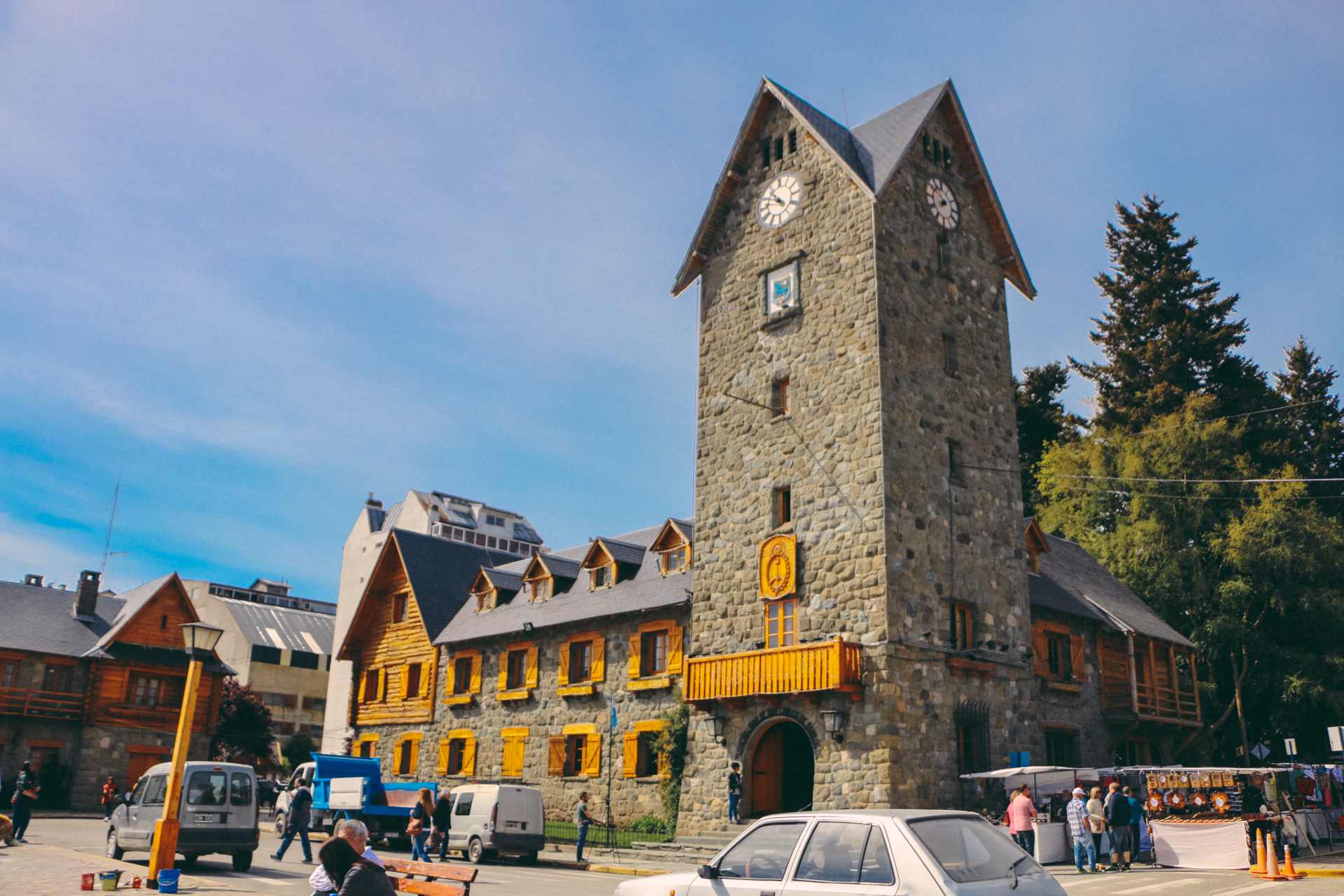 We caught the bus back to the centre of Bariloche and browsed the shops, most of which had a Swiss feel to them, they were mostly sports/outdoor clothing or chocolate shops! We visited Rapa Nui, a famous chocolatier with a cafe to match its renowned name.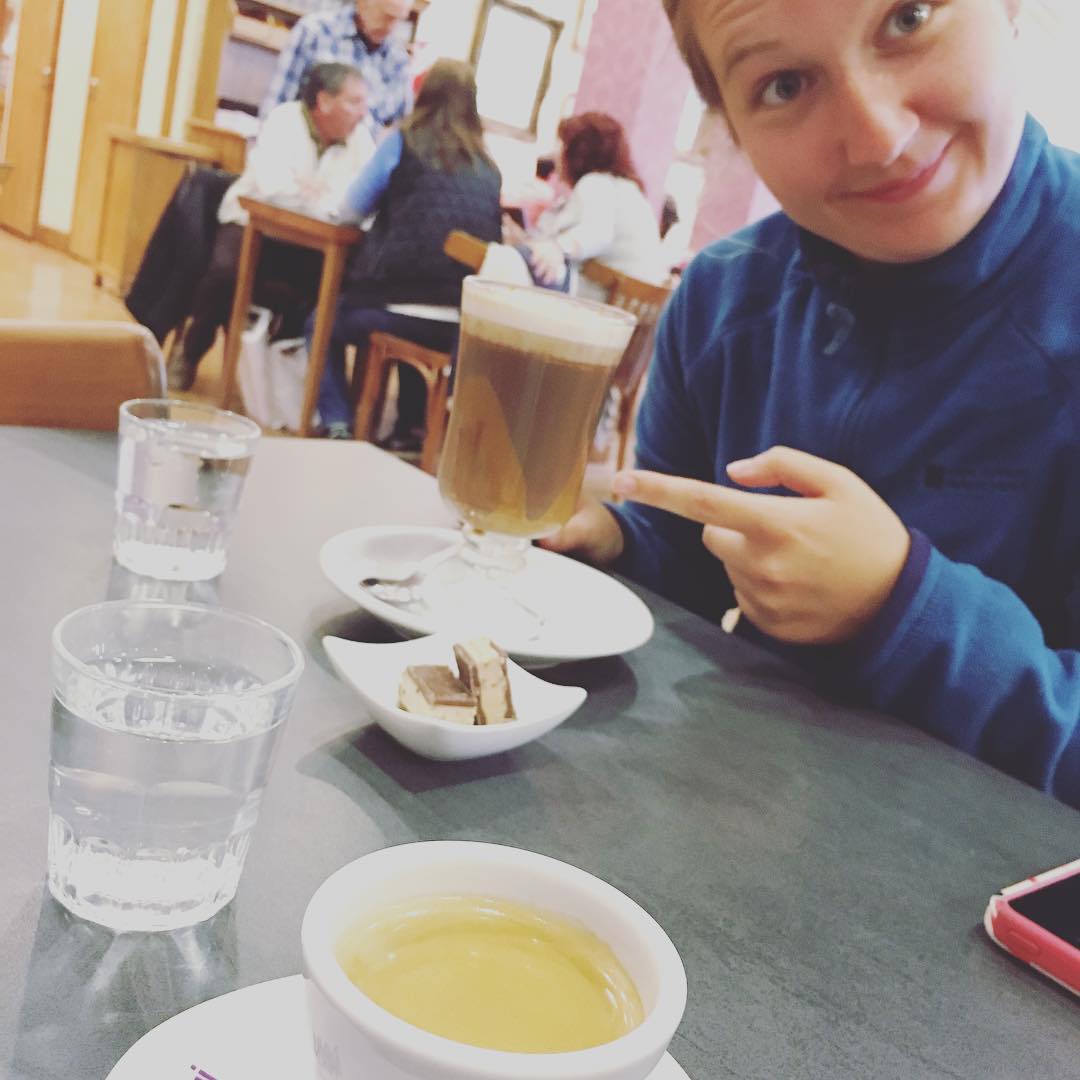 In the cafe I had a combination of hot chocolate infused with Dulce de leche and proper it really was proper chocolate… although it wasn't actually that great, I should have just opted for the normal hot chocolate, the dulche de leche was overpowering! Alex just had a expresso which he said was pretty good quality. I hadn't had proper chocolate in ages so went to the pick your own counter and chose a load of different ones, from nougat infused to coconut and cereal, Alex was not so fussed and got the shops own version of a fat white chocolate flake. With a bag full of chocolate we headed back to our hostel and took part in the communal dinner for respectable 80 pesos each. It was then that it twigged… We realised this hostel was vegan, all of the breakfasts had been vegan and our dinner was chickpea pancakes with salad and fresh bread, we did not mind however, all of the food had been delicious, something we've definitely found on our travels so far that the vegetarian/vegan options are often much better quality and tastier! We sat and chatted for a while before heading to bed, the next morning we had a 12pm bus journey to Mendoza and luckily found a girl in our hostel was getting the same bus, so once again we managed to share and taxi and save some money!
At the bus station we met a really funny Irish couple and all shared our sympathies for how bad the next 18 hours would be on this dilapidated bus! The journey wasn't too bad considering the state of the bus and that's the end of our stories from Bariloche.
---