Batman, Amy and the Taxi Ride
After a long six hours from Paraty to Sao Paulo we were knackered (well I was knackered). I caught my first travel bug thanks to a snotty traveller back in our Paraty hostel… yeah thanks for that. So we decided that we should get a taxi from the bus station to the hostel. After our last taxi ride in Paraty from the bus station to the Paraty hostel – which was a complete rip off – we were determined to ask for the meter to be turned on however the Portuguese man told us it would be R$45 and no matter how many times Alex repeated the word meter or metorio or metor, he just ignored us. So we just dealt with it and were on our way to the hostel.
First impressions of Sao Paulo was that it is just huge, bigger than huge, it is a giant. I suppose with a population of approx 16 million people it would have to be rather a large place. After about a 20 mins bus journey into the belly of the beast we arrived at the hostel, which was by far the loveliest place we stayed in so far. I loved the decor. Well done Elizabet! (Hostel Grape Wine, Sao Paulo).
Our first day in Sao Paulo we decided to head to Centro the main district of the city. Alex thought it would be a great way to see the city if we walked which I agreed to in my deranged mind due to the sickness and he wanted to try out a new app called maps.me which you can use without data. Handy if it would stop crashing…
After walking up some ridiculously big hills, an hour and a half later we found ourselves in what seemed like a very 90's street with knock off tat and blokes selling stolen iPhones. A lovely place where the air was full with the smell of poop and where you had to step over homeless people. To be honest I was shitting myself at this point and I think Alex was too since the phone and camera was hidden from view and our pace quickened ten times. Once we found a quiet street corner and the coast was clear Alex got his phone out to check where we were and we had gone too far south.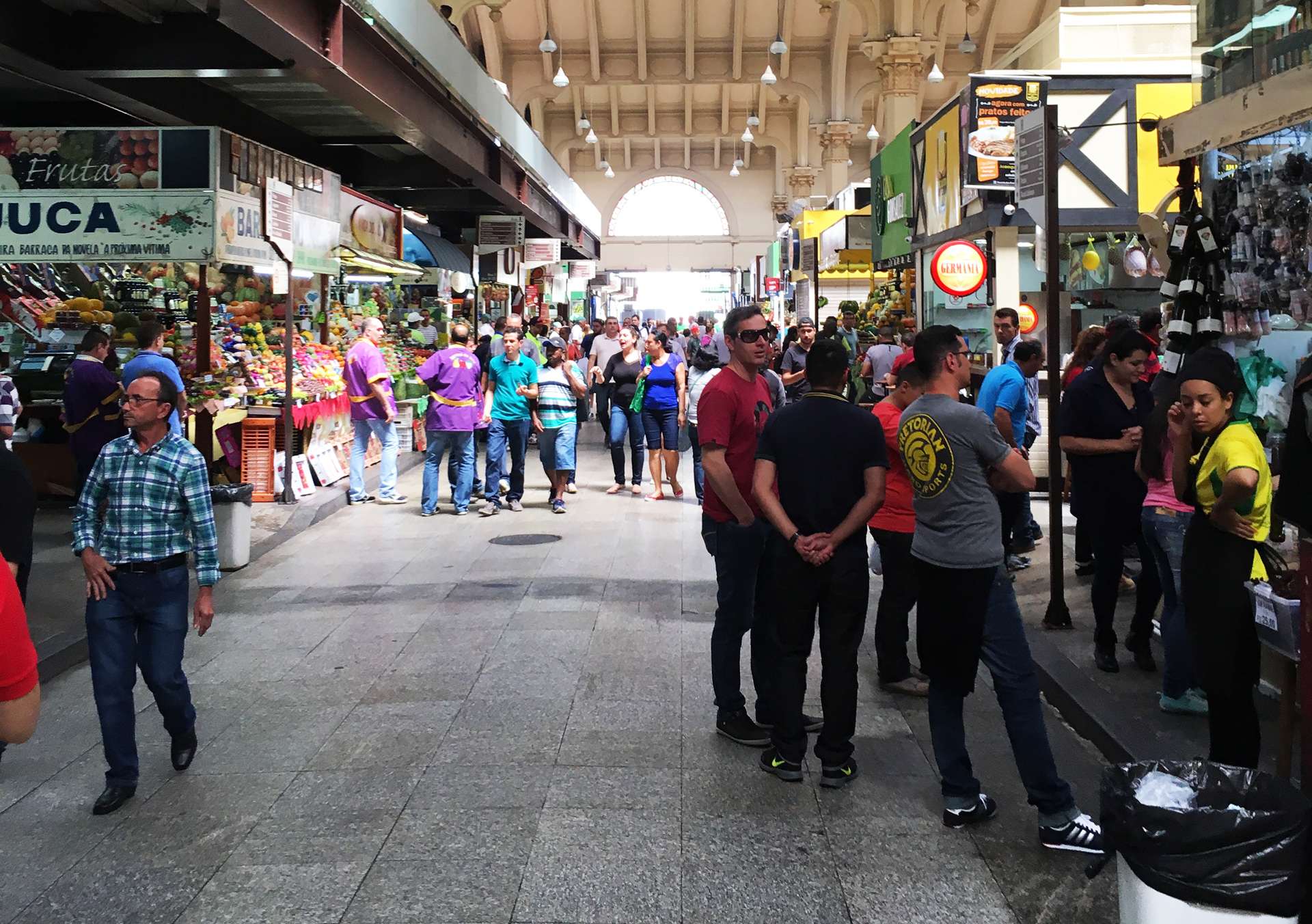 Eventually we found the Mercado Municipal the coolest market place ever with fruits I have never heard of or even seen before. It made Cardiff market look minuscule. We were a little pestered there and the locals were shouting at us in Portuguese (no idea) so we crossed the bridge to the Culturural museum. The displays in here were awesome and I guessed a lot of things as all of the notices were in Portuguese, but we mostly worked them all out – it was a very hands on museum with lots of experiments and things to play with!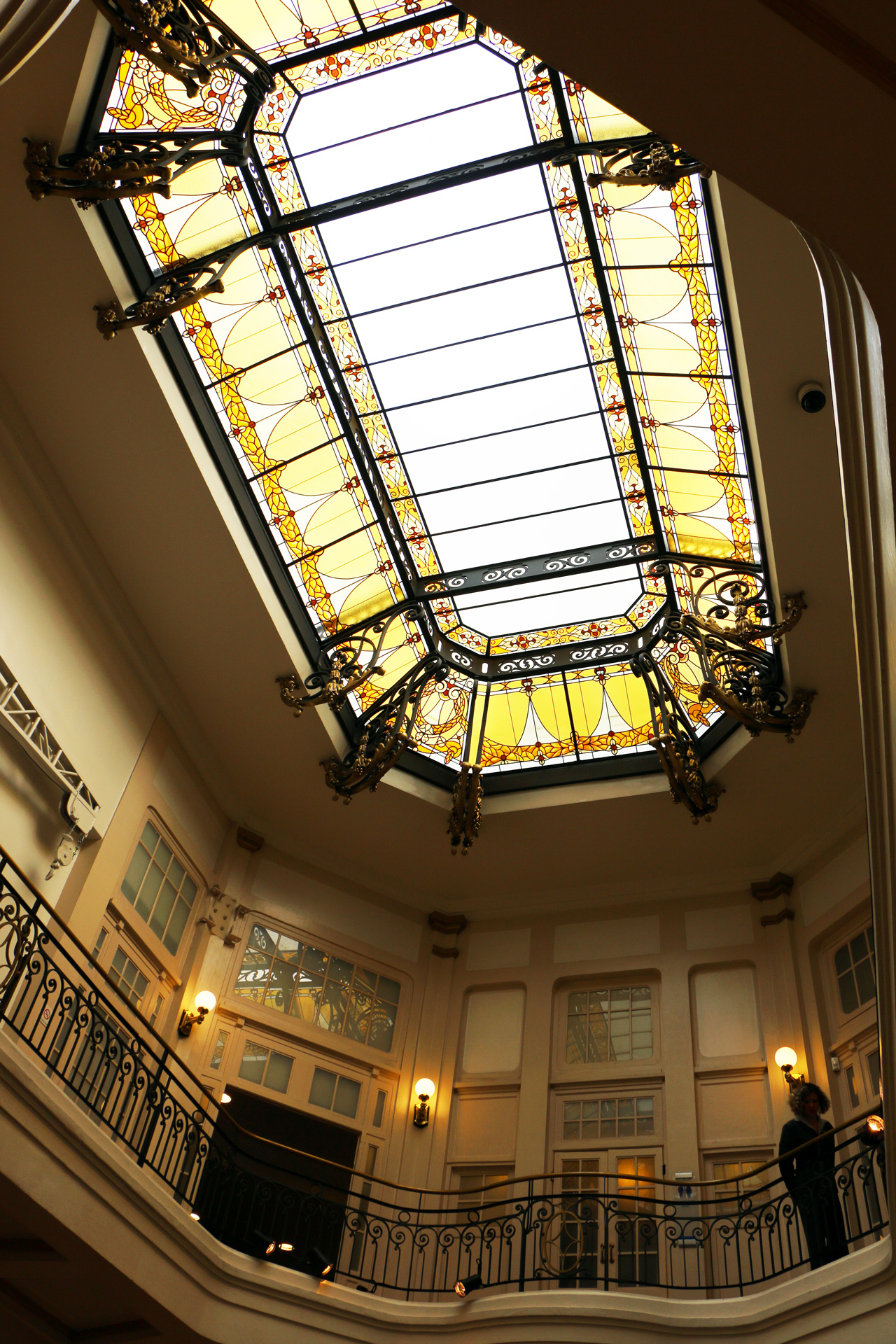 We then proceeded to walk through a park again littered with homeless people it was really sad to witness, made me extremely grateful of how lucky I am. Eventually arriving at an art gallery which was once a bank. This was called the Centro Cultural Banco do Brasil. A quirky building that was 100% Gringotts just without the goblins.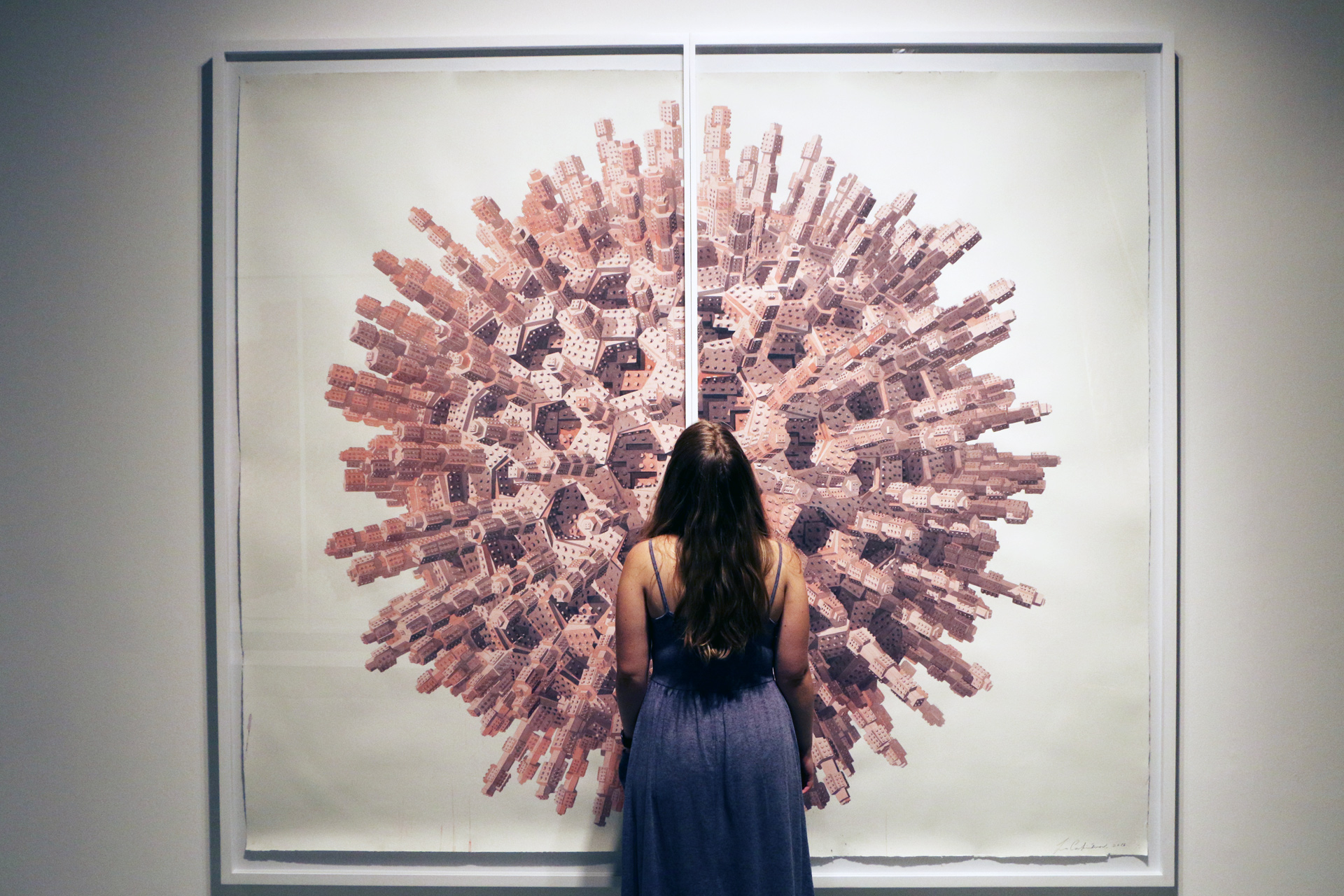 Some really cool art there. Once we were done here I was in desperate need of tissues and Vaseline as my nose was leaking and red raw. Alex was funny trying to ask for Vaseline to a lady who had no clue what he was talking about. Eventually fully supplied with tissues and a pot of what we think is Vaseline we decided to head back to the hostel because I was not feeling too good :(.
Our second day in Sao Paulo I felt a bit better just a bit achey. We saw Beco do Batman (Batman Alley) which was an alley full of graffiti. Pretty cool stuff – very talented people. From here we waved down a taxi and wanted to go to the Museum of Arts Sao Paulo. This taxi ride was my favourite taxi ride of all time: it consisted of the taxi man who we think was called Paulo shouting and Alex to which Alex was repeating and shouting back and ending everything with si!! Considering we had no clue what he was saying/shouting at us we think he was a drummer and when Amy Winehouse then came on the radio he sang along in a much higher pitch than the original and them made an impression of doing cocaine and then pretended to die which was rather amusing. He must have thought that we didn't know that she was dead.
The Art Museum was interesting and I am happy to say that I have seen my first real life Vincent Van Goch paintings and a real life Monet. From here we yet again walked (50 mins, Sao Paulo is huge) to the Japanese District. We sat in a Park we found where everyone there was playing PokemonGo.
Then we proceeded to the centre of Liberdade via an Uber which had fake lantern street lights and a huge Japanese arch way. This place made us excited for Japan and we ended the night filling our faces with Sushi. Delicious!
This morning we had our 10th cheese and ham consecutive breakfast before heading on another six hour bus journey to Curitiba. It's a lot cooler here but seems more chilled compared to Rio and Sao Paulo. We've just had a pizza and now chilling in bed before having a full day here tomorrow. Not looking forward to breakfast which I know already that's it's ham and cheese already checked the hostels fridge!
---