Campervan Route up the east coast of Australia
I had a huge misconception about Australia – we arrived under the pretence that it would not be a more expensive and hotter Britain. We couldn't have been so wrong, Australia is really lovely, I would love to do a working year there. We only had three weeks so we hired a camper van and decided to do the East Coast from Sydney all the way up to Cairns.
Sydney
We arrived in Sydney eagerly waiting to pick up the van from JUCY – the first night after landing in the airport we stayed in a hotel called "Racecourse Space", basically student halls that had been turned into hotels for the summer! Once we picked up our campervan the next morning, after a rather nervous first drive to get groceries, we set off to find a place to stay for the night. We arrived at the first campsite and it was full, not a great start, little did we know that we had landed on the weekend of Australia Day! We therefore had to drive 10miles out of the city for a place to stay in Narrabeen.
It was really pretty even if it was 60min drive back to the city and we got to watch Zootopia on a big projector in the park!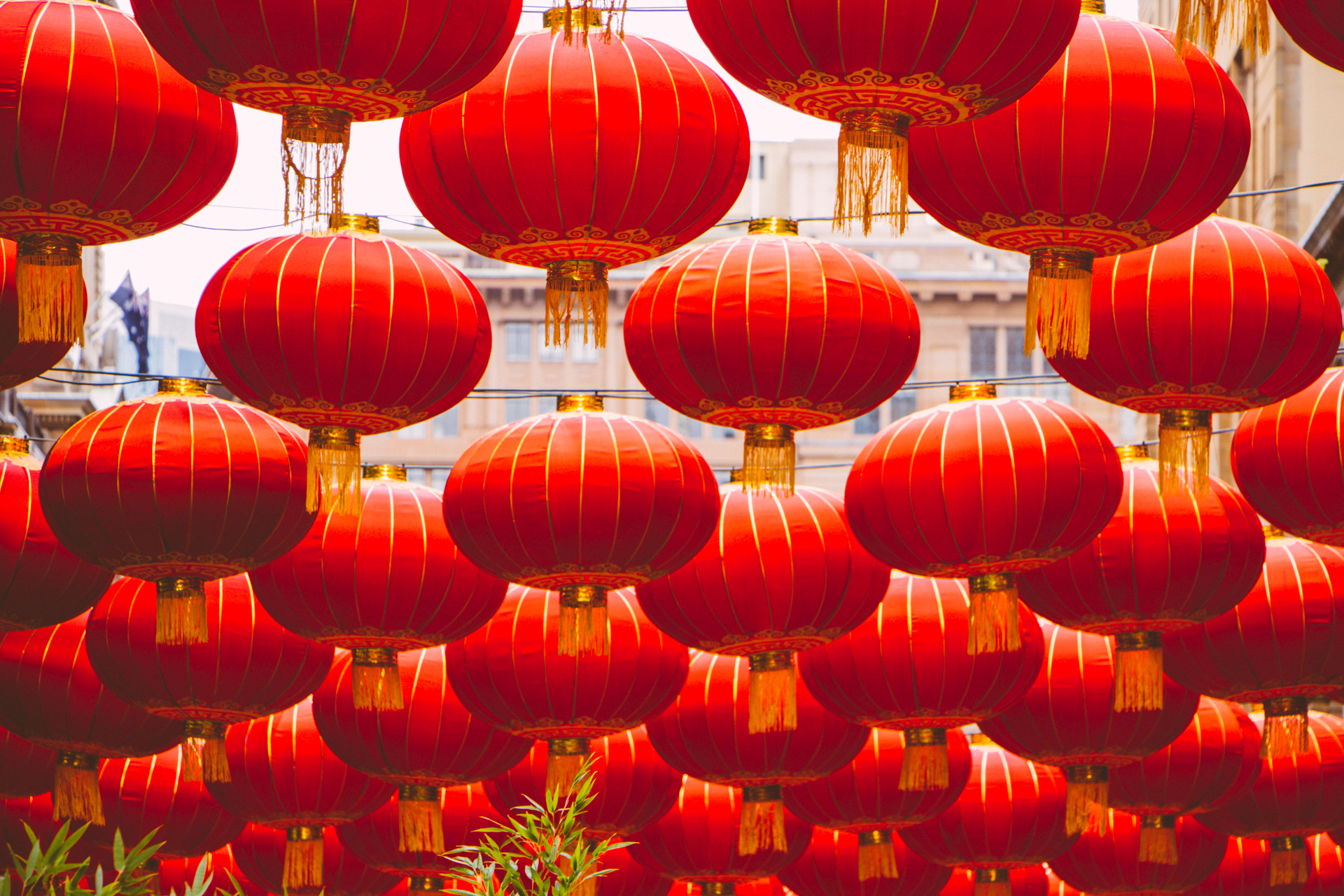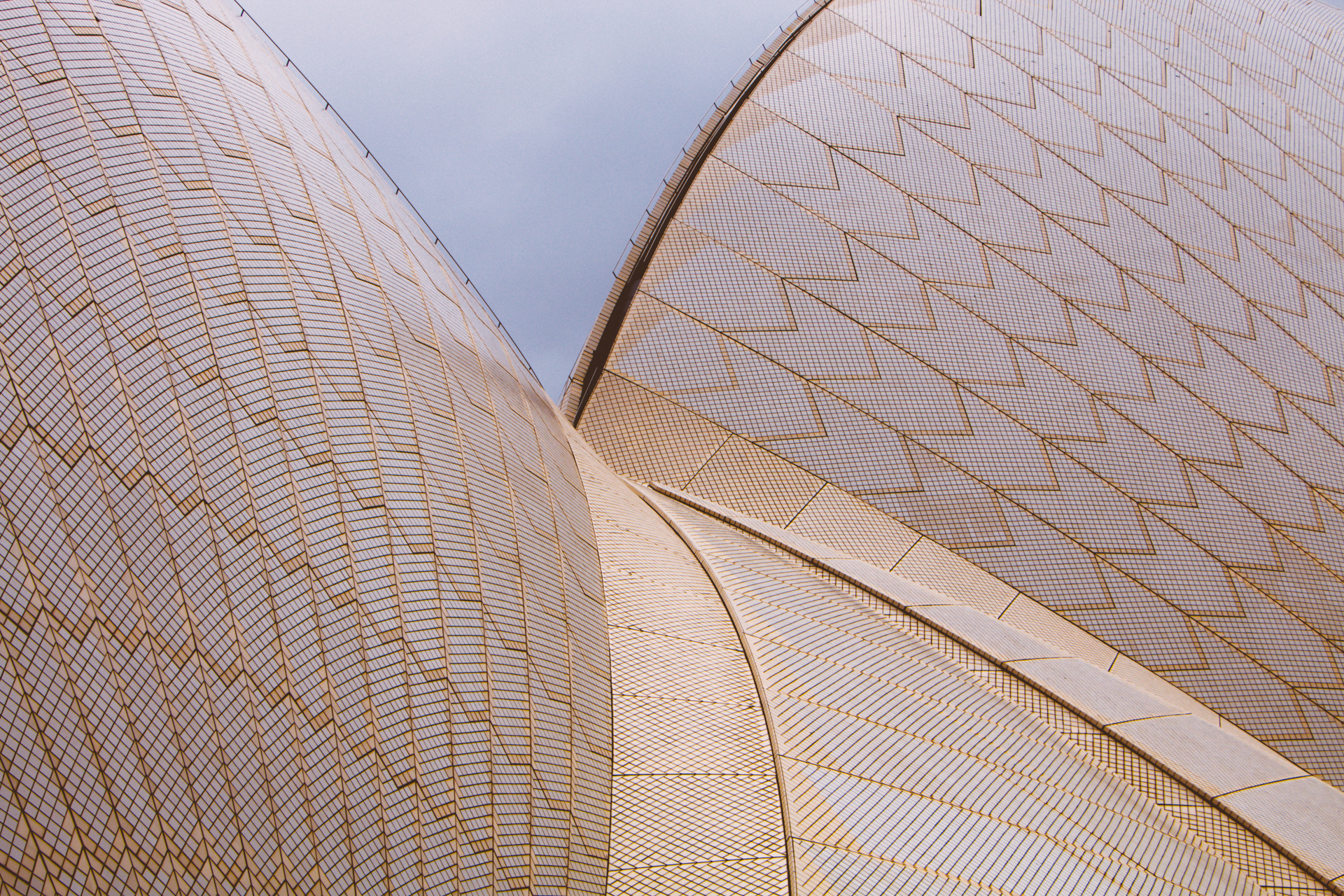 We spent a few days in Sydney, did the typical tourist things such as Sydney Opera House, Sydney Harbour bridge and there was added excitement due to it being Australia Day.
We then met my cousin who's currently living there and watched the Australia night time fireworks at Darling Harbour. They were awesome!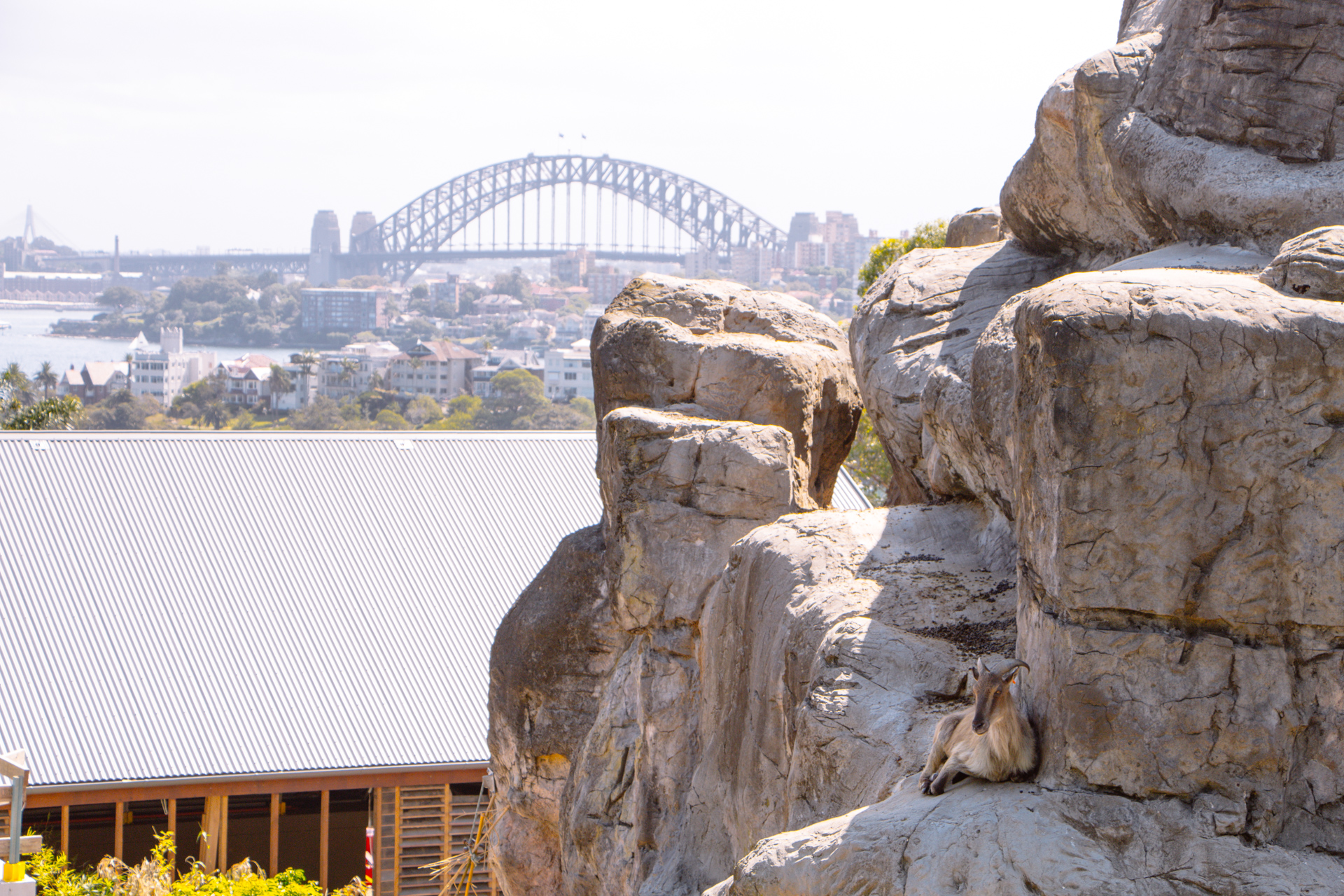 We went to Manly beach and Taronga Zoo the following day both of which were really cool places. We had arranged to meet again with my cousins and went to the Royal National Park and Wattamolla beach. It was cool we went on what felt like a six hour walk it was only 30mins but the heat was unbearable.
Then headed to the beach where there was a cliff top you could jump off, so of course Alex and my cousin had to do it!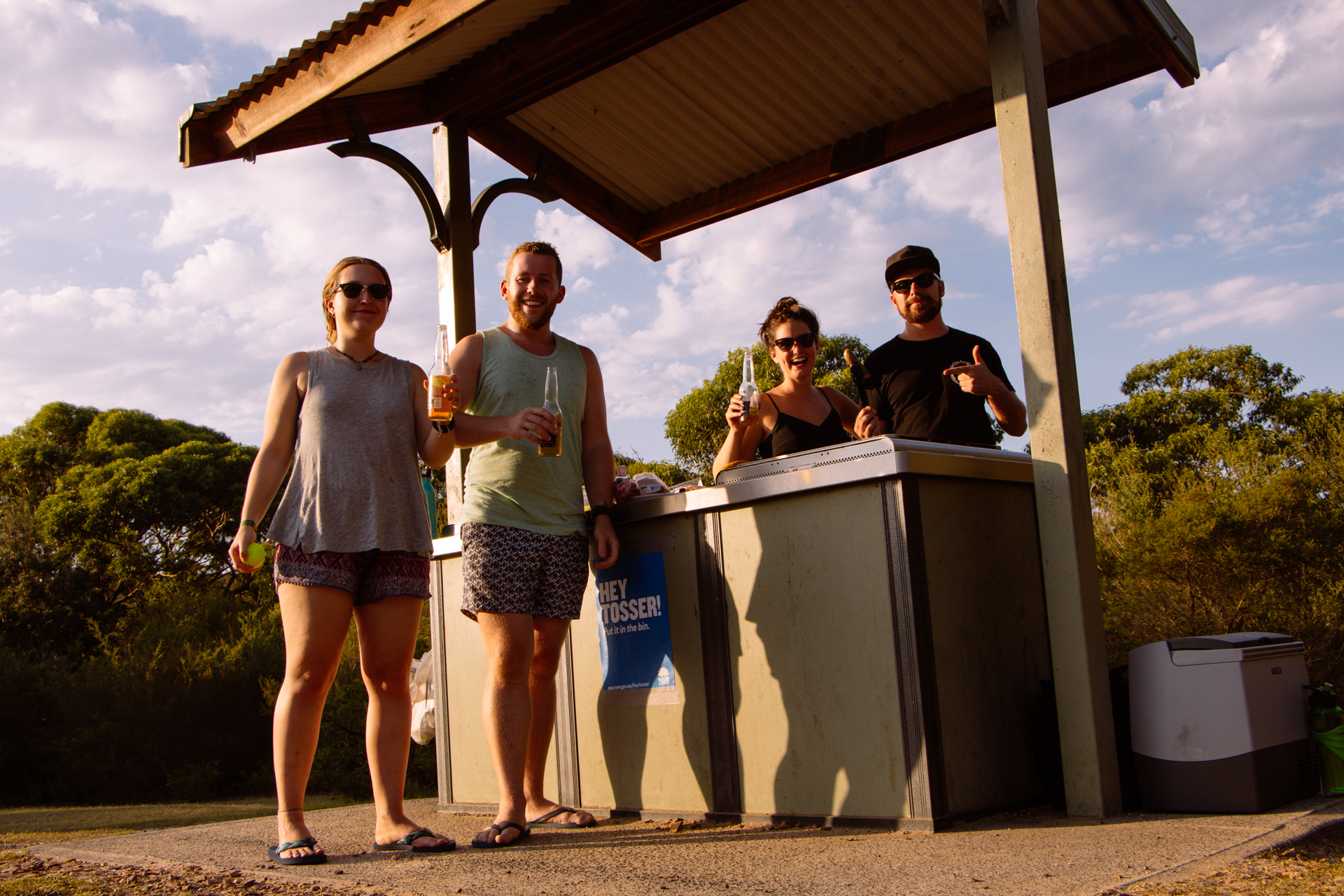 To finish the day off we had a traditional Australia Barby.
For our last night we slept on the street in our campervan near my cousins place as it seemed pointless driving all the way to a new campsite just for one night! It was quite the experience, especially after seeing this huge huntsman spider on the wall of my cousins house! Nevertheless it was too warm and we slept with the windows open anyway – we survived to tell the tale (huntsman spiders aren't actually dangerous, just scarily big!)
After saying farewell to Sydney and to the fam we started our exciting adventure – just the two of us in our big purple and green van.
Norah Head / Newcastle
Newcastle was the next stop – here we didn't do much, just went to Norah Head beach and chilled with a couple of coronas. From here we… well Alex drove one of the longest drives which was 8 hours but I kept him entertained (playing terrible car games and music) so he was so happy when we arrived in Coffs Harbour where it was really windy we still managed to have a dip in the lagoon near by.
Byron Bay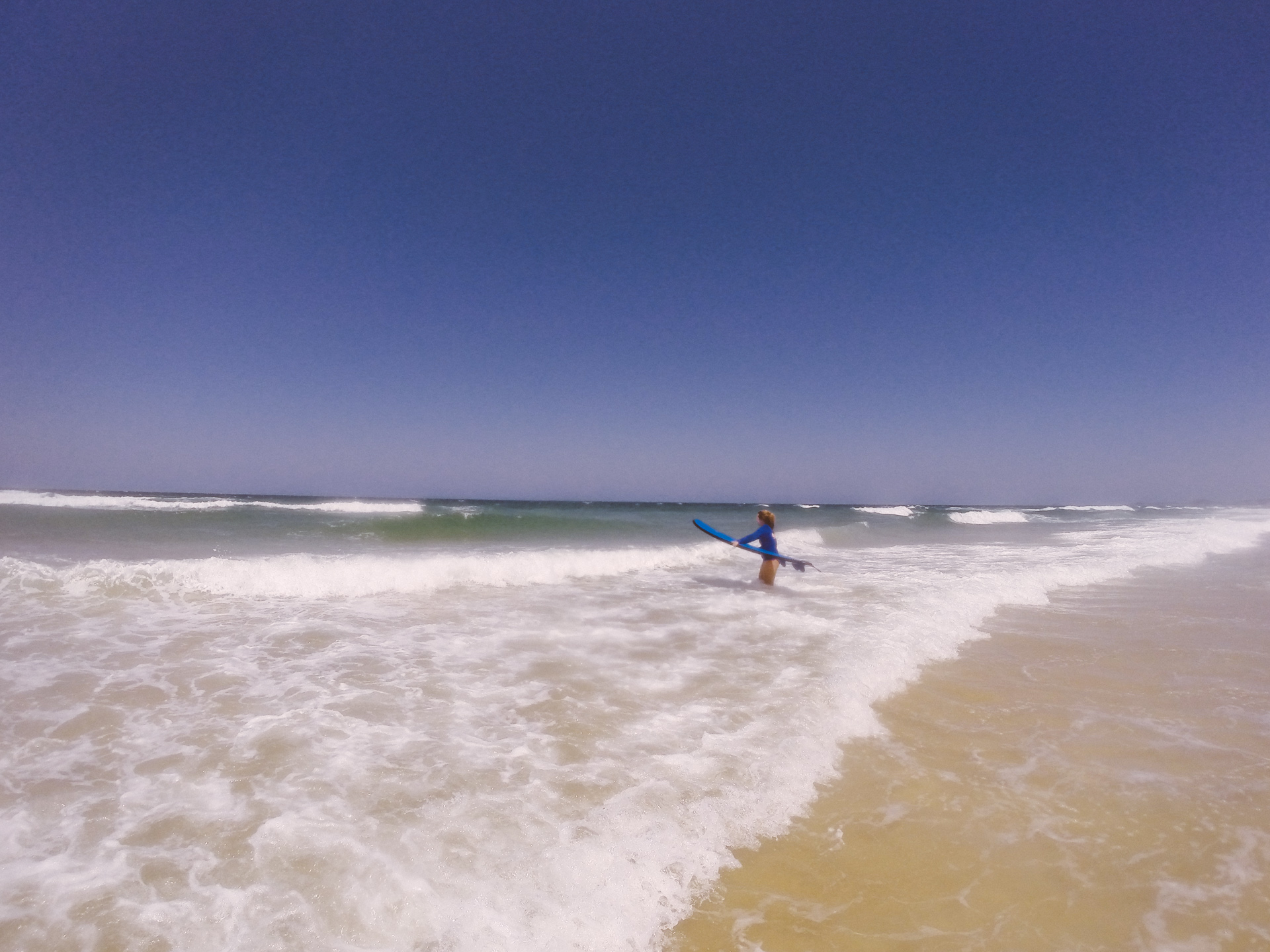 The next day Alex drove us both to the Gold Coast to Byron Bay, here we both got to experience the Australian waves and hired a board to go surfing. The board we hired was far too small so it couldn't really support the weight of us fatties, so the surf was rather difficult. We stayed in a place called the Arts Factory Lodge which was by far the cheapest place we stayed, it did involve sleeping in a car park but it was rather nice being right next door to a delicious brewery. We really liked it here but we think it might have been too "hippie" for us two.
Gold Coast / Surfers Paradise
From here we headed up the Gold Coast to Surfers Paradise here we hit the beach again and Al decided to invest in a surfboard – he found a good deal on Gumtree for a used beginners softboard – which just about fitted in the camper. We spent a couple nights here but it was rather touristy, had a kind of Blackpool feel but still Long Beach was really beautiful.
As long as you go to some of the other beaches such as Currumbin it's fantastic. At Currumbin we had pretty much the whole beach to ourselves to surf and soak up the baking hot sun!
Oh and it doesn't get much more Ozzy than this – a thong (that's what Australian's call flip flops) vending machine!
Brisbane
Brisbane was the next stop and we needed a rest from the hot lack-of-sleep camper van nights due to the lack of AC or fan, so we decided to stop in an AirB&B. Our hosts were lovely and recommended where to go in South East Asia. We only spent the one night here and tried to make the most of it, so we had the nicest Thai food and ice cream, we also had a bath – a luxury that we have missed for about 3 months.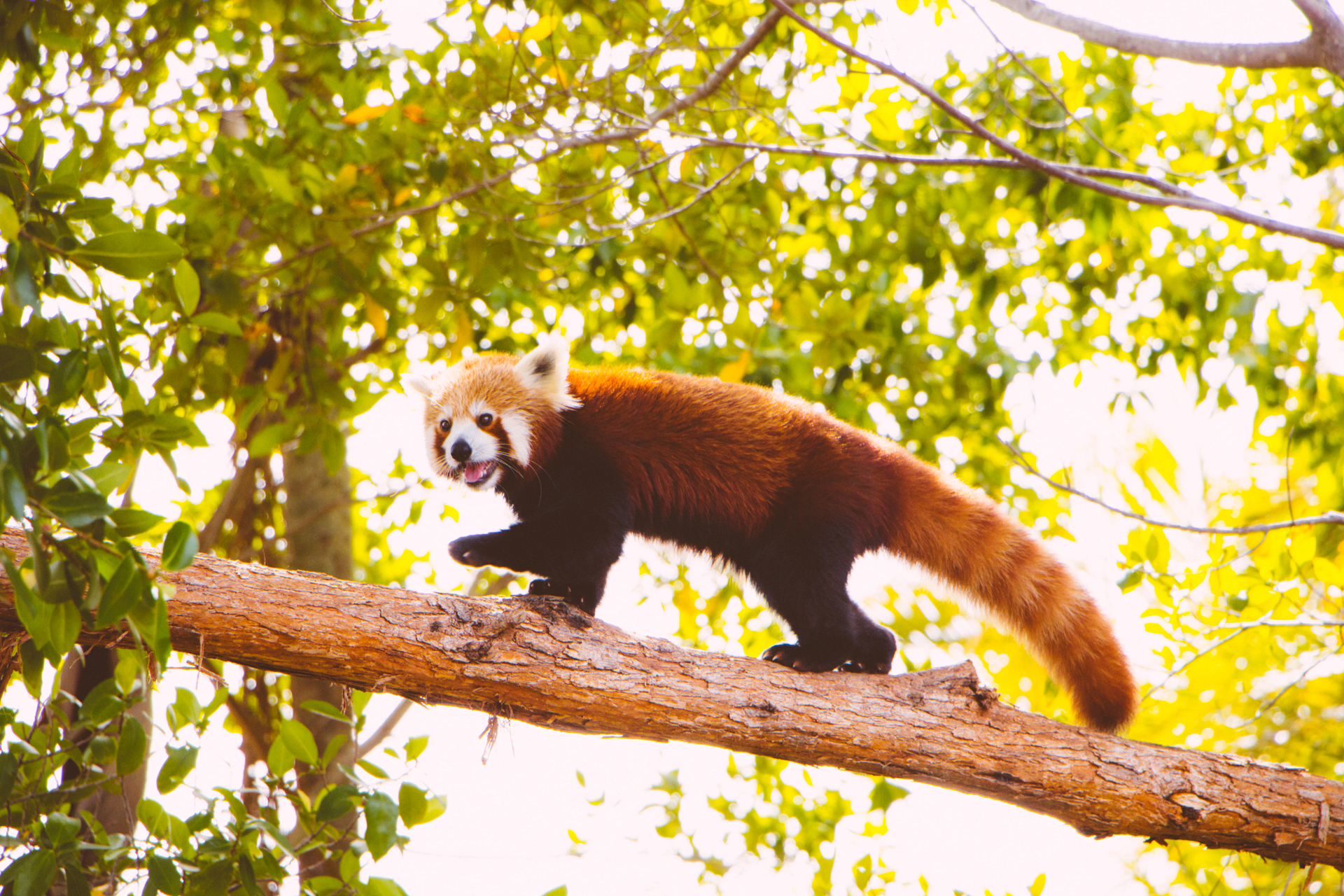 All fresh and clean we headed up to Australia Zoo, the Zoo that Steve Irwin worked created. It was actually a really nice zoo where the enclosures were large and they were more concerned about animal welfare than making money.
Except perhaps for the photos with the koalas, which I did have, but I paid for it in the form of a poop nugget in my hand! Poor Koala.
Sunshine Coast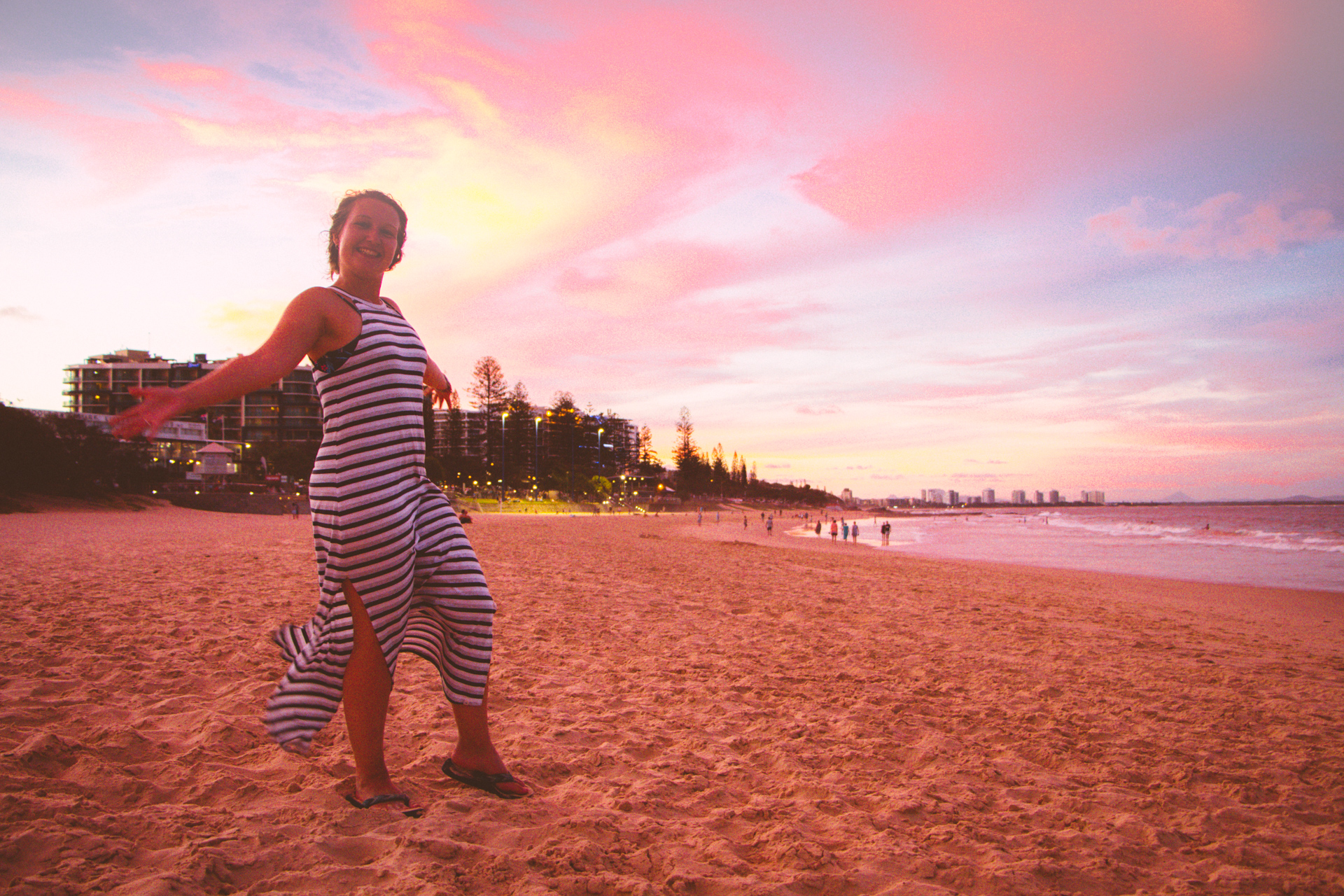 Sunshine Coast was next up this is where we saw the most beautiful sunset at Mooloolaba and thought about going diving until we saw the cost.
Then we motored up to Rainbow beach – a beautiful place where the sand is multicoloured and Tin Can Bay where dolphins come to feed every morning.
Bundaberg
From having our fill of surfing at the Sunshine coast the next stop was Bundaberg.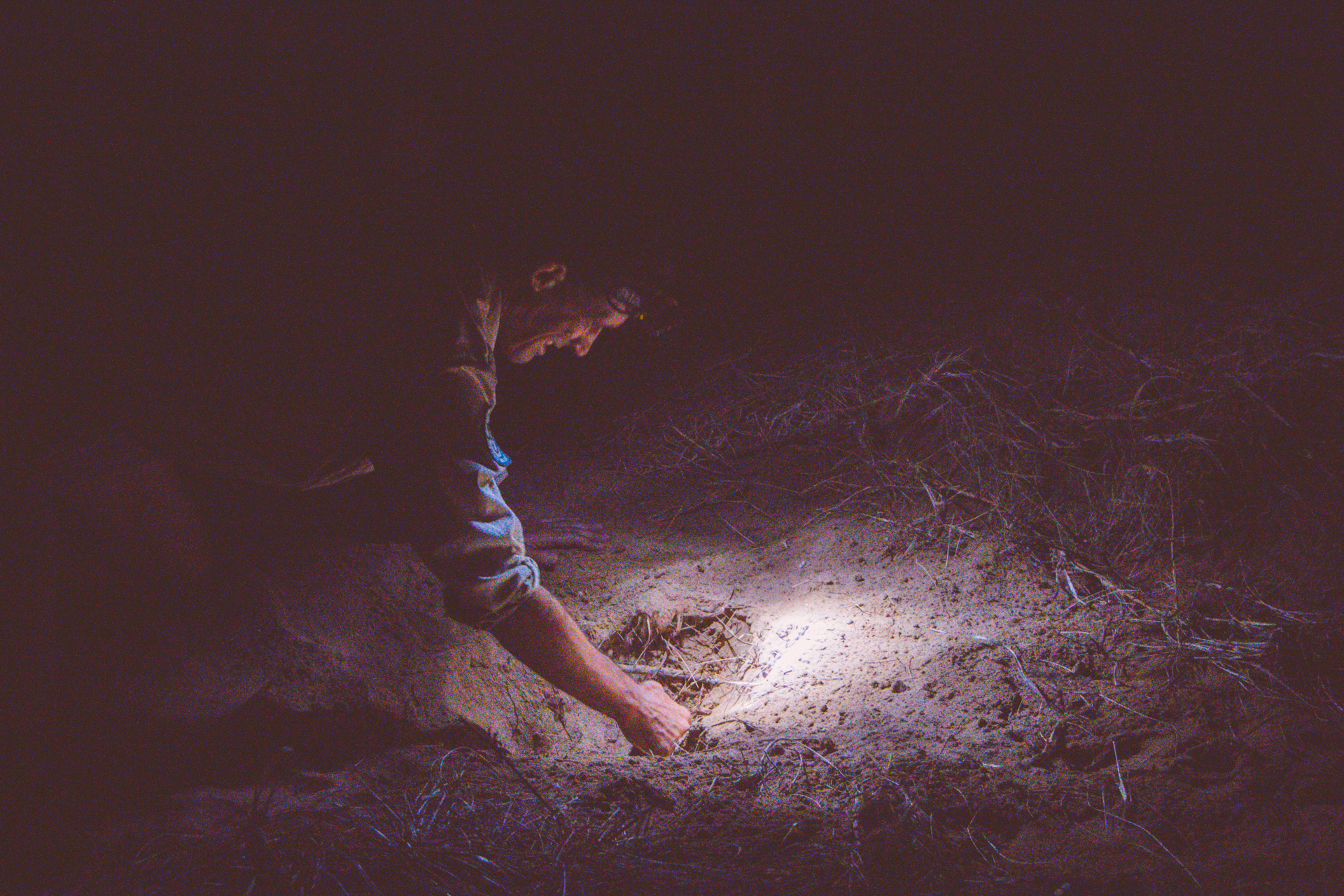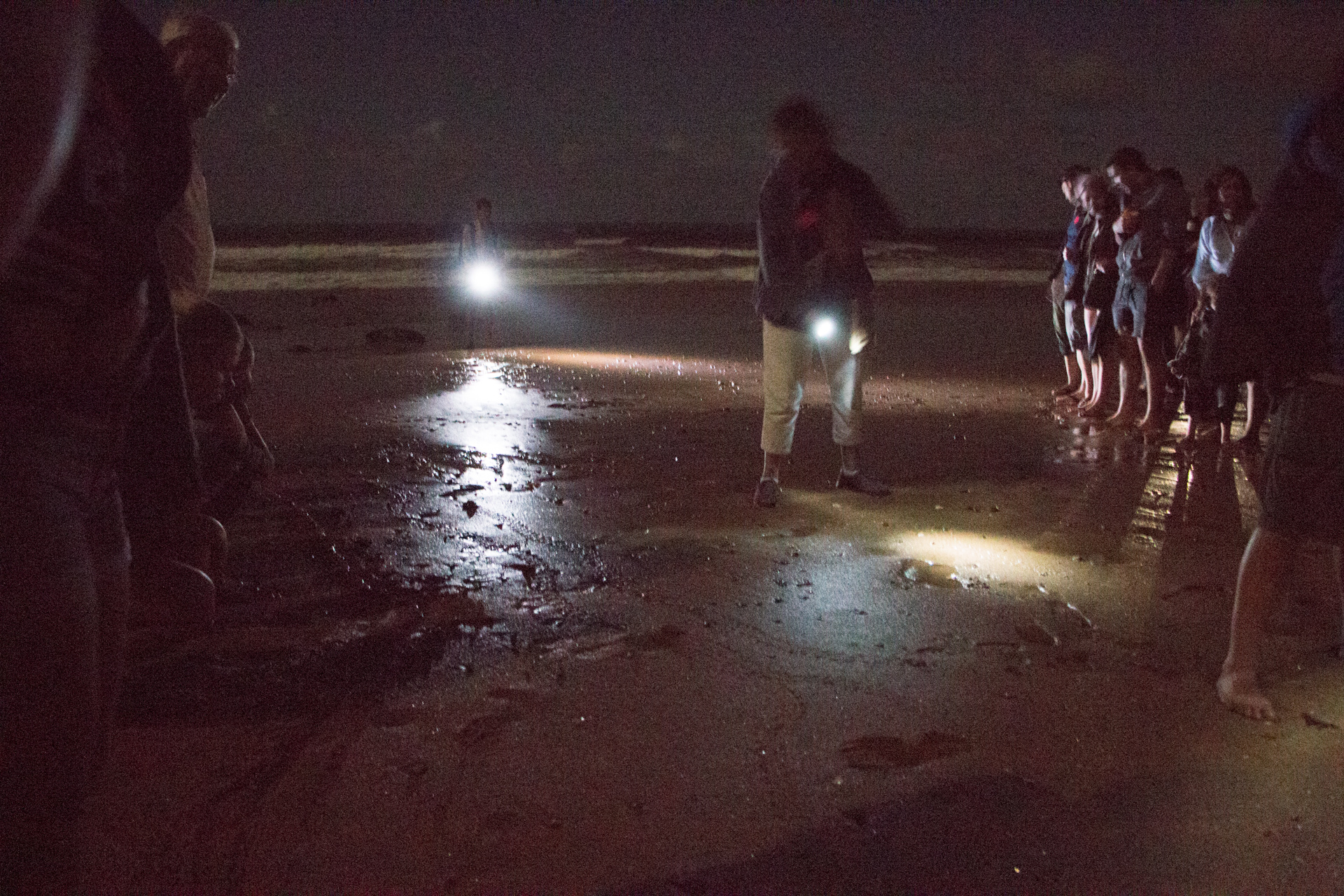 After getting to the camperground and settling down we had dinner and then headed out for the evening to Mon Repos – an amazing experience, it was here we got to witness baby turtles hatching out of their shells and making the first steps down the beach under the moonlight to get to the water and begin their treacherous journey through the currents into The East Australian Current.
The next day we drank lots of rum in the Bundaberg factory on a tour. It was really interesting to see how sugar waste (molasses) is changed to rum through various distillation processes and barrelling. After visiting the factory tour we had a tasting and afterwards Alex had to drive so we sat in the parking lot for a while eating sandwiches to try sober up, which didn't take long with all the bread.
Agnes Water / Seventeen Seventy
We then slowly headed toward a place called 1770 – so called because that's when Captain Cook landed at this location on his 2nd landing of Australia. This would be the last place we could surf properly, so that's what we did here – lots and lots of surfing!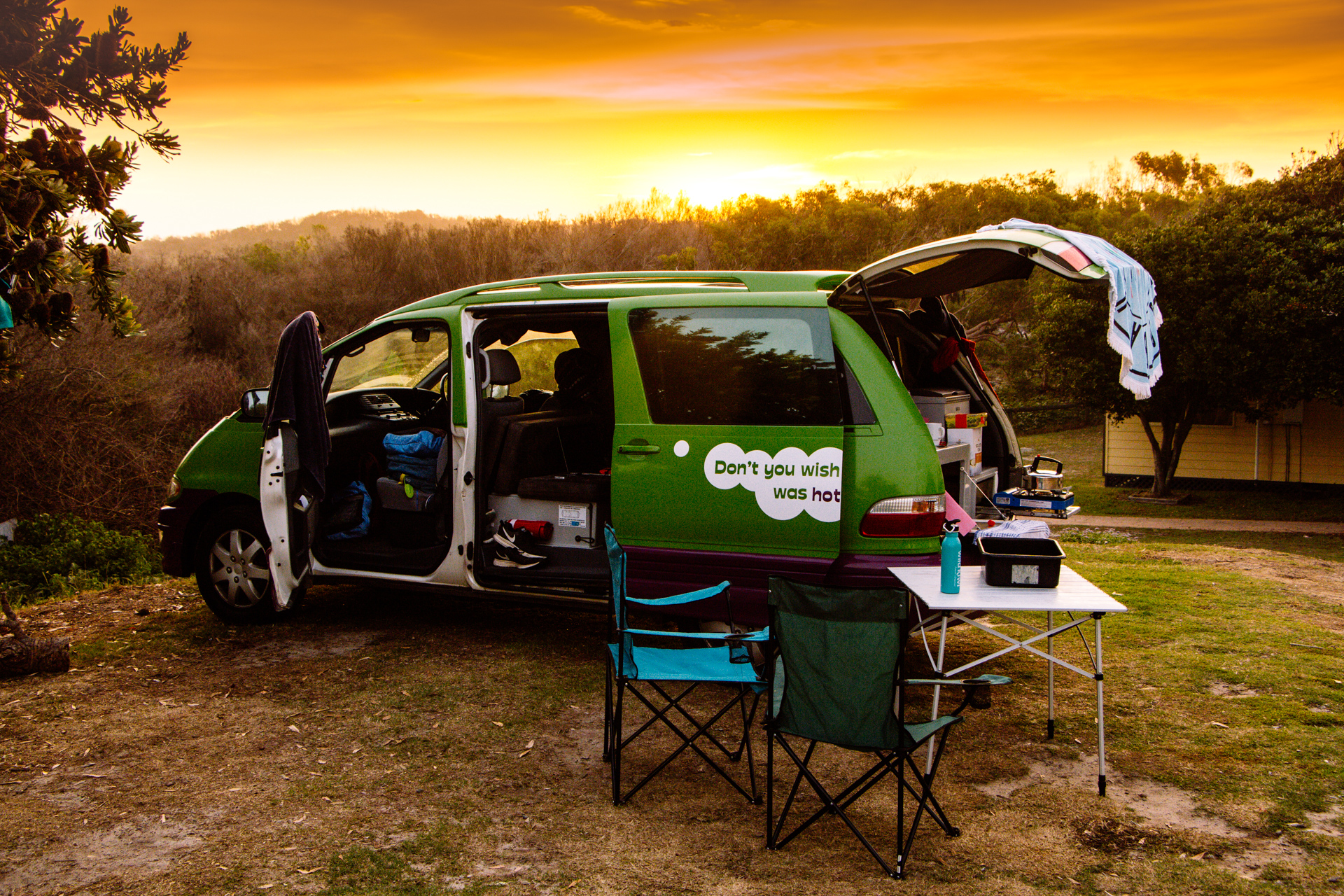 Mackay
Mackay there wasn't much to see but there were beautiful cliffs here and we decided to head out to see them in the camper before heading to our final stop Cairns.
Cairns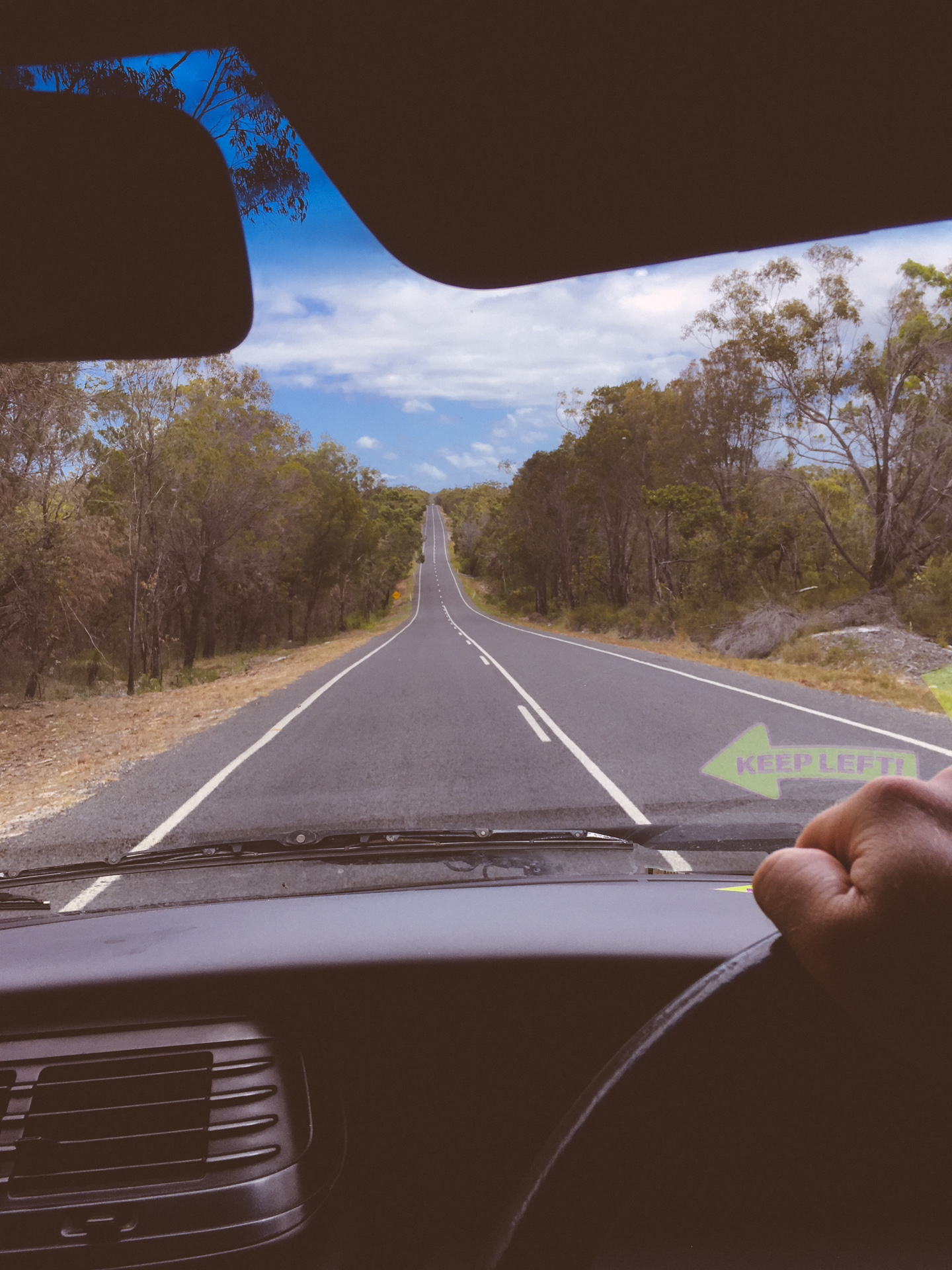 On arrival in Cairns Alex had made an appointment with the Doctor to get his second hep A jab as his first only lasted a year and was nearly expiring. So we headed to the Doctor, and it took all of 10 seconds for the Doctor to charge us $80 for a prescription for Hep A and then we promptly purchased it at the pharmacy section for $40… all of this would have been free in the UK on the NHS.
It was so hot in Cairns that we really struggled to do anything so when we found a room with AC we stayed in that all evening. It was lush!
And that was it, after driving over 3000 kilometres (1900 miles) over the course of three weeks in the Australian summer and sweating ridiculous amounts at night, surfing beautiful golden beaches, enjoying the vibe of Australia Day in Sydney, seeing all types of wildlife and getting some adrenaline fixes juxtaposed with serious relaxation our Australian East Coast Campervan trip was over – it was an incredible experience that sadly this blog doesn't really do justice, campervanning is quite a surreal experience – lots of emotions and so many experiences and quite a different vibe to normal, we will definitely look to do some more campervan excursions in the future!
The next morning we returned the camper van and left the surfboard and slowly made our way to the airport to head for our next destination; Singapore – to begin our South East Asia chapter of the adventures!
---