Chilling in Colonia Del Sacramento
After briefly seeing Buenos Aires on our walk from the bus station to the docks we caught a boat. A big boat to Colonia del Sacramento (Colonia for short.) The border consisted of one bloke for Argentina to stamp you out of Buenos Aires and a bloke shoulder to shoulder with him to stamp you in to Uruguay. It was a strange experience and also intimidating as border controls are! One hour of a smooth sailing and we were there.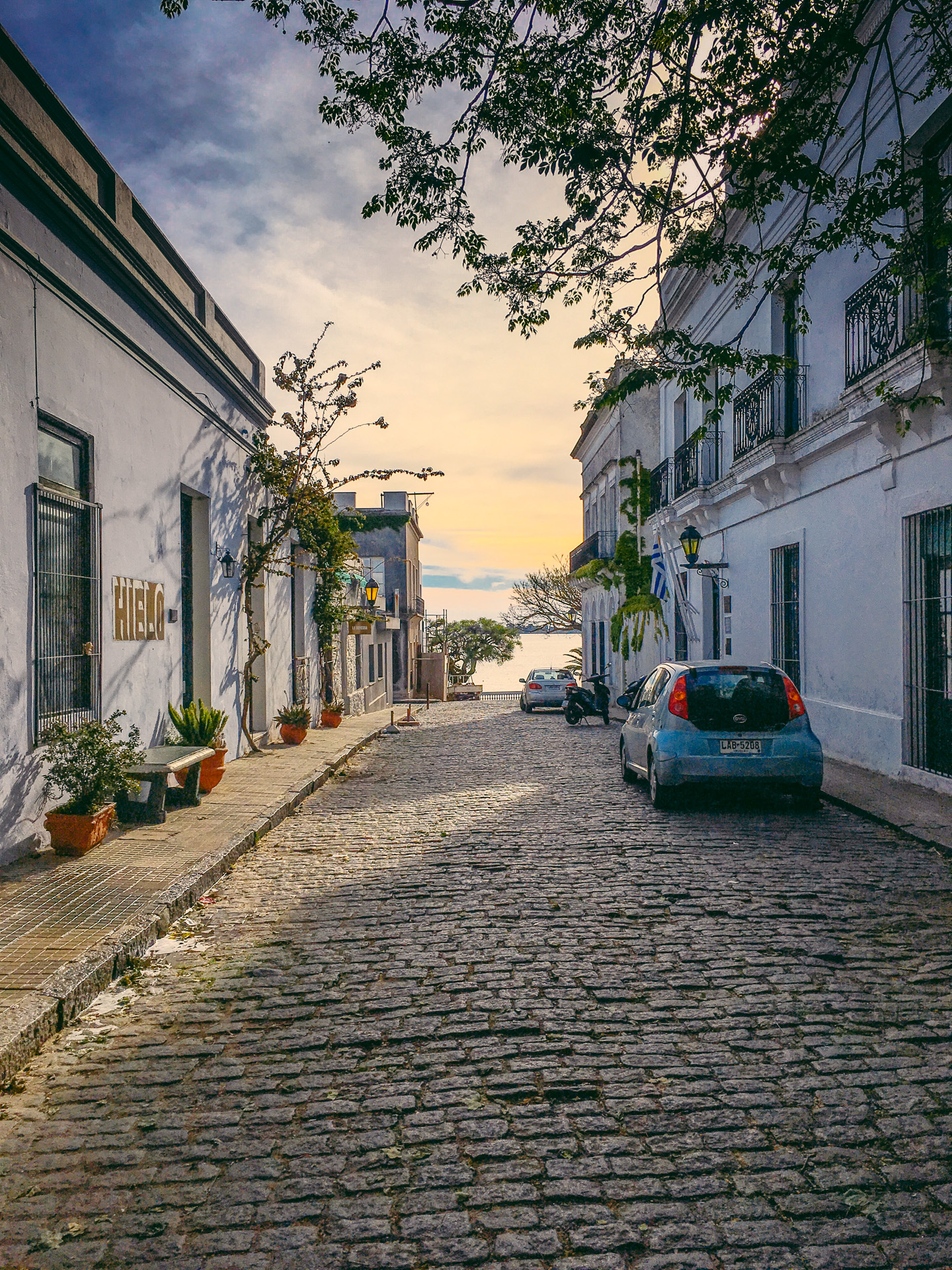 Colonia was a beautiful town which seemed to have not changed in 100 years. Old buildings and not many cars, and the cars that were there all looked around 60 years old. Saying that however the place was very touristic and therefore very expensive!
The hostel we were in was interesting. All the dorms looked brand new and I don't think they managed to renovate our room yet because it looked like a converted shed.. complete with woodlice. We decided not to stay in the room for long so went for a walk. We walked through the old town down to the sea front. We were there in the evening so the sun was setting when we found a pub to sit in and have a couple of pints. For dinner we had cheesy chips and chocolate cake while watching the sunset. It was bliss.
The next day we did more or less the same thing just walked around the old town. We went to a museum/community hall thing. Didn't see much there. Alex had a dance because they were playing Tango music very loud! We saw an old dock with some cool little ships and yachts and then walked around some shops they were lovely, very cute — very expensive though!

We found a little place to eat. I was looking for paella — my favourite. It was the only place that it was a reasonable price. She did however charge for bread that we didn't ask for but the food was delicious so I wasn't going to complain.
After an hour more of walking or so Alex wanted to hire a motorbike but it was too late for them to let out bikes which was a shame and Al was really gutted at this point. We looked in several bike rental places but all of them were closing 🙁
I'm sure we can hire a bike somewhere else.

We finished the day off by eating more food. A crepe from a local tea shop just outside our hostel. It was nice it had dulche du leche (basically a caramel sauce they put on everything here). I had a hot chocolate which was hot milk and two chunks of dark chocolate – yum!
Our last night in Colonia was shit. The hostel room was crap anyway, however this night our neighbours were wide awake at 2am and decided to have a full blown convo. Which we heard every word of! The walls were paper thin literally. Then a 4am an argument occurred and one of the people left loudly with what sounded like a bag of empty beer bottles. GOOD. It was not nice to listen to.

The next morning was not great — we got up and super tired and got our boat to head back to Argentina. Alex decided to get the cheaper boat for the way back which was perfect because it was a third of the price of the original boat and third of the size. It was so cute to begin with however because it was so small you could feel every single bump and wave. This meant that I was seasick for real. I vommed in a bag and Alex looked on the verge of death at one point. I've never seen a human go so grey before. I would have given him sympathy but I was just as bad. I had my head in a plastic barf bag for the most of the boat trip. It was the longest hour of my life. We finally got to dry land and ordered a Uber to get to our hostel in Buenos Aires and waited for the floor to stop spinning!
---