Cruising Down the Mekong to Explore Laos
Mekong River – Chiang Khong to Pakbeng
The Mekong river seemed like a perfect setting for our border crossing to Laos; beautiful scenery, green mountains and lush vegetation, what better way to travel from Thailand to Laos than by a river cruise.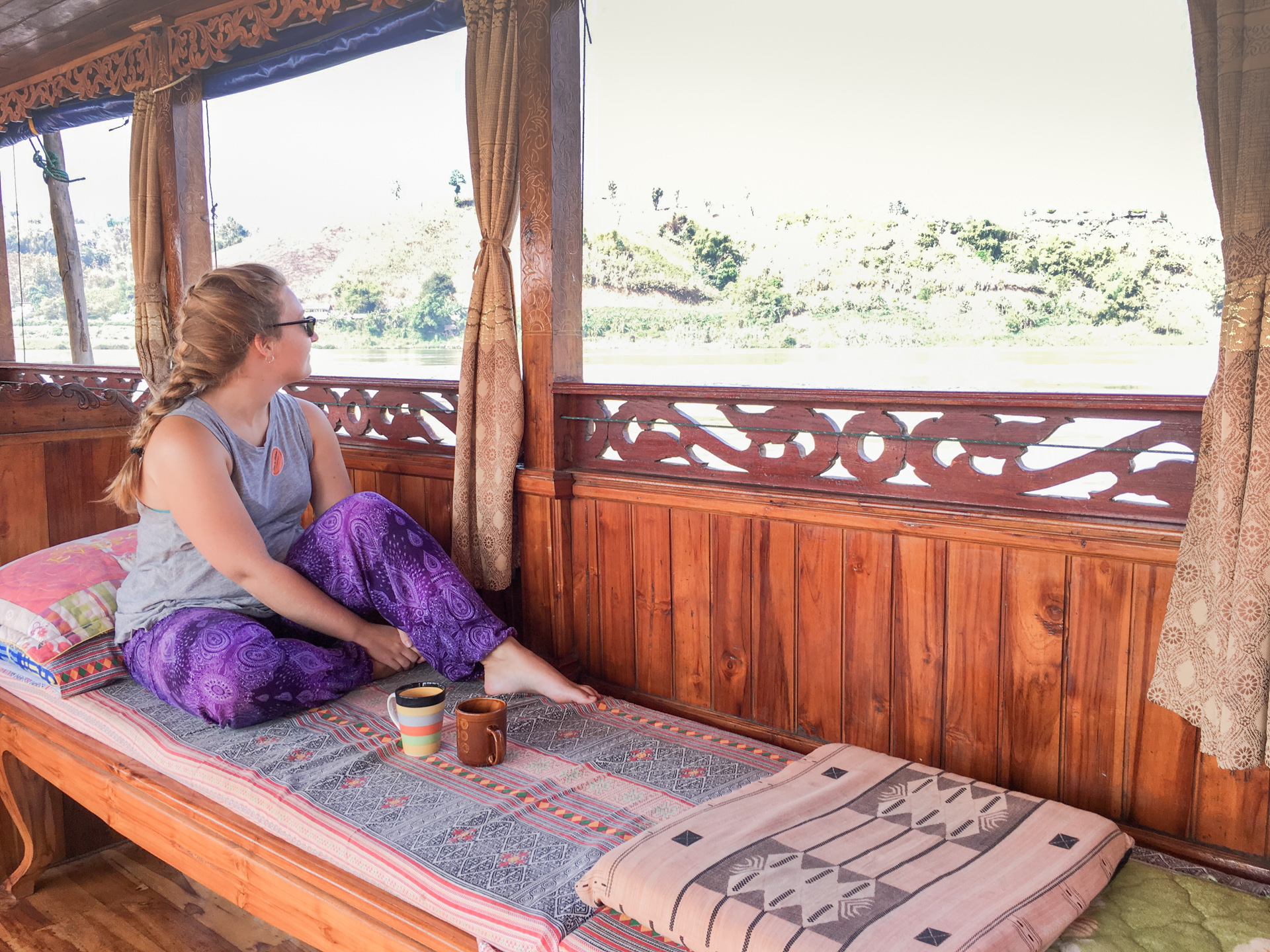 Our boat was lovely with ornate wooden carvings all around, I have to admit I did feel a bit like an oriental princess on that boat, it was so relaxing especially since the weather was beautiful the whole time while aboard. We traveled down stream from Chiang Khong in Thailand to Luang Prabang in Laos, the water glistened in the sun and there was no sign of other human life, no other boats and no rubbish. You could go for hours before you heard the distant hum of another boat, which would inevitably speed past you (we were on what was called a "Slow Boat").
Alex and I spent the two days on the boat mostly drawing silly doodles, catching up on work, reading (that was mostly me actually) and enjoying a nap or two in the sun especially after lunch – which was always delicious.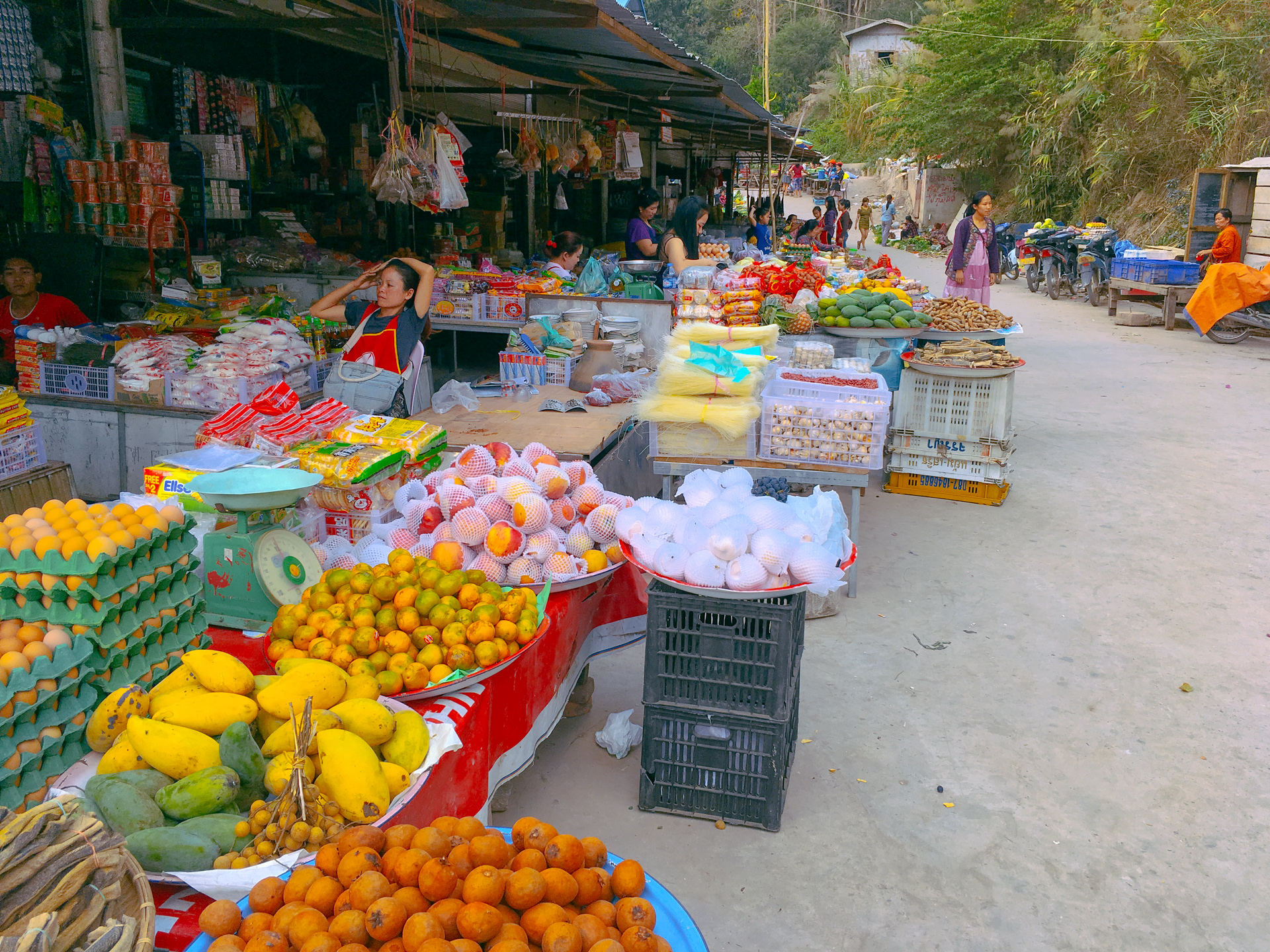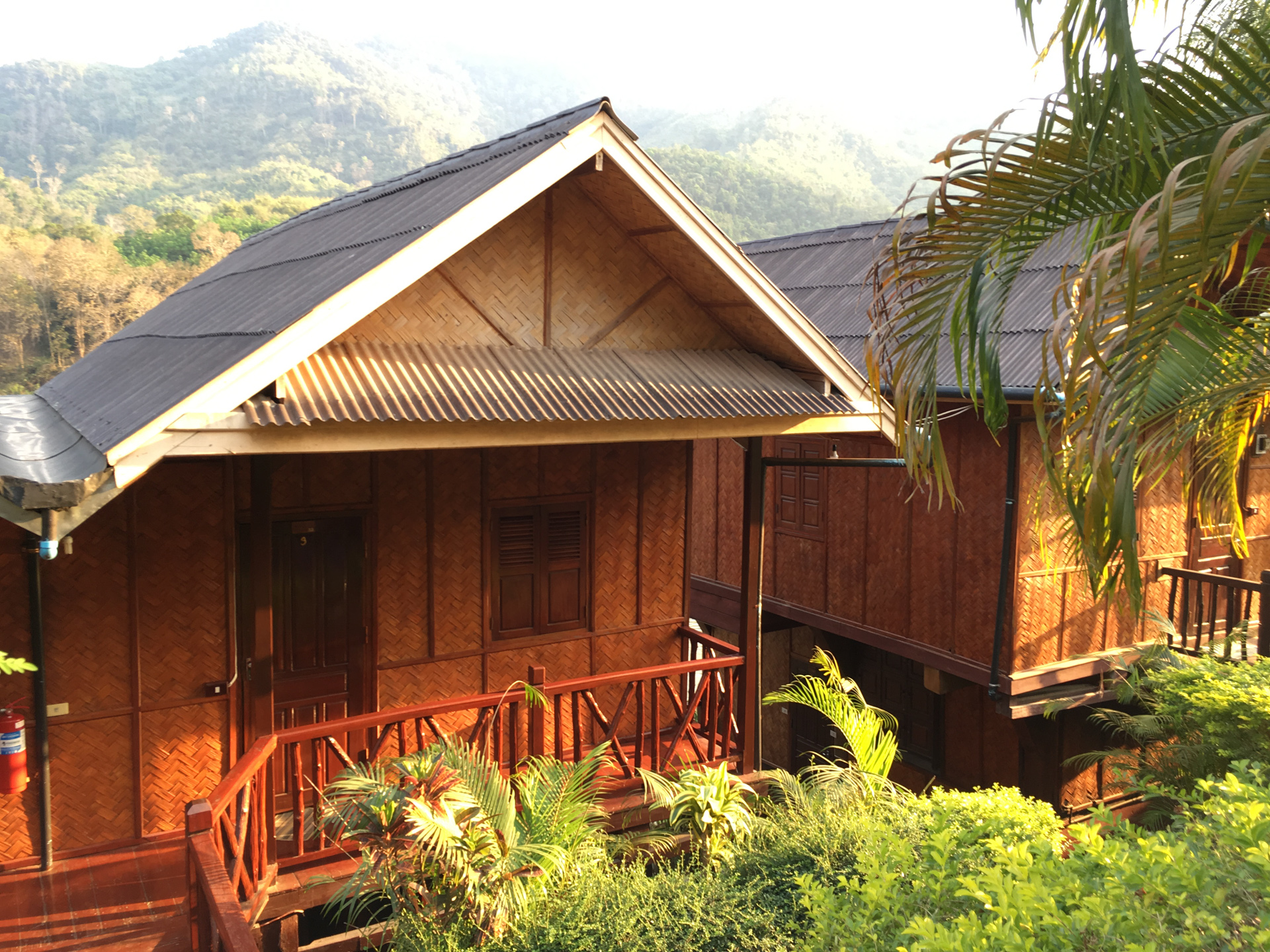 On the cruise we spent a night in Pakbeng a slightly more established village with bars, restaurants, a market and unusually bakeries, there is a lot of French influences here. Al and I had a beer in a bar looking onto the river and we watched the sunset, there were so many colours it was beautiful.
The next morning was a 7am wake up to continue cruising gracefully down the Mekong river.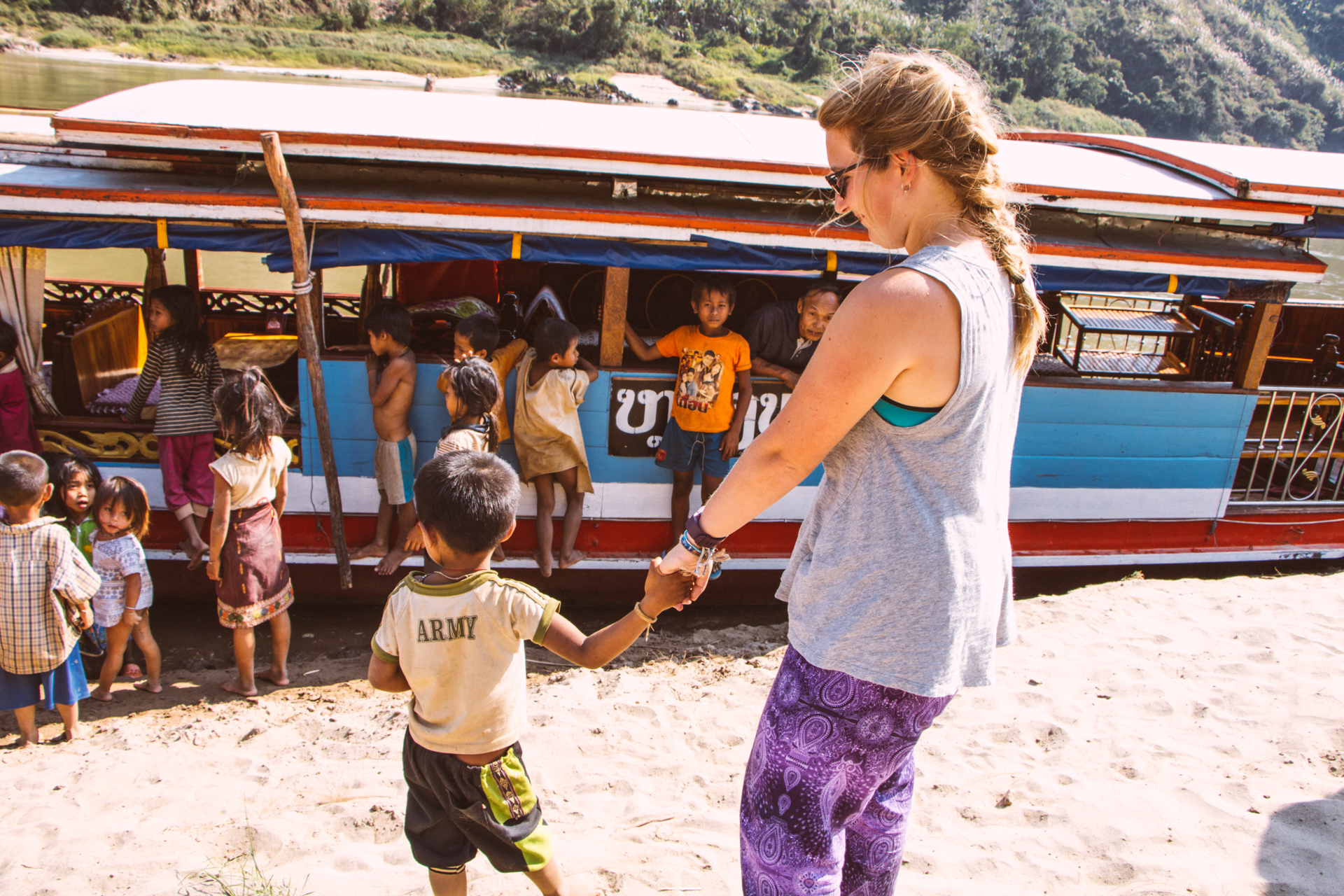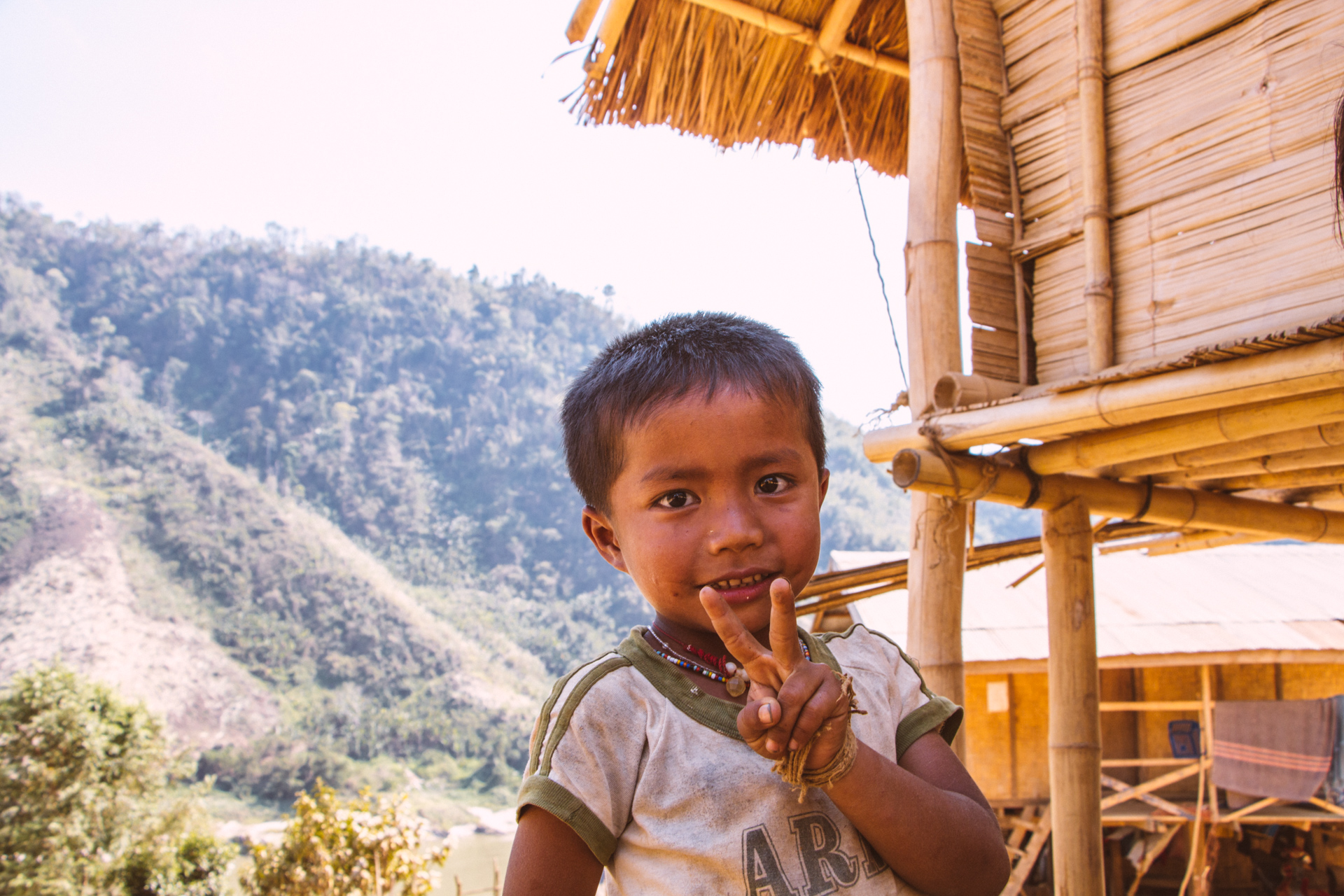 While on the boat we did stop at a couple of hill tribe villages which were so humbling to visit, they pretty much had nothing but all were content with life and were so welcoming to us tourists. I ditched Alex for another little fellow who spontaneously held my hand and didn't let go until I was back on the boat, he was adorable and knew how to pose for the camera (I usually hate kids but I could tolerate these ones). We met a lady who could separate rice from sand by throwing it in the air and catching it again with her basket — very impressive. We also saw loads of baby piglets that I was half tempted to steal but I don't think customs would be impressed, I have nothing to declare I promise!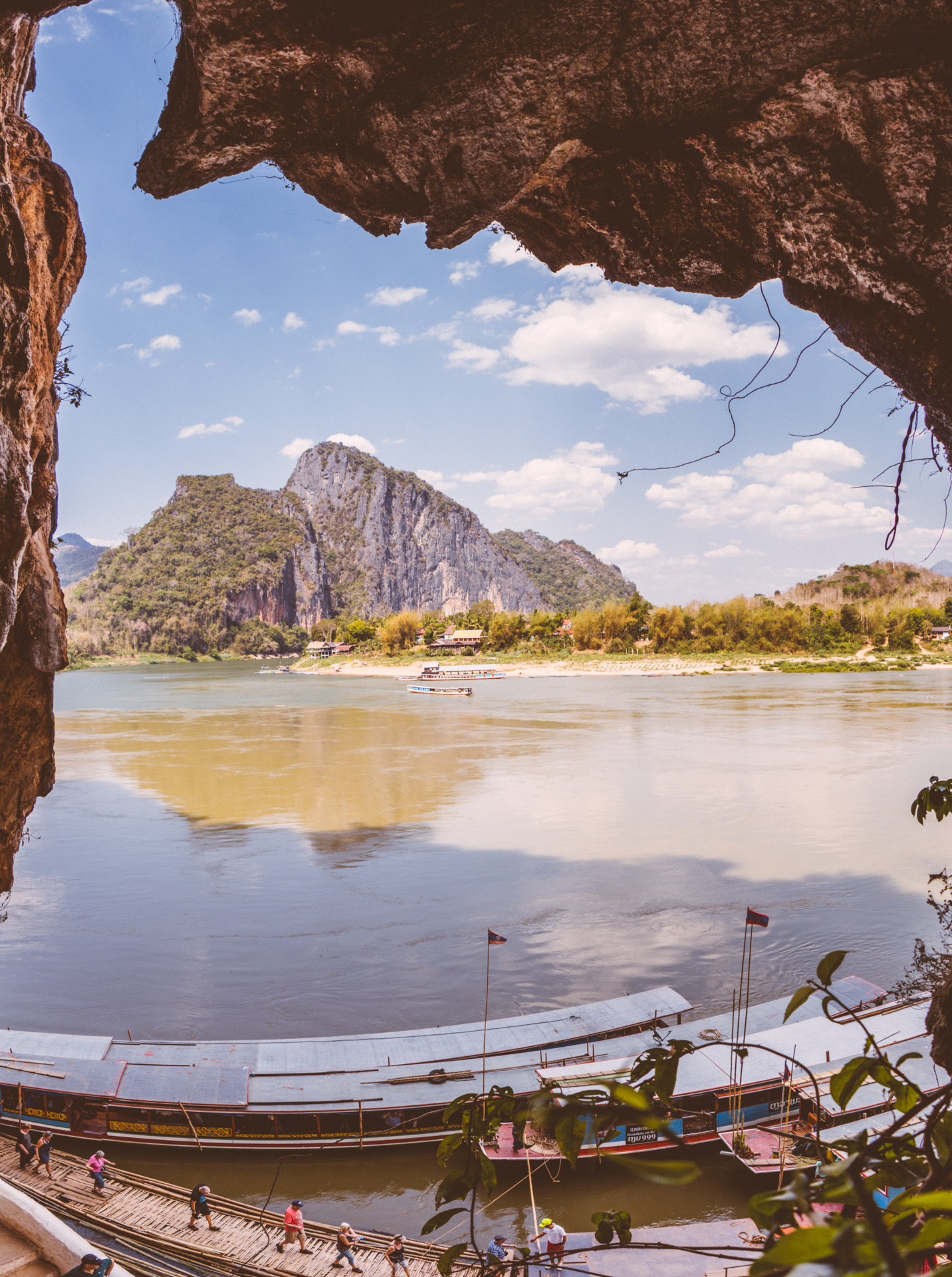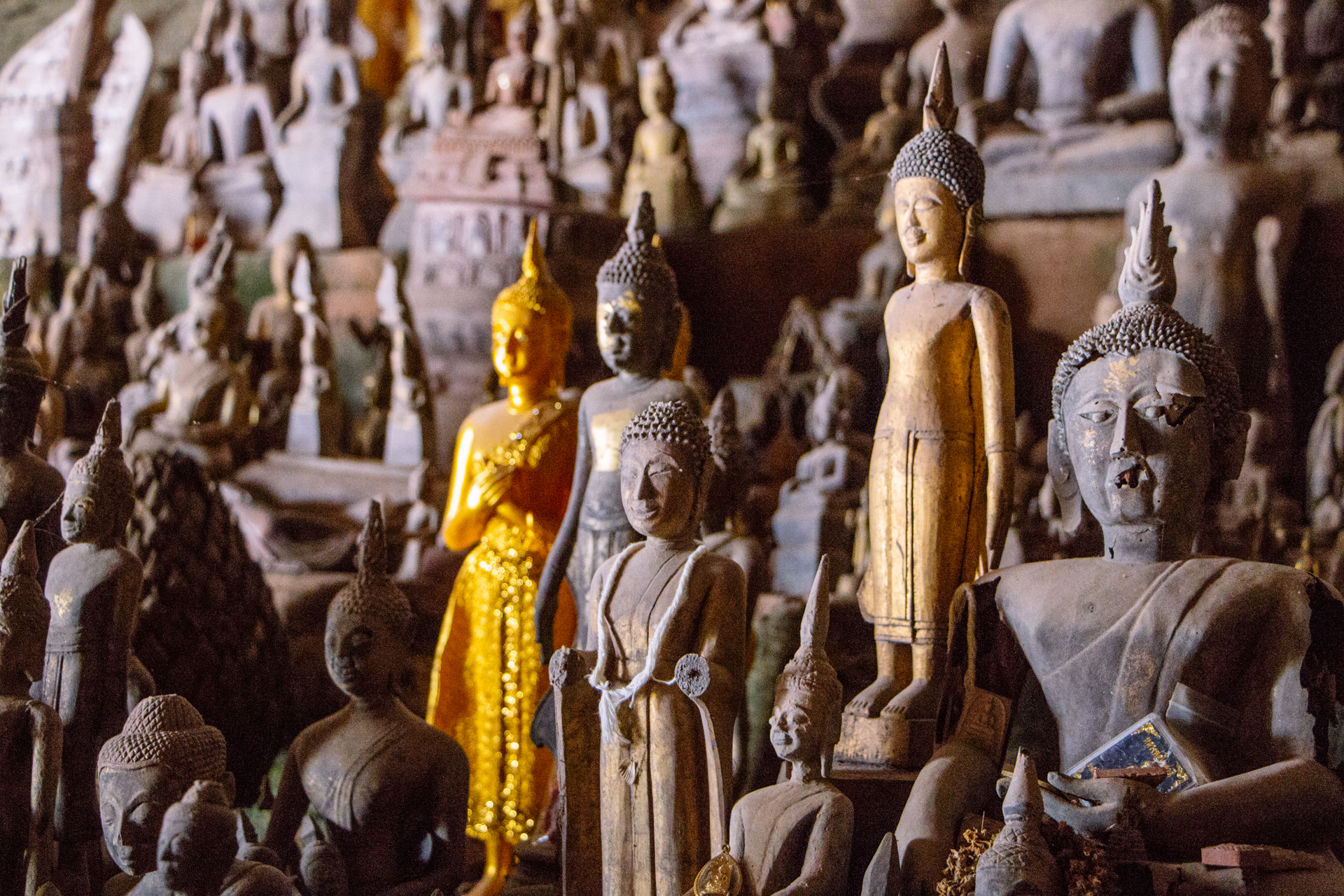 After a few more village stops we docked at the Pak Ou caves for the afternoon to climb hundreds of stairs and explore these amazing caves that have been filled with Buddhist statues and ornaments, truly a spiritual and awe inspiring place.
Luang Prabang
As we left the mountains of rice fields behind us and started heading towards civilisation, towards the city, we said farewell to our ride and hosts. We were now in Luang Prabang – the second largest city in Laos, it didn't feel much like a city to me and when I think back now the only thing that springs to mind is the colour orange. I am not sure why, I think it's the dust in the road that created an orange glow to everything. Saying this however I think this was my favourite place in Laos.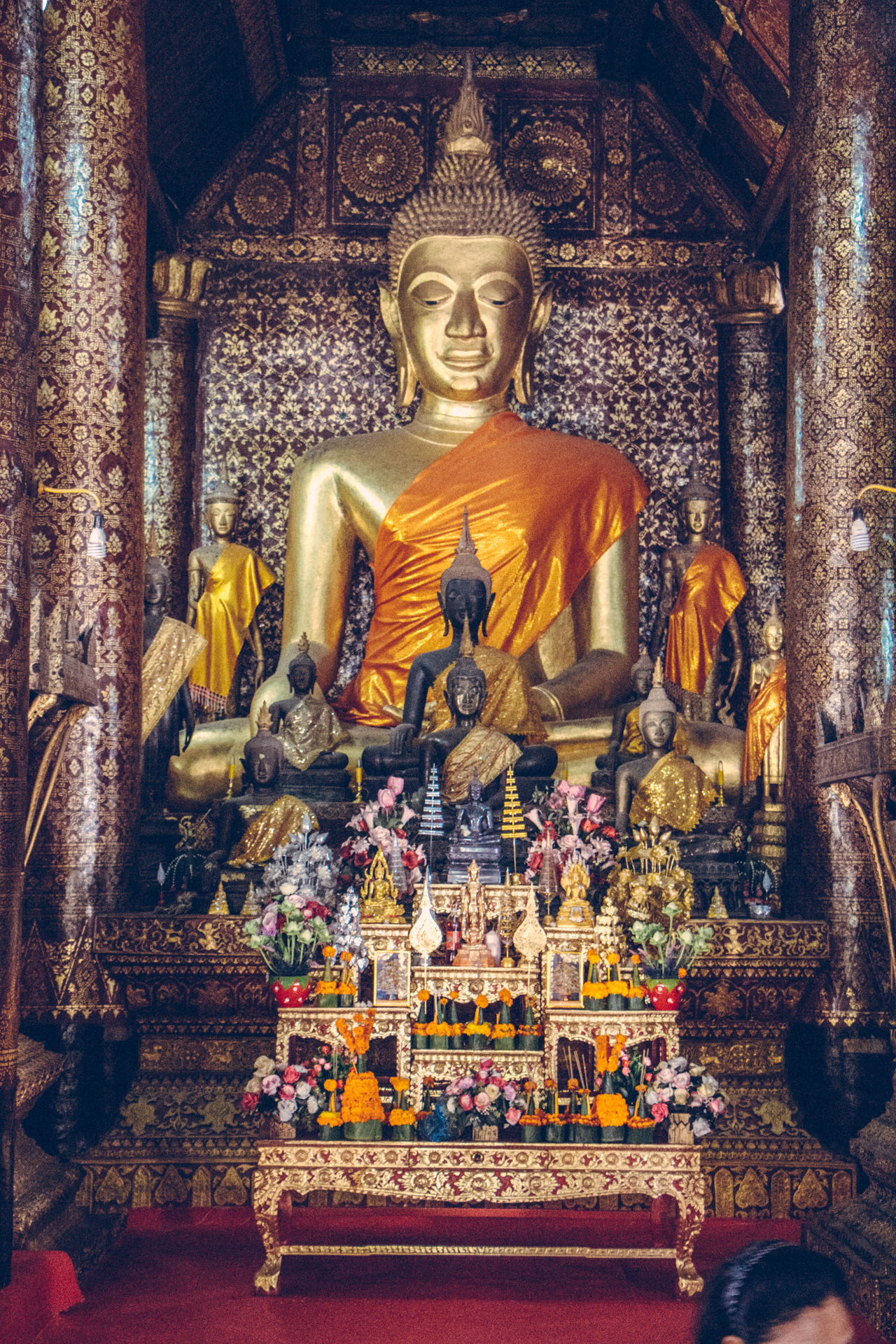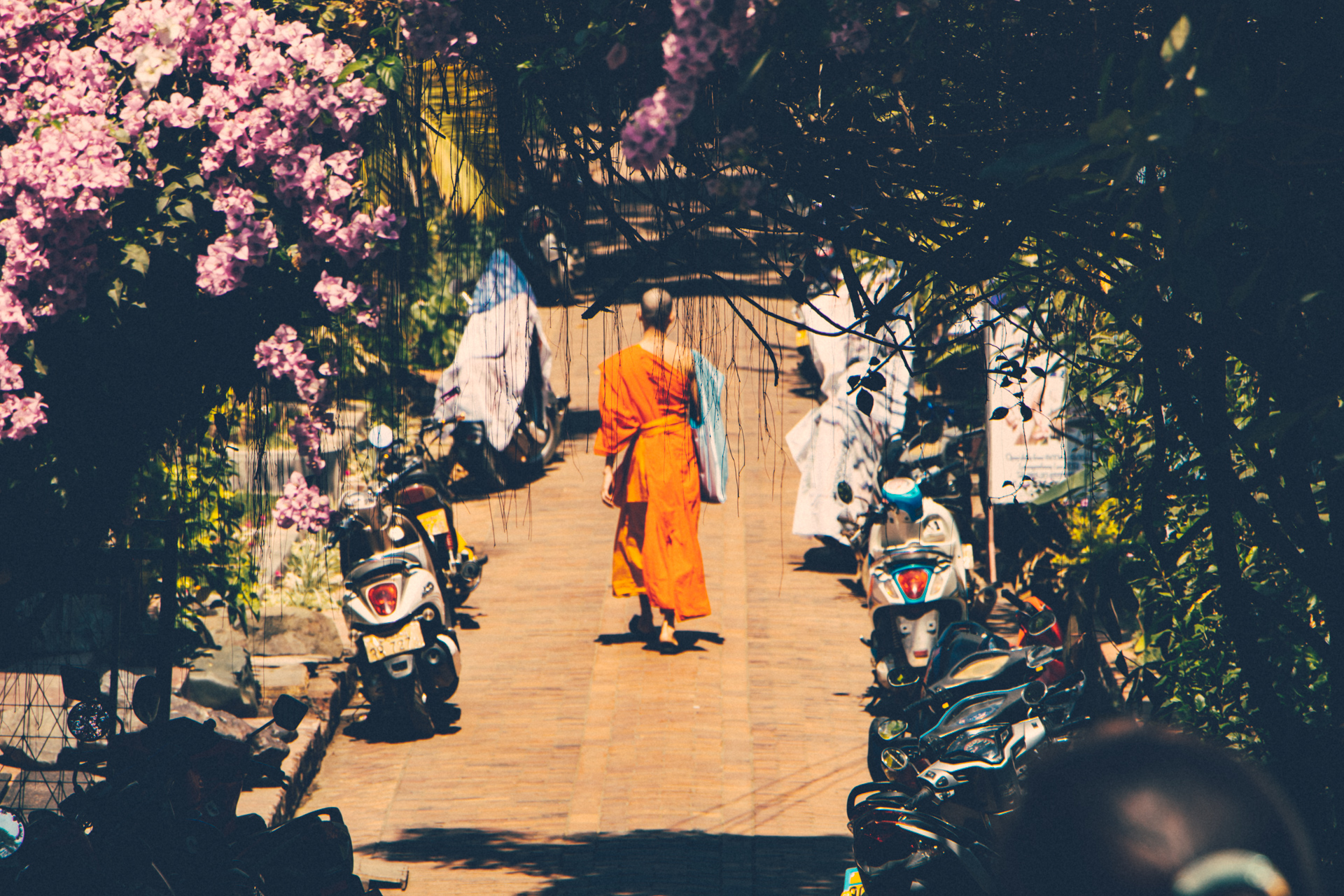 Luang Prabang is a neat, cultural area with plenty of temples and history. We spent our days here walking around soaking in the atmosphere which was rather relaxed and tranquil.. we saw a lot of temples.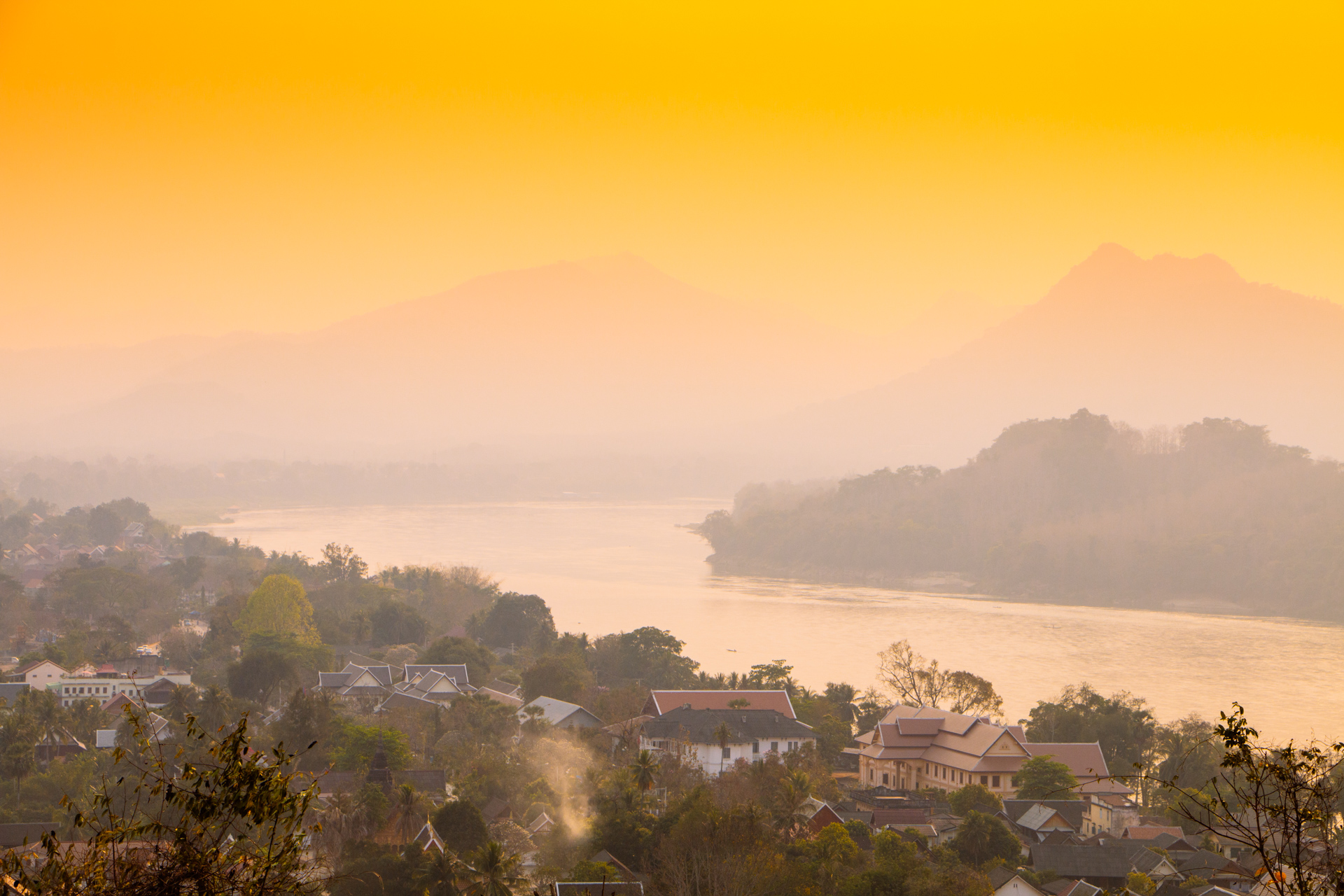 We spent one evening watching the sunset over city at the highest temple on top of Mount Phousi which was rather magical to see, it was a shame that it was slightly cloudy when we went up.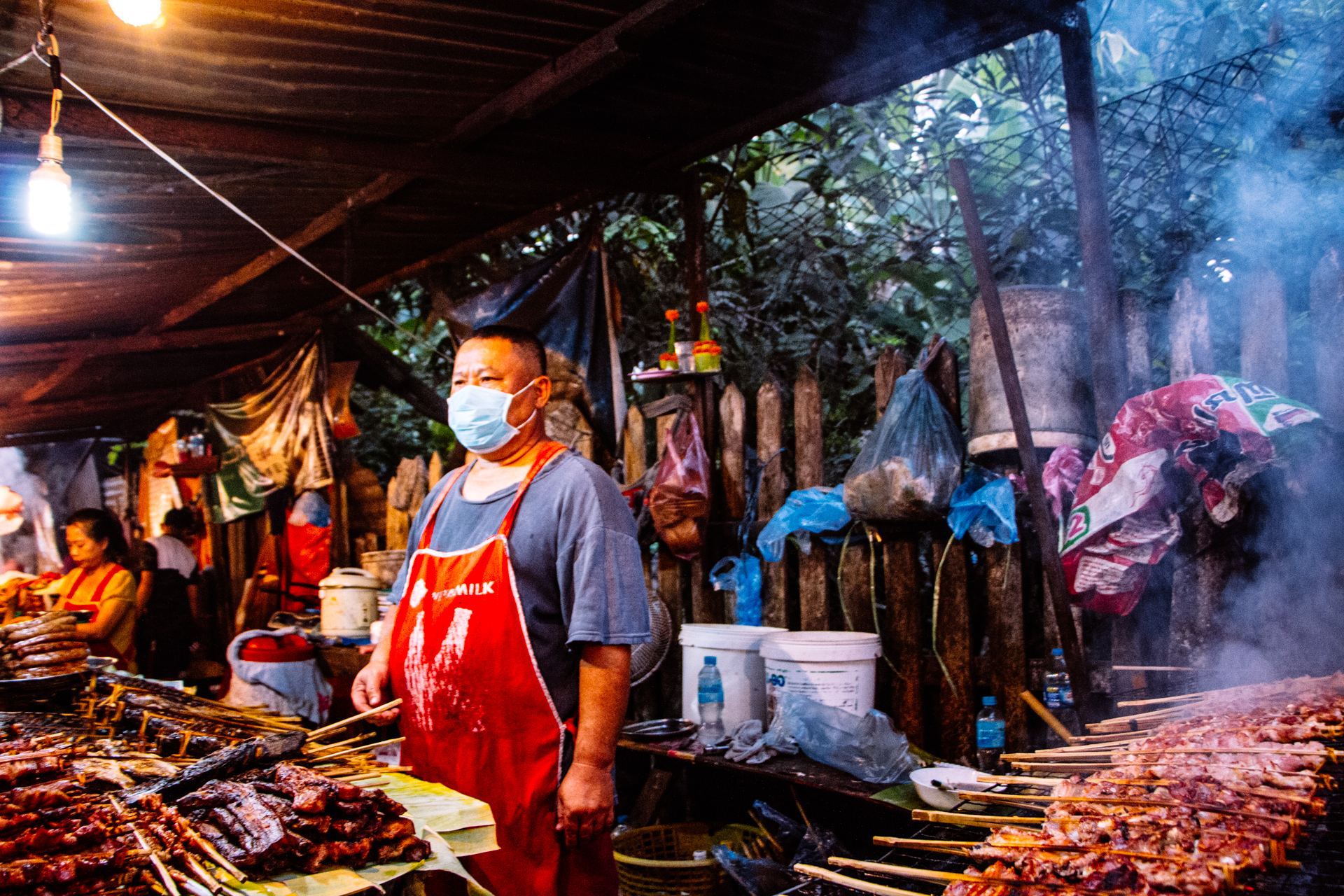 We went to the night market which was the coolest market we went to in South East Asia, there was a lot of tat there like in all markets, however there was some cool stuff there like paintings and lamps which I really wanted to buy but it's difficult when you don't have much room in your bag! We also ate in the food area of the market – we had all you could stuff into a bowl for $1, it was good food, even if I couldn't reach most of it as the table staggered up too high for my short legs :(.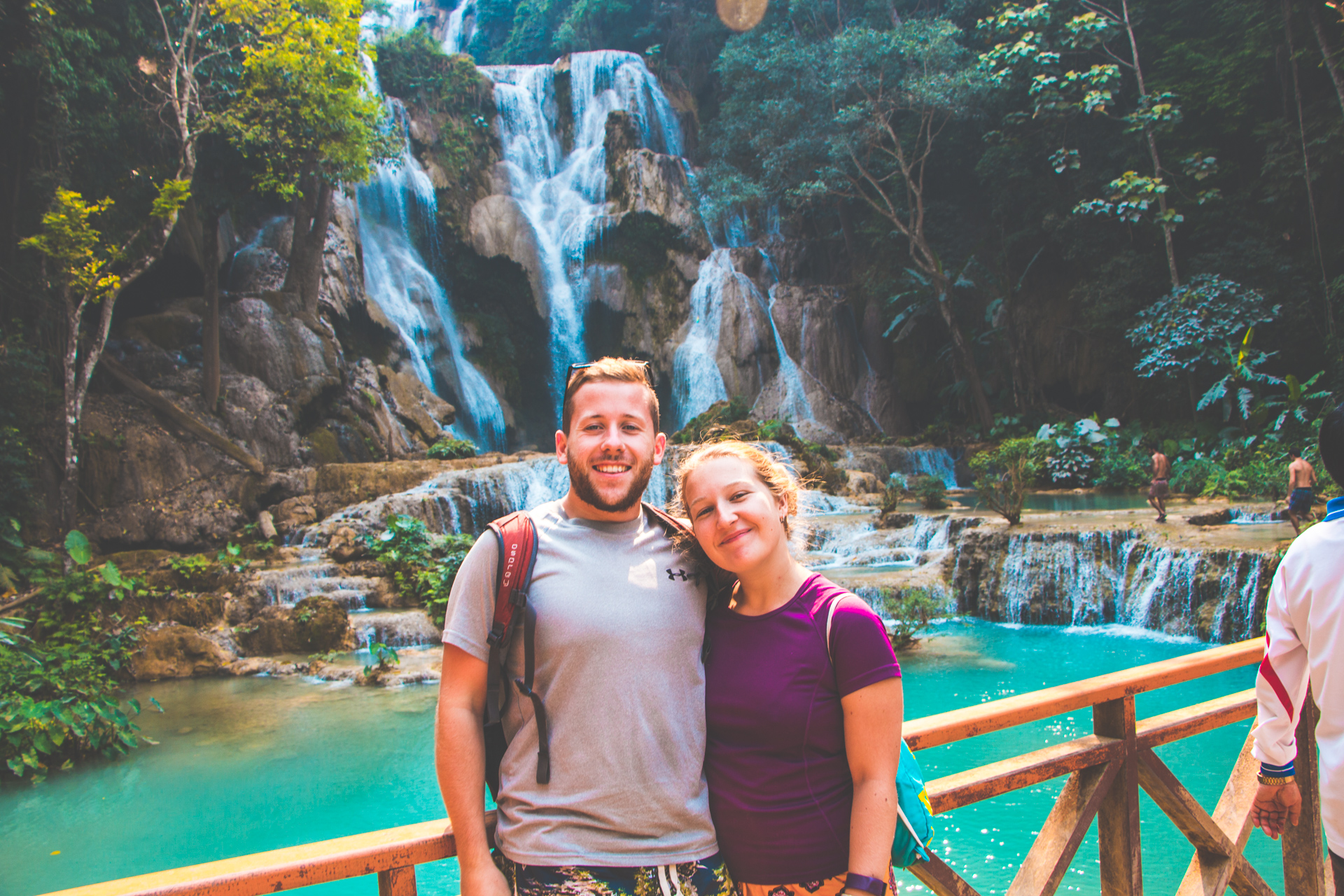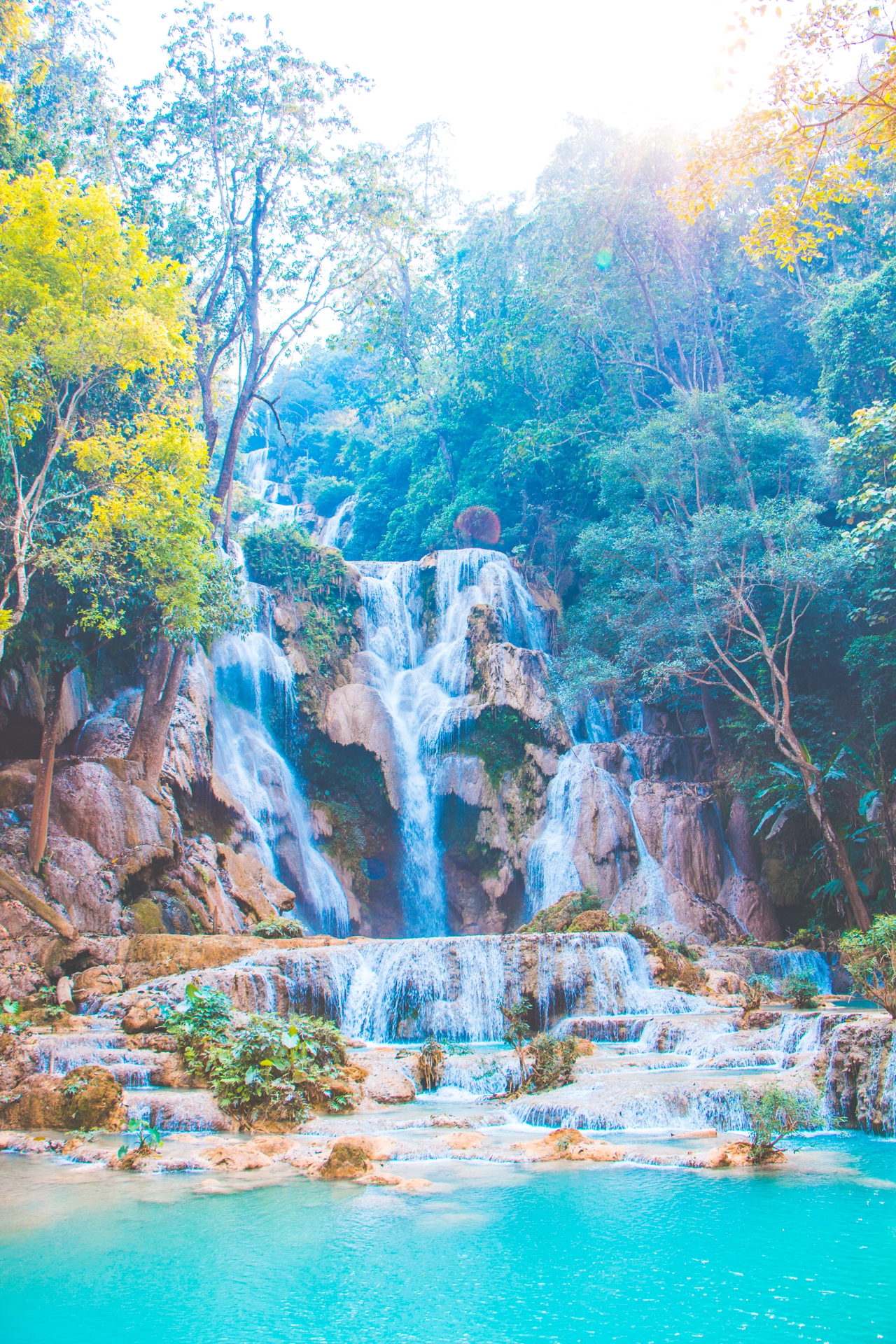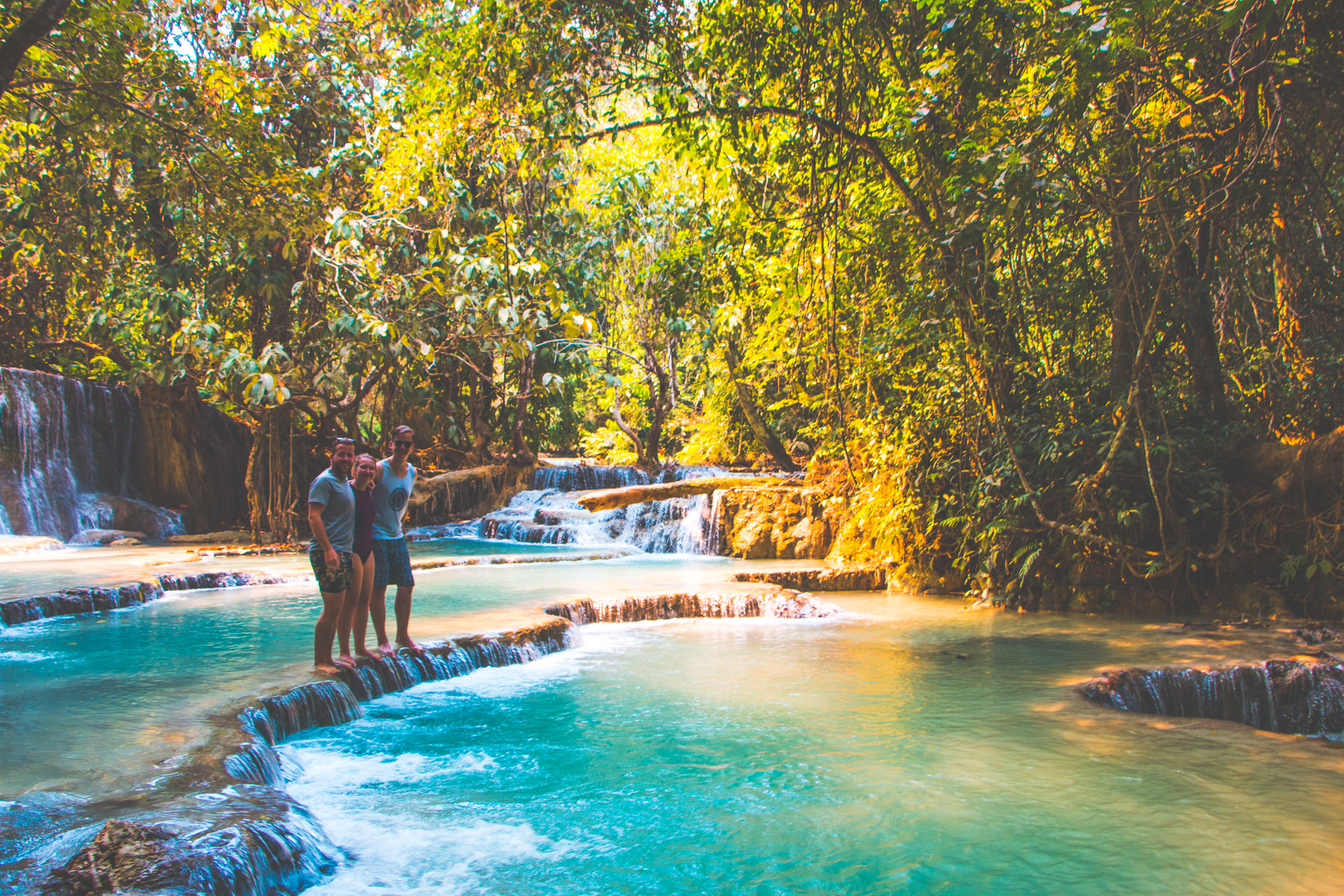 We did a trip to Kuang Si Falls which was incredible, it was a massive waterfall that expands over a large area making smaller lagoons and falls. What made it so incredible was that the water here was so blue, it looked like glacial water due to the calcium content. I felt like I'd fallen into Lothlorien (a place in Lord of the rings) it was so mystical. Alex and I decided to go for a dip in the pools.. it was super cold and there were fish that would bite your toes so we didn't stay in the water long. I definitely preferred looking at the lagoons rather than swimming in them.
While we there in the blue lagoon area we saw some sun bears that were rescued from the fur market, these were so cute, it's a shame they can't be put back in the wild.
Vang Vieng
After having enough of temples, we caught a rather bumpy and fast (very fast) minivan ride to Vang Vieng. We arrived on a really warm but overcast day and planned to go tubing down the river the next day (the most popular thing to do here) but just after an hour of being here the heavens opened and it didn't stop for the next two days postponing our tubing trip. We did have some delicious food here though whilst we waited for the storm to pass, and managed to get a bit of work done.
Eventually on the third day we managed to go tubing which involved going down a huge river (with very little current) in a huge rubber ring. It was difficult to move and we must have been on the river for about two hours stopping only at a couple of bars. The tubing wasn't quite what we expected because in New Zealand it was more off a thrill.. but it was a good way to spend a lazy afternoon. The highlight was finding a cute little puppy at one of the bars – it kept biting/nibbling Alex's beard!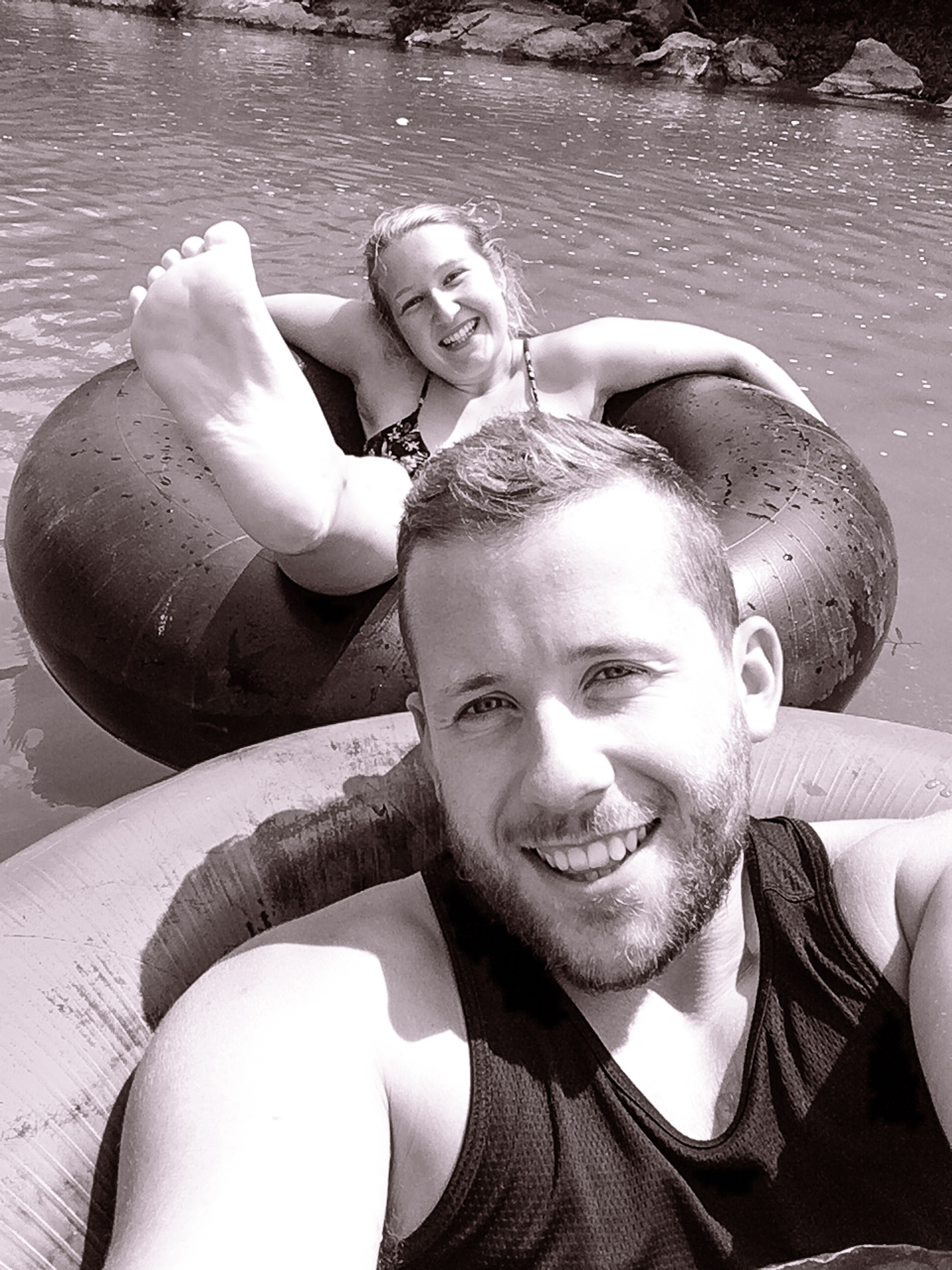 Vientiane
After a very wet trip in Vang Vieng, we caught a big bus to Vientiane, the capital of Laos. I was super excited about this because Alex promised me that as soon as we landed there he would take me to the cinema to watch Beauty and the Beast, which is exactly what we did after unpacking.
We walked a couple miles there and it was such a good film that we went again the next day, the rest of our time here mostly involved going to the gym that was just next door to our hotel, it was good to get some exercise since it's too hot to go for runs.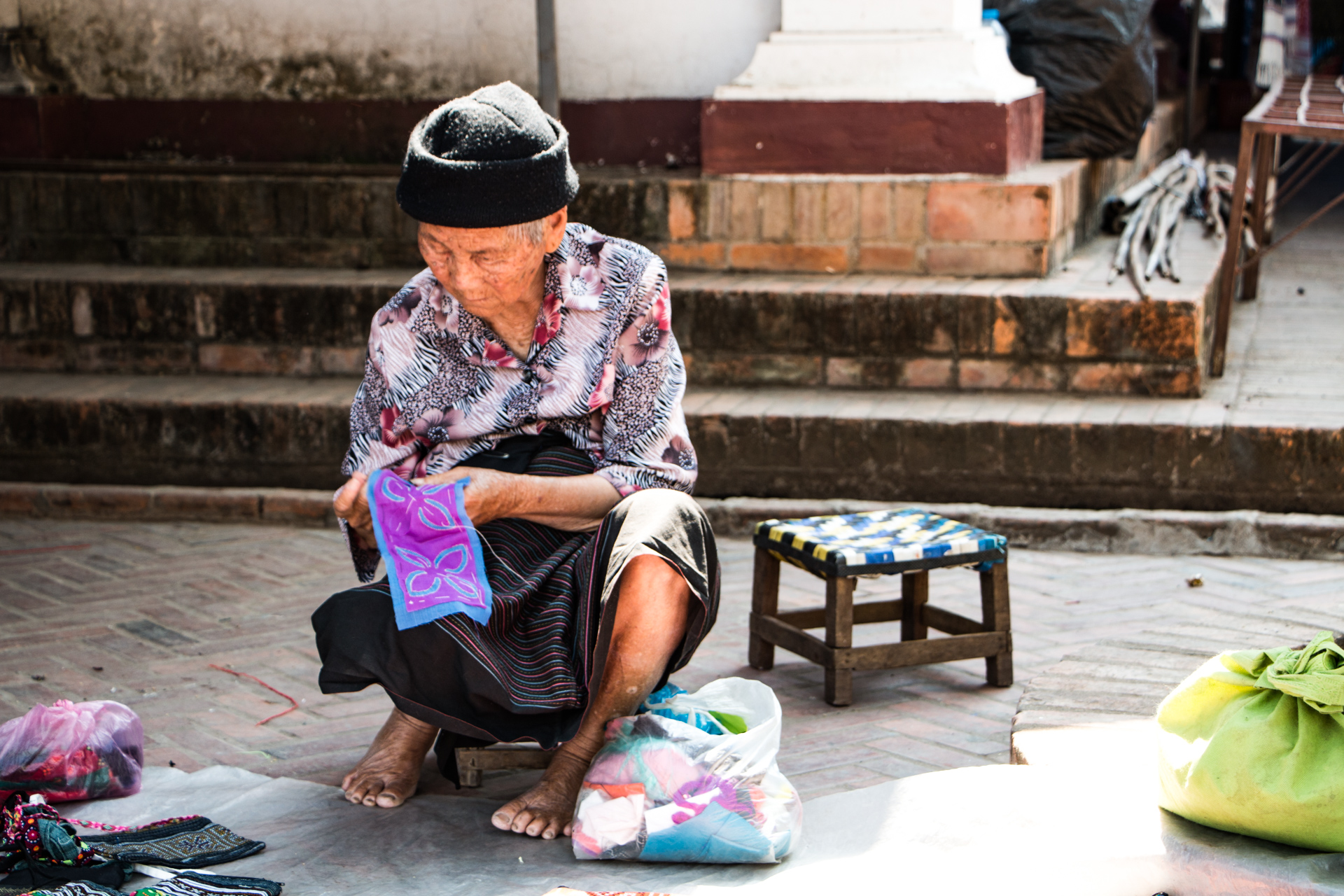 We also decided to go bowling one evening which was a laugh considering the bowling alley looked like something from the 1970s, with a computer that looked like Tron. I think it's safe to say Alex thrashed my pants at the game, mine kept going in the gutter where Al kept getting strikes.
Laos was a very interesting country but we were glad to say goodbye because we had been looking forward to visit Vietnam for ages, we waited in the tiny Vientiane airport which only had two gates: A and B and were very eager to head to Hanoi, we had heard good things.
---