Avoiding Snakes, Exploring Jesuit Missions and Wildlife in Encarnacion
Encarnacion is a cute riverside town which they have changed into a beach side town by adding sand! There was little to no tourism there but the beach has apparently increased the market.
Alex and I arrived here in the afternoon and Al not yet had fast-food fancied a Burger King (we drove passed it in the bus). The supermarket was just next door to the Burger King so we popped in there to get snacks. The evening was nice and warm so we had a beer in Yolanda's garden. Yolanda was our hostel host, she was a lovely typical Spanish grandmother who didn't speak a word of English, all we understood was her pointing at things saying "Aqui" which means here.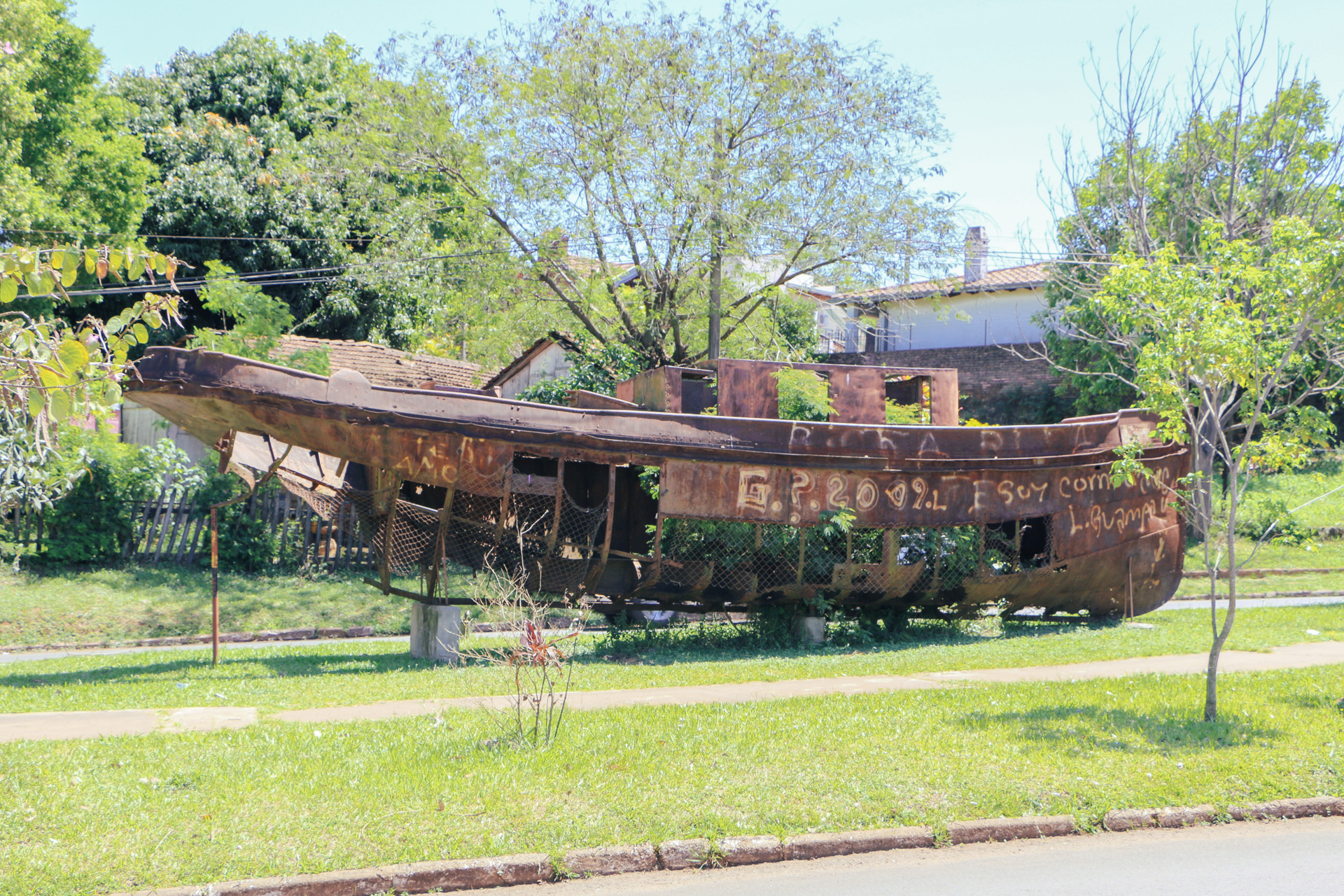 The next day we left it too late to do a tour and the bus system in Paraguay was confusing, so we decided to checkout the "manmade" beach here just to see how it compared. We walked to the centre and saw some horse taxis that we wanted to catch but we couldn't find the pick up locations. It was super annoying because they were free on weekend and it was Saturday. On the walk we saw the outdoor museum which was basically just a rusty boat and other bits of metal, very random. From here we walked through the weekend market, I really wanted hippy style pants but I didn't get them :(.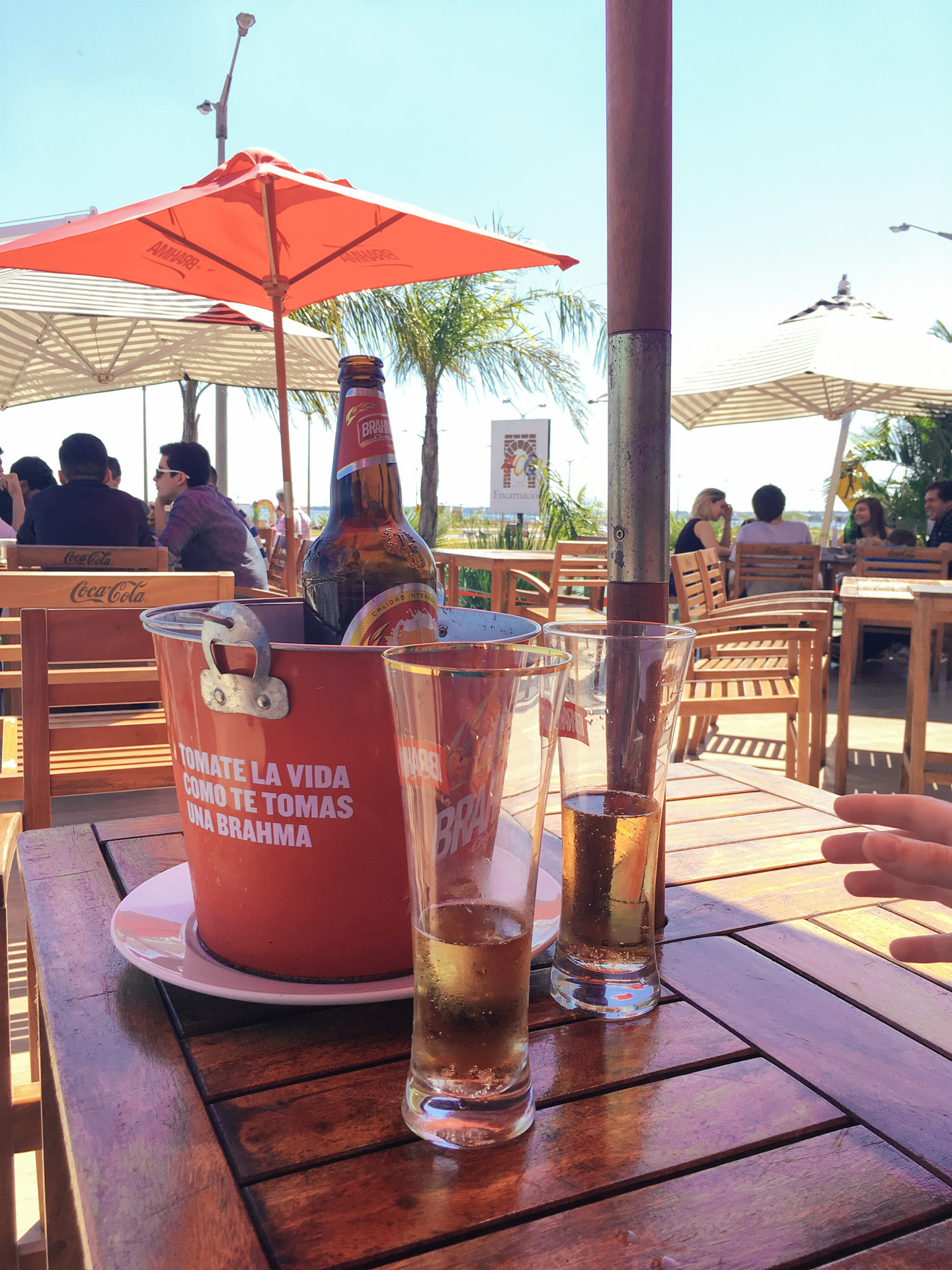 The beach was okay. The sand was super hot and burnt our feet, it was also a super funky texture (imported sand not good). The highlight of this day was drinking beer on the sea and river front.
The next day (Sunday) we met up with Paul. our tour guide, who was from Liverpool originally but now had lived in Paraguay for about 12 years. It was funny to hear a scouse accent. He took us on a nature walk in Tirol hotel, a place that used to be run by Belgians who apparently had run away from Nazi's after the war and drug lords in the 1970's. It was once a beautiful hotel, now however not so much.
The trail started at the side of the hotel, Paul used his mobile to play recordings of all different types of bird calls that attracted little tropical birds to fly straight over our heads. He told us that the Atlantic forest was endangered, with it now only having around 9% of its coverage that it once had. He explained about all the various trees, fruits, birds, butterflies and insects that inhabit the Atlantic forest and how intertwined they are. For example he showed us a fig tree and told us that there are many different breeds of fig tree, each individual fig tree species has a matched wasp that pollenates it, and nothing else. A news article spread in one of the cheap South American newspapers that these fig trees gave habitat to a caterpillar that causes upset, so thousands of fig trees were cut down by the public without any real thought process. So if either the wasp, or the fig tree disappears, so does its counterpart.
We tried several wild fruit, including ones that tasted like a sweet gooseberry, it was different but interesting!
Near some bamboo that beautifully gave structure and depth to the rainforest we stood for a while, although a very quick grower, we learnt that it's endangered as it has a 20 year cycle of growing and then seeding, locals unknowingly cut the bamboo down without paying attention to its cycles.
Paul got very excited about a semi-rare bird that had made a nest within the roof of a building. Paul does the tours very often and has never noticed this before, he explained that this type of bird usually avoids public places, and it was especially odd as the nesting pair were juvenile, possibly meaning there's been an odd change in the local habitat or another reason why such a juvenile pair were nesting.
As we continued around the trail we saw a cicada, a large insect that makes a loud popping sound as it flies, and then came across an armadillo shell being eaten by some crazy looking insects/beetles.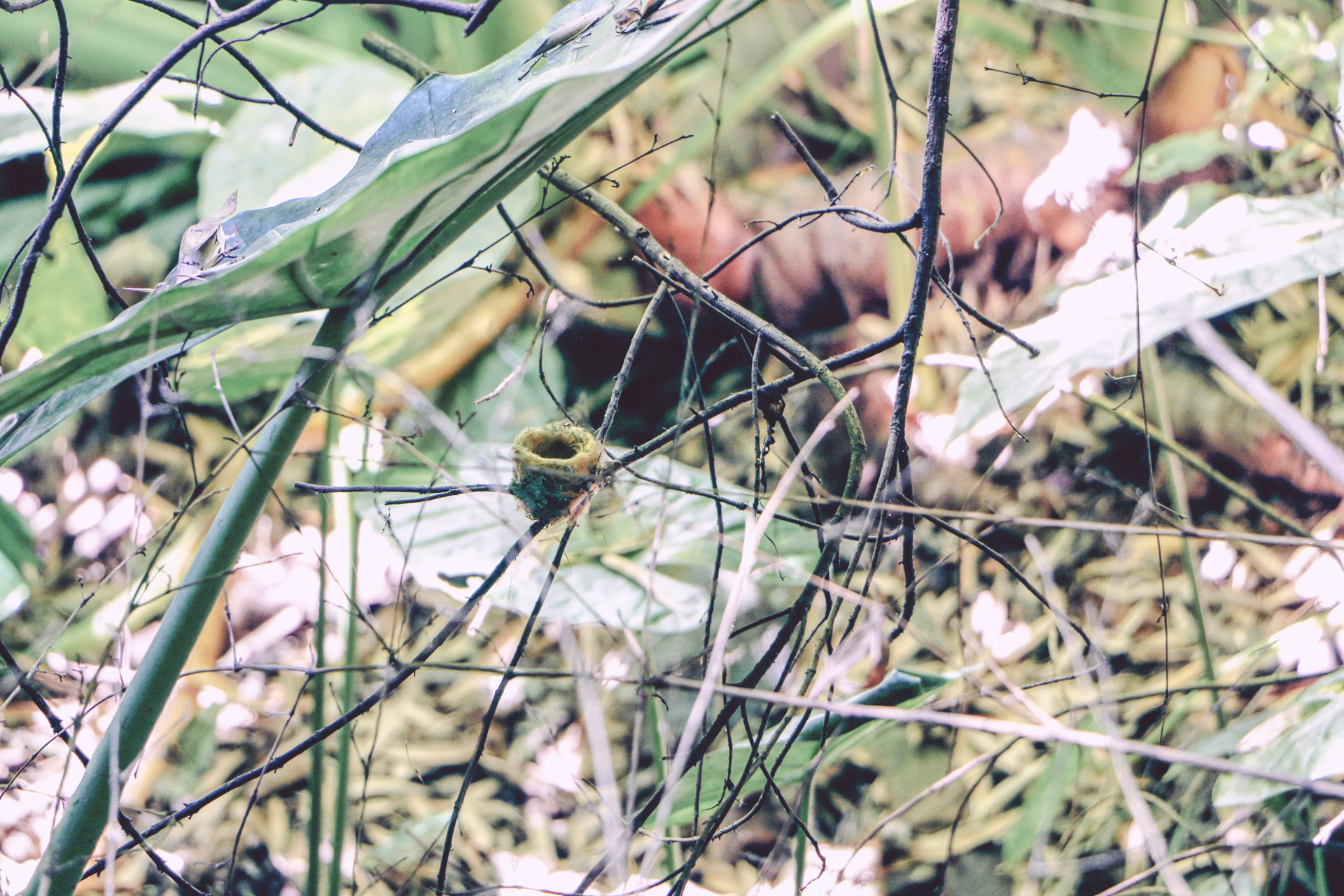 Next was a cute little stream that ran through the Atlantic forest, whilst getting bitten to death by insects and witnessed some amazing sights. Firstly we were lucky enough to see a hummingbird nest that we learnt are amazingly made of mostly spiders silk, it was such a delicate, little nest with perfect little proportions, further from that we saw a rare dove's nest and more rare birds, one with an incredible red belly.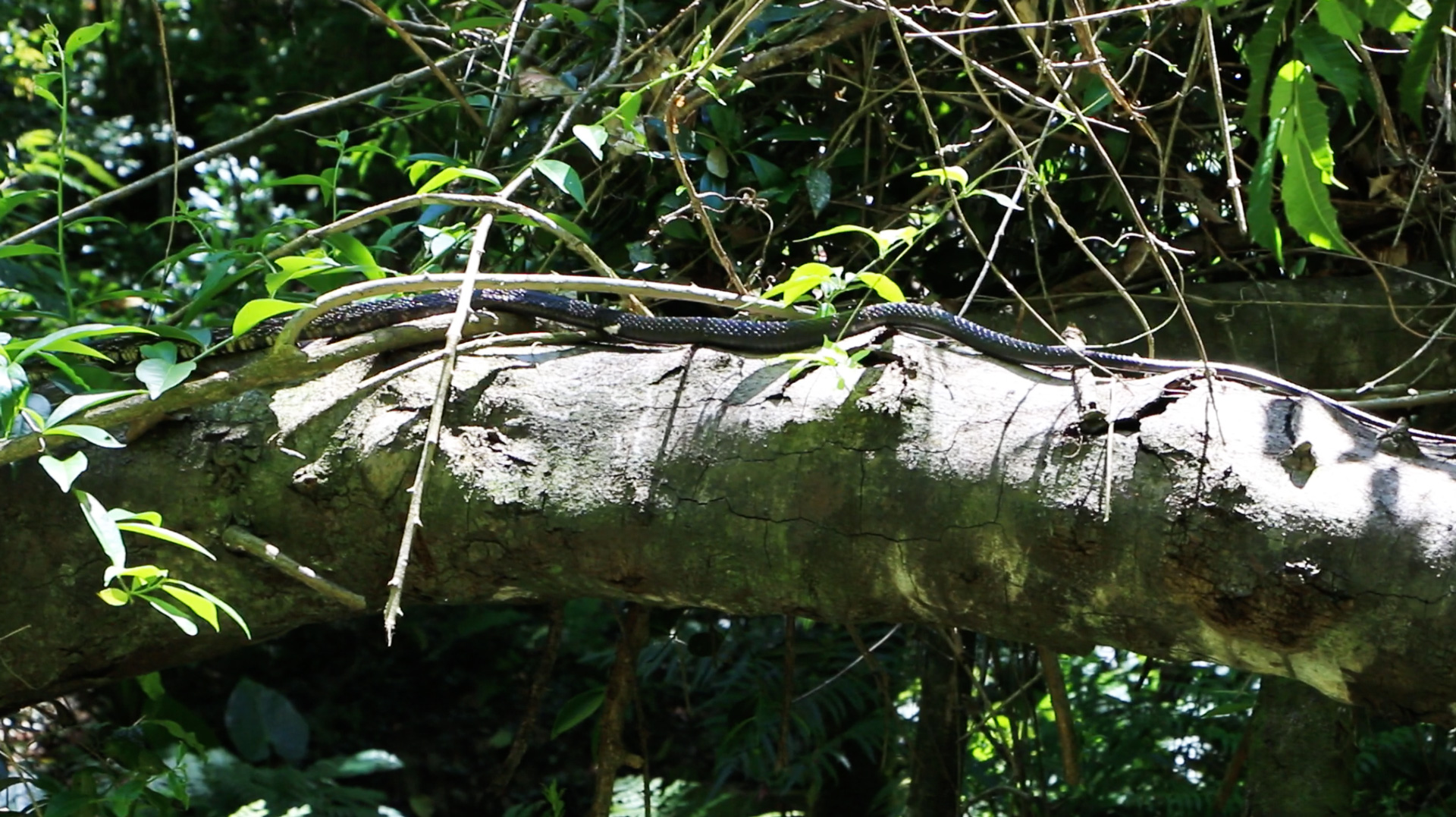 As we doubled back on ourselves after finishing the river trail, we ducked again under a log we had already passed earlier. Alex and Paul were ahead of me and Paul pointed towards me saying to look at a cute butterfly, as I turned to look I saw a 3 metre long snake crawling across the log I had just ducked under! Paul identified it as a black rat snake, luckily not poisonous, it was scary, but a brilliant experience!
From the Hotel Tirol tour we made our way to see a jesuit mission location, Paul not only had incredible knowledge of the local fauna and wildlife, but apparently incredible eyesight too — as we were driving down a very dusty tarmac road he randomly pulled over, got out of the car without really explaining and then went backwards up the road to double check, his eyes hadn't fooled him, by the roadside was a 1 metre long green snake!
The jesuit's were a special mission task force assigned by the Spanish to convert and transform the native Guaranis into Christians, as opposed to the Franciscans whose main aim was to enslave and prison the Guaranis. Paul found a tree with shade and we had a quick lunch, he even bought us some brownies and some oat cake things – how nice! We learnt how the jesuits used very clever tactics to convert the Guaranis to Christianity, not through force but by simple manipulation. Guaranis had many natural beliefs and celebrations mainly based around the seasons and fruits, the jesuits used these as examples, "you Guarani's are close, you know that the passion fruit is sacred and it bears fruit in December, but you haven't realised that's because it's for this celebration we call Christmas, to celebrate Jesus' birth".
Passion fruit's name, however, has nothing to do with 'passion' in the sense of great emotion. The Spanish Jesuit missionaries in South America used the plant's flowers as symbols of Christ's Passion on the cross and called it the flor de las cinco llagas (flower of the five wounds). They were very precise in their analogies between the flower and the Crucifixion: the three styles, or central tubes, represented the three nails; the five stamens were the five wounds (hands, feet and side); the ovary, set on a stalk, is either the sponge soaked in vinegar or the hammer used to drive in the nails; the spiky corona, above the petals, is the crown of thorns; and the five petals and five sepals were the ten faithful apostles (Peter and Judas are excluded from this botanical canon). The priests even likened the vine's tendrils to whips, and the purple petals to the robe used to mock Jesus's claim to kingship.
After having a tour around the jesuit site mission, we then proceeded to Jesús de Tavarangue — another jesuit site, but this one was never finished as the jesuits were expelled from Paraguay. The jesuit missions were so successful in converting Guaranis into faithful Christians, and creating sustainable towns that word got out. People heard of this distant land of "Paraguay" where the natives had adopted Christianity and were now building great cities out of gold. The truth was gold was fairly abundant, and Guaranis had no use for it, so they used it to adorn their churches! When the jesuits were expelled, the Guaranis had a choice; go back to the jungle or be enslaved.
For our final stop of the tour we visited a quarry that provided the stone for the jesuit missions, vast scaling rockfaces of sandstone beared faded chisel marks and cuttings from over 400 years ago.
After getting back to our hostel, Paul spoke Spanish to our host and managed to get us some proper traditional Matte, the way they drink it in Paraguay – cold with ice. Quite different to an ice tea, not sweet but definitely refreshing! Matte drinking is a very social experience in Paraguay, the cup and iced water is passed around friends continuously, it only stops coming to you when you say "thanks". Even the first pour of water into the leaves is apparently drank by the "Saint Thomas", as all the water disappears on first pour (obviously it's just he leaves absorbing the water). I would go as far as to say it's even a hobby or obsession as the variety of utensils and expansive and lavish flasks available on the market is astounding!
For our final meal we went to a Japanese restaurant that the Lonely Planet book suggested named "Hiromoshima" – we couldn't help but think this wasn't necessarily the best choice for us to go to, especially when we were approaching Japanese looking tourists and asking in broken English/Spanish "Hiroshima?". The food was brilliant though!
We weren't sure if this building was being constructed or demolished when we saw it on our first day! However on our second visit we saw workers and confirmed it was actually in the process of being built!
For our last day we headed the beach area and relaxed as it was near the bus station – our bus was scheduled for 3pm, but it didn't turn up until gone 4pm, but this wasn't the start! We didn't get to the Paraguay/Argentina border until around 8pm and the whole border process took nearly 2 hours, it was terribly organised, we were made to stand in the dark and rain whilst our whole bus when through a complete 3d X-ray looking machine — it would have been okay if there was communication, but there was none everyone just sort of followed each other around hoping they were doing the right thing. But alas, we made it to Buenos Aires after a further 15 hours of bus travel – next: Colonia del Sacramento, Uruguay.
---