Getting our geek on in San Francisco
We flew from Lima to Mexico for a stopover. On landing in Mexico we had a connecting flight with a 1 hour wait between.. we thought — the plane landed late and then there was a huge queue for security, time ticked by and the queue did not move. It was about 10 minutes until our flight was due to take off, so we questioned security how long it would take and they grabbed our hands and fast tracked us through the whole process. They even took us on an little electric buggy straight to our gate… we then realised our plane wasn't even boarding yet… yup, we forgot that our watches were 1 hour fast as Mexico is a different time zone to Peru — something we should know like the back of our hand now having travelled via planes so many times, but this time it slipped our mind in the confusion and overnight travel. In the spare time we had we got a Coca Cola – we've been told that Mexican Coke tastes a lot different to any others, we couldn't really notice it, maybe a slight hint of cinnamon or slightly sweeter but nothing crazy. I did however have the best pain au chocolat of my life from a cafe in the airport, it was perfectly cooked, not too sticky and not too dry, yum.. I want another one just writing about it. Anyway, we then got our next flight to San Fran (SFO).. and waited in the airport for another flight to LAX to then go to Disneyland, we've got a separate blog for Disneyland California so check that out. On a side note SFO airport is really awesome, a great mix of open spaces, just the right amount of shops and really good free wifi. I couldn't quite get over how all the book shops had such a incredible selection of tech/business/startup books.
After Disneyland we flew back via LAX to SFO to spend a few days in San Fran, a city I've always had a desire to go to; mainly for it's tech, urban and silicon valley vibes.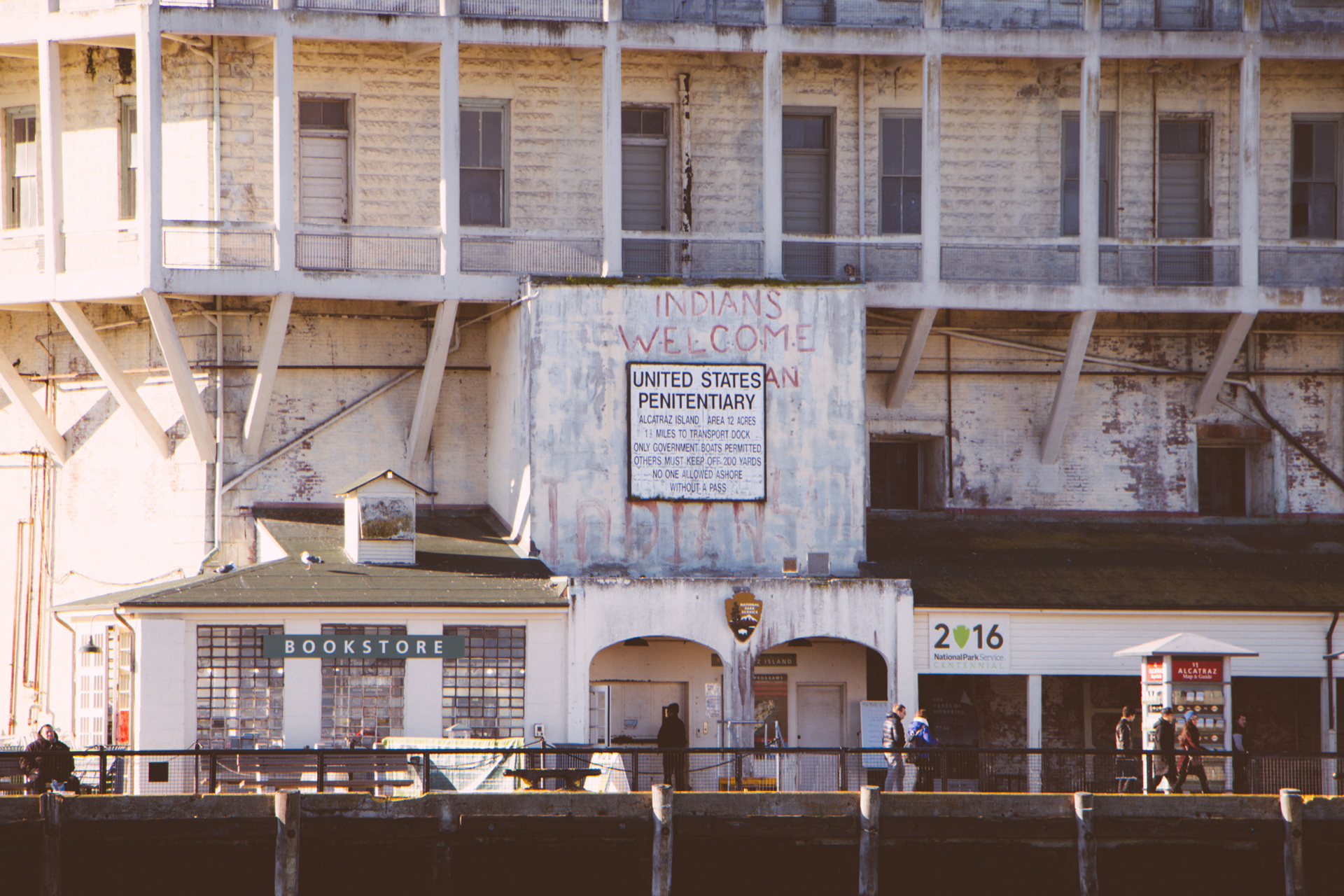 Our first full day in San Fran we awoke early and got a ferry to Alcatraz for a tour around the prison. This was actually a really cool experience, we had an audio guided tour that explained all the escape attempts and different uses for the prison.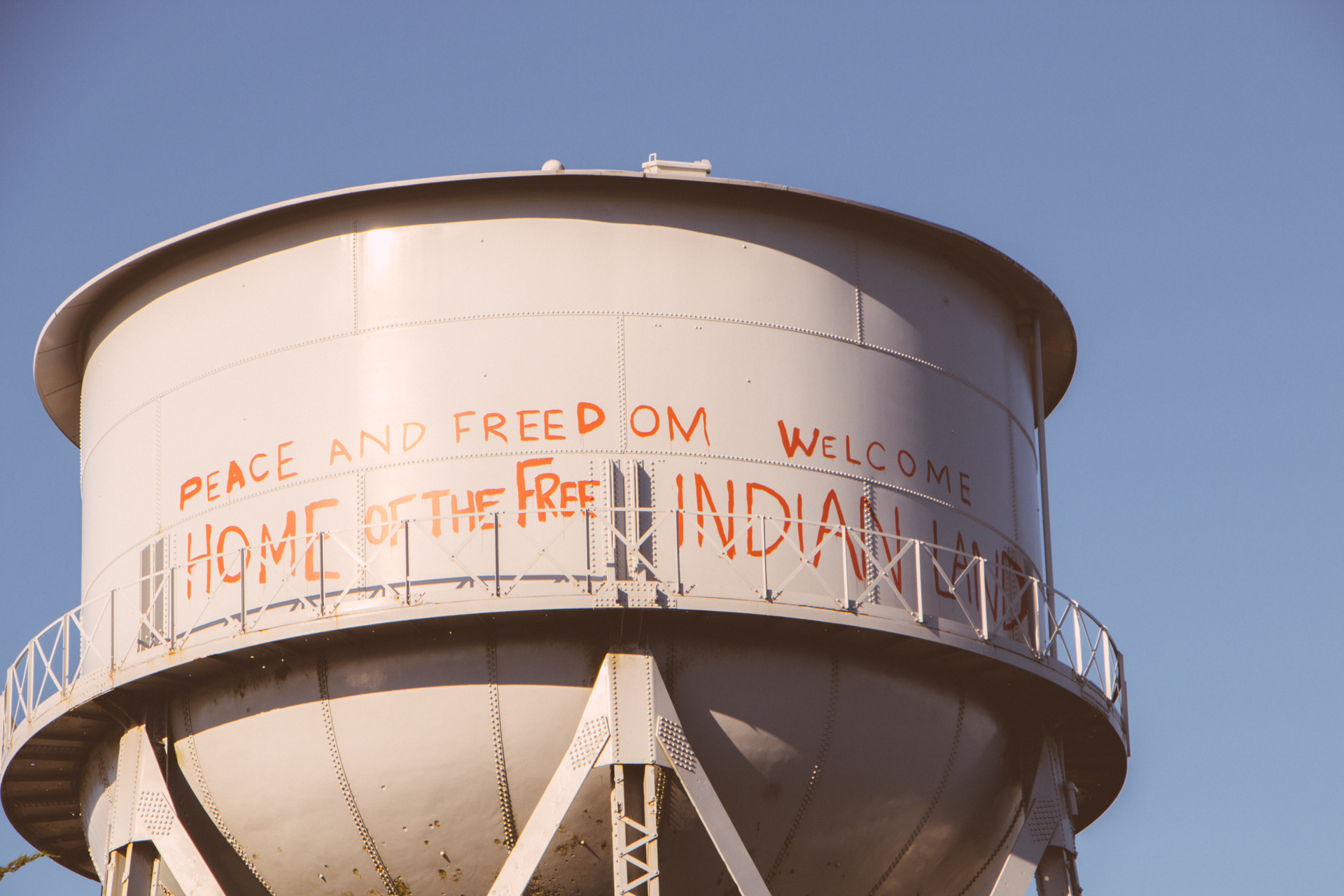 It started off as military fortress with huge iron cannons as a great defensive point in the San Francisco bay – "Though the fortress would eventually fire only one 400-pound canon round at an unidentified ship, and miss its target".
In 1861 after a slow decline of the military aspects of the island it was used to hold captives, due to its brilliant natural isolation and being surrounded by freezing cold waters.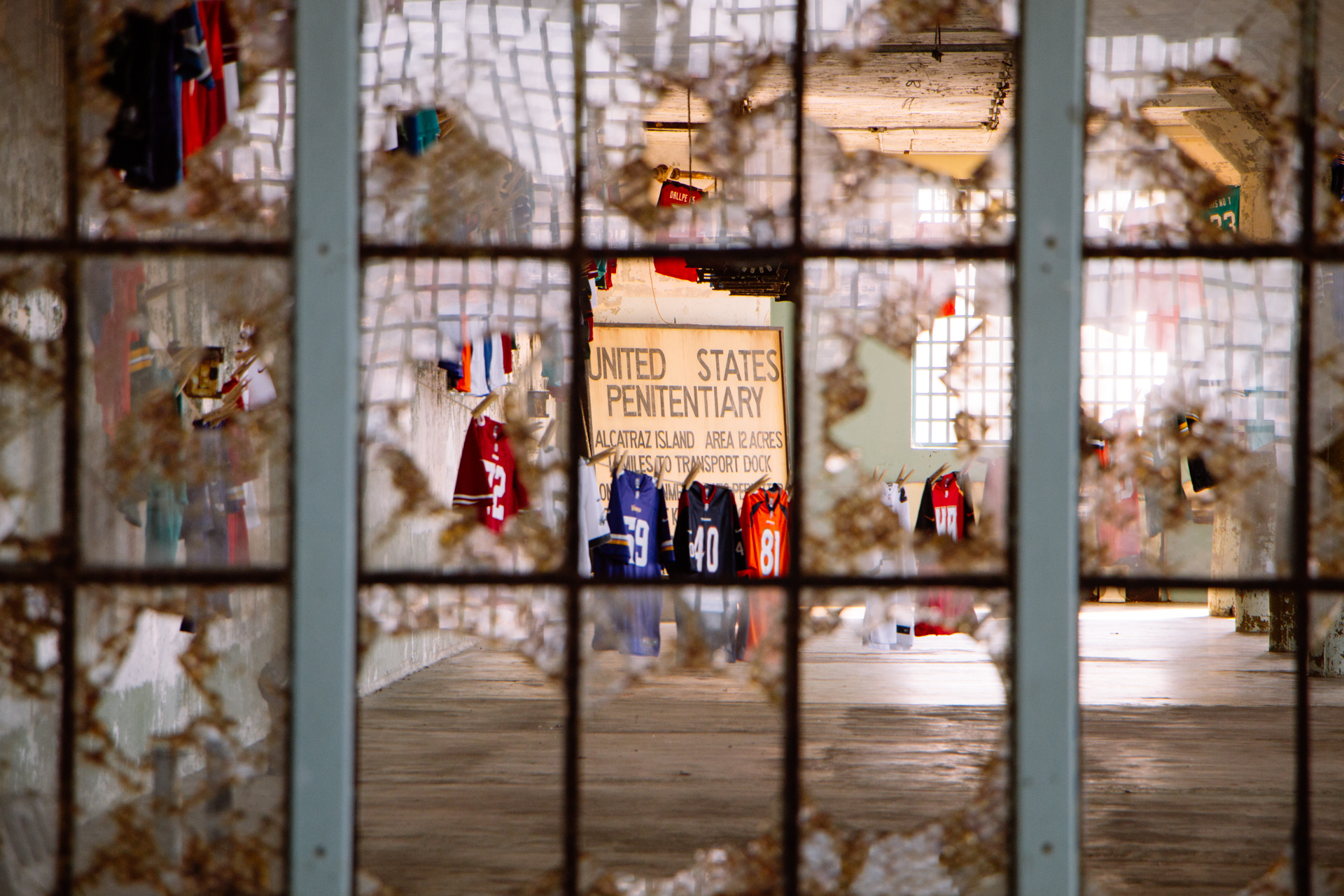 Then it began holding Civil War prisoners. In 1906, after a huge earthquake in San Francisco, hundreds of civilian prisoners were moved to the island for protection. It was the American Army's first long term prison – the residents of California began to dislike having a baron rock with a prison on it as a focal point of the bay, so the fertile soil was shipped in and prisoners were allowed to plant flowers and were taught gardening skills.
The prison got slightly more relaxed with the inclusion of a baseball field, but by 1934 the military decided to close the prison and ownership shifted to the Department of Justice. During the great depression of the 20's and 30's a huge influx of crime caused problems with uncontrollable prisoners and waves of crime. Alcatraz found a new role: "it could serve the dual purpose of incarcerating public enemies while standing as a visible icon, a warning to this new and ruthless brand of criminal".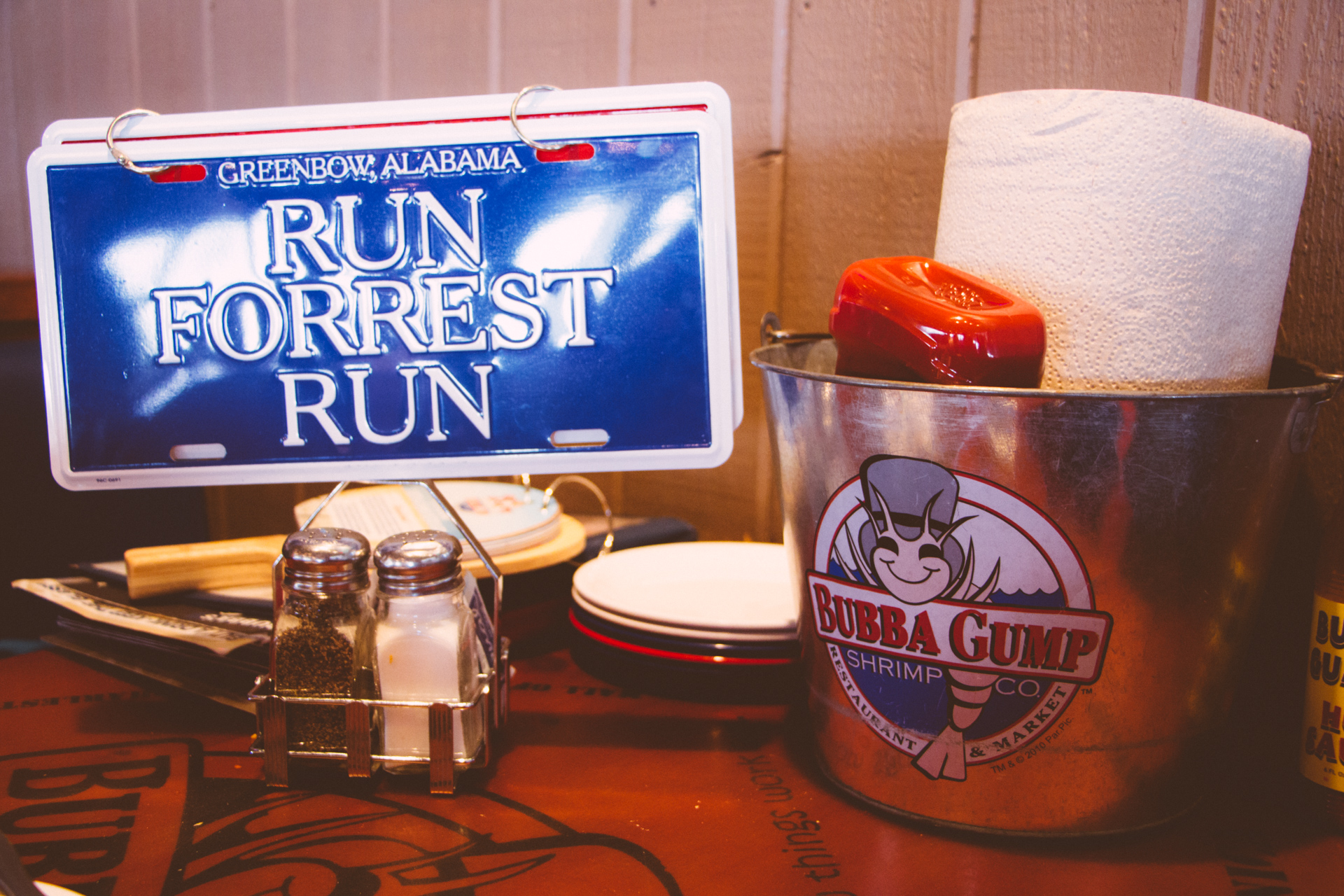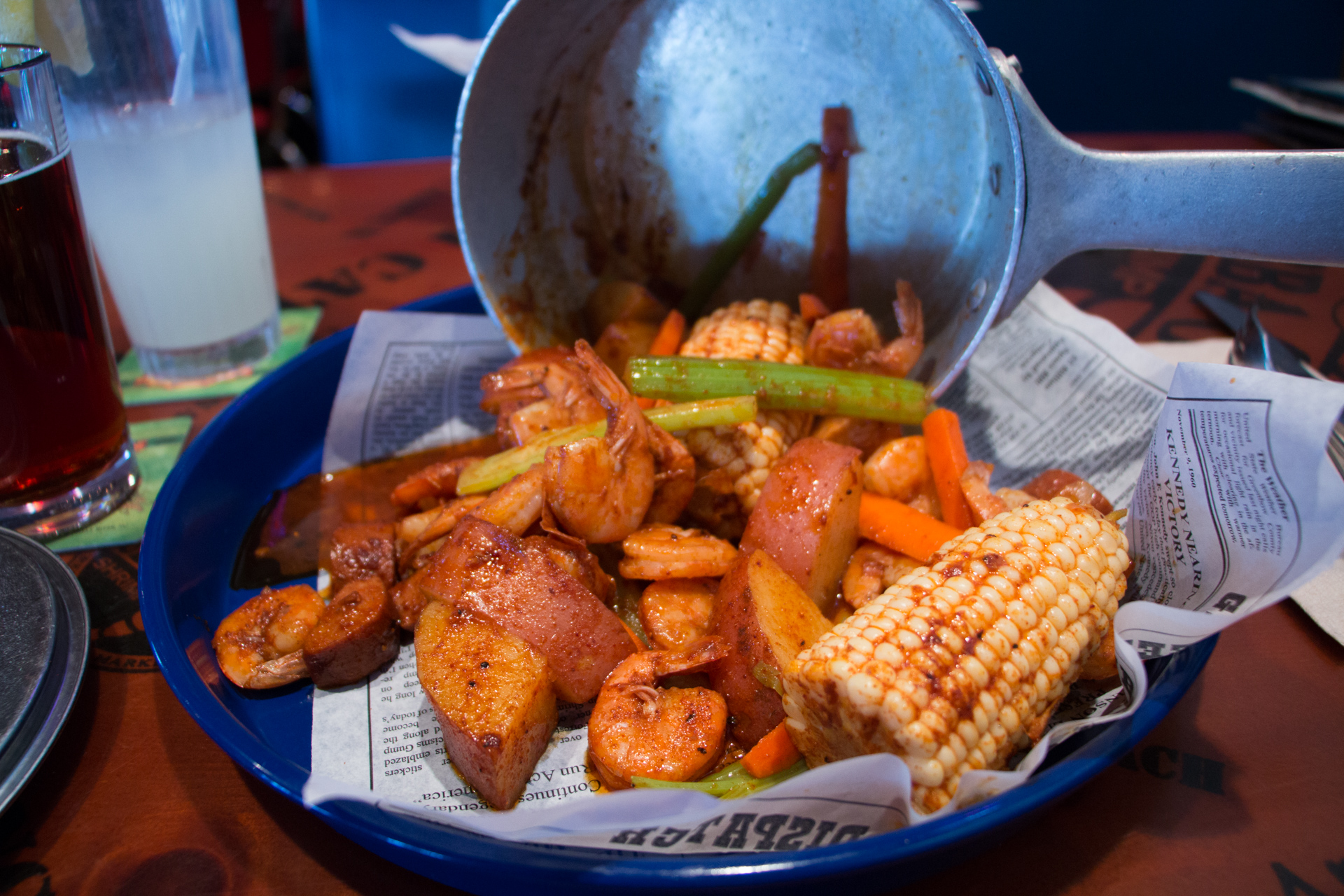 Getting back on mainland we proceeded to Pier 39, a popular tourist spot for cafes and shops, we spotted a Bubba Gumps so naturally couldn't resist going in and having a rather big lunch, full of shrimp, shrimp and more shrimp!
Our next adventure was via the tour bus (BIG BUS) which took us on a lovely jaunt around San Fran. Seeing the "painted ladies", rows of  houses on Alamo Square, then proceeding to Haight-Ashbury – a district where hippy culture is prevalent – though to us it felt quite forced and fake. We jumped off at the Golden Gate park, a beautiful expanse of green parks, containing the renowned California Academy of Sciences museum.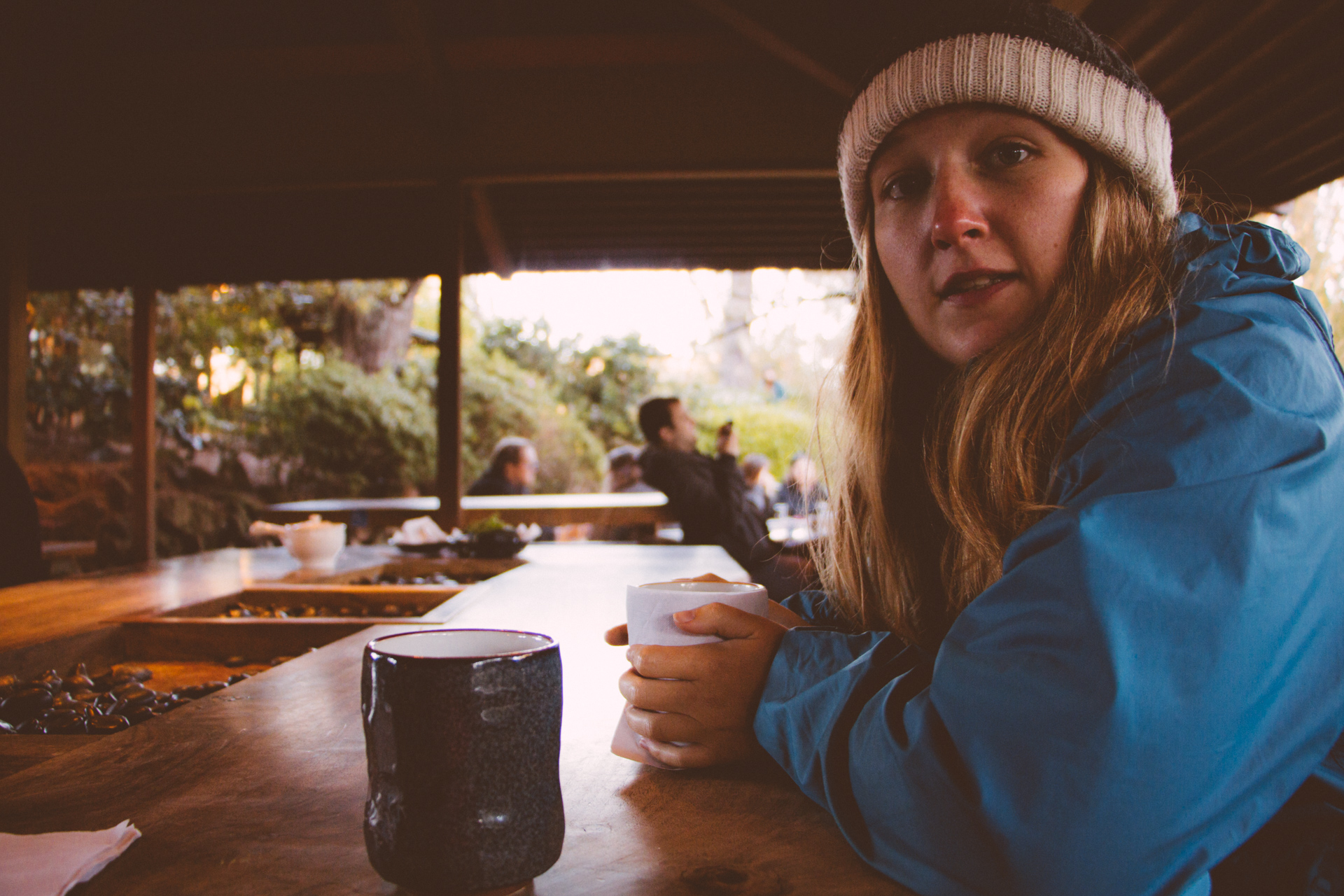 We mainly visited the Japanese tea gardens in the park to have traditional green tea and a small Japanese sweet.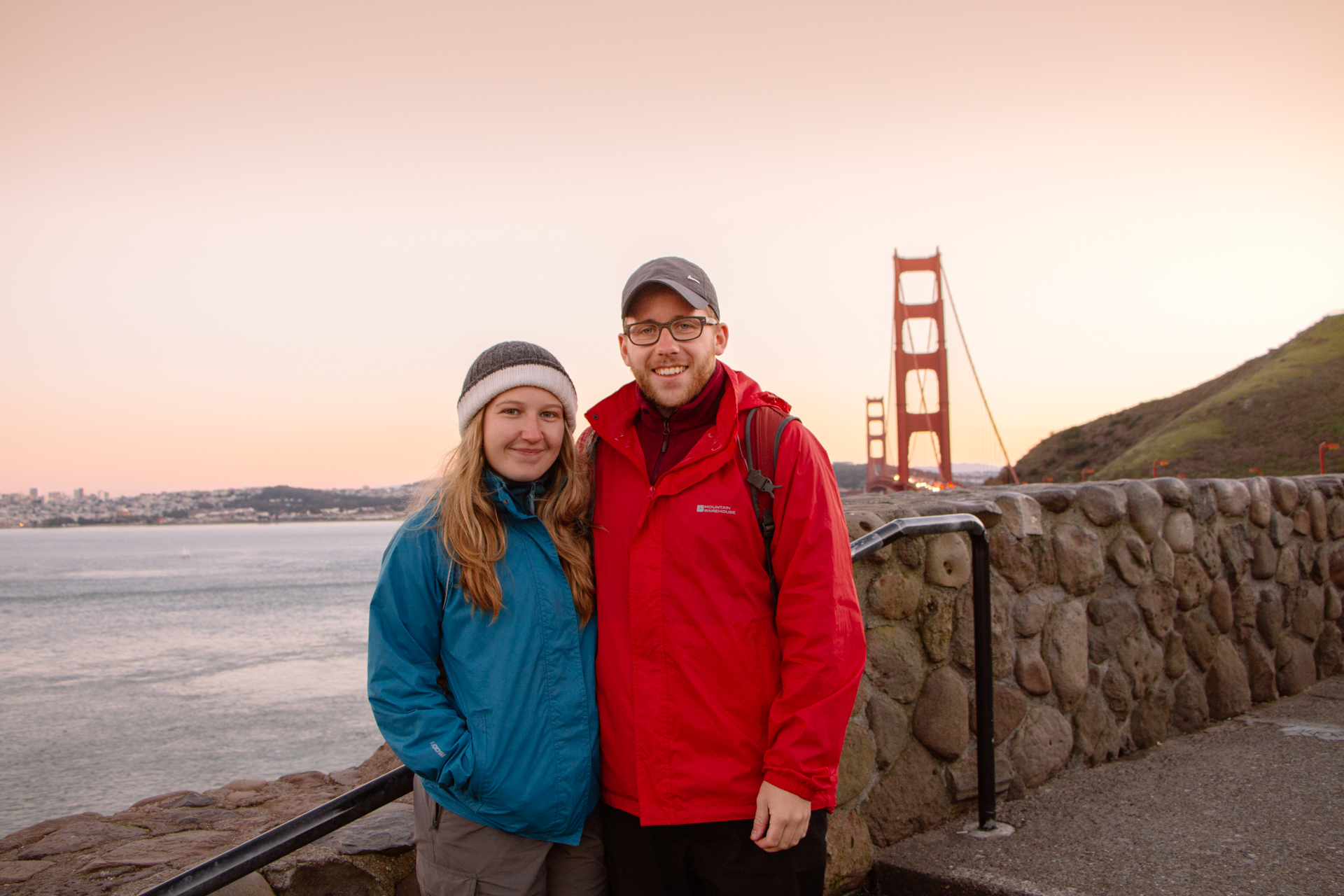 We jumped back on the tour bus and went across the Golden Gate bridge, and got off at the view point — we didn't actually plan this, but luck was on our side as we arrived – the cascading oranges and yellows of the sunset perfectly juxtaposed the golden hues of the bridge as we admired both the bridge and the setting sun. We stayed a while to just sit and watch the traffic slide along. Before heading back into the city to go to "San Fran Dungeon", the city's version of London Dungeon (it's even the same company). This was a cool experience, if you've ever been to London Dungeon it was basically the exact same thing but for San Fran's history. It is a dungeon all themed with stories from SF's gruesome past, mostly pitch dark, you're always on tender hooks as there's typically someone to jump out and scare you or pick you as a volunteer to help tell one of the pastime stories via theatrics.
After the dungeon we realised just how long this day had been. Waiting outside a McDonalds trying to steal free wifi for an Uber we got approached by a "gangster" (best way to describe him haha) selling CD's… I was trying to be nice and said I had no money… I really thought I didn't have any, on opening my wallet to prove it there was a nice $5 note sticking out that I forgot about. He even signed the CD for me – couldn't be bothered to argue so just gave him the 5 bucks and we went on our way. We still haven't listened to that CD… who listens to CD's anymore? I did actually tell him that he should sell it digitally or on USB's – we don't even have a cd player at all; not even my laptop has a disk slot! We then headed to the cinema to watch Star Wars Rogue One – this film was awesome, even better than the main film I thought personally
For those that were wondering our hotel room was a double bed with about a 2 foot gap between it and a very small sink. The bathroom/shower was a shared unit down the corridor. We expected this though as San Fran has some of the highest price for accommodation and real estate in the world — silicon valley and the tech boom in the area is largely to blame for this.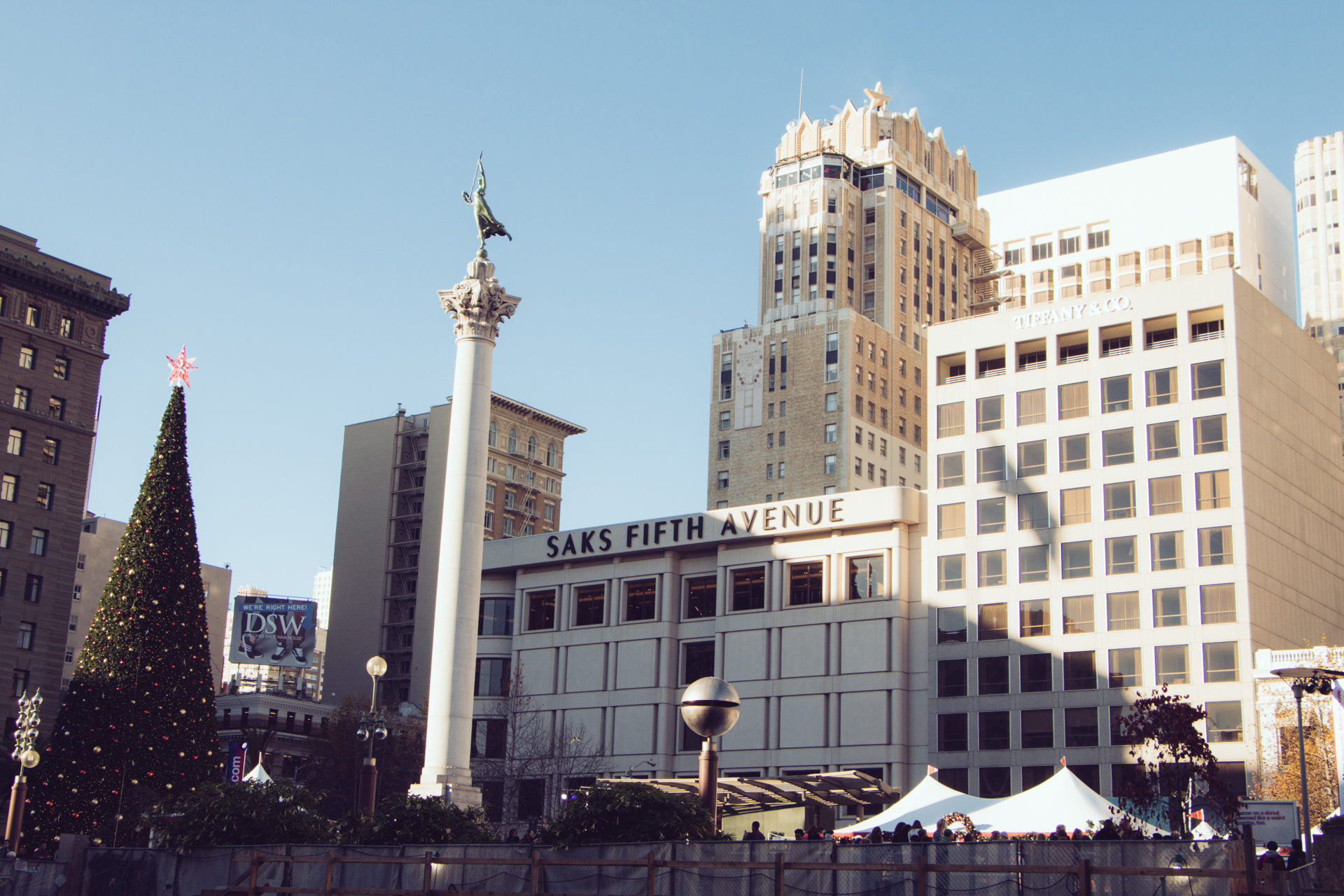 Day 2 — Another jam packed day was ahead of us, we started with a long walk through Union Square and through the huge Macy apartment store and onwards to Chinatown.
The largest Chinatown population in the world. Admiring the many crazy fruits, eels, fish and other crazy inventions for sale we proceeded to Coit Tower, a simple white tower that sits high on a hill with 360 views of all of San Francisco.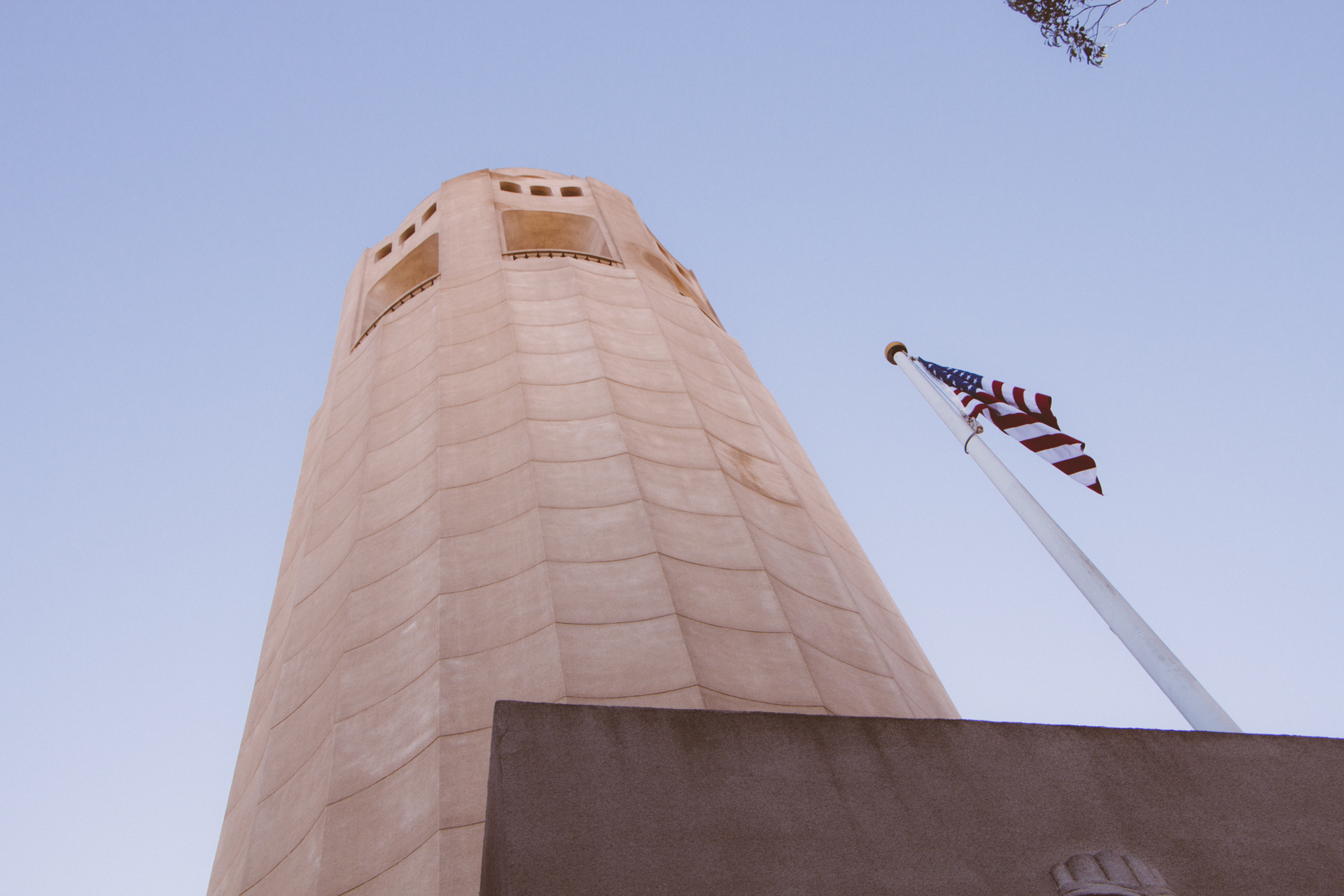 We had a beautiful clear and crisp day for it, with views stretching all around from the Golden Gate bridge, the city skyline, Alcatraz and across to the other side of the bay.
We jumped in an Uber and headed for the Walt Disney Family Museum (As if we hadn't had enough Disney in the past week!).
This museum was set up and is still ran by the Disney family. Showing all the technologic advancements of Disney (which is what most interests me about Disney – it has a great focus on progression and user experiences) and of course the film creations, character progressions and deeper stories behind Disney films and company as a whole for Alis.
We spent a fair few hours in the Disney Museum before once again jumping on the tour bus (we had a 48 hour ticket) to take us around to Lombard Street (the famous curvy/windy road). We took the typical tourist photos whilst walking down it, at the bottom we headed to a cafe to leech some more wifi to catch the Uber back to our hotel… but not before Alis decided she wanted to go to the top of Macy's to get a cheesecake from the "Cheesecake Factory".. our flight to Fiji was only a few hours away – so of course we decided to listen to her stomach and spent many nerve racking minutes queued in the San Fran traffic to speed walk to the 6th floor of Macy's to her cheesecake, before speed-walking back to our hotel to pick up our bags to get another 1 hour Uber to the airport. Luckily we made it in time and Alis even got chance to enjoy her cheesecake in the airport lounge, as it would have just been taken off her at security check for the flight anyway (no food/liquids allowed)!
Safely aboard we nestled down for the long flight to Fiji – where we crossed the international date line meaning we skipped the 19th December 2016!
---