Inca Jungle Adventure to Machu Pichu
After a late briefing the night before we set off bright and early to begin our Inca Jungle adventures! We walked a couple blocks to get our mini bus but it was late – typical South America. On the bus we also met Ed, a lawyer from London.
From Cusco we set off full speed after a quick pit stop in Ollantaytambo to do our downhill mountain biking towards the next destination. This reminded me a lot of death road in Bolivia, but it was far easier because this road was all tarmac instead of gravel. I still was last to reach the bottom however. Alex promised me he would stay with me this time… but he ended up speeding off and he was the very first one to the bottom of the mountain. Thanks Al! — I am proud of him though.
I wish I had ridden a little quicker because just before the end of the ride it started to hammer it down with rain and it was so bad that I couldn't see where I was going.. I got absolutely drenched.
After the bike ride we had another hour drive in the bus to Santa Maria which was right next to a lovely river. It was a rather cute little village. It was hard to believe that this large village had only five houses a couple of years back. We had a really delicious lunch then headed out again to do a spot of white water rafting.
I was pooping my pants a little because I'm clumsy and I thought I was definitely going to fall out and drown, however I did not on the contrary I bloomin' loved white water rafting — it was so much fun. I think it's my new hobby. The guide was very funny too which made the whole experience more enjoyable.
After rafting we were drenched and cold so after a quick change (we only had a day bag which meant not much choice the outfit department) and then had dinner and an early night because we planned to start walking the next day at 7am.
Bright and early the next day and a little damp because our clothes hadn't dried fully we had breakfast and started to walk. It was only Naser (the tour guide), Ed, Alex and I on our little tour so it was rather nice considering there were 20 or so people in the other tours groups. The morning was really pleasant, the road was rather flat and the scenery was beautiful. We walked through old Santa Maria which five years ago or so was flooded which washed away all the village apart from two buildings which were selling coca leaves and inca beer.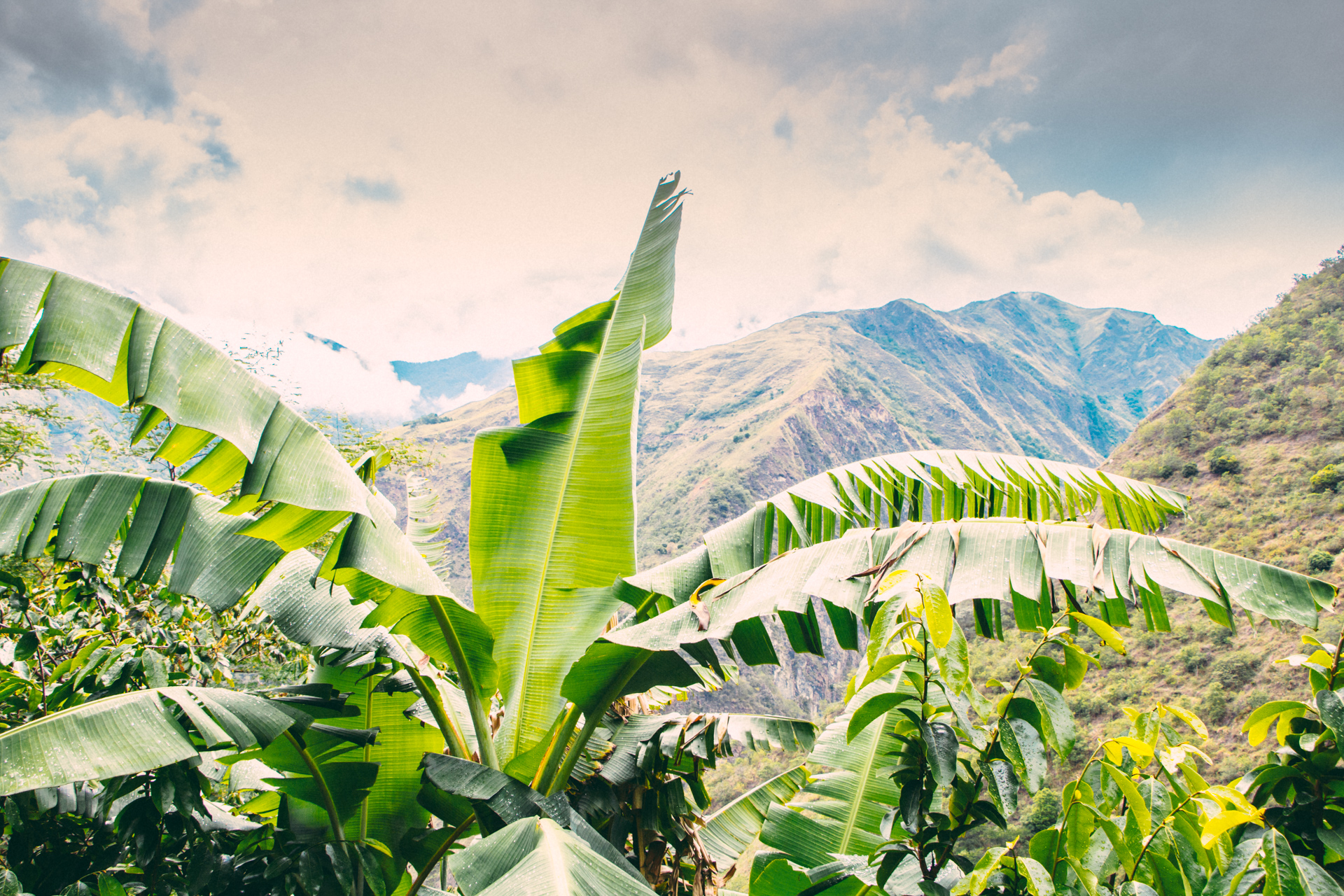 The walk was easy until we began to climb up a mountain. This was one of my favourite parts but the hardest. I liked it because it was through dense green jungle and we got to eat fresh mango and passionfruit all the way directly from the trees. The passionfruit was by far the tastiest one I've ever had, nothing like the ones in the UK. We stopped every half hour or so at local people's houses to learn about Chicha – the local beer which is made with fermented corn. I didn't like the taste very much.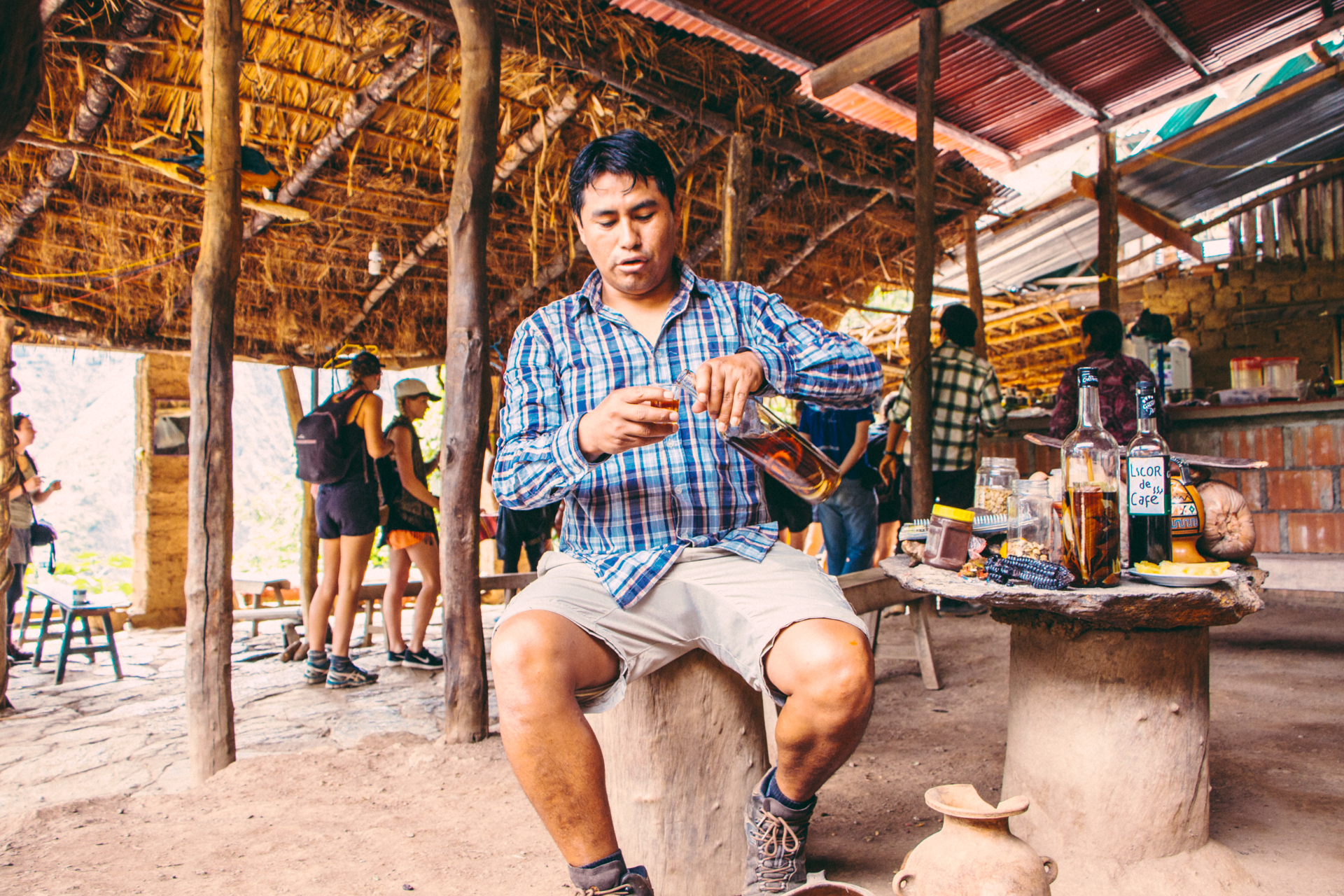 We tried some inca tequila which is so bloody strong, it's a bit like brandy.
Then we had to dress up, I don't know why — probably just so we'd look like silly gringos.
We also had our faces painted with a local orange berry. Naser thought it would be hilarious to paint Alex's face like a clown.
The dye didn't stay on for long however because we continued to climb which meant that we were sweating so much it all came off. We eventually got to the highest point of our inca trail for the day, this is where Naser told us about the inca messengers and how a Peruvian person ran up to Machu Picchu in 2 hours! It takes us gringos four days haha!

At this point we had been walking for about 4 hours and we had an additional hour until lunch! The descent was worse for me, the inca trial was only around about a meter wide and the drop to the side of me was rather vast. Ed was powering ahead and I was stumbling behind with Alex behind me telling me to hurry up. Even though I didn't look much at the scenery due to focusing on not falling off the edge and dying, when I did get the courage to look around it was very pretty – Perú is beautiful.

After lunch we had another 4 hour walk ahead of us but this walk was all flat and involved a stop at a river where we soaked our feet which was lovely apart from the sand flies which ate my leg! There was also a kind of zip line tram thing that we had to go along to cross the river. At first sight it looked like it was for cargo or something but when we got nearer and I got told to sit in it and hold on tight! It was funny too because we had to pay when we got off haha! We then proceeded to walk through an old train tunnel which was washed away in a flood. It was so dark and I accidentally broke Alex's torch but it was okay. Ed was freaking out because there were bats in there and you could hear them and see their poops but couldn't see them.
We finally made it to the Santa Teresa hot springs, the last stop of the day! It was beautiful to relax in the varying pools, each with a different temperature – but I got bitten to hell by nasty sandflies. I'd done well all day not to get bitten by the mosquitos only to get eaten alive by another pesky bug. In the evening we had food and drinks it was pleasant and the food was made by a local family in the restaurant.

The next morning we went zip lining which was a load of fun even if lacking in health and safety a little. We did five zips altogether; one sitting, a tandem, upside down, spinning and lastly a superman which was funny because one of the blokes ended up going backwards haha! As well as having to walk across a bridge suspended above a few hundred metre drop, we were clipped in but I was still scared – I went very slowly and held lots of people up!

From here were had a relatively short walk – 3 hours down the train tracks – here a local gave us some coca leaves which made my mouth numb and we caught our first glimpse of Machu Picchu (from the ground up). We arrived in the village of Aguas Calientes and were pleased to have a really nice hotel even if we wouldn't see much of it. We had dinner and our guide gave us the option of getting the bus in the morning or doing the climb – we decided to do the walk/climb up the last leg of the inca trail but this involved getting up at 4am which I was not looking forward to.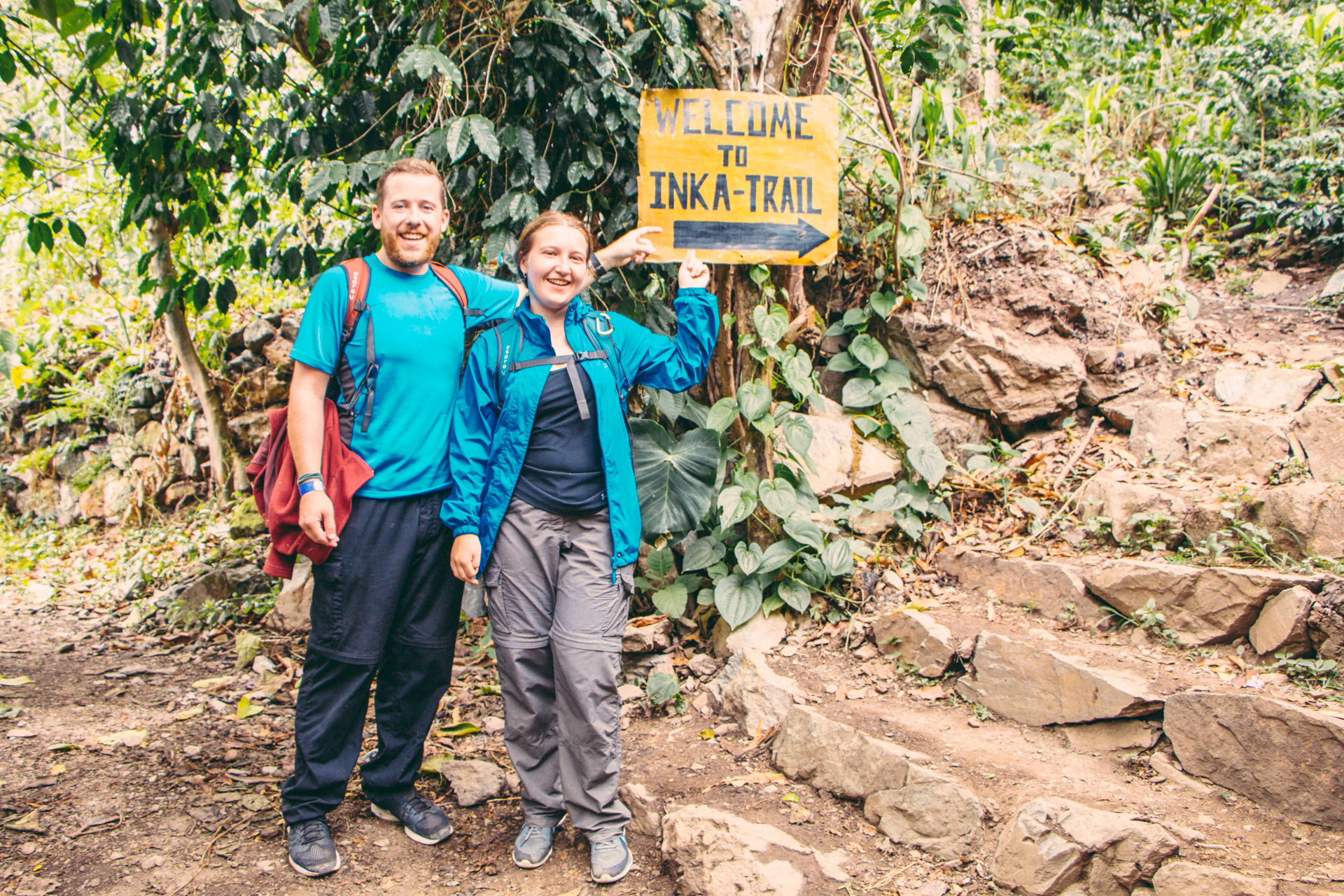 At 4:30am we queued at the gate waiting for the 5am open. The men with guns, alongside the barb wired walls and the stray dogs made it feel like something out of a zombie movie – bizarre. 5am came and we were let in one by one we headed up the trail that was supposed to take an hour and twenty minutes. There were constant steps (as in constantly going climbing up steps made of stones/rocks without exaggeration) and it was rather sweaty work but after 40mins Alex, Ed and I made it to the top of the inca trail with Naser waiting for us at the top.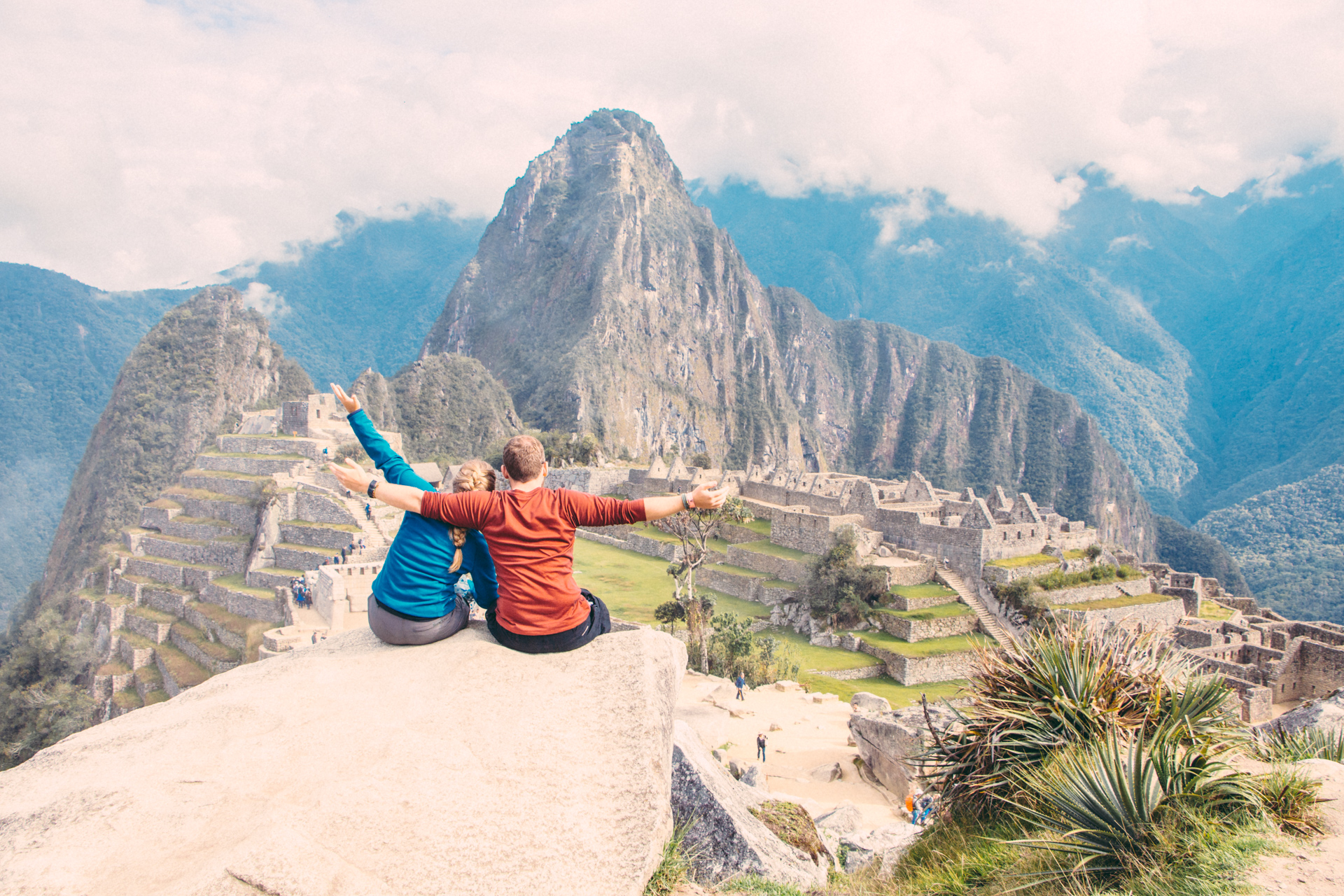 Machu Picchu itself was amazing and no words can describe how remarkable it was. The Inca people were so intelligent for their time. Subtle things such as the math used to work out North/South and then arty novelties such as the way they carved certain sculptures so that only for a certain day of the year, with a certain light the rock/sculpture would cast a specific shadow – usually that of a alpaca or eagle.
After a couple hours there we headed back down the mountain and had a rather pleasant train ride back to where we started the inca trail. I was a bit annoyed because the scenery on the way back was spectacular but Alex and I fell asleep! A bus picked us up from the train station to head back to Cusco.
After a long rest when we got back we said fair well to Cusco before heading to our next location Arequipa.
---