Jeep Tours in Paraty and bussing to Sao Paulo
A 4 hour coach journey from Rio landed us in Paraty, where we've spent 2 relaxing days. A lovely little town featuring cobblestoned streets where cars are banned, colourful boats, lapping seas and fancy fish restaurants accompanied by the smell of log fires in the air make it feel oddly like a tropical version of an English harbour village.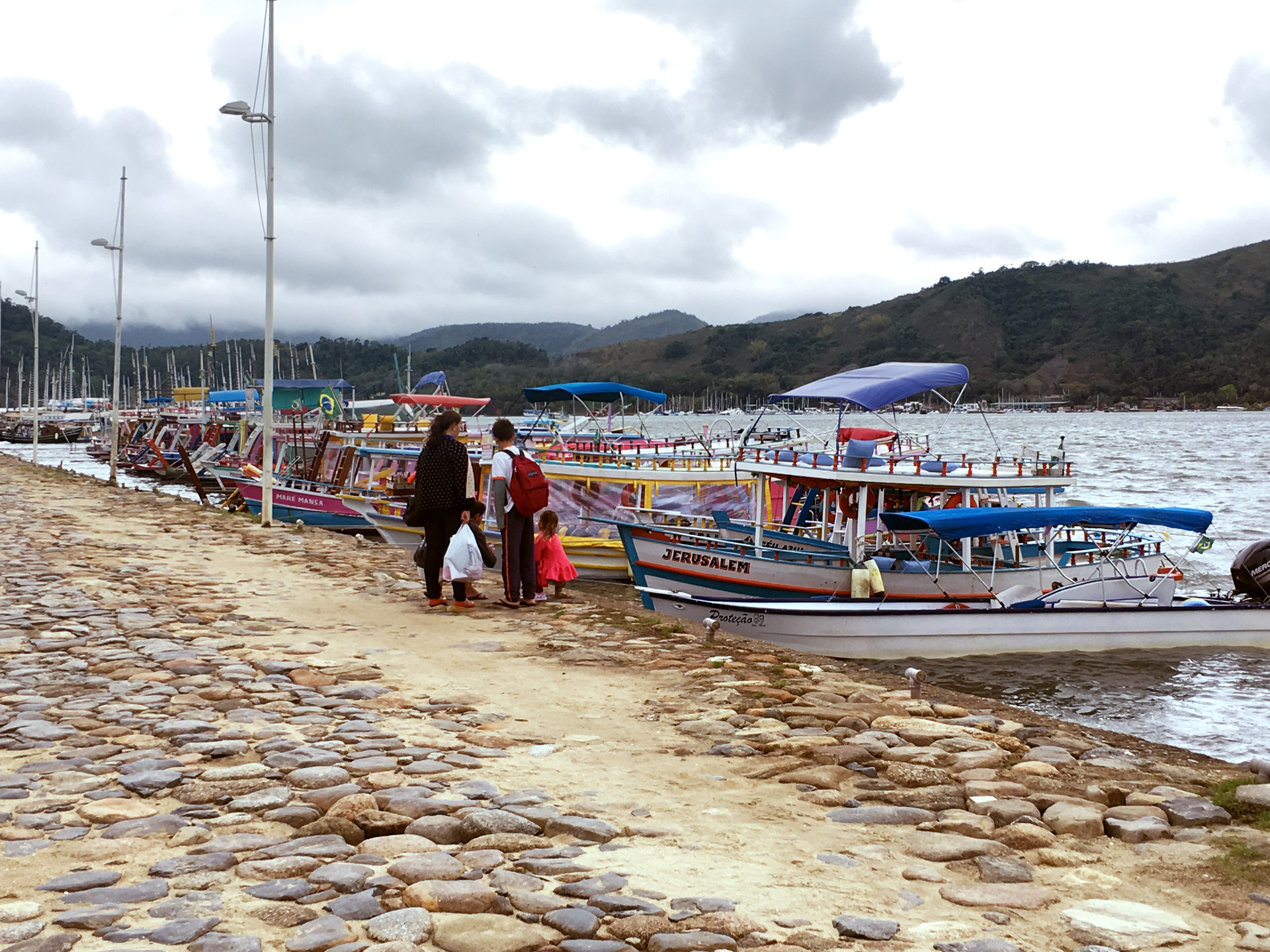 The town is built just below sea-level on it's sea facing side, so occasionally on high tides the cobbled streets flood to a small extent – it's one of Paraty's quirks – however previously it was not so pleasant; it was formerly a method of sanitation.
Our hostel was a quaint old style villa/house, located just outside of the town, accompanied by a large pool – apparently the largest of such in Paraty; which was a selling point listed by the hostel, however it was just a bit bigger than your average American garden pool.
This was our first shared hostel experience – sharing the room the first night with 3 others which wasn't too bad, although definitely a markedly lower quality sleep than our private room in Rio.
Overall our stay in Paraty was fairly relaxed and mostly consisted of walking around and sightseeing.
The most noteworthy day was when we woke on Wednesday expecting to go on a boat tour around Paraty, however it didn't go ahead due to limited numbers: instead we chose to go on a jeep tour – we feel we made the right decision choosing the Paraty jeep tour as it was a fantastic day and the weather was overcast and not really appropriate for a boat tour. Although we are glad we weren't in the passenger seat in the front, as the door didn't close properly and several times going around bends on the rainforest roads it opened — leading the middle-aged lady in the front to promptly try and swing back in whilst closing the door.
Our jeep tour guide taught us the history of Paraty, explaining that the area was colonised by Portugese in 1597 – it originally was inhabited by an Indian group named the Guaianás. The Indian's main fish they caught in the area was in the Tupi language called roughly "parachi", which is where "Paraty" got its name.
Paraty has such different feel to most other Brazilian towns due to its rich yet mixed history. It was once the central gold hub. Gold was mined from the northern mountains, carted to Paraty and shipped to Rio via boats that were protected by the English. However after many years the french and pirates began to attack the "gold road" – the road which gold was brought down via a 7 month round trip. After getting tired of these attacks a new road was formed from the mountains directly to Rio. This new road rendered Paraty suddenly useless. Jobless and without much to do the inhabitants of Paraty turned their hands to a new profession and quickly became some of the best distillers of cachaca – a alcohol distilled from Sugar cane and drank commonly by Brazilians as part of many cocktails – namely the widely popular caipirinha and even drank on its own.
Our first stop on the jeep tour was a visit to one of these distilleries, where we learnt the unique and natural processes they use to create the alcohol, as well as tasting the many varieties, from oak barrel aged to mandarin leave infused versions. Some tasted similar to whiskey where as others were more like a smooth yet bitter vodka. From here we visited a beautiful rainforest and waterfalls – Alis and I were the only English speakers in our party, so our guide would first explain in Portuguese and then in English for us. At these waterfalls our guide took myself and Alis separately up higher through these waterfalls, which required us to take our shoes off to clamber upwards and sideways across slippery rocks. A secret technique was revealed to us, if you first rub your feet on the wet slippery algae, let them dry; they are then a lot stickier and give you much better grip when walking the same algae, sort of works like velcro – weird but useful! We were told that several days earlier a large snake was seen across this path, yet we continued to the top to be greeted by the graceful source of the crashing waterfall below.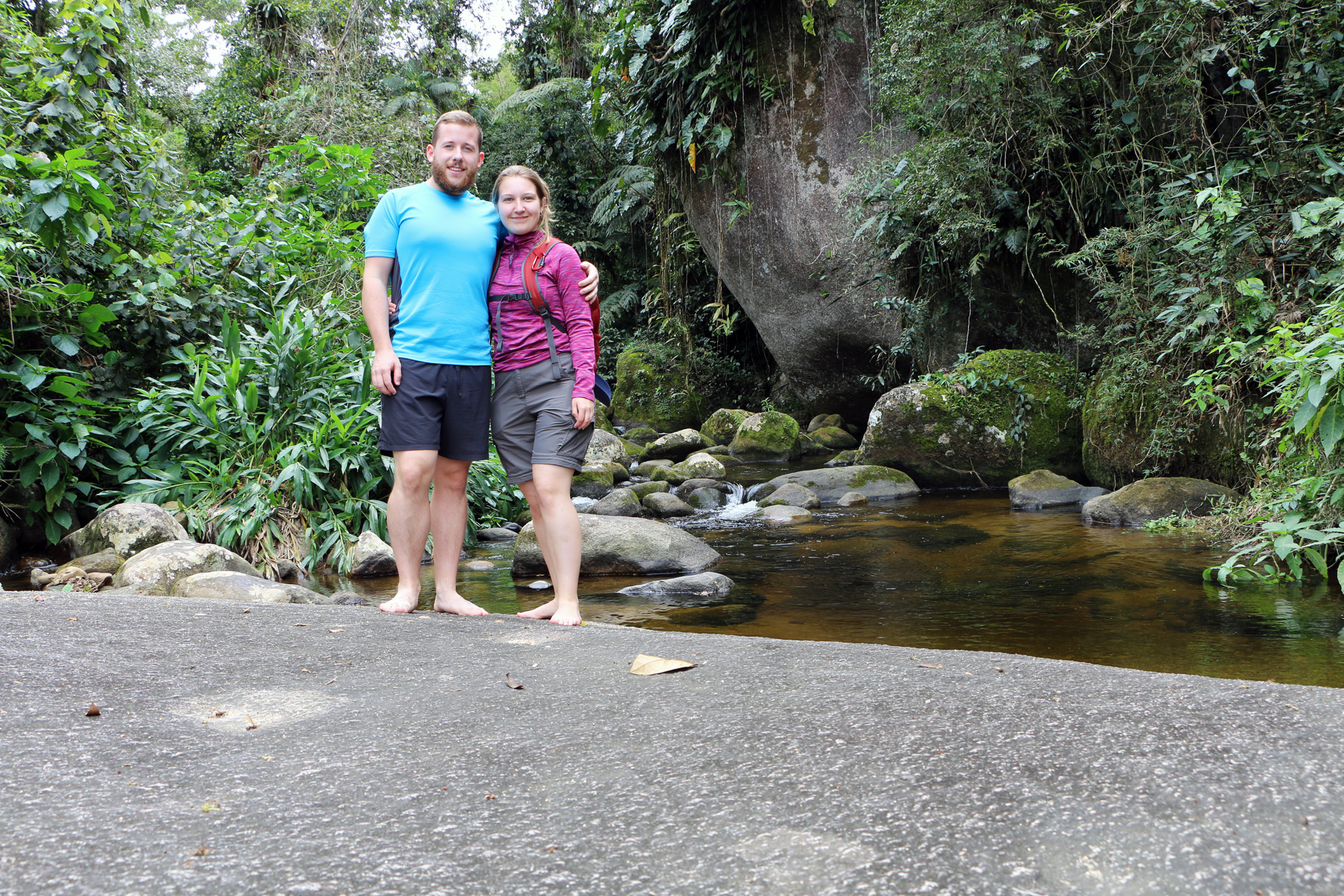 We went to our 2nd distillery which is just alongside the old gold road, this distillery was an award winning producer, and the slight increase in quality of the cachaca could actually be tasted, it was smoother and less bitter. Our walk continued to a restaurant where we ordered our lunch for later on, whilst we continued across a rickety wooden bridge, supported by 2 large bamboo's thrusted into the river rocks 12 feet below.
Crossing this bridge was limited to 2 people at a time, but even then it swayed, bent and grumbled. Safely making it across we got to a large rock face with a steady flow of water flowing across it.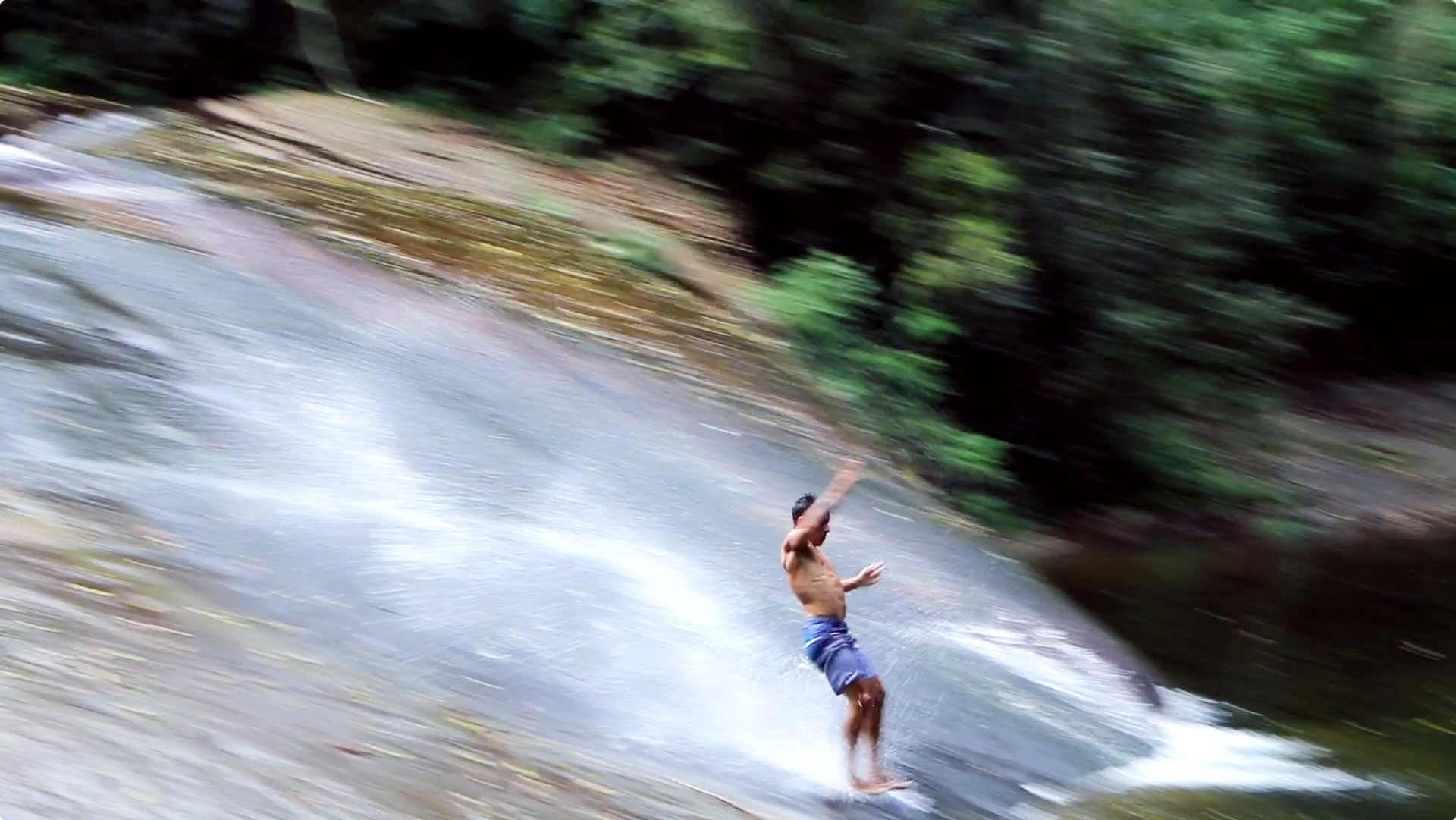 Then appeared a man flying down it on his feet, like a skier without skies he gracefully sled down the rock-faced waterfall and bombed into the lagoon it led to. He seemed to be the local expert of this "sport" and everyone else just slid down on their back.. of course I had to give it a go, after a little bit of consideration I walked up with my GoPro camera in hand and sat down. They threw water over me and grabbed my hands, said "can you swim" and then slung me down the rock face before I had chance to put the GoPro strap on my wrist. I was much less graceful and skidded my way to the bottom, eventually, uncontrollably ending up sideways, where I splashed into the water below, as I did my GoPro flew from my hand into the water. I tried to dive and look for it but the water was disturbed and dirty from the water splashing in, in my hurried attempts at finding it I must have looked like I was drowning as I kept diving below, as the local expert came flying down the rock face again on his feet and asked if I was okay… on stating I had lost my GoPro with ease he dived under the water and on first attempt retrieved it.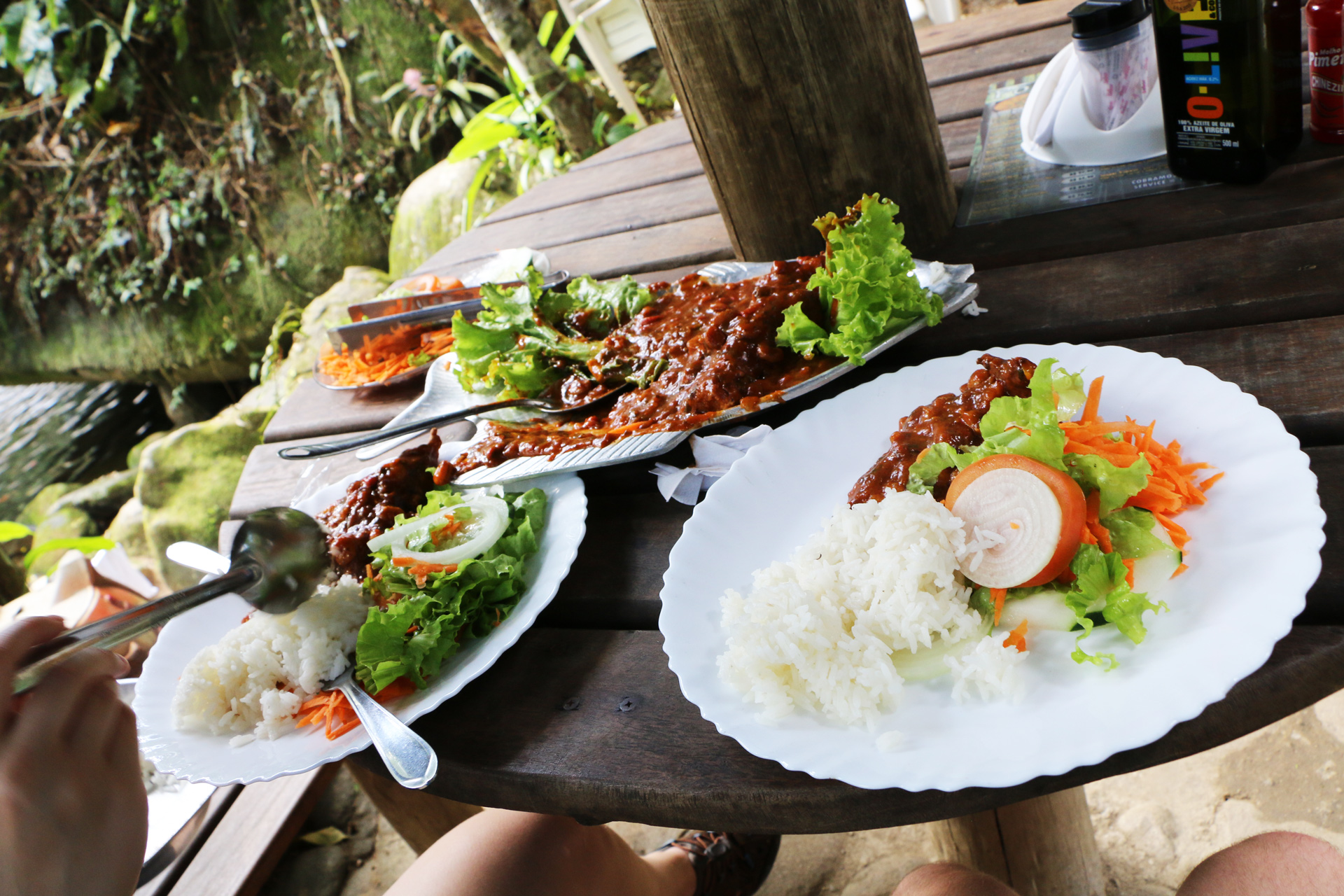 Full of adrenaline and slightly embarrassed I met Alis at the top where we went back to eat the lunch we had pre-ordered earlier – a beautiful Brazilian fish, rice and salad ensemble.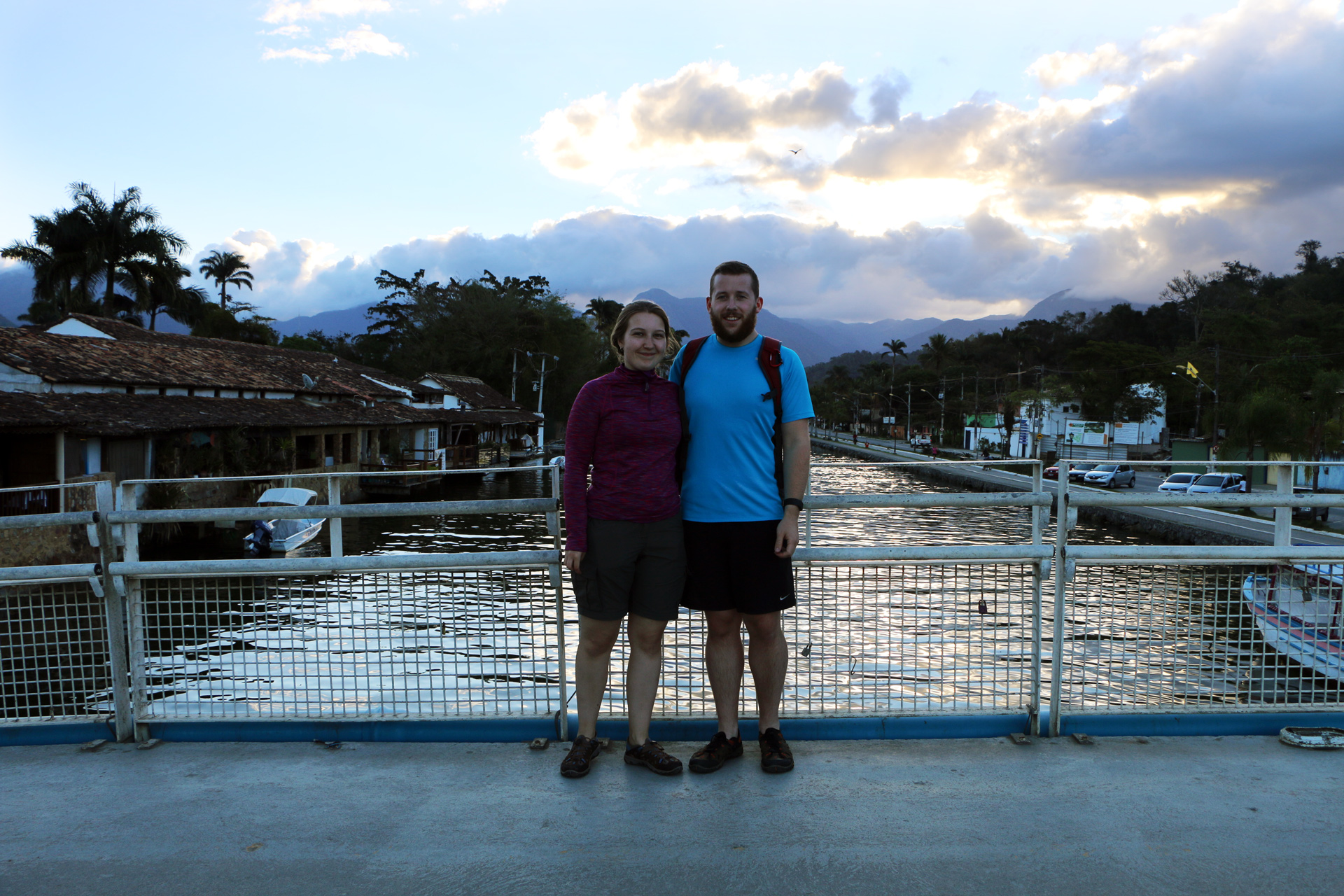 This was our last evening in Paraty so we had another walk around the old town and took some photos watching the sunset on the beach before retiring to our hostel to relax and pack for the evening. We went to the hostel bar for a quick drink where we met a British couple who were oddly similar, they were both doing roughly 10 months travel, doing the same route (South America, New Zealand, Australia, and South East Asia etc), and also had arrived in Rio 3 days before us. They also had the same colour rucksacks as us (red for me and blue for Alis).
I'm now writing this on the 6 hour coach journey to Sao Paulo whilst listening to Harry Potter audiobooks with Alis – Stephen Fry's voice makes the journey bearable!
Fruit loop: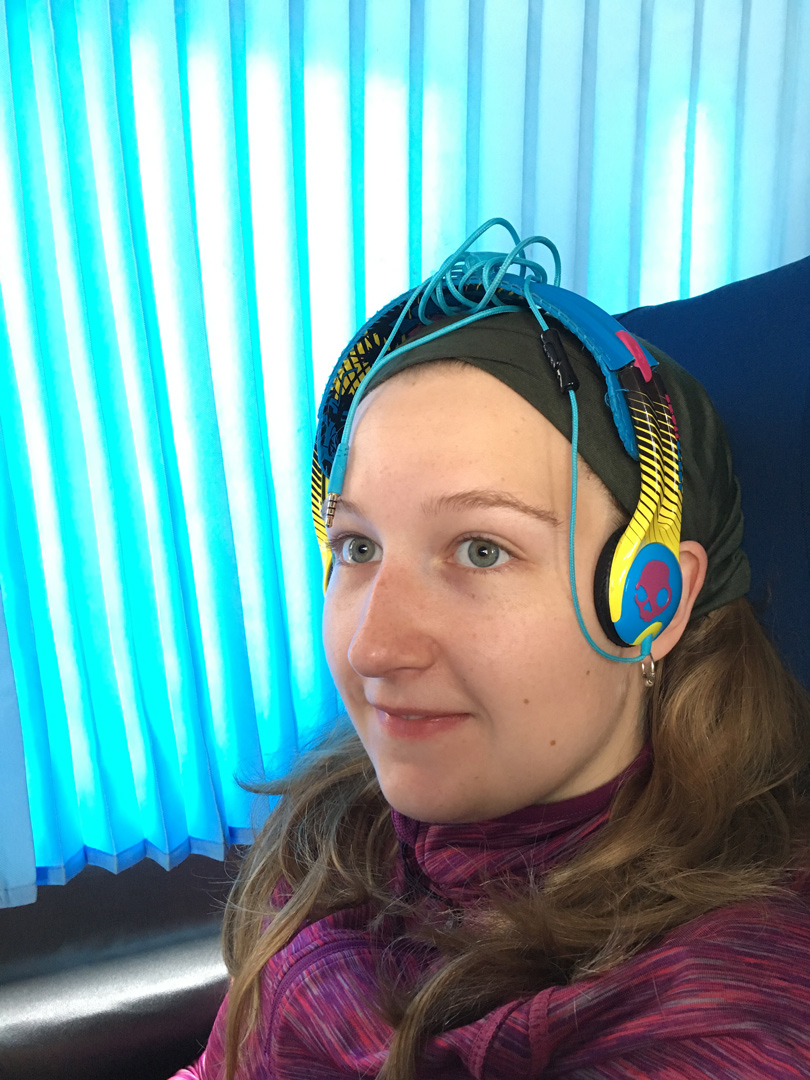 3 hours in: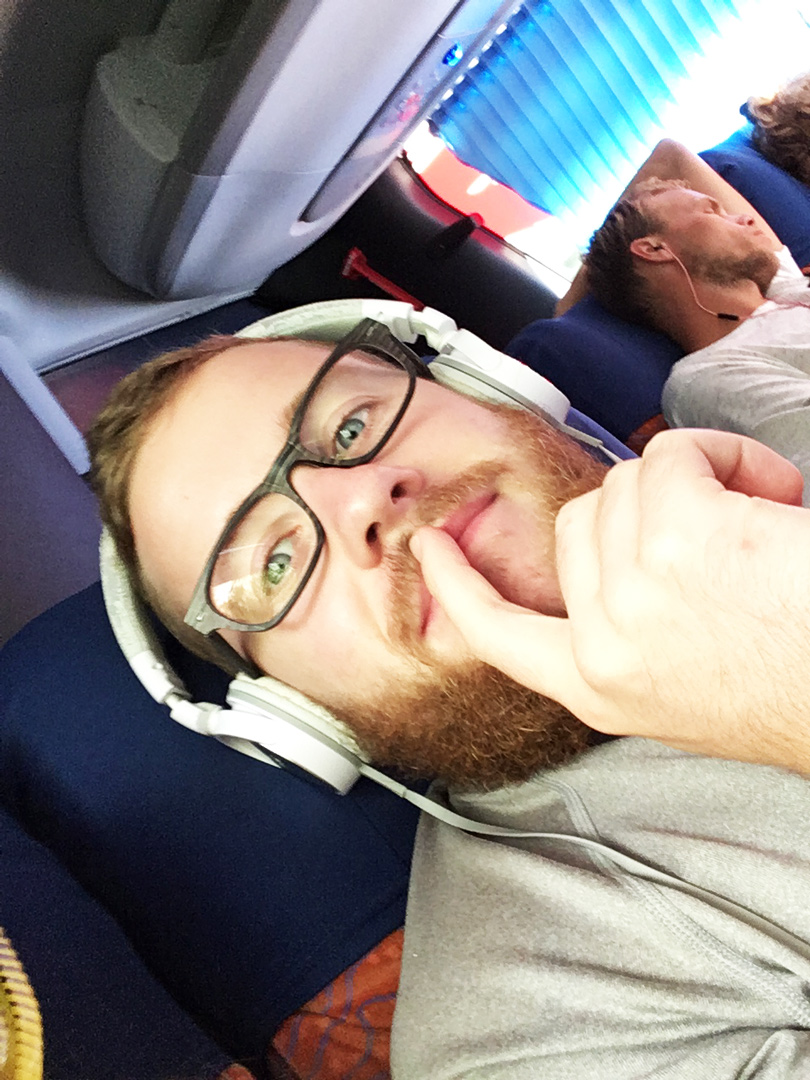 We're now in a really lovely hostel/private room on the western side of Sao Paulo. It's almost too lovely, we're the only ones staying here and we paid very little for it.. I've stayed in much worse hotels!
---