La Paz and back again the midgets tale of Al & Al
So first impression of La Paz… We arrived by plane from Uyuni and got a taxi down to this famous hostel called the Wild Rover. We were at the highest point in La Paz and had to make our way down a huge hillside, actually a mountainside.
The orange brick buildings were covering the mountainside like a rash along what I imagine was once a lush green valley. I've never seen anything like it before! It was ugly and spectacular at the same time. The taxi ride down was a bit scary. I thought we were going to crash on a few occasions but we made it to the hostel in one piece, maybe just sore palms from clenching my fist willing the driver not to crash. We passed loads of the locals on the way down and a load of markets. The Bolivian ladies were cool in their huge skirts and bowler hats.
The Wild Rover was actually a nice hostel. We had heard some stories from Stacey, a friend we made on the slat flats and were worried/excited about staying in a party hostel with the reputation this place had. However we were pleasantly surprised. The beds were sooo comfy, the rooms were nice and dark and food there was pretty good value too.
The first thing we did when we landed in the hostel was to find an ATM. We walked along the street three blocks up and two left. There is no room to walk on the pavements and the cars on the road constantly honk. People cross without looking. It's blooming mental. Also La Paz residents have no personal boundaries which made me understand how pickpockets must have it easy here. After getting cash and stumbling into a posh plaza that was a little regal looking we headed back to the hostel and had a BBQ. We met Jess and Jen here, girls we also met on the salt flat tour, we then decided to play a drinking game involving a pool table. Fabio was a guy we met here too and he was just a legend! We drank lots and Alex tried to relocate a dislocated shoulder of a guy who fell off his bike on the worlds most dangerous road. We couldn't manage to do it. Poor guy!
The next morning I didn't feel too great — the mixture of altitude and hangover is something I don't highly recommend. I felt so ill. After staying in bed until about 11 we had lunch (BANGERS AND MASH!!) and decided to do the walking tour at 1:30.
This tour was actually very cool. We started at San Pedro prison and got told never to do a tour inside the prison because people have been known to go missing in there. We then found out that they make the purest cocaine in there and that they throw nappies out the windows of the prison. So never pick up a nappy up in La Paz. We walked through the markets where the Cholitas were selling everything — La Paz doesn't have any supermarkets, everything is still bought in small street side market places. Each Bolivian has a Cholita for life. We were told about the bowler hats and their meanings. We were then told how to flirt with a Cholita… basically you follow them and throw stones at their feet! Also that some of them are loaded and can be spotted by their golden teeth.
The next place was the Bolivian Witch Market, we walked through seeing lama foetus, bones, funny powders and bottles. It was creepy but it had nothing on Diagon Alley in Universal Studios for market atmosphere. We then found out about "follow me, follow me powder" which is supposed to get you a significant other. We were told not to buy it though because customs don't like tourists trying to smuggle white powder across borders. There is also a tradition in Bolivia that when you do a build of any sort of building you need to bury a lama foetus under the foundations. A ritual that must be carried out by a witch doctor (a person who has been struck by lighting and lived.) There is also an urban myth that on huge builds humans are used for a sacrifice. It's not been 100% proven because nobody will admit to murder but there have been human bodies found under some buildings in La Paz. Apparently they find homeless people and get them bladdered before burying them alive. Do not get too drunk and pass out on the street because Gringos fetch double price (triple if you're blonde female.)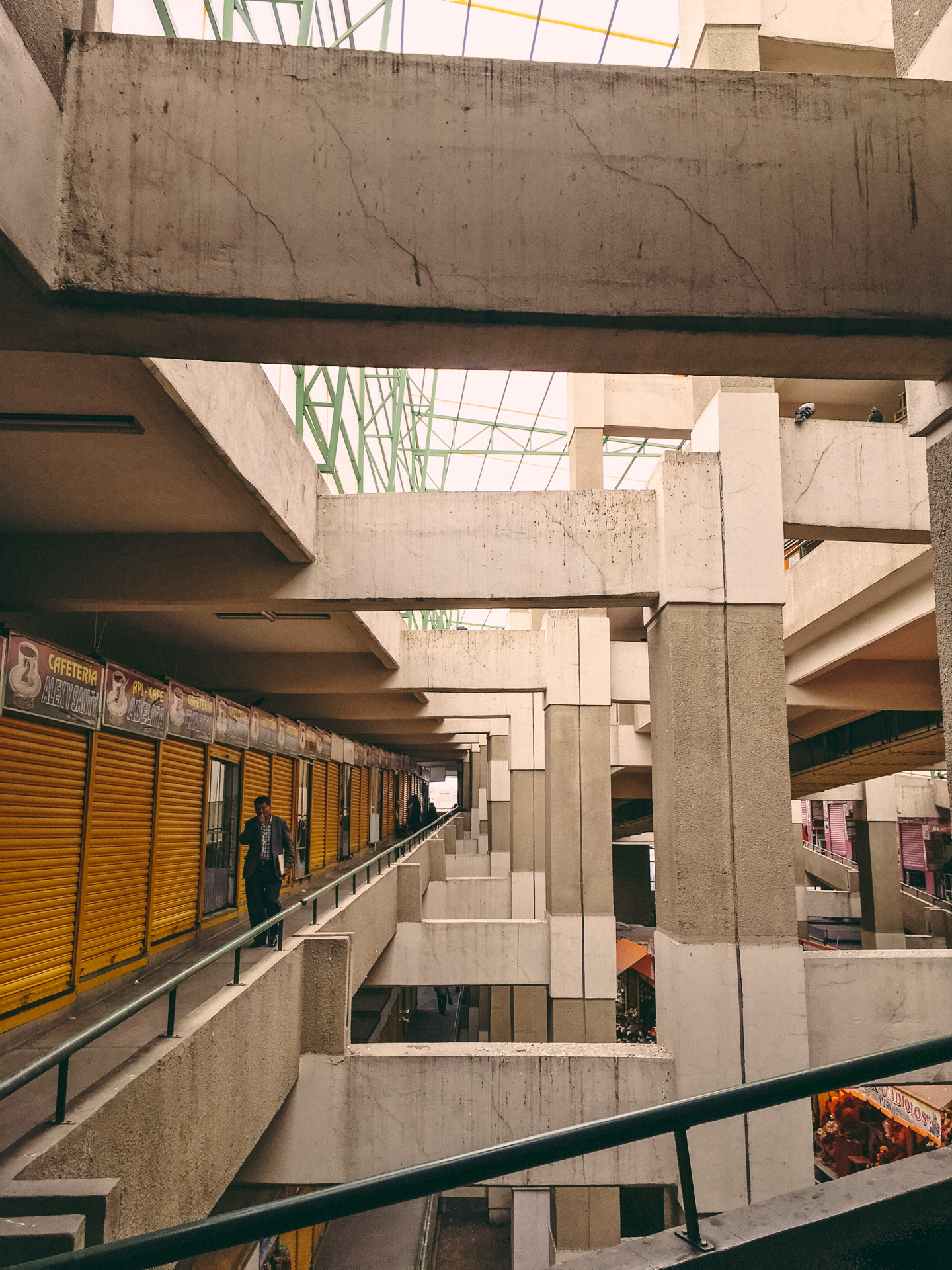 From the witches market we went to a huge market place called Mercado Lanza and bought a juice. They have nice flower stalls in these markets.

We then walked to the same plaza Alex and I found the day before. It was fairly because it was where the government buildings were. Bolivia has the world record from most amount of presidents in the shortest amount of time. Something like 162 presidents in 100 years! There were a lot of public hangings in this plaza. There was also a mass shooting of police there and you can see the bullet holes one of the building in the very same plaza. The parliament building also has a clock that runs backwards because the president felt like being different.
We finished the tour in a pub and had a shot of Yungueño – a traditional Bolivian drink.
We then flew to Rurrenbaque for a Bolivian Amazon Rainforest Tour (separate blog) for a few days and nights before flying back to La Paz.
The flight back to La Paz was a real struggle for me. The altitude really got to me this time and bumpy flight didn't help!
We arrived late because the flight was delayed by 6 hours — so we didn't have time to book the things we wanted to! So I went to bed because the room was spinning and I was on the verge of being sick!
The following day I felt loads better! Due to the fact we hadn't booked anything we decided to just have a wonder around La Paz and find an agency to do death road with. After a lot of walking we found one!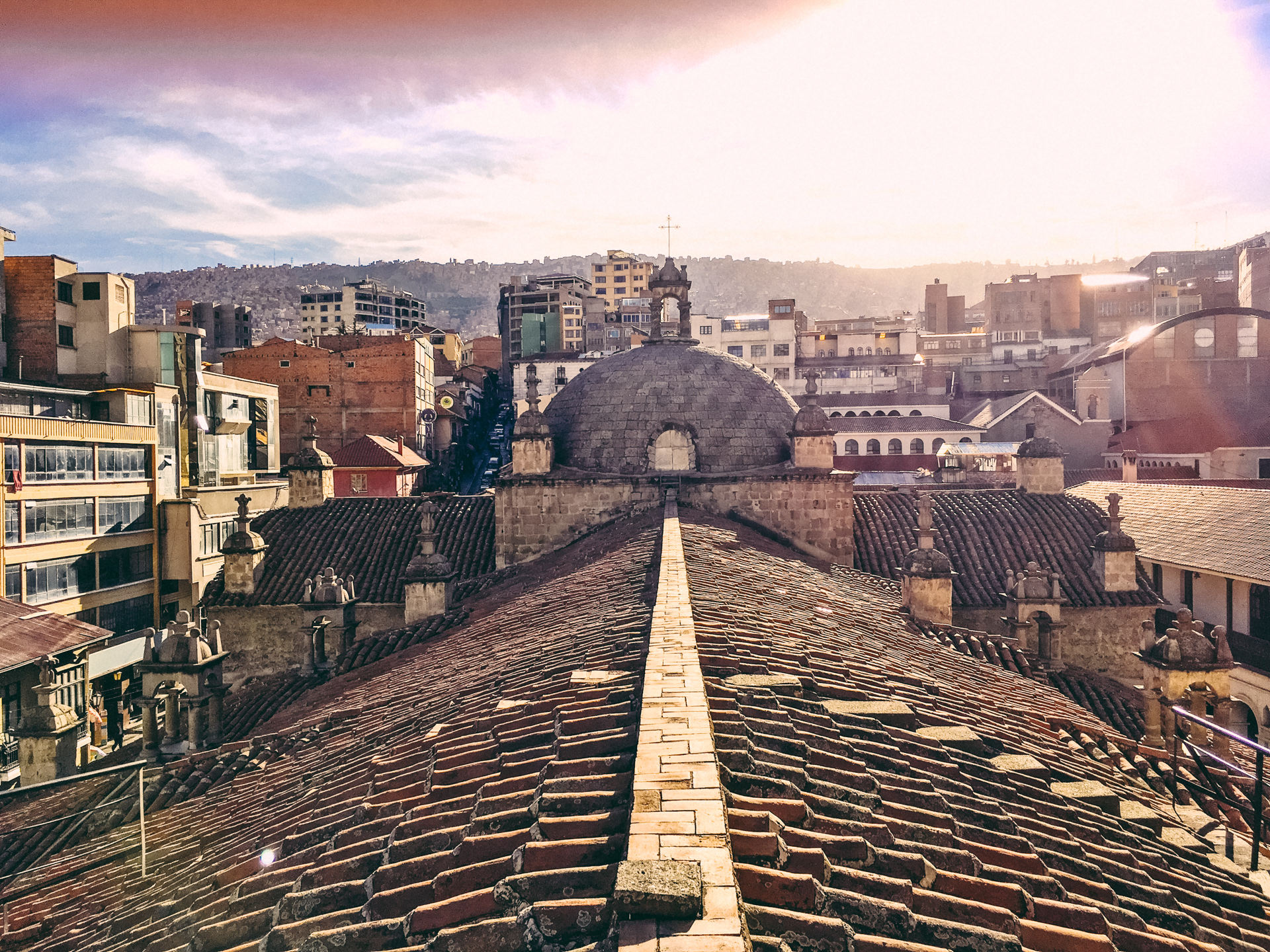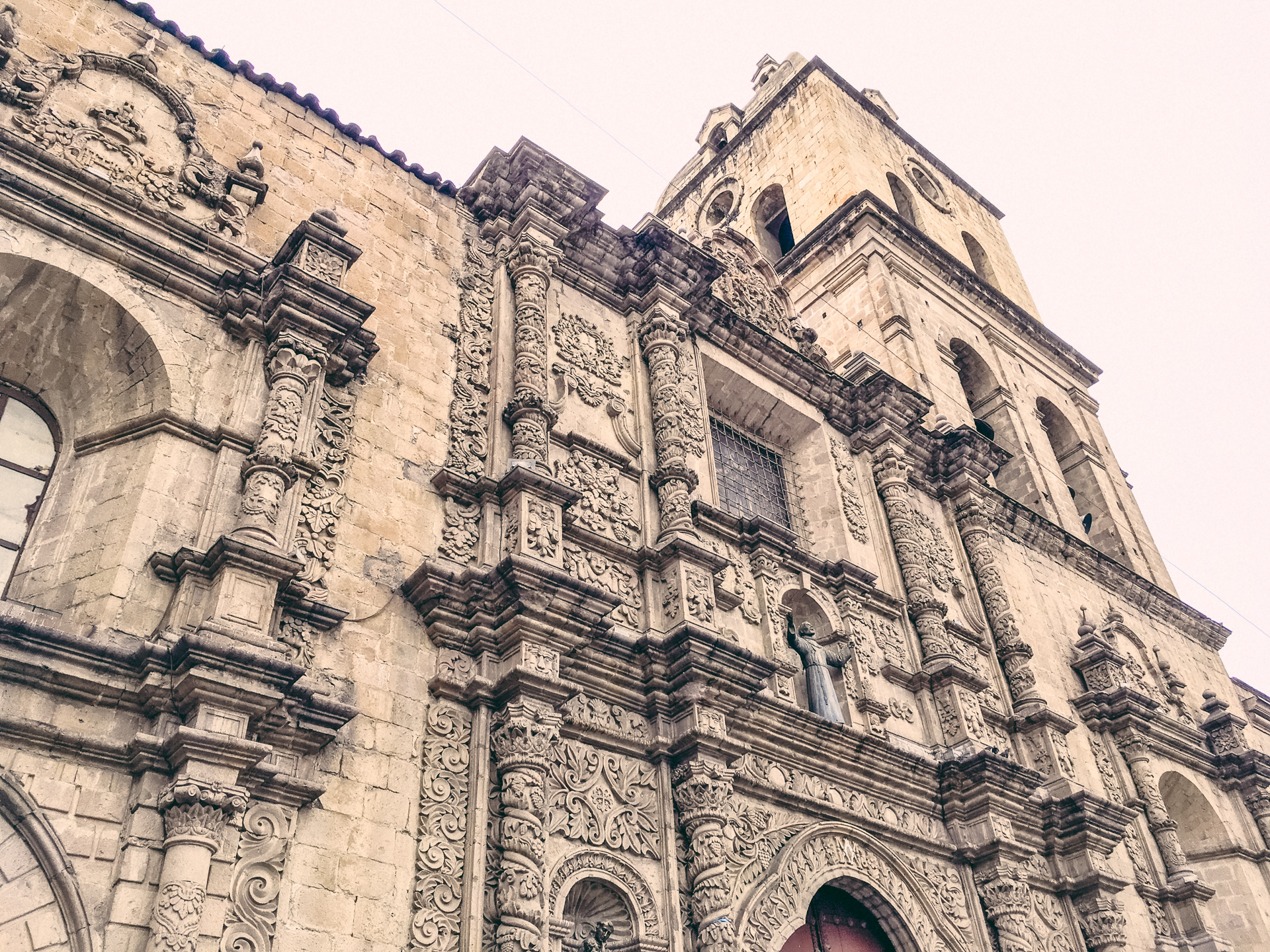 We then visited the Sao Francisco church and took a good look around, eventually climbing to the roof to have a pretty good view over La Paz.
Death road was an experience for me. We had to be up for 7am, so I was sleepy. I hadn't biked in years and in Mendoza I fell off so I wasn't looking forward to be honest but it had to be done! The first part was all tarmac and downhill which wasn't so bad! But the second part was actually death road and was all gravel which I had never been on before and I was very scared! The scenery was supposed to be amazing but I didn't see much of it because I was busy not dying! I was at the back almost the whole time. Alex was zooming along and was being cocky! We rode through rivers, really rocky bits and there was even a land slide to we had to stop to walk over it as a big tractor was trying to remove all the rubble from the road! I'm glad I did it even if I was a lame biker. I didn't fall off either which was a double bonus! We had lunch and had a shower in this quirky hotel. Some of the people on the tour even had a swim in the pool but I thought the water looked rank and didn't fancy swimming in it! We then had a 3 hours bus back to La Paz, we had to have an early night again because our bus trip to Lake Titicaca left at 6:30am the next morning with Bolivia hop.
---