New Zealand – South Island on the Kiwi Bus
From our adventures jam packed with fun and hiking in the North Island of New Zealand we were now half way through the NZ Kiwi Experience bus trip and this meant it was time to head to the South Island!
We boarded the ferry from Wellington and began the 3 hour ferry crossing. The first hour was pretty bumpy and both Alis and I felt a bit sea sick (as did the rest of the boat it seemed), the captain announced over the tannoy that he was going to take a different route to usual due to the chop and not long after it settled down and the final stretch was fairly flat and enjoyable!
Kaiteriteri (Abel Tasman)
Our first stop on the South Island was a little seaside resort called Kaiteriteri, on our only night here we decided to go for a quick run to get the optimal amount of scenery in and came across a secluded beach, it had pristine sand and we were the only ones there! So of course we decided to mess it up by doing sprints up and down the beach which churned up all the sand – it was a great workout though and had a great atmosphere just having a beach all to ourselves to use as a treadmill.
The next morning we caught a watertaxi to the Abel Tasman national park, along the way our driver stopped at the Split Apple Rock – a huge granite rock split straight down the middle, the history of this rock isn't actually known, some people believe it has mythological explanations.
If you want a terrible, probably incorrect fact: It's apparently the 2nd most photographed rock in the Southern Hemisphere (2nd to Ayers Rock / Uluru, Australia I'm assuming).
Westport
The drive to Westport was beautiful, we stopped at Nelson Lakes and sat on the fairly famous pier of Lake Rotoiti – incredible views across the surrounding encasing mountain ranges.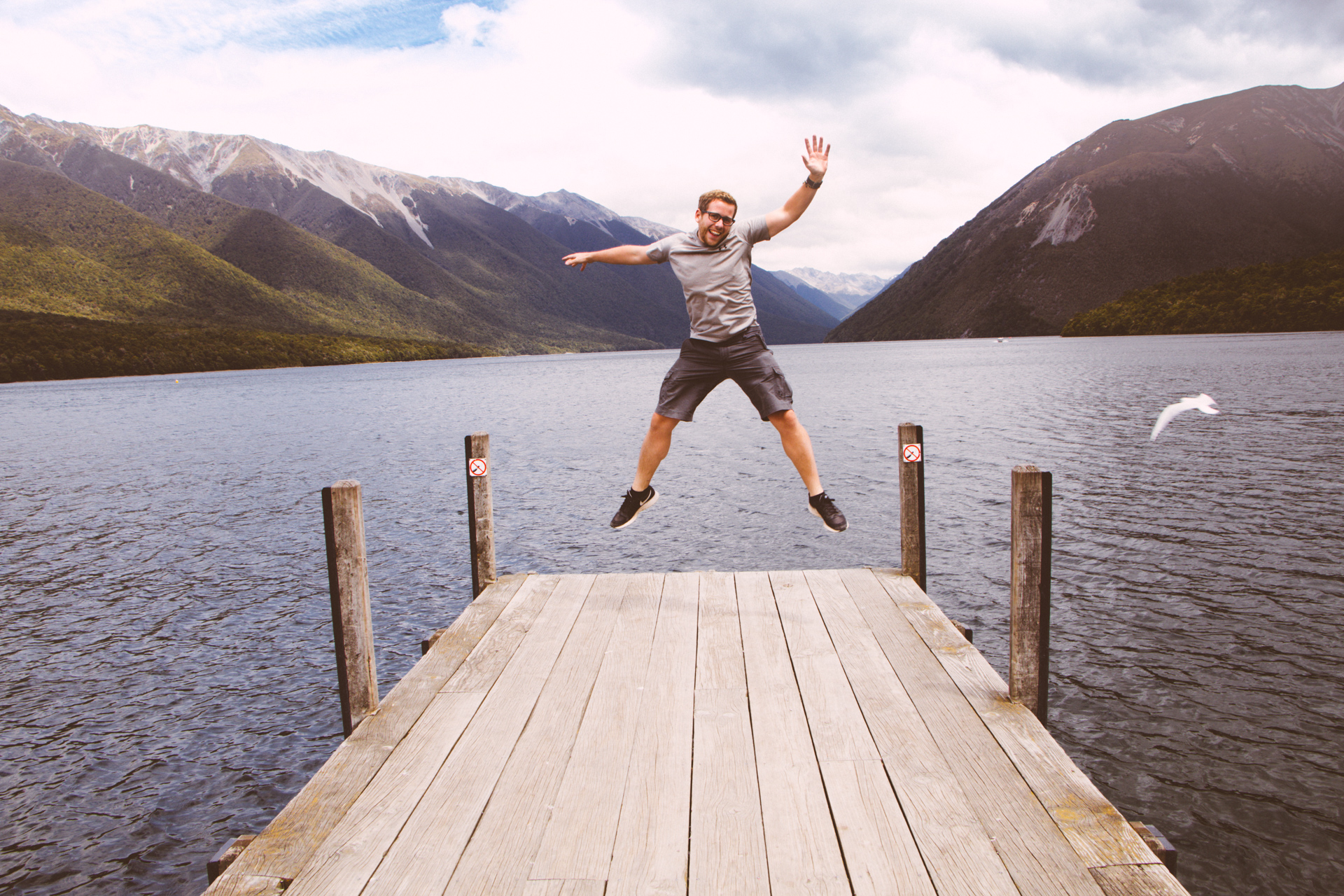 The next morning the drive continued as we headed to our next destination, again stopping at some amazing walks, this time along a cliff face to see seals, birds and beautiful views across the ocean.
Lake Mahinapua
Before arriving at the hostel/pub the 30 or so of us on the Kiwi Bus disembarked at a local town. Here we all went off in roughly different directions to buy our outfits for the nights fancy dress party. I decided on a simple Robin Hood outfit, Alis initially chose a basic pirate outfit, but upon arrival at the hostel she raided the leftover fancy dress pile and found a Batman outfit she took a liking to! Our roommates (Jan and Pascal) also had outfits – the theme of the party was "Something I'm not", so basically it was just to force everyone into dressing up, as it's quite an open/easy criteria to meet. Jan dressed up with a sign on his chest that said "sober" (he's German – i'e NOT sober [his words, not ours haha!]).
Before getting changed for the evening though we had a brilliant opportunity to do some Jade Carving. Jade is a stone/gem that is important to the Maori folk, they made weapons out of it and respected its colour, aura and power. Traditional Maori jewellery was designed and patterned to have significances based on the design.
Alis and I each chose our own raw/block of Jade and began designing a pattern. Alis chose a clean simple gem shape, and I went for an arrow head to match my Robin Hood theme of the day.
After doing some planning and penciling we began sanding them down with the wet diamond sanders, it was great fun and a really cool experience. We were both fairly happy with our results and the instructor added the string for us and we now have our own Jade jewellery pieces we can happily say we crafted ourselves.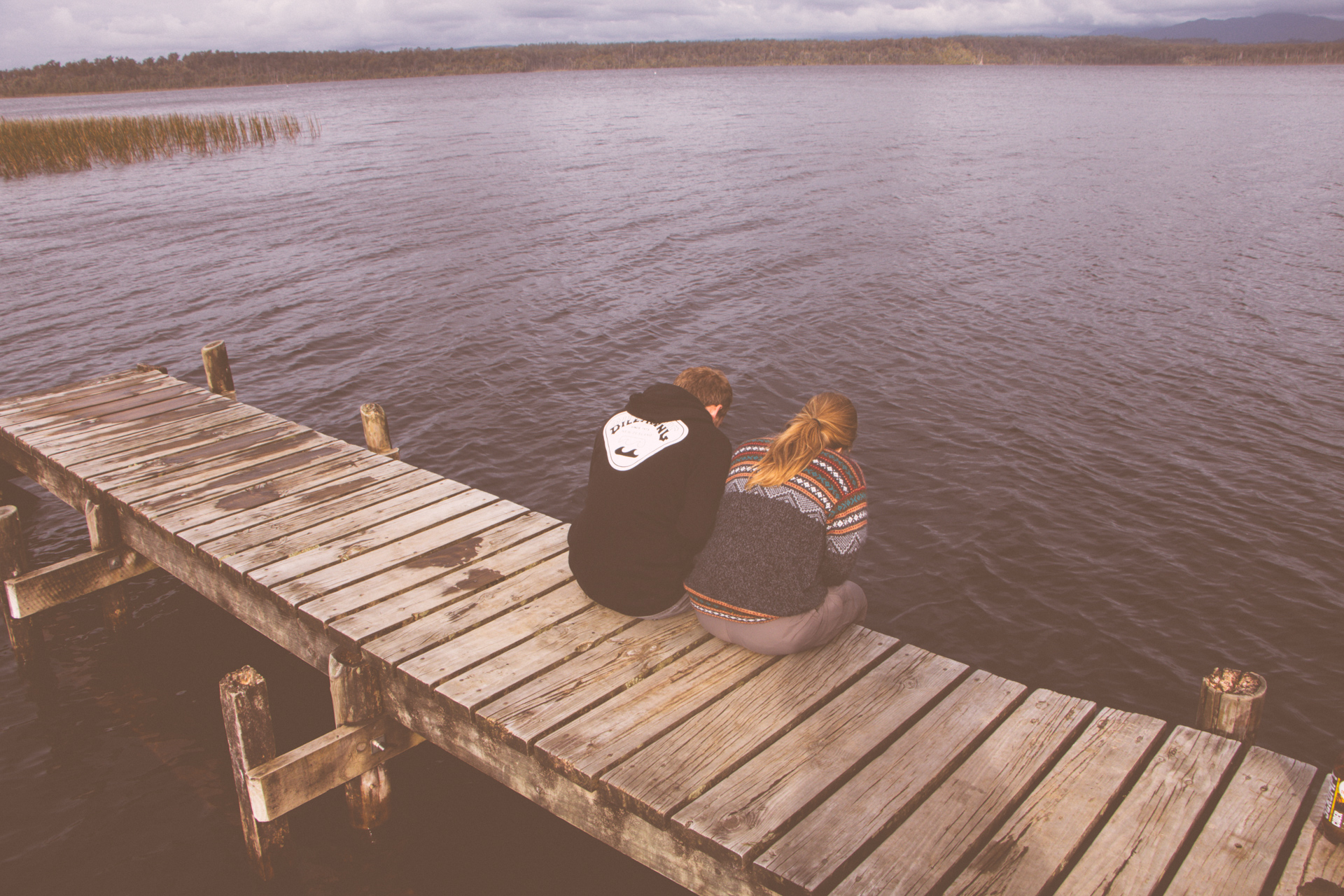 We then headed to the lake just a 5 minute walk away and chilled on the pier there, again it was a beautiful lake with the classic New Zealand mountains and greenery surrounding us.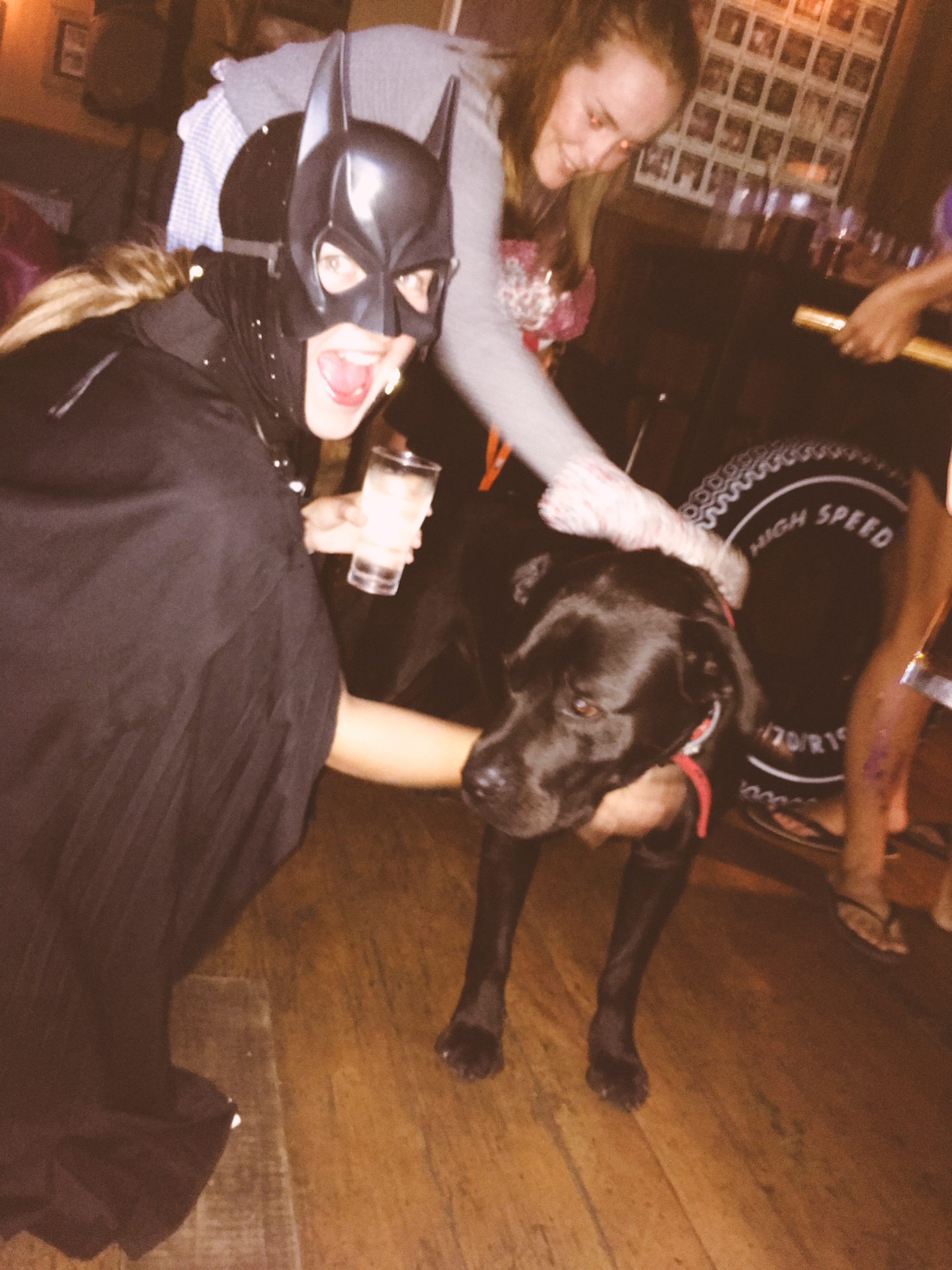 The fancy dress night began and it was great fun – I think Alis enjoyed most when she managed to adopt the pubs black dog as her sidekick, promptly naming it BatDog!
Franz Josef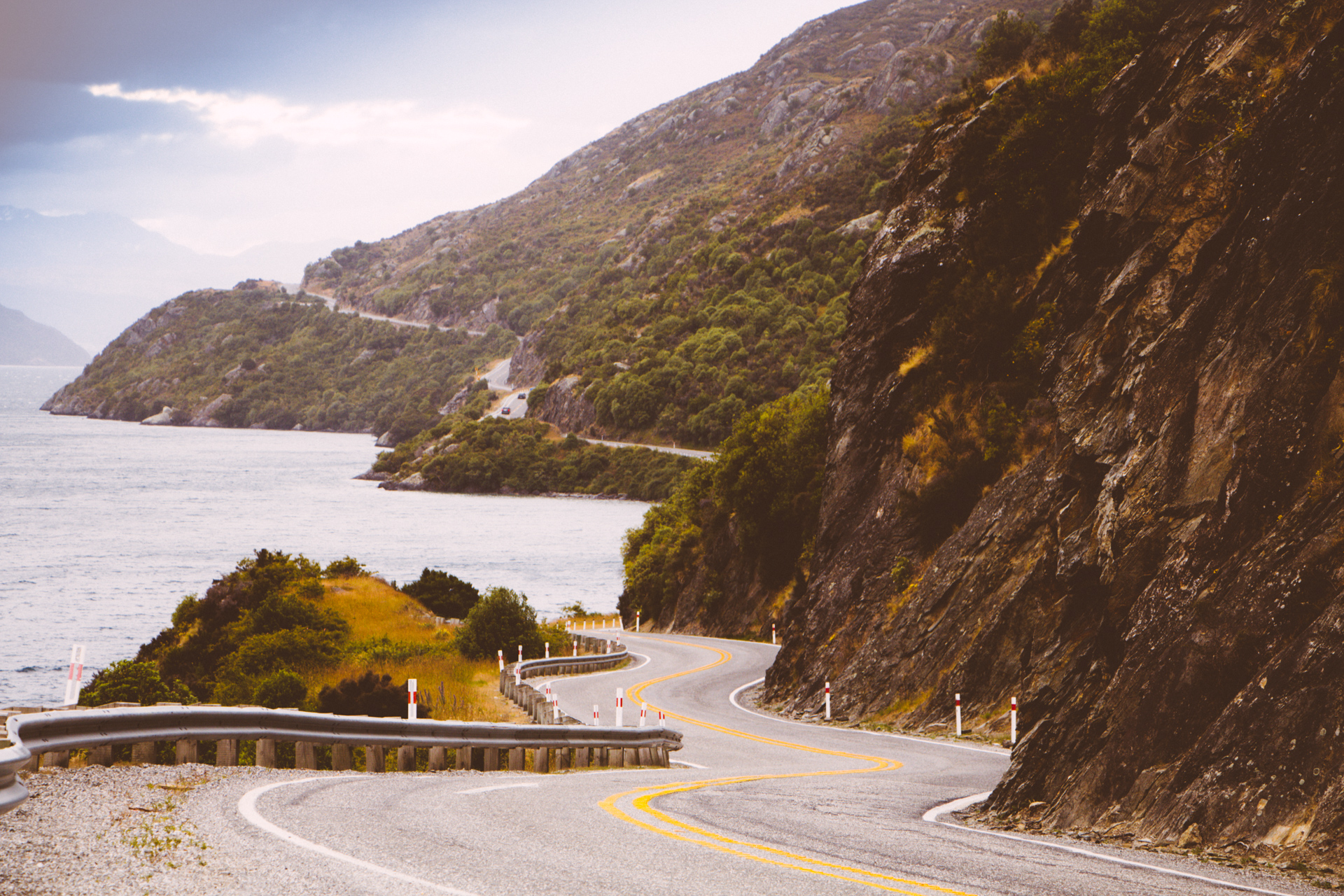 Franz Josef, famous mostly for its glacier was a cute little town that felt a lot like a European ski/resort town, lots of wooden shacks, cafes and shops selling tours, helicopter flights and so forth.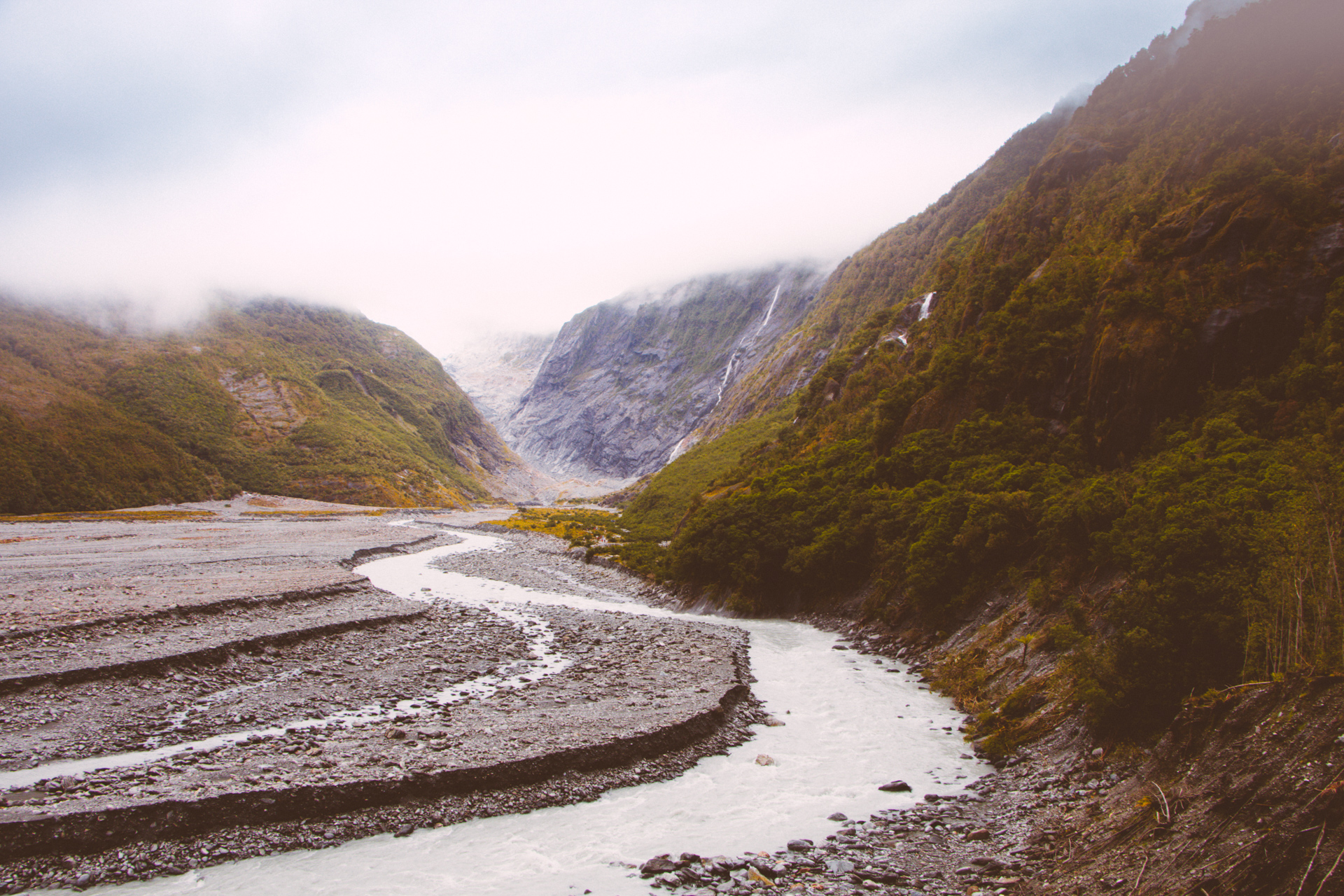 We were only meant to stay 1 night here but ended up staying 3 as sadly the first few days it rained. Finally the rain disappeared long enough for us to take a really beautiful walk through the forest, eventually breaking out to a valley the glacier had carved many thousands of years ago, before continuing the walk to eventually get our glimpses of it.
Sadly the glacier is fairly receded nowadays and cloud covering means you don't get a full view of it often, but still glad to have seen it before it probably disappears even further with more global warming!
Wanaka
The drive to Wanaka, just like the rest of the journey so far was absolutely beautiful with scenery scrolling past the bus windows like a majestic cinematic display. The rolling green fields backdropped with the classic high, sharp yet calm black mountains scattered with green bushes and ferns.
In Wanaka we went straight for a walk around the lake to see the Wanaka Lone Tree, a tree grown all alone in a lake! It's quite a sight, and very odd to think how that tree managed to start from a seed in the water and grow so big without any problems, all alone.
We then headed to Chinese restaurant with Sam, a friend we had made on the bus.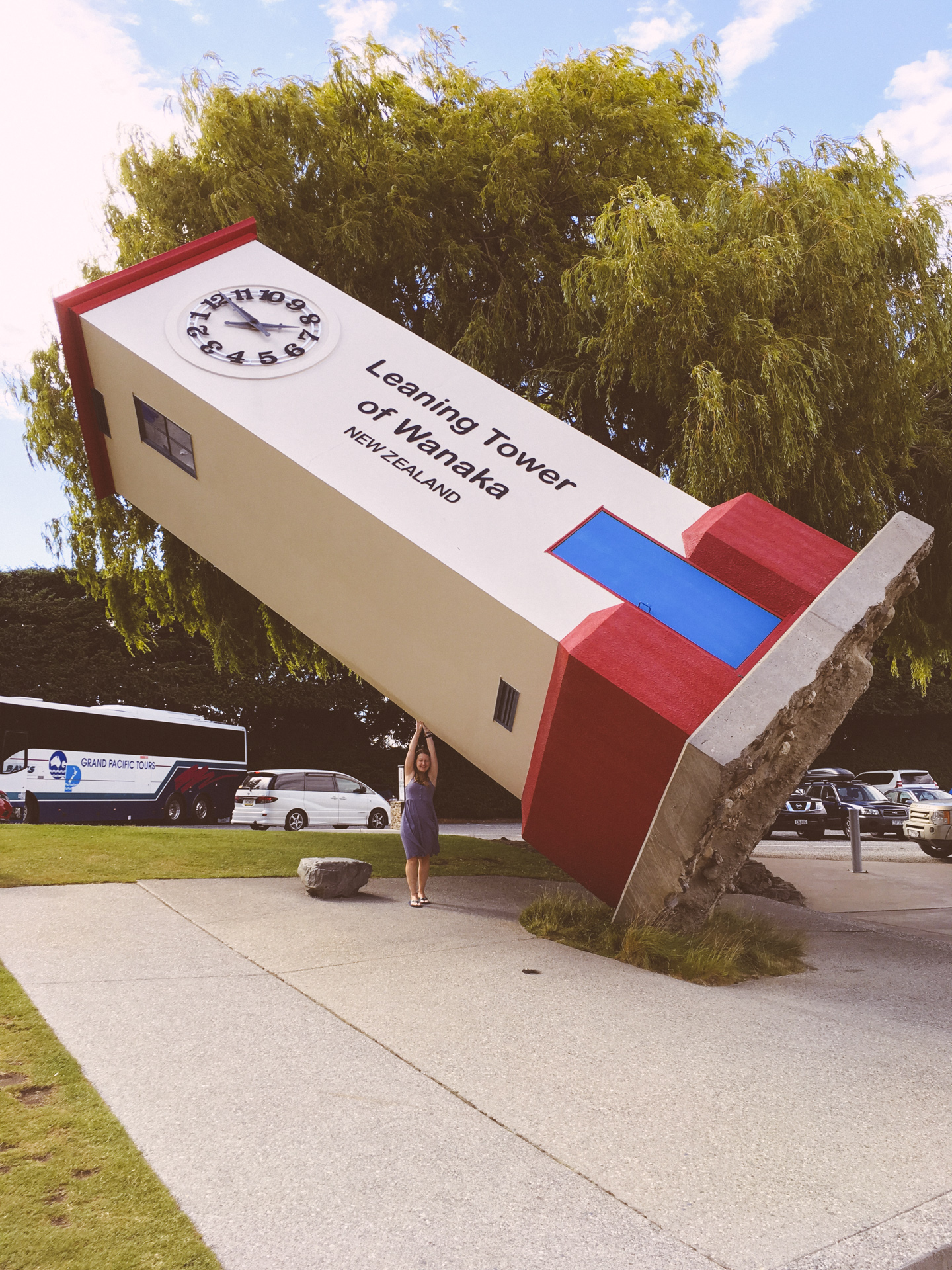 The next morning was a 1 hour visit to the Wanaka Puzzling World, a museum dedicated to puzzles, optical illusions and pieces that really get your brain thinking! It was really interesting and learning how some of the optical illusions worked was pretty mind opening!
Queenstown
Queenstown was the first city we'd been in for a while – it was a really nice city with a good mix of culture, open park areas, greenery and modern shops mixed with local artisans.
Our first night started in the Red Rock Bar with all 30 of us from the Kiwi Bus and then onwards to a few more bars and clubs – though they weren't quite up to Cardiff's standards!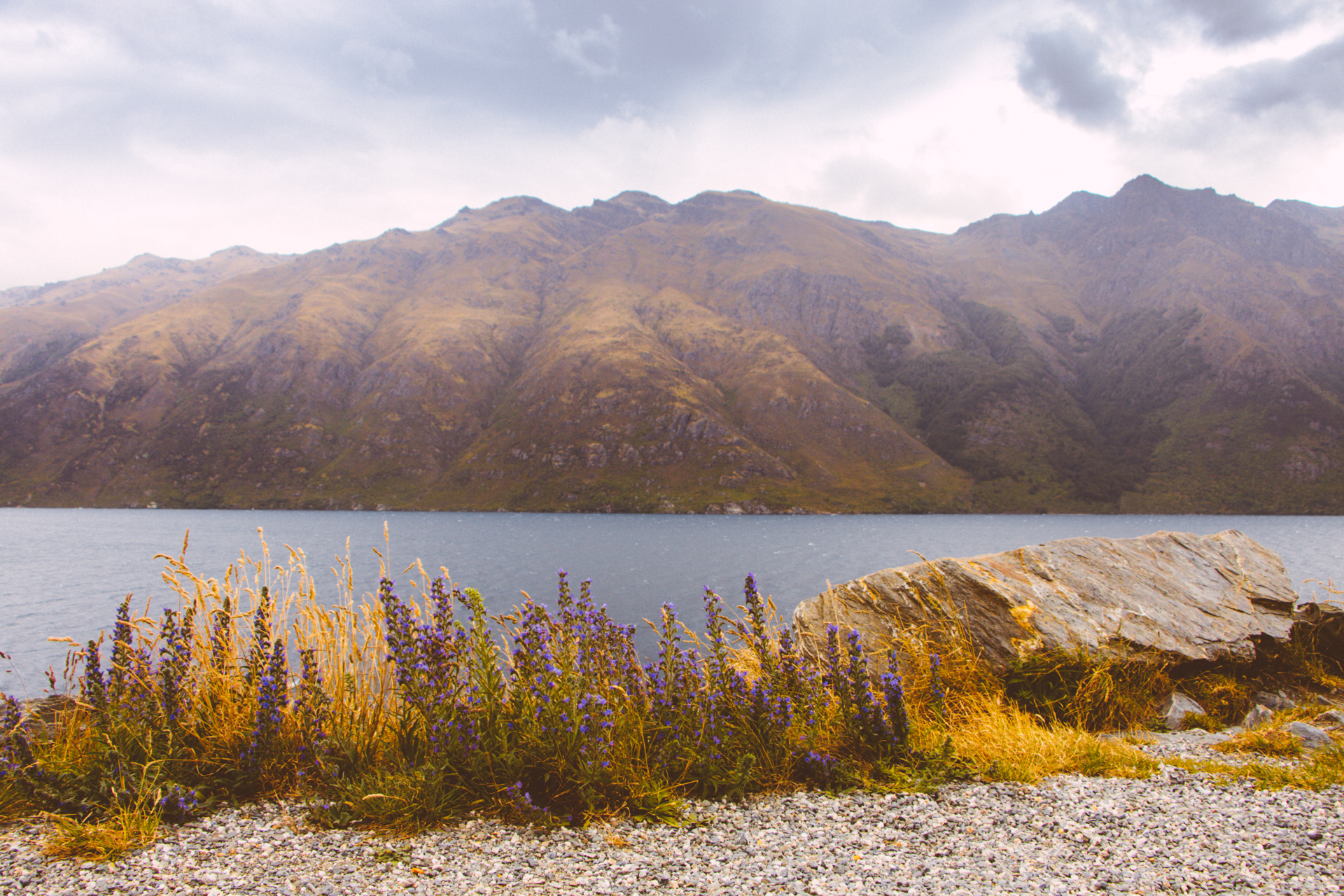 We embraced a few cafe breakfasts and lunches and also found a great local bar that sold Craft Ales and beers called Smiths Bar – recommended if anyone is in Queenstown!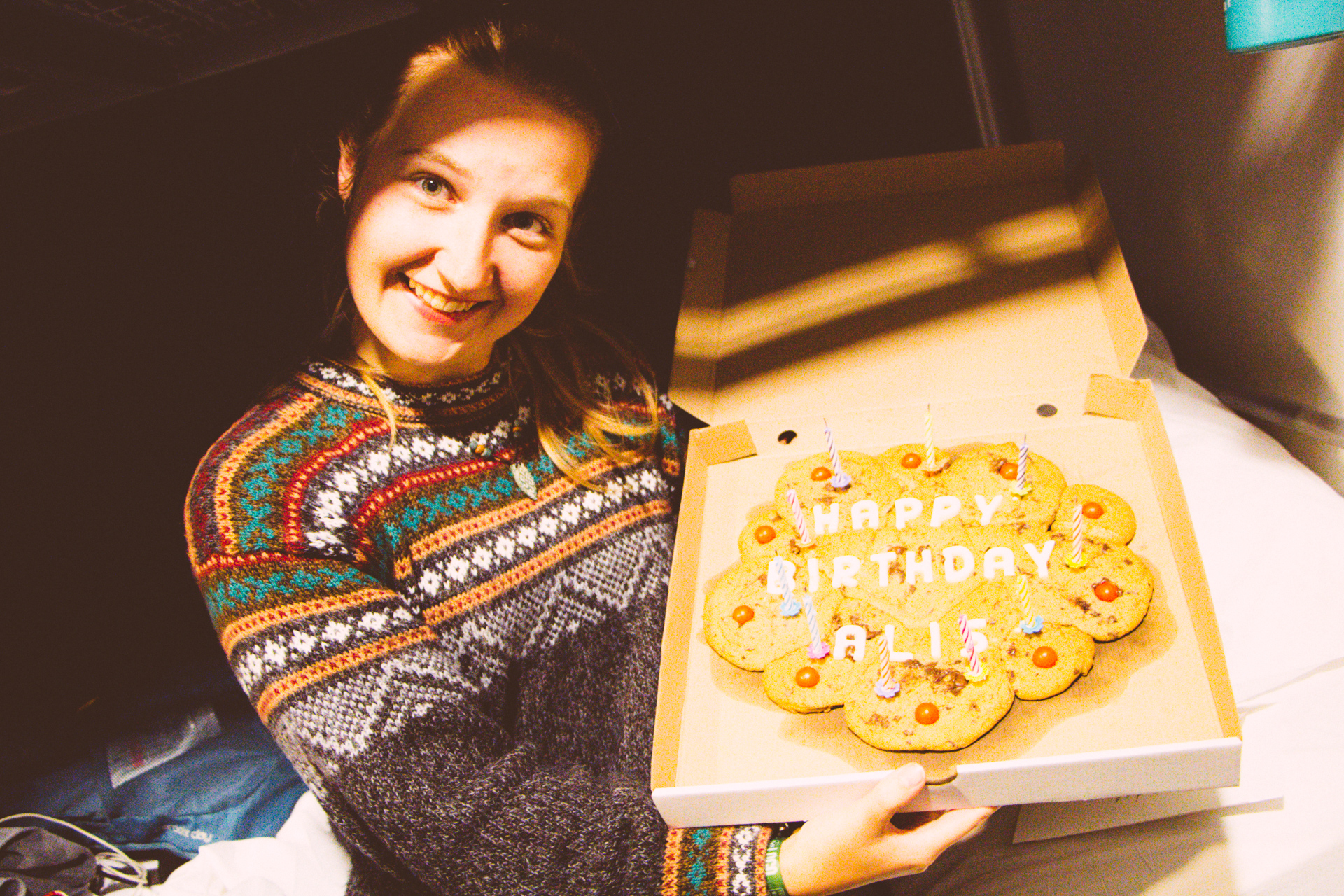 It was Alis' birthday so I arranged a huge cookie for her from the local cookie shop (cookiebar) our roommates (Jan/Pascal) and I sang Happy Birthday to her and she blew out her cookie candles/cake before we headed out to Fergburger – named by many as the best burger in the world.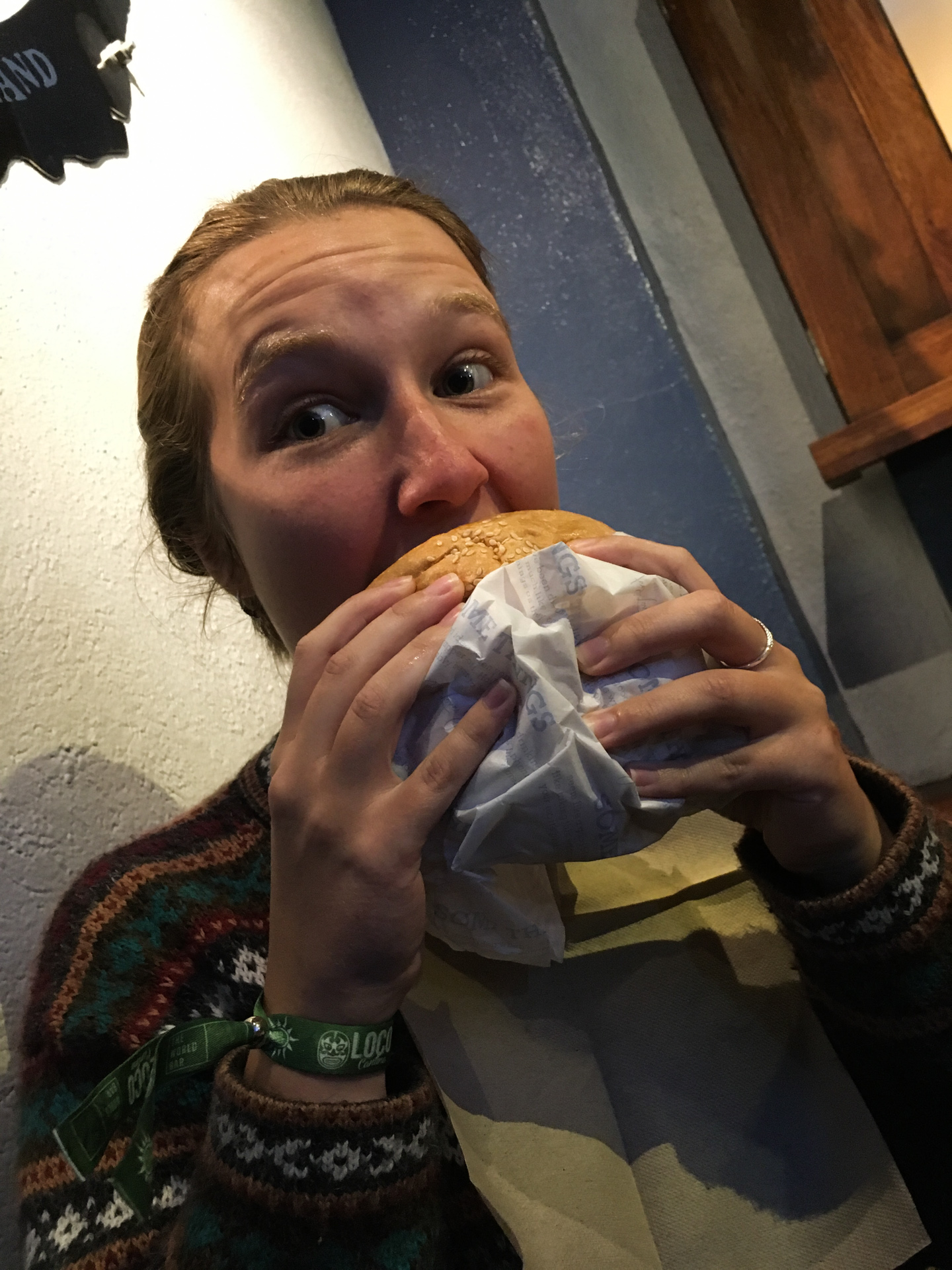 The burger was without a doubt very good, but it still doesn't top our ultimate favourite of Grazing Shed back in Cardiff.
The next morning we headed to the AJ Hackett, the local shop that sold bungee jump sessions – we purchased one initially but after a few hours sadly told it couldn't go ahead that day due to the strong winds (we got a refund)!
We went for a really nice run around Queenstown Gardens which are some of the nicest city Gardens I've seen from a running point of view, lots of uphills, flats and varied terrain to choose from with incredible views pretty much all around of the surrounding Lake Wakatipu.
Milford Sound
From Queenstown we sort of backtracked to go to the incredible Milford Sound on a 1 day tour via boat. Getting there required a couple of hours on a coach, it was raining, as it does for about 90% of the year on the West Coast of New Zealand and especially in the Milford Sound area – what this did mean is that we had incredible waterfalls cascading all around us, they slithered their way down the sides of the mountain and looked like the black stone beasts had veins made of crystal as the white water contrasted with the dark hues of it's creator.
Along the way we stopped at some beautiful sights, notably the mirror lakes and fields of Bluebells!
Finally reaching the boat area we embarked on the tour around the Sound – "Sound" here being a word I didn't actually know:
"In geography, a sound is a large sea or ocean inlet larger than a bay, deeper than a bight, and wider than a fjord; or a narrow sea or ocean channel between two bodies of land".
Milford Sound is also named after Milford Haven in Wales, and the Cleddau River which flows into the sound is also named for its Welsh namesake.
The views of the Sound and its encasing mountains really were breathtaking and felt quite magical with all the mist in the air combined with a silence created by the mountains around.
Off the bow around half way through we were really lucky to be joined by dolphins! They seemed to play and follow the boat as it cruised along the edge of the sound.
As we continued we saw many seals, penguins and birds.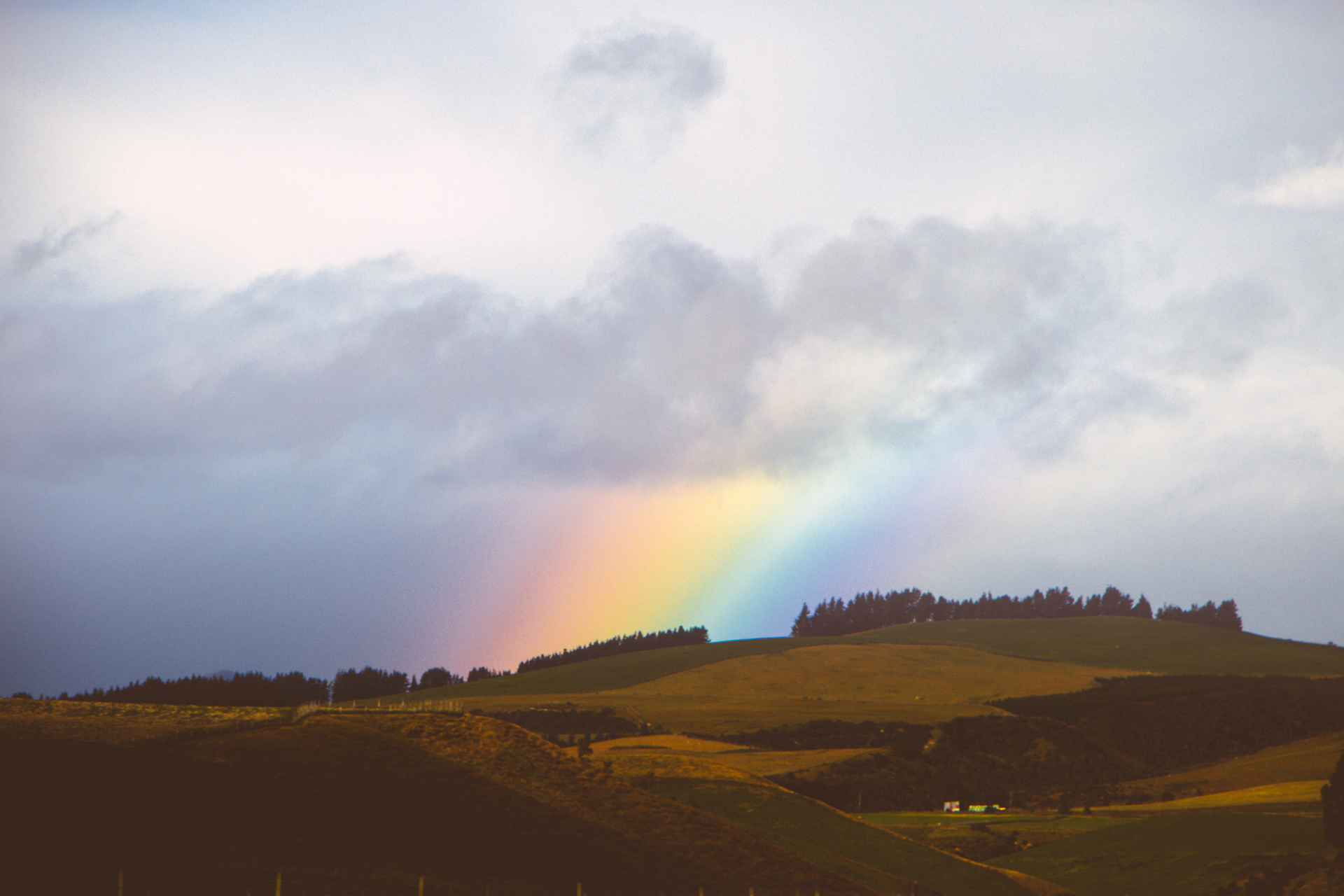 After cruising around the Sound for a bit more as the rain got even harder we once again got on the bus and had the drive back to Queenstown for the night, this time the clouds cleared and we were lucky enough to see the scenery in sunlight with rainbows, meaning we had the best of both worlds for the day!
Lake Tekapo
Onwards from Queenstown towards Lake Tekapo we stopped off for a quick lunch break at Mrs Jones' Fruit Stall in Cromwell, a famous store of organic fruit all grown on a local farm, a proper family business. The taste of the cherries from here was incredible and the range of fruits, vegetables and more was incredible – all packed in to a fairly small store!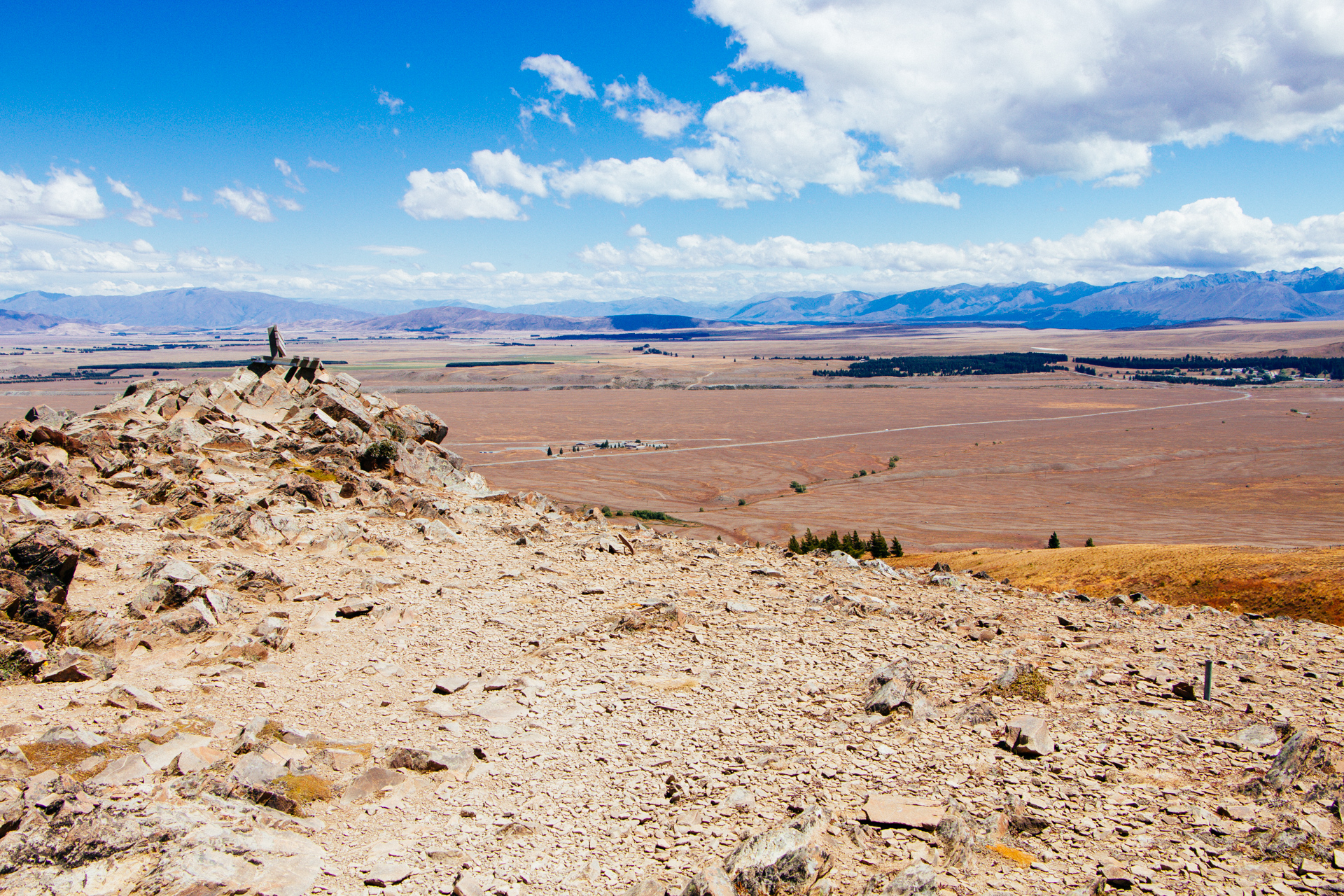 Once in Lake Tekapo we hiked to the top of Mount John, up there is a space observatory due to its great location and lack of light pollution! The views were pretty good, but it was incredibly windy and actually hard to stand let alone open our eyes – I'm not exaggerating when I say this; I'm pretty sure it's the highest strength wind I've ever been in!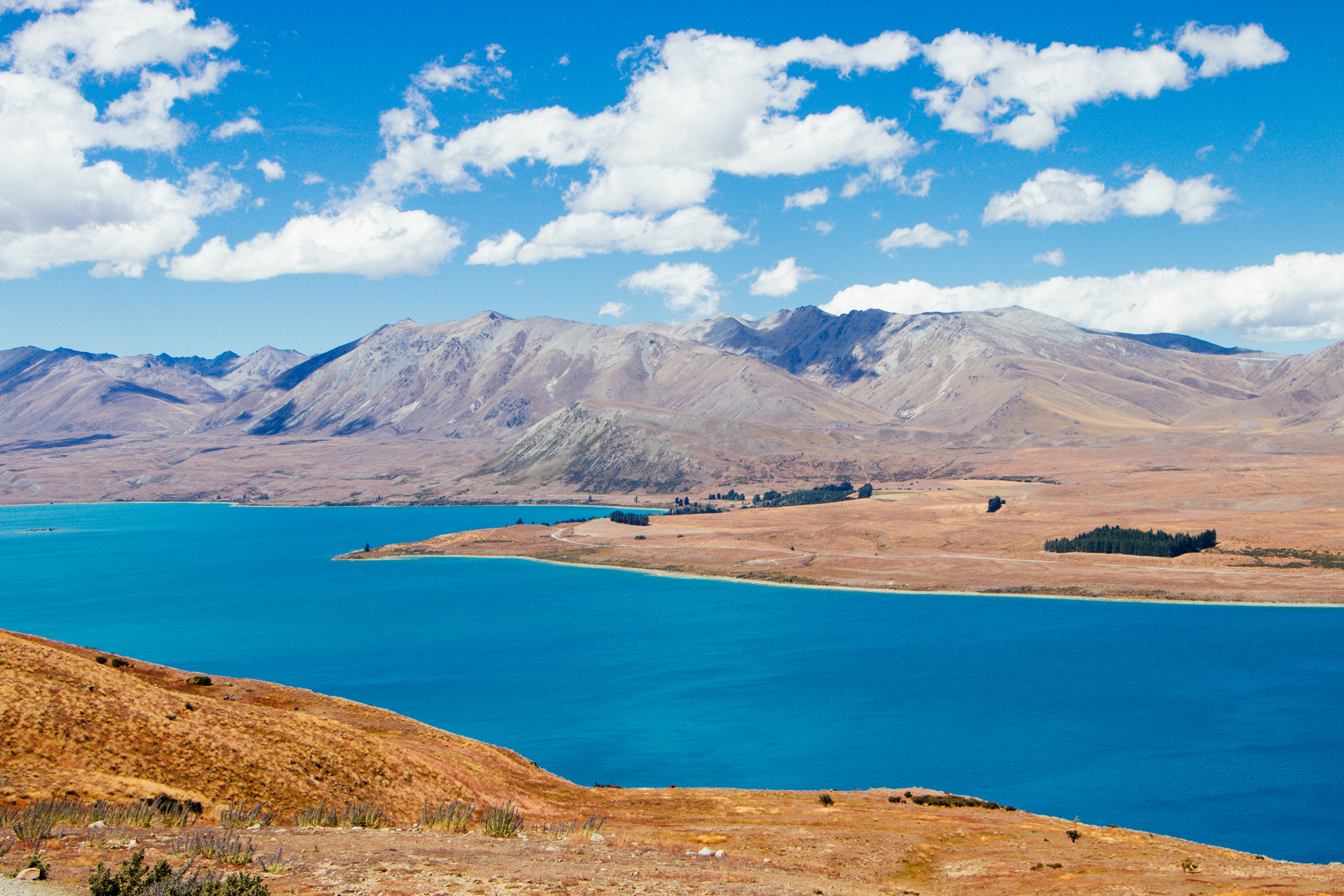 The actual Lake was beautiful with a shimmering blue that reflected everything.
Christchurch
Christchurch was our final stop in the South Island on the Kiwi bus. We spent a few relaxing days exploring.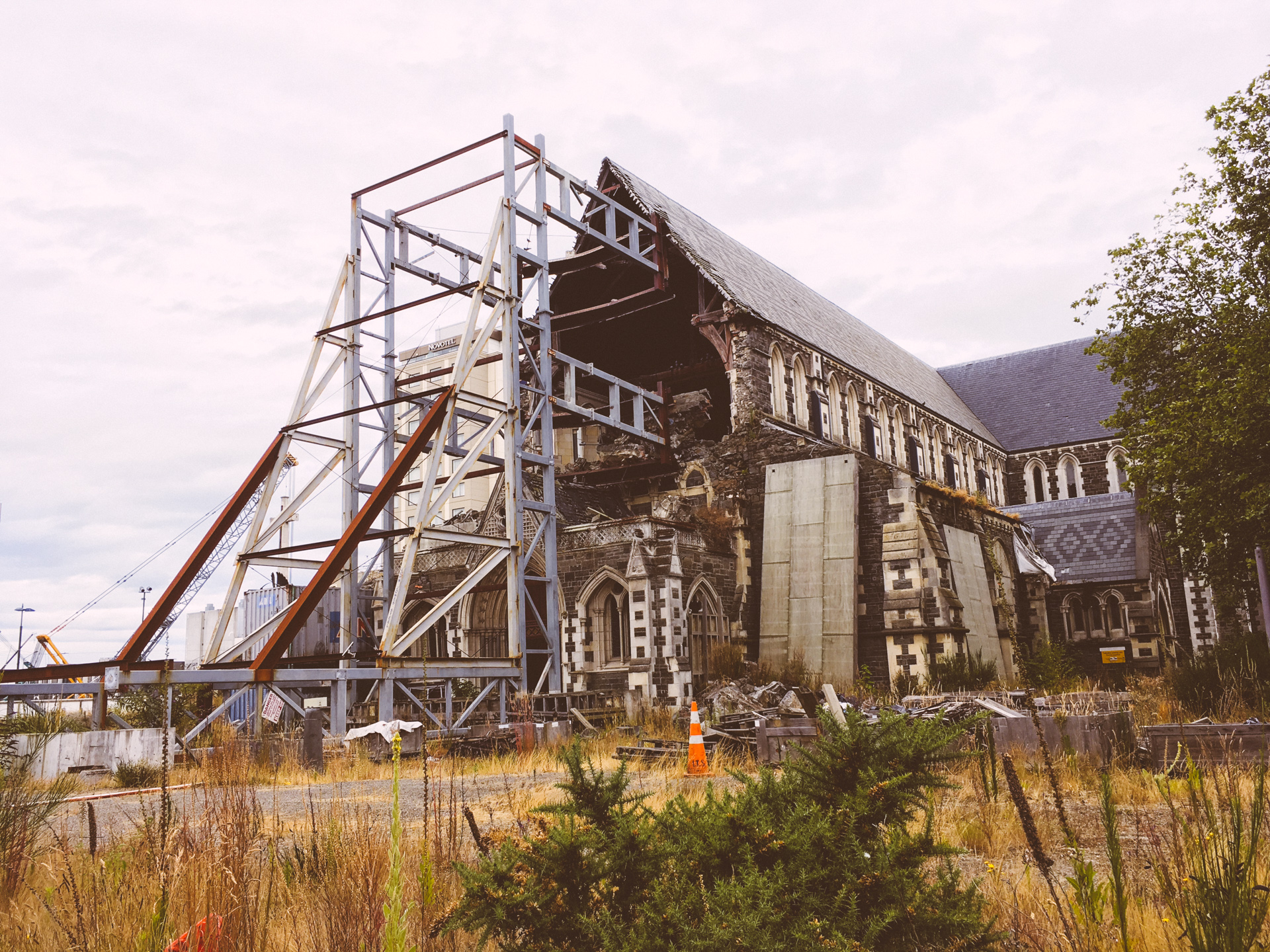 The Earthquake stricken buildings from the quake in 2011 – it was haunting to see such devastation and wreckages of buildings still not fully demolished or rebuilt – over 5 years later.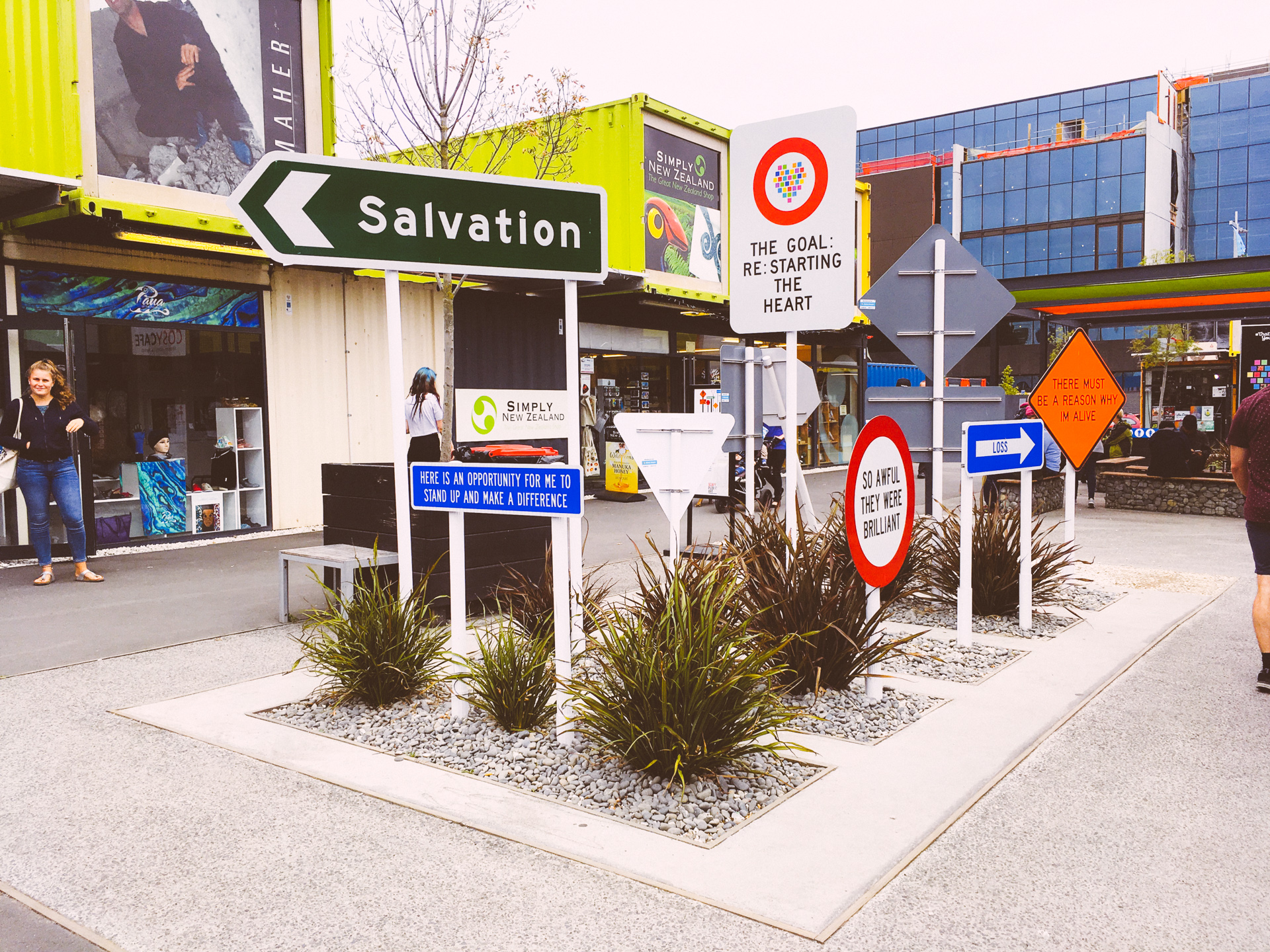 One great local effort is the Re:Start mall, a mall and group of shops constructed of shipping containers – following the earthquake so many shops and buildings were damaged the council and locals grouped together to get these temporary shipping containers in and set up shop quickly. They have remained to this day, expanding, modernising and now it's quite a hip spot to do shopping and grab a bite to eat! A cool idea that has become a unique hotspot, whilst also serving as a poignant reminder of the history.
The Canterbury Museum in Christchurch had some really good exhibitions – probably my favourite was the new Virgin Airways VR experience, we donned VR headsets and got to experience how future flights may feel in a Virtual Reality universe, in 360!
After embracing all Christchurch had to offer we got a flight back to Auckland.
Auckland
Alis already wrote about our first stop in Auckland in her North Island of New Zealand blog. But we were back as our flight to Sydney, Australia was from here.
We spent a few days with Alis' cousins that live here. Going for traditional NZ bush-walks, visiting the Auckland War Memorial Museum and exploring in Devonport and generally just enjoying some chats and family time!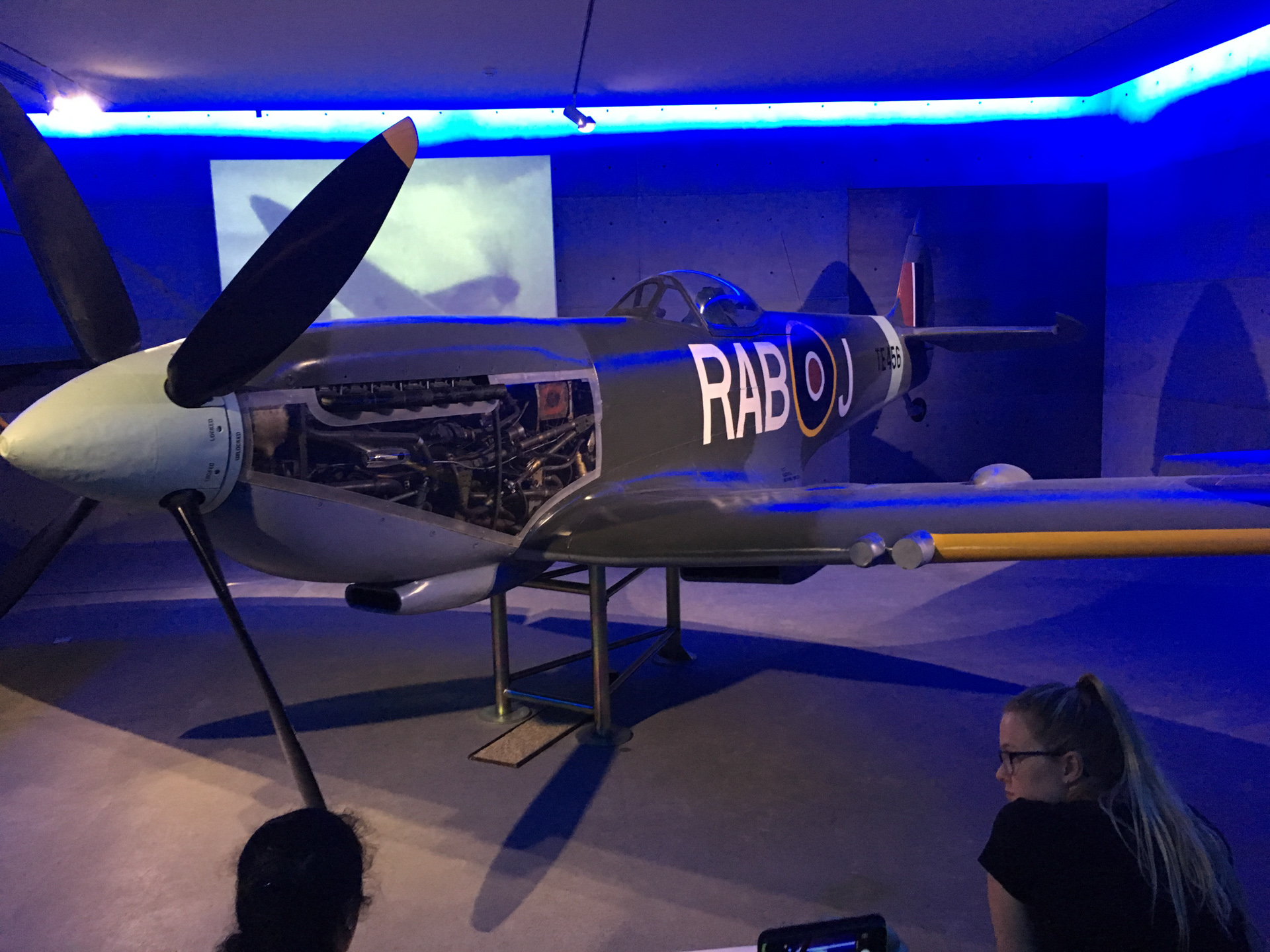 Spotted the Wigmore surname on one of the plaques in the museum: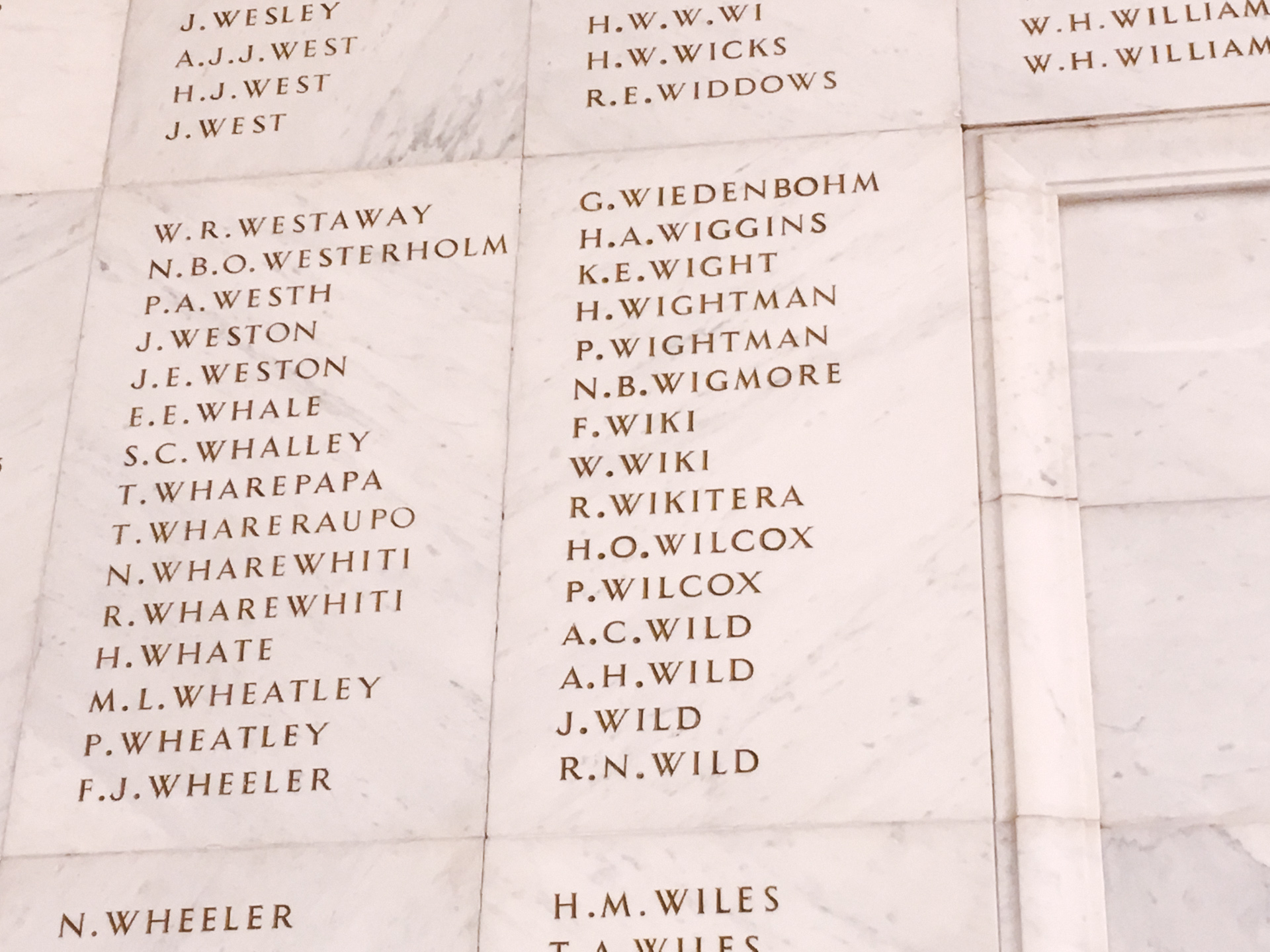 Here's a bonus photo of me in a tree that reminded me of Lord of the Rings:

We then flew to Australia to begin our East Coast campervan trip!
---