North of the Godzone – New Zealand North Island Kiwi Bus
Sorry its taken so long guys but we've finally found somewhere to catch up on the blog, so without further  ado, here we go…. The North island – New Zealand.
Auckland x 1
Auckland was a really nice city that was lovely and chilled out, I won't say much now because we did Auckland properly after the Kiwi bus experience once we were back on the North Island. We did however venture out to the city centre and went up the Sky Tower the tallest freestanding structure in the Southern Hemisphere.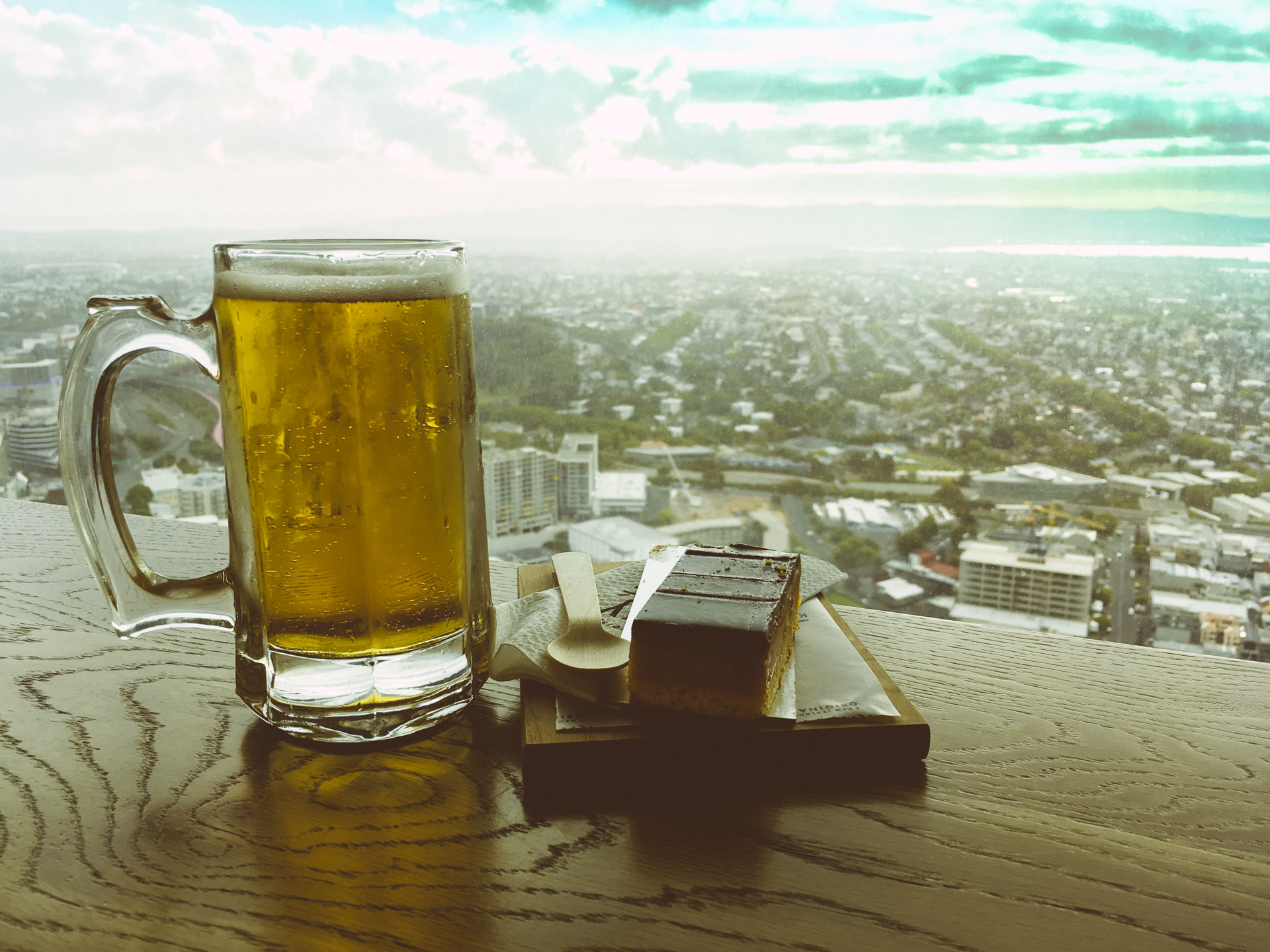 The views here were epic and it was probably the cheapest thing we did in NZ, NZ$20, bargain.
Paihia – Bay of Islands
Paihia was where we spent Christmas, it was rather strange sunbathing on the beach on the 25th of December but I wouldn't change it for the world because the area was absolutely stunning. I can see why a lot of rich people bought the surrounding islands so tranquil and peaceful, crystal clear blue ocean for miles without a single piece of rubbish. We decided to go see some dolphins on a boat cruise because there was a really high possibility to go swimming with them in their natural environment, they're always in the ocean surrounding an area called "hole in the rock". We headed off first thing on Christmas morning and it was a whole day cruise, so I was super excited to go see the dolphins. We saw loads of birds, the famous hole in the rock and we did a bit of booming (This involved being inside of the boat on a boom net while the boat did 360s dragging us through the water, glad I did it, but would never do it again, My poor toes and it felt like being waterboarded!) The day dragged on for a while and alas we saw zero dolphins not even a single fin, the boat captain called off the search off at around 5pm. It was a sad day – I'd  like to go back and try again but maybe when I've won the lottery. So we headed to the beach, swam, sunbathed before heading back to our hostel to enjoy the BBQ Christmas dinner.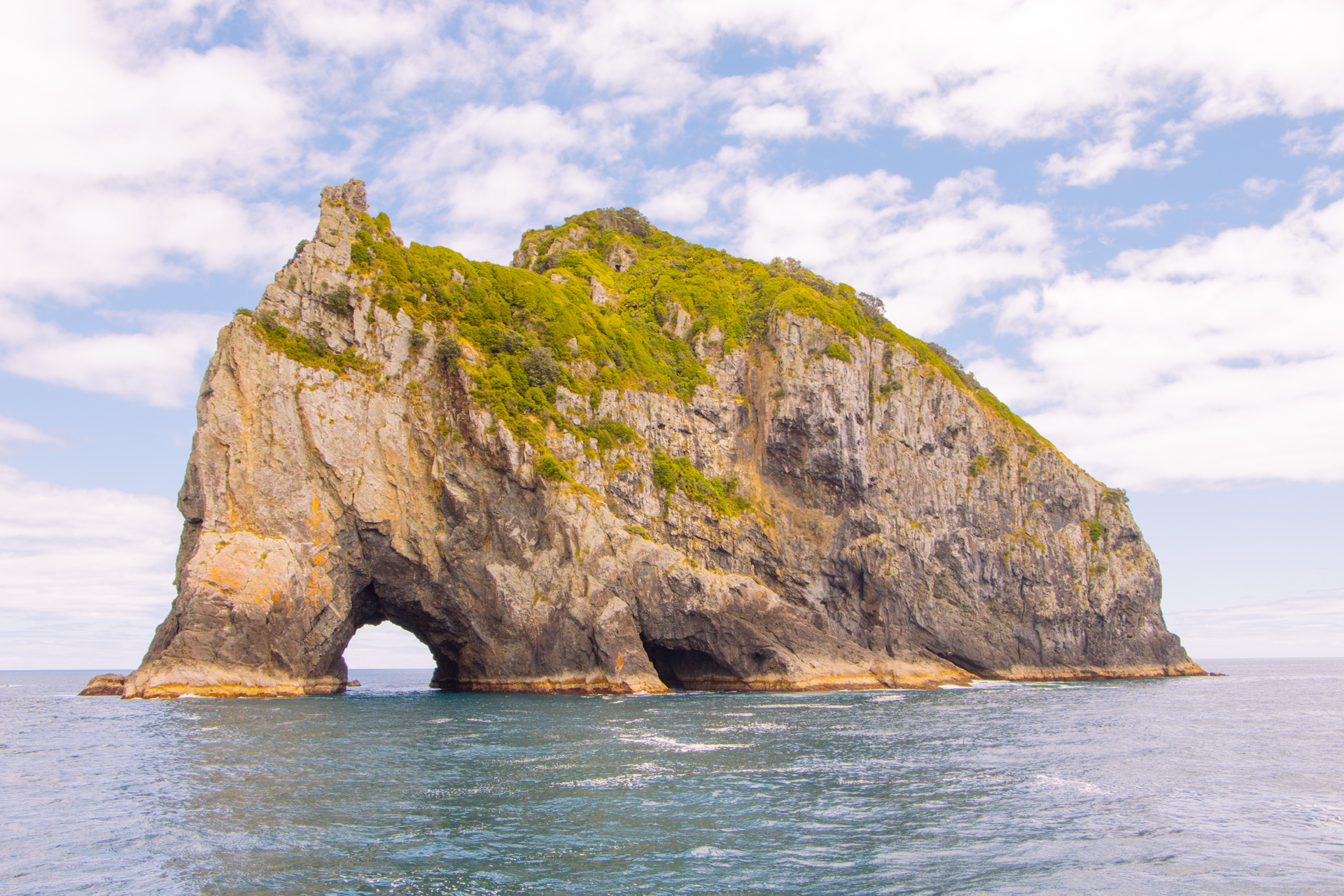 Cape Reinga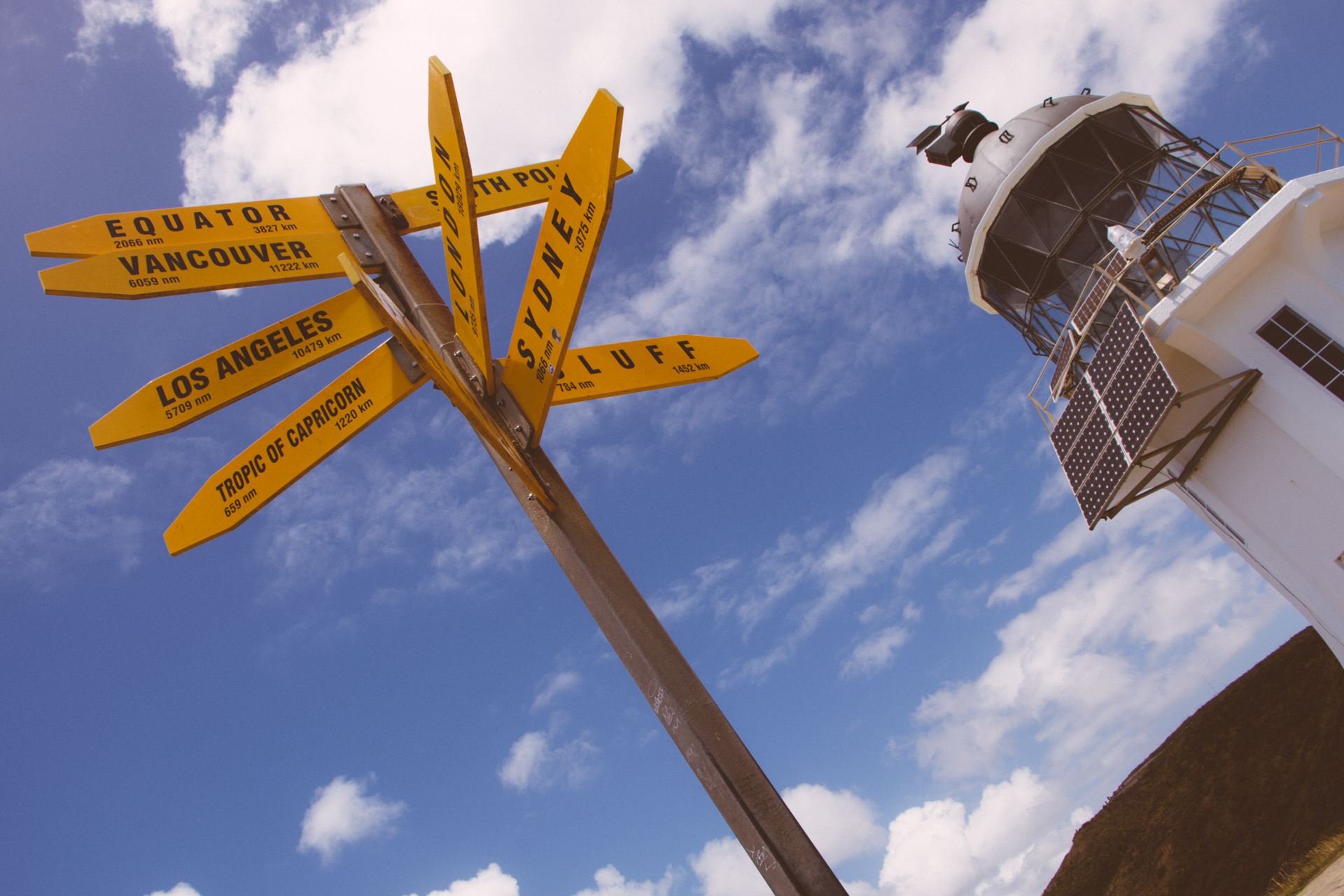 This was a day trip to the furthest north part of NZ we had an amazing bus driver called Willie who told us lots of stories about the Maori people, he taught us a Maori song that we performed in a Fish and Chip shop, rather amusing. Willie told the boys how to do the Hacka face, which Alex insisted on practising all day. We did a spot of sand boarding which was good fun but Peru sand boarding was way more intense. We picked some mussels and did a giant human pyramid just because Willie thought it would be good fun. It was a very enjoyable day.
Hot Water Beach
This is where we really started to get into the swing of the Kiwi bus lifestyle. We left Auckland and the far reaches of the North and started heading eastward to Hot Water Beach, a strange beach where at low tide the earths crust heats up the sea water so you can dig your own mini, natural hot water pool in the sand. It was a marvellous thing to behold, though in some places the sea was too hot and you had to find the exact stop to dig, this took a fair amount of time and it was dark because low tide was at 1am, although the stars were beautiful. During the day we went to Cathedral Cove a beautiful beach, where a few films sets have been set, such as Narnia. There was a massive natural cove here that good rest bite from the sun and a nice place to chill.
Waitomo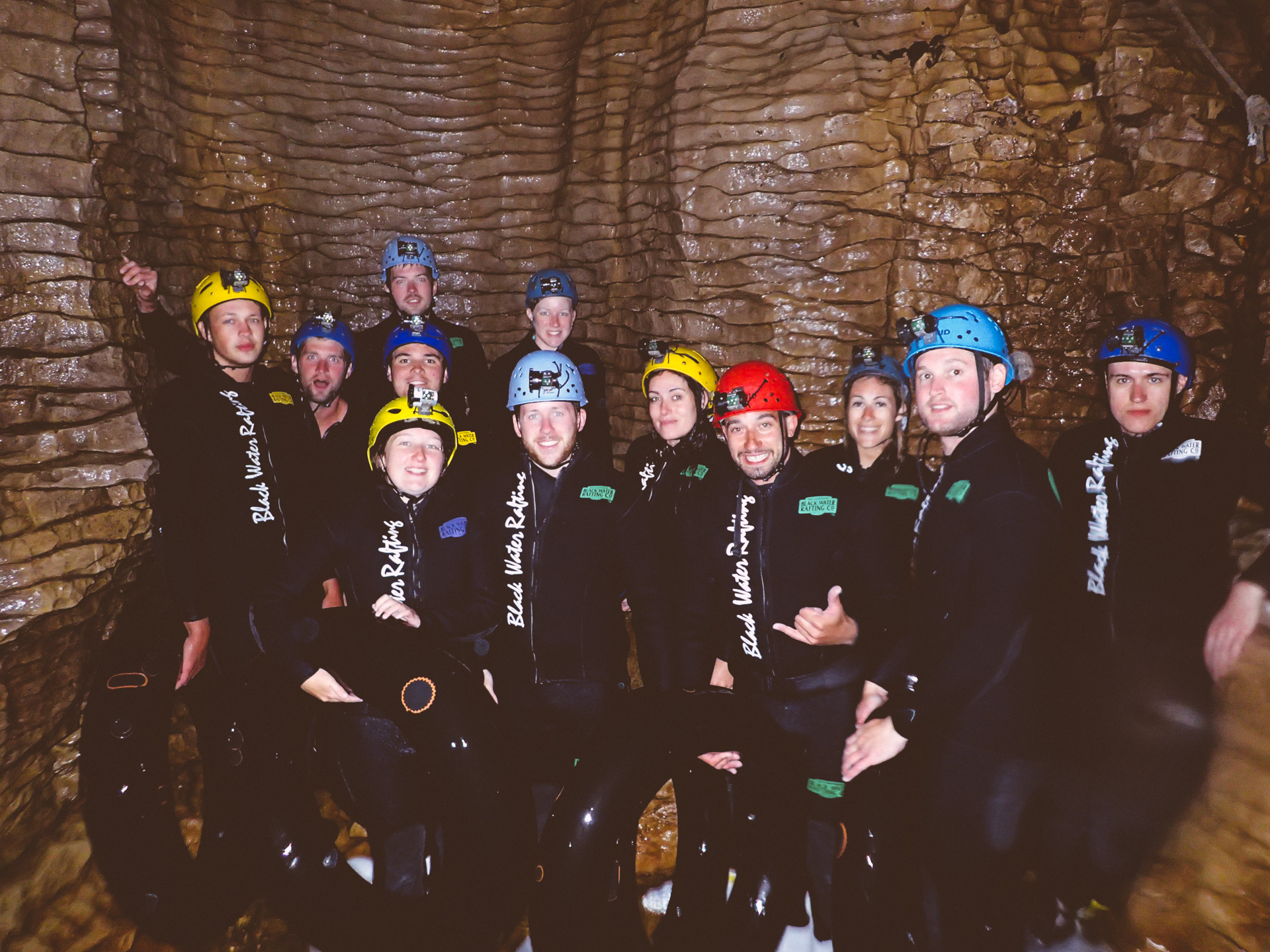 There wasn't much in Waitomo however this place you can't miss, here was one of the best experiences of my life the Glow Worm Caves. Here is one of the only places in the world where you can see glow worms and although rather expensive it was worth it. You can go see the worms in several different ways, we decided to go see them the most popular way called Black Water Tubing. This involved jumping backward off drops in the pitch black inside a black rubber tube, then letting the current of the water take you downstream, this was the relaxing part especially when the glow worms are above you and they look like stars. It is a highly recommendable experience to do. Just slowly floating down a pitch black cave with the glowworms looking like stars above you.
Matamata / Hobbiton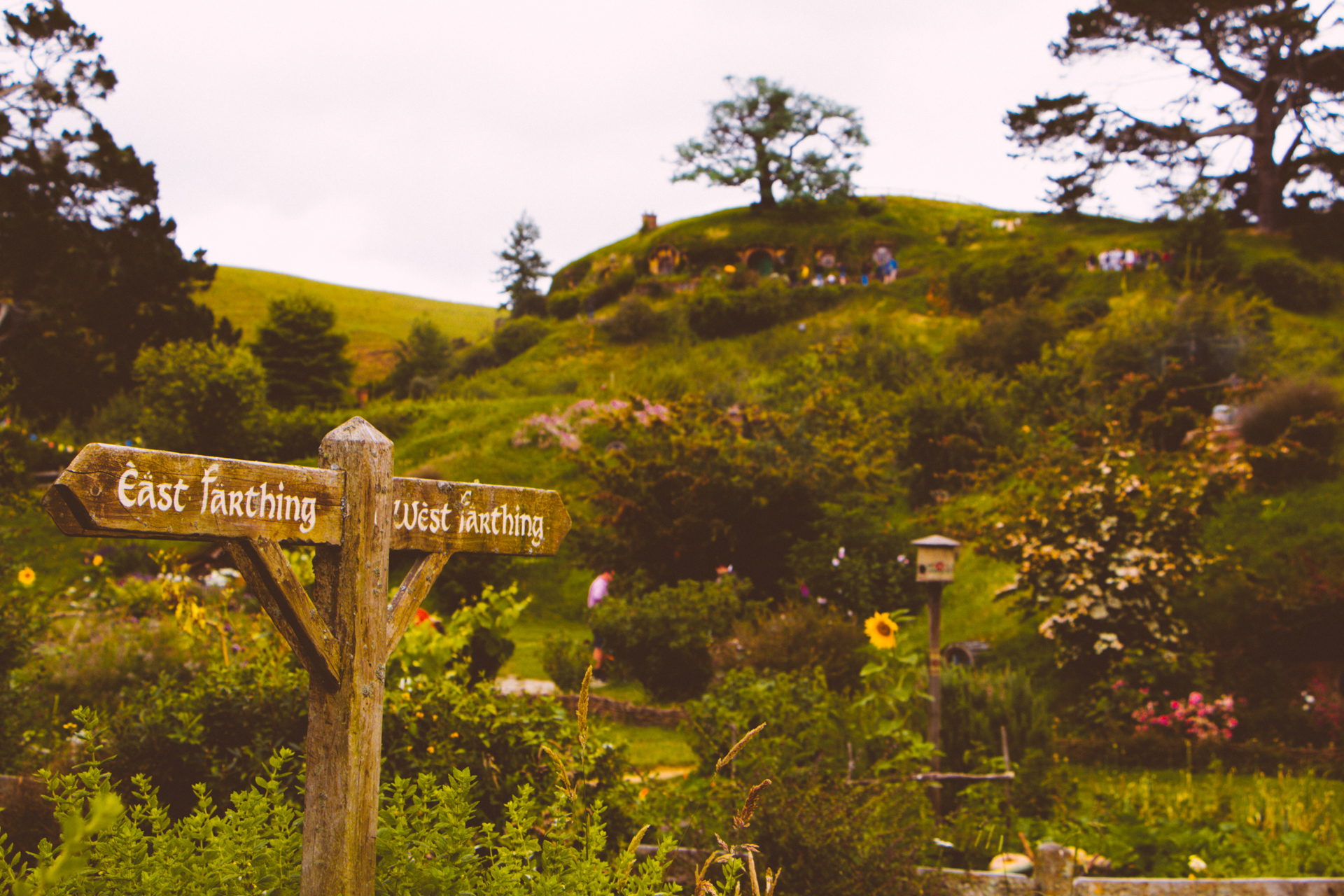 We only spent the grand total of 3 hours here but it was 100% worth it because here is where there is a magical portal to middle earth! Here on Alexandrea Farm, was the film set for the Hobbit, a very mystical place that made you feel only 3ft tall (in a good way.)
It was really epic to see and it goes to show how much detail that goes into these movies. There were some hobbit holes that are so detailed that they even have little knickknacks in their windows and they appear in the film for approximately 5 seconds.
We attempted to call upon Mr Baggins but unfortunately he was not in, which was a real shame. I saw my dream home in the shape of a tiny hobbit hole which has a beehive outside, it was well cute!
After walking around for a while and learning about all the extras, sets and props, we were allowed inside the local pub called the green dragon and got to experience "middle earth" home brewed beer and cider (Alex had a meat pie too, I'm sure he'd be a perfect hobbit.)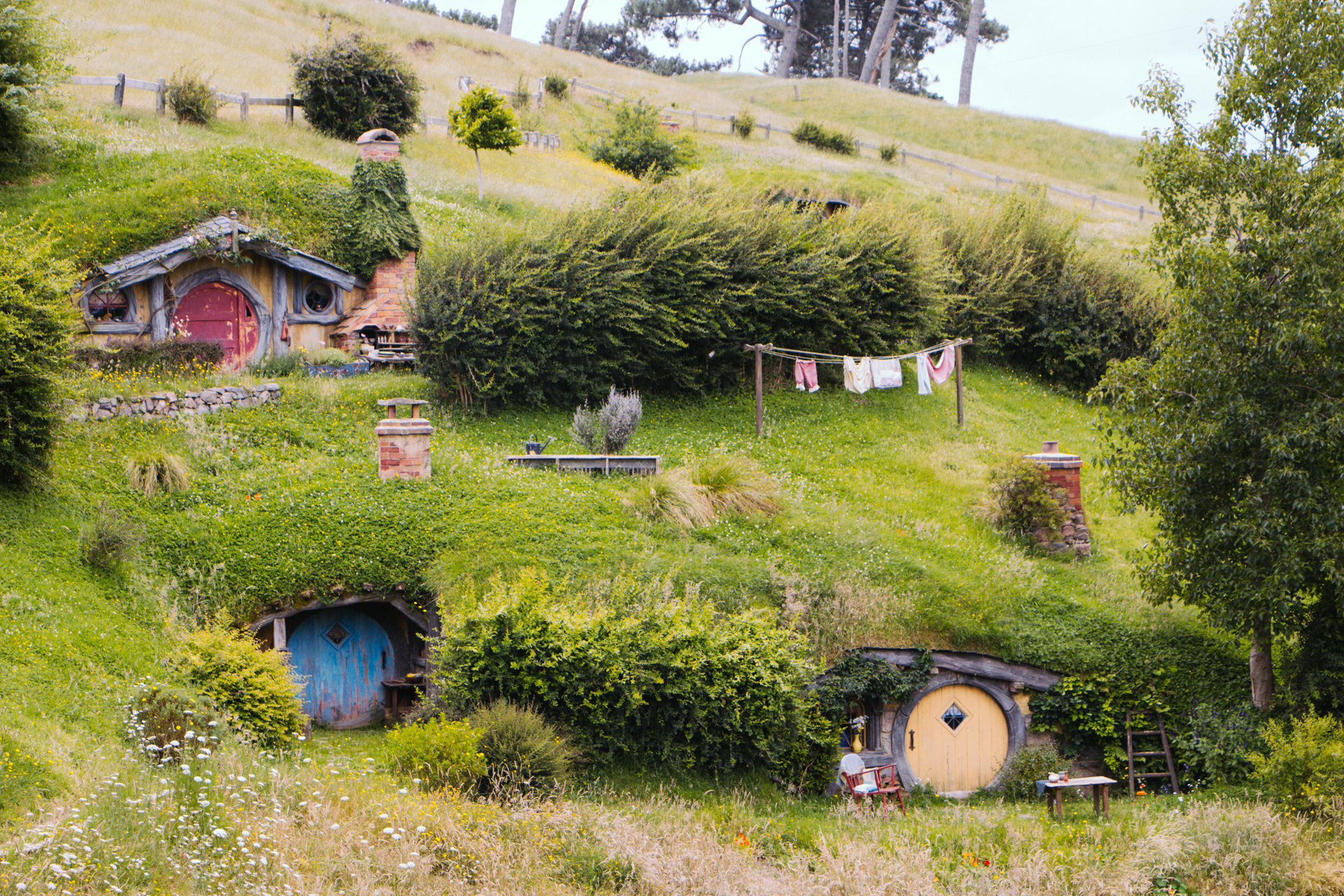 Tamaki Maori Village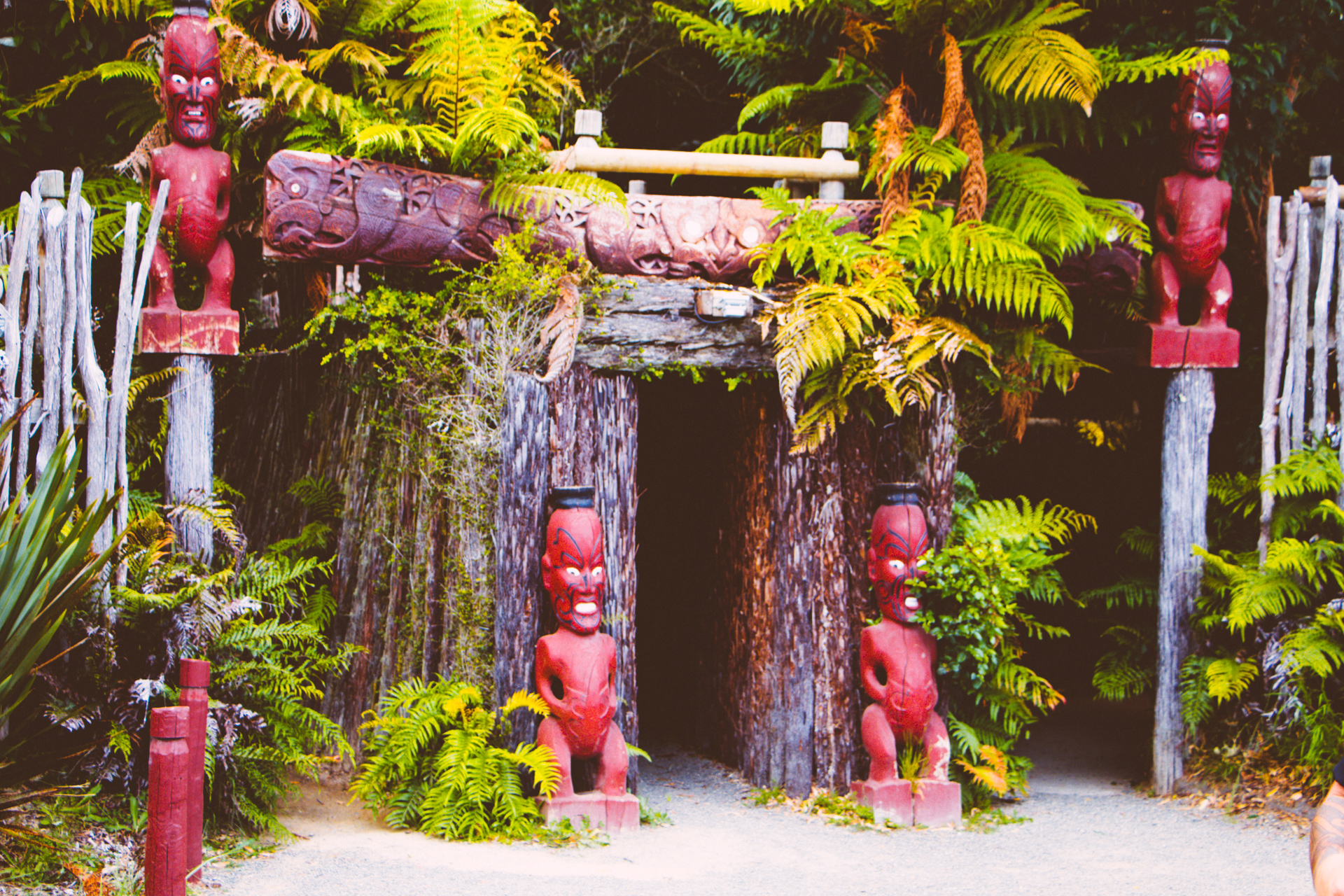 After a very brief time in middle earth we headed for the very smelly Rotorua, a place that is very rich in Maori history. We decided to opt in for an overnight stay in a Maori village called Tamaki – very interesting and fun. When we arrived we elected a chief – a bloke called Johnny from our Kiwi Bus – who was hilarious, he should totally be a comedian, we then had to sing a song to represent our tribe very embarrassing mostly because we only knew the chorus we chose Yellow Submarine. We then played a game called Maori sticks, which involved throwing bamboo poles in a circle whilst chanting Maori songs, it was good fun.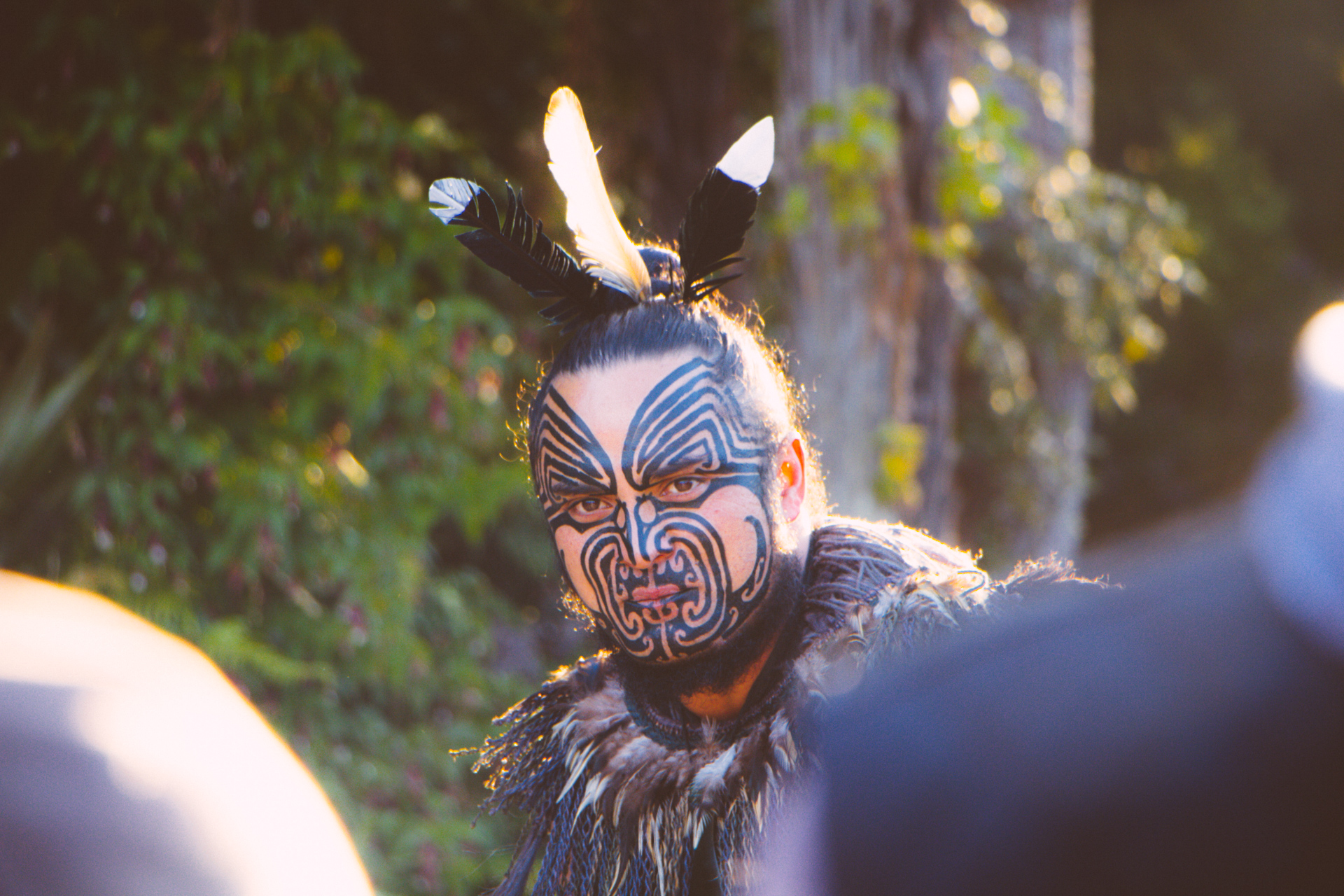 We then had to learn a Maori song which we had to sing later on in front off all the other "tribes." The welcome ceremony was next, were anyone caught laughing would be sent away because this is a very sacred ceremony to the Maori people.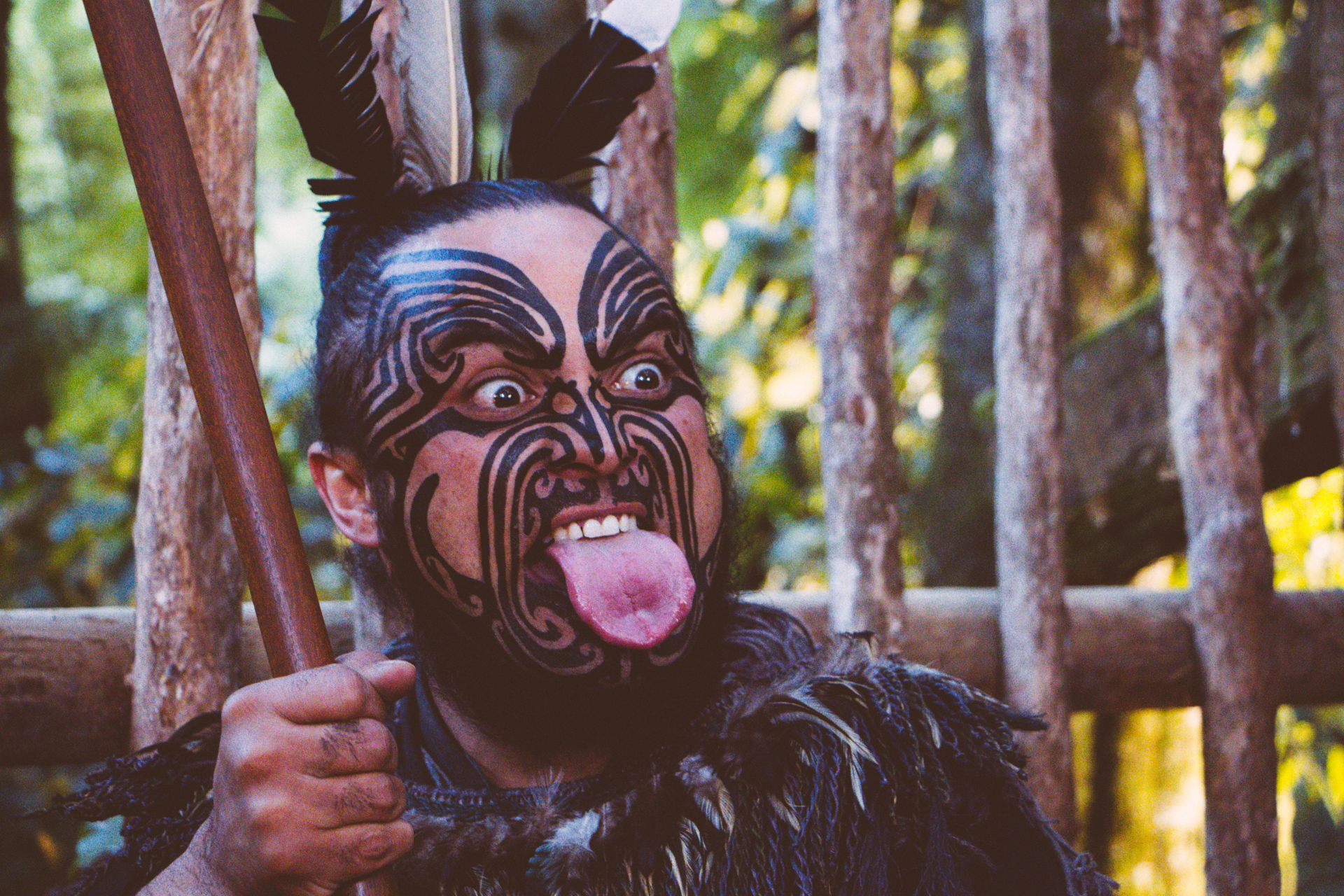 The night then consisted of singing, learning Maori traditions, the Haka and food. It was a really entertaining evening and the food was delicious. We ended the night by getting drunk in hot tubs that were provided.
We all stayed in a traditional Maori style building complete with 20 beds!
Rotorua

Rotorua itself was cool we walked around a park that was a hotspot for mini volcanic explosions (geothermic for a correct term).
We then went to Wai-O-Tapu a geothermal park – we ate eggs cooked in the really hot water from the earths crust and saw some really explosive geysers.
Epic place but we were ready to leave because it stank like rotten eggs thanks to the sulphuric content being issued from the geysers.
Taupo
Taupo was where we spent New Year Eve and I was very hungover the on New Years day so this place wasn't very exciting for me. All I can say about New Years Eve is that there was a lot of Harry Potter singing and fireworks. Saying this however, Alex and I did do out very first skydive here.
I was actually really chilled about the skydive – I wasn't that nervous mostly because I was strapped to someone else who wanted to live! We got up to 16,000ft in a little pink plane and I was officially the last skydive of the day in 2016 for New Zealand!
The nerves eventually got to me after I saw Alex flop out of the plane and it was my turn to go! The initial jump made my tummy go funny, but the free fall after was amazing and over so quickly. I would love to do this again but it was rather expensive, it might have to wait until next year I think.
River Valley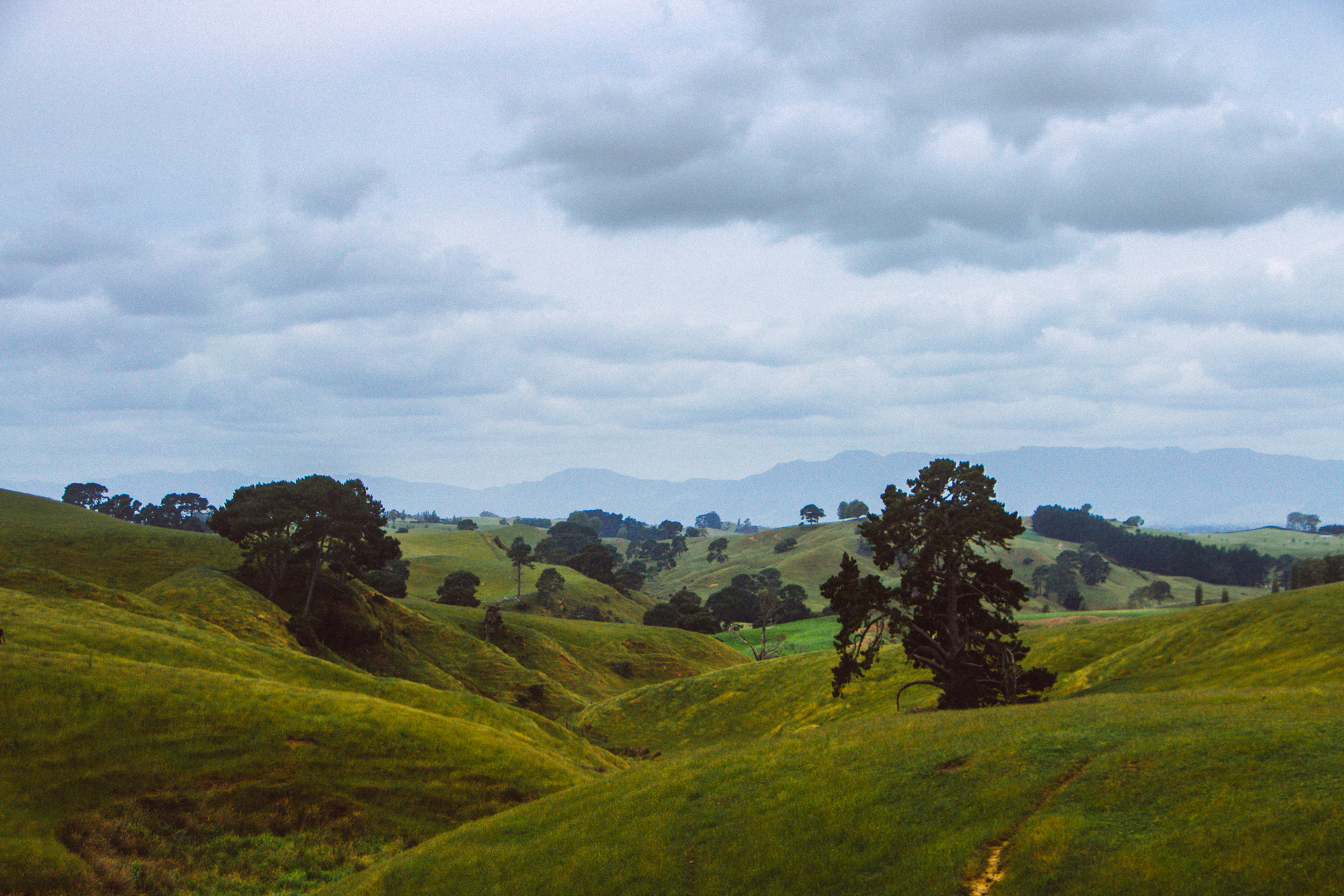 The next stop was River Valley, this was a beautiful place, it was so green and in the middle of nowhere. The air here felt so fresh. There were lots of activities you could do here, from horse riding to walking, but what we were most excited about was the whitewater rafting. We booked to do this since I fell in love with it in South America, this would be the third time we would do it.
After a delicious roast dinner we had a few beers, as we were in the sticks too there was zero wifi or data, we played cards and charades. Proper old fashioned, although the guys wouldn't let me play Jenga.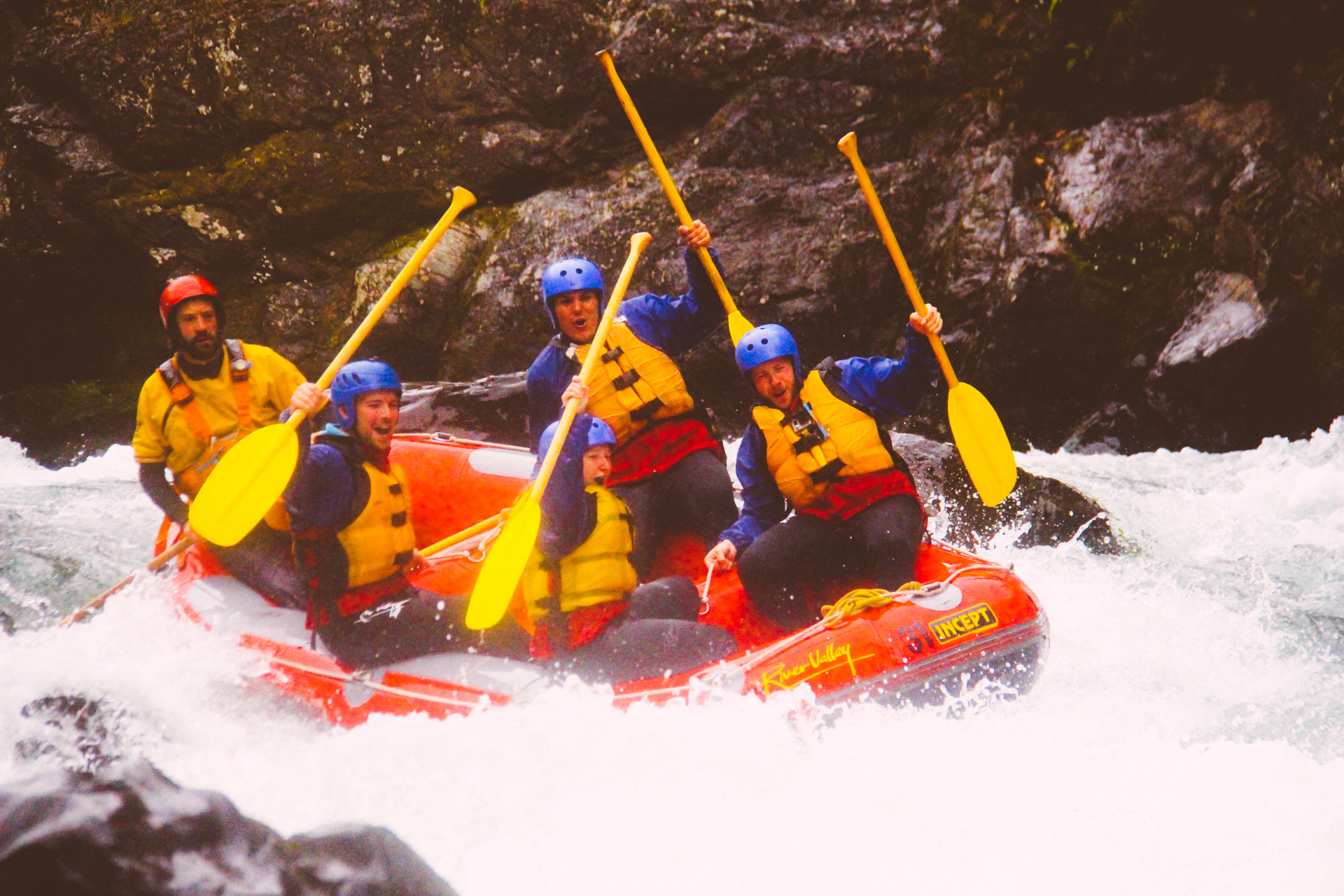 The white water rafting was the next morning at 6am, it was well early and putting a wetsuit on at this time was depressing, we did have a great time though and it was a fresh start to the day.
This was the hardest run that we have done and apparently loads of tourists have lost their teeth and broken bones, our rafting guide was funny and brutal – he apparently made a group of English girls cry. It was noticeably harder and I managed to knock Jan (a German friend that was on the bus) in the face with my oar, but he did rugby tackle me in the river so I'd say we're even.
It was a lot of fun – screaming and shouting was compulsory on our boat so we did.
Wellington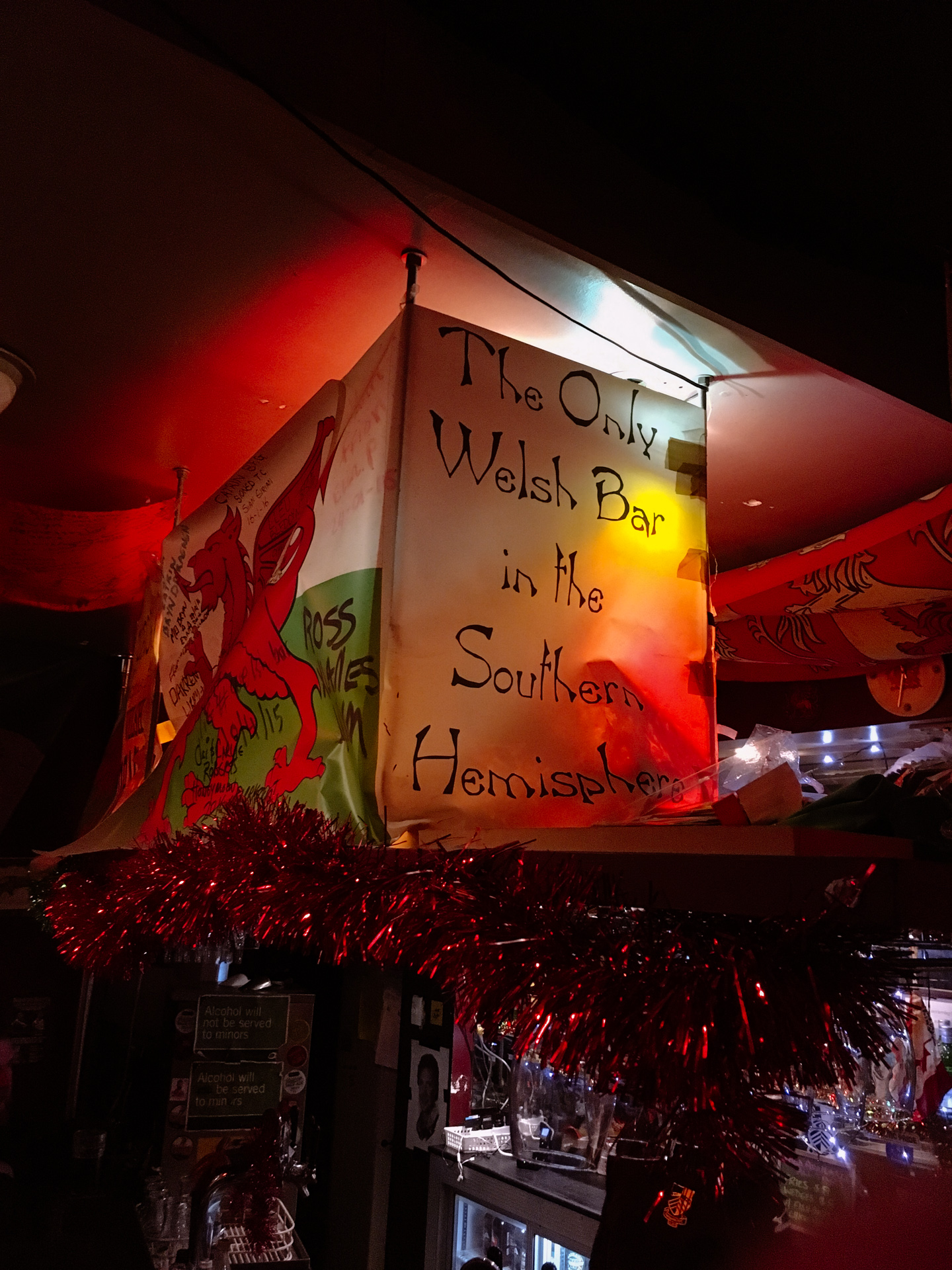 Our last stop in north island was Wellington, I liked it! We only stayed here for a day, so on the evening of our arrival we decided to go out to the local pubs, one of them was a "Welsh" pub – apparently the only one in the Southern Hemisphere. We decided to take our new European friends there for a taste of our home land however there was a folk band there, playing very traditional Welsh music which never happened in Wales itself but it was a laugh!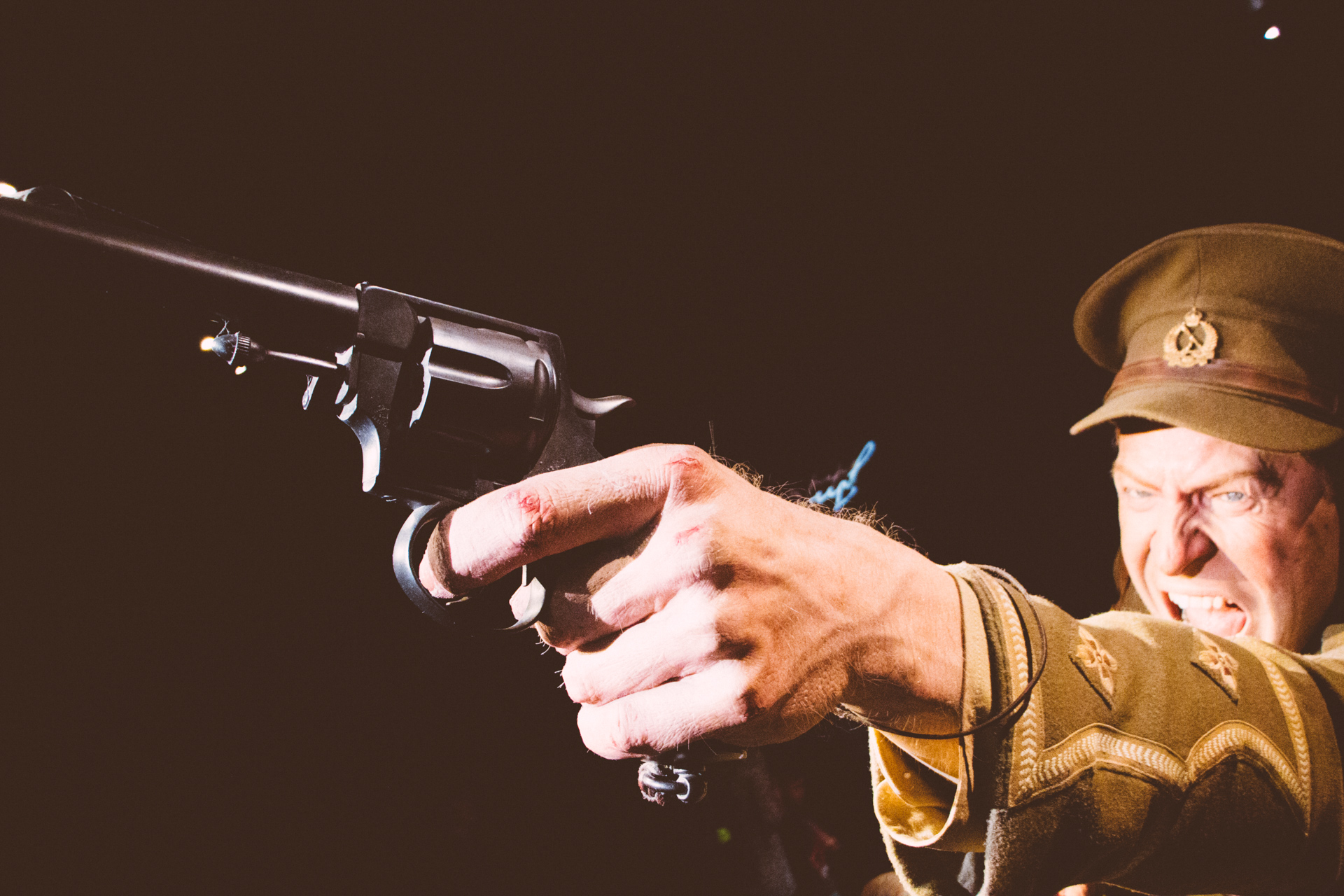 The next day we decided to go to the museum of Wellington. This was a cool surprise for us because they exhibitions there were frickin' awesome by far the best museum I've been in so far. The one that stood out for me was the Gallipoli exhibition which was procuded/curated by Peter Jackson (Lord of the Rings director) they did such a good job of displaying what happened there and how difficult life was there during the First World War. Being taught only the European side of the war I hadn't even heard of Gallipoli or the true ANZAC (The Australian and New Zealand Army Corps) side of the war. It was really hard hitting and makes you realise that so many mothers lost sons half way across the world, they were so far from home. War is so tragic. It was a beautifully somber exhibition and we should definitely invest in something similar in the UK.
To the South
On that happy note we left the North Island on a huge boat to the South Island. Yet again I got a little sea sick, which is so annoying. It probably didn't help that I'd had a full English that morning – a tip though to anyone who feels sea sick, suck on some ice it helps tremendously.
And continue reading our New Zealand Adventures in the South Island post.
---