Sunny San Pedro
The border crossing from Salta towards the Atacama Desert was in the middle of a desert surrounded by big rocky mountains and here is where I had my first taste of altitude sickness. We got off the bus at 7am and we were at 4000m above sea level. I got off the bus needing fresh air to find that the air felt very thin and hard to breathe. We were queuing for an hour or so in the hot sun and cold wind to cross into Chile from Argentina and I felt like I was going to vomit, even pass out at one point. I didn't do either luckily.
The Atacama desert is 50x drier than death valley, nothing lives their naturally; not even bacteria, it basically never ever rains and is certainly the driest place on Earth.
After what felt like a lifetime we hopped back on the bus for another couple of hours before arriving in San Pedro de Atacama at 12pm.The bus station was five mud huts with a tin roof so my first initial thought was not the best. Not helped by the fact that when we got off the bus it was like stepping into an oven. So hot and dry I instantly needed water. I did feel a lot better though, no sickness or dizziness but we were only 2400m just under altitude sickness threshold.
We walked in the blazing heat for about 15 mins which wasn't far, but a struggle with our big backpacks on our bags and day sacks hanging on our fronts to the hostel. This hostel was also built out of mud bricks and tin with a little hay on top (maybe to stop the sun from cooking you — not really sure :/). From the outside it was not a good look but the inside was actually quite nice (for the desert anyway) the room was fresh and the shower worked. We settled in and walked into the main centre.
It was nice here too — a big green plaza with Atacama's oldest church. We had lunch on the plaza which was really yummy. Alex and I fancied this vegetable sharing plater that was just broccoli, greens, potato and goat cheese doesn't sound like much but it was very good, it was nice to eat some quality vegetables for a change. It was the first time we had broccoli since the UK. After lunch we booked out Salt Flats tour and had a wonder around the village.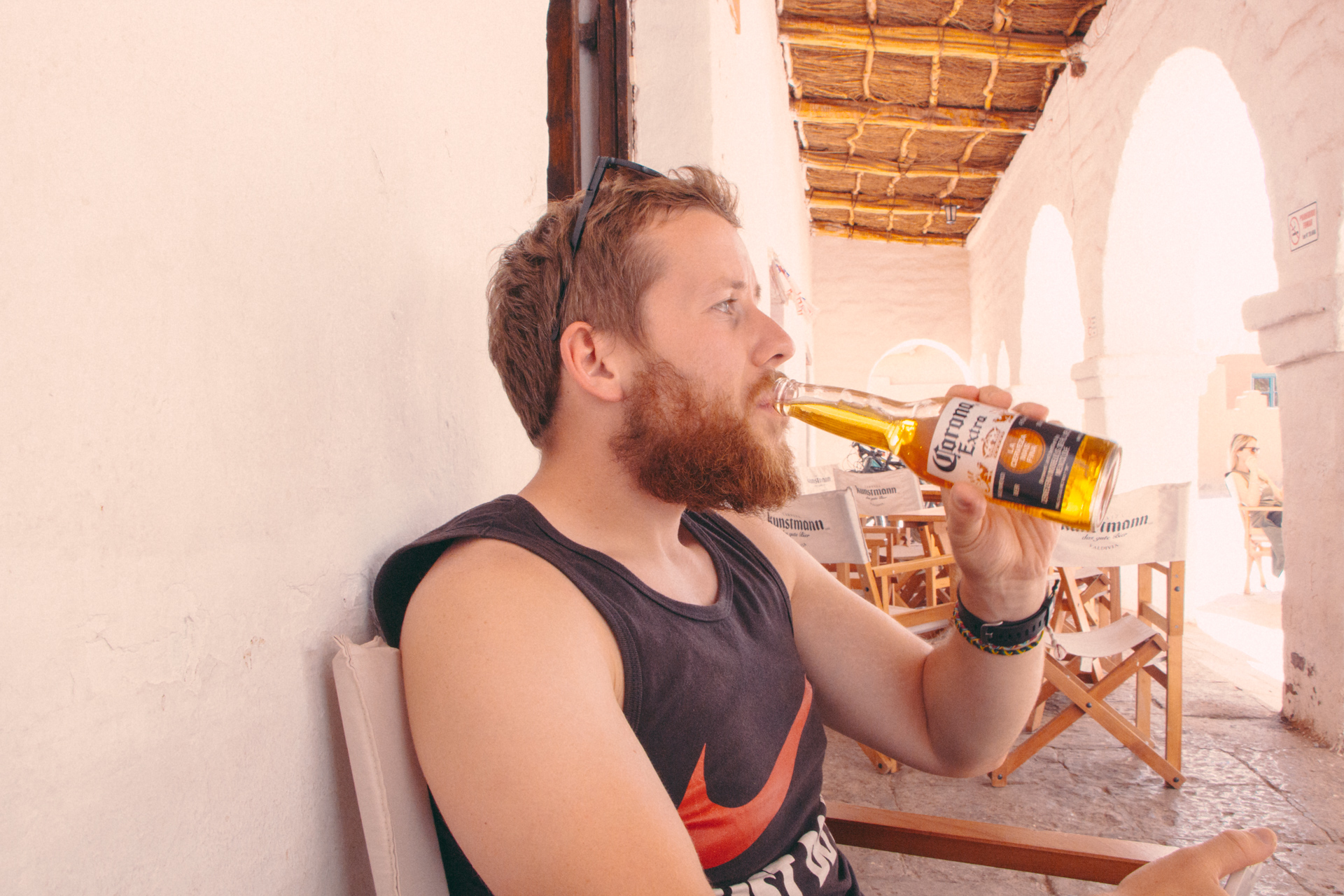 Our second day in Atacama we did some shopping (we had a list of things we needed to get for our tour.) Poor Alex had to lug around a 6L bottle of water for a while. We went inside the old church…. it was old. We found the San Pedro Market and bought a tiny golden lama. Alex had his eye on a huge fluffy stuffed llama – I said we could not take it through customs and he told me that I wasn't allowed to buy a traditional inca blanket because, quoting Alex "That's hideous".
We tried to find the mummy museum that was supposed to be really cool but after walking in a circle twice we found out it was closed for renovation. Good! However, we did find a meteor museum and keeping in theme of the day (we booked to go star gazing that evening) we decided to give it a go. It was actually super interesting I was so into physics at the end. We saw the three different types of meteor.
We found out  how you can discover which direction a meteor came from and its angle of descent to earth and how drastically the size can affect the Earth — that one only 12 metres in diameter would equate to two Hiroshima bombs. We then found out about the bacteria that can live on them, and saw examples of a mould like substance growing on one. We even got to feel them and see how magnetic they were. Considering the museum was inside a tent it's been my favourite so far. Feeling pretty intelligent we left the meteors and headed back to the hostel to drop the shopping of before heading out to go do some star gazing.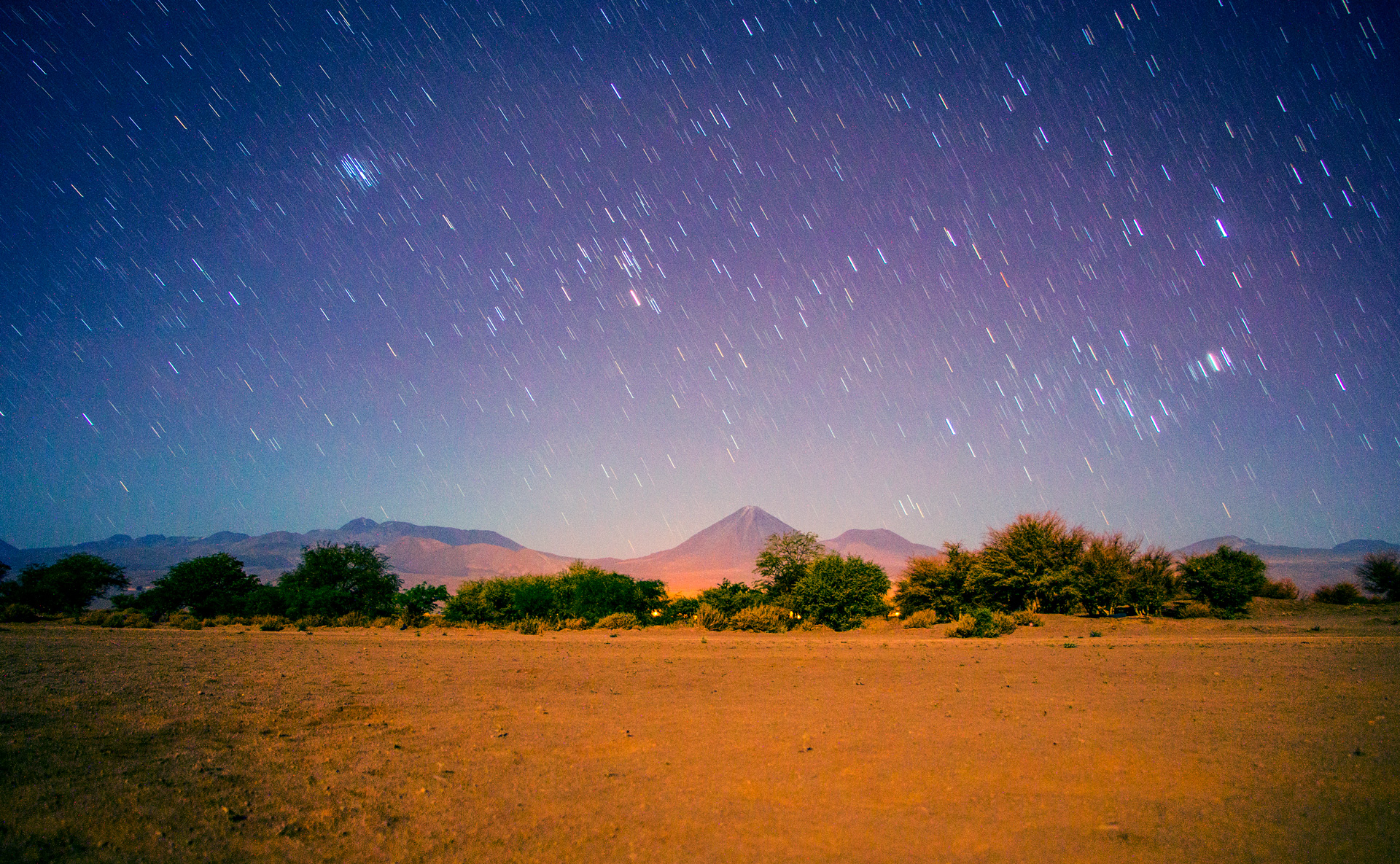 The star gazing was awesome! The skies were so clear here we only had to drive 15mins away from the little San Pedro village to see them in their full glory. The telescope wasn't even that great but we managed to see Mars and Venus and discovered that Stars twinkle where as planets don't that's how you tell the difference. We saw the life cycle of the stars all in the sky before us. The new white stars, the explosive blue stars, yellow stars similar to our sun and also a supernova and a red star. The cool fact about the red star is that we were only seeing the light now but the star its selfs gone. We also saw all the Greek star signs. We were right under Capricorn. I was a bit gutted though because everyone saw a shooting star apart from me 🙁. We were out in the desert for ages and I wanted to know more but we had to head back.
The bus for the salt fact tour was picking us up at 7 next morning. So with heads filled with space, meaning of life and indeed feeling very small we went to bed and snuggled ready for our three days off the radar.
---