Understanding Culture and Exploring Rurality in Northern Vietnam
Hanoi
Taking our first flight in over a month (since Bangkok to Chiang Mai), we landed in Hanoi from Vientiane in the afternoon. Waiting for us was a taxi driver holding our name on a plaque to take us to the hotel – we've caught nearly countless flights in our lives but funnily enough we've never had a taxi person holding our name; so was quite fun to have it happen. The taxi from Hanoi airport to the old town centre is quite long, nearly an hour – but the scenery along the way is so vividly green, it felt vastly different and a world away from the country of Laos only a few hundred miles to the West.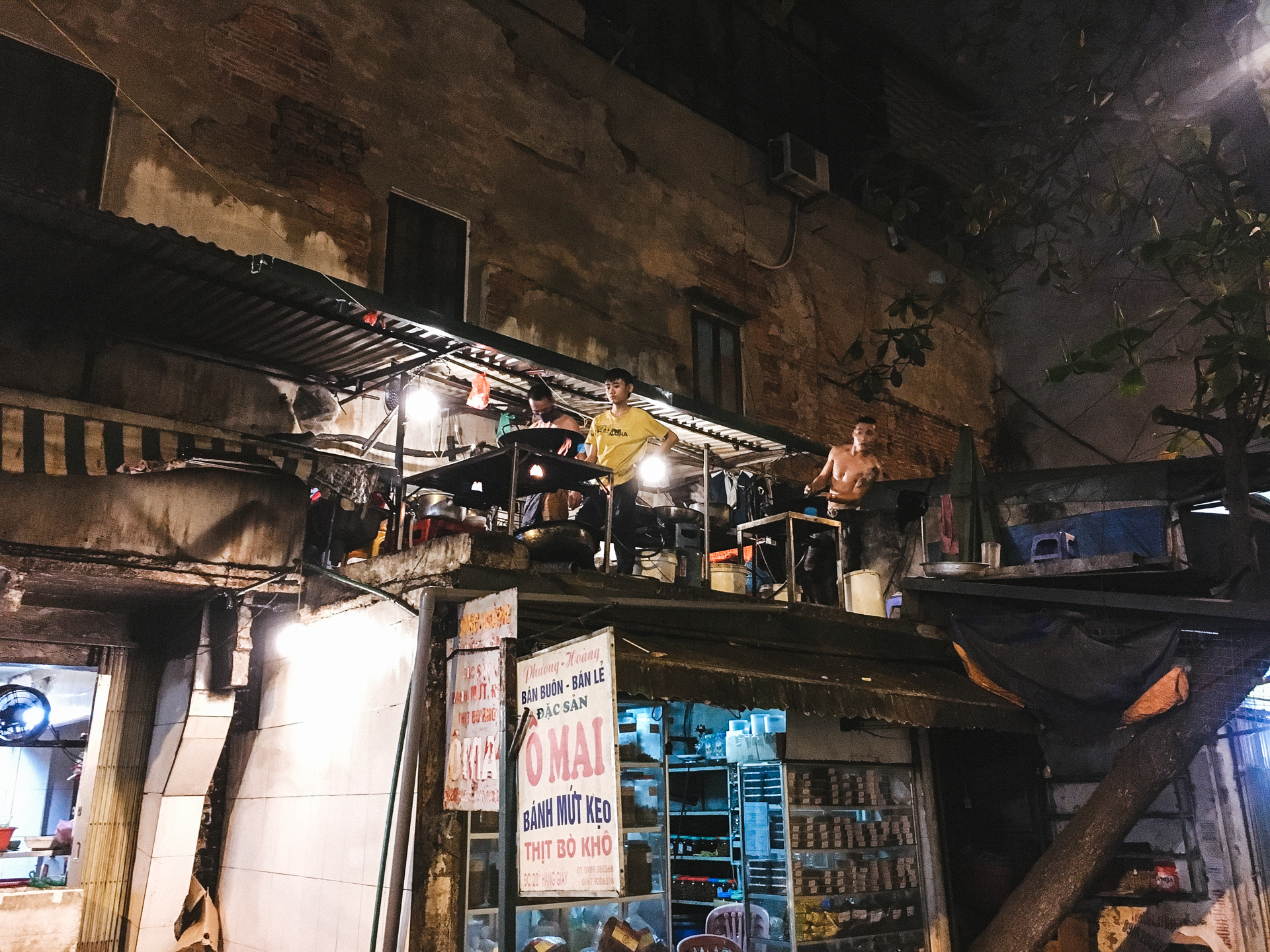 Dropped off at our Hotel (Hanoi Holiday Diamond) in the heart of the old town, we dumped our bags and headed straight out to explore. Opening the floor-to-ceiling heavy glass doors we were hit with a violent symphony of car horns, motorbikes whizzing past, aromas from the street food and the general whirl of condensed Vietnamese city life. It was quite pleasant in a weird way, like those scenes in films where the actor stands and looks around as all the city moves around him with a city that is truly alive.
We settled down in a local restaurant/cafe that didn't speak English and had some crazy broth of noodles and meat, it was simple but tasty!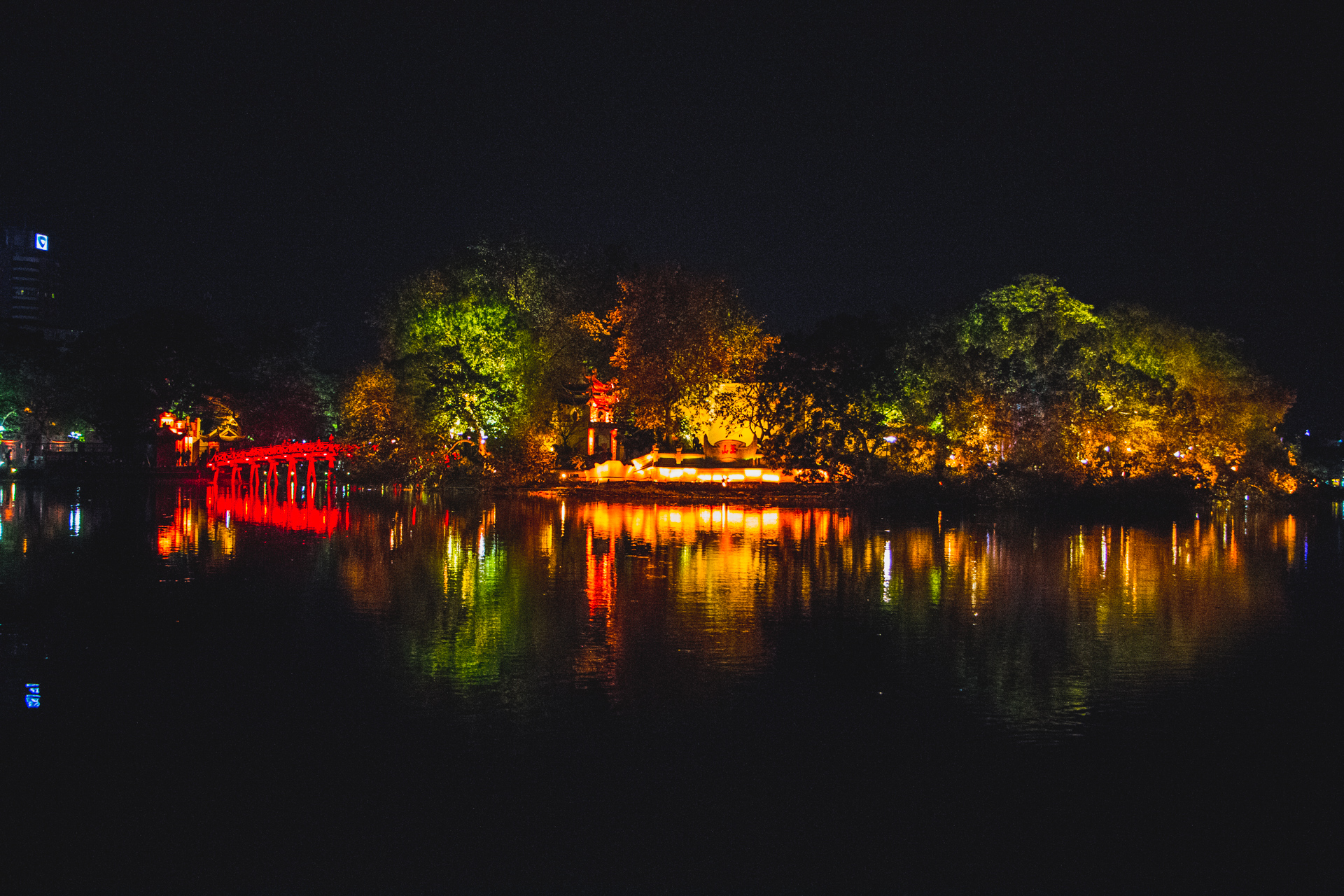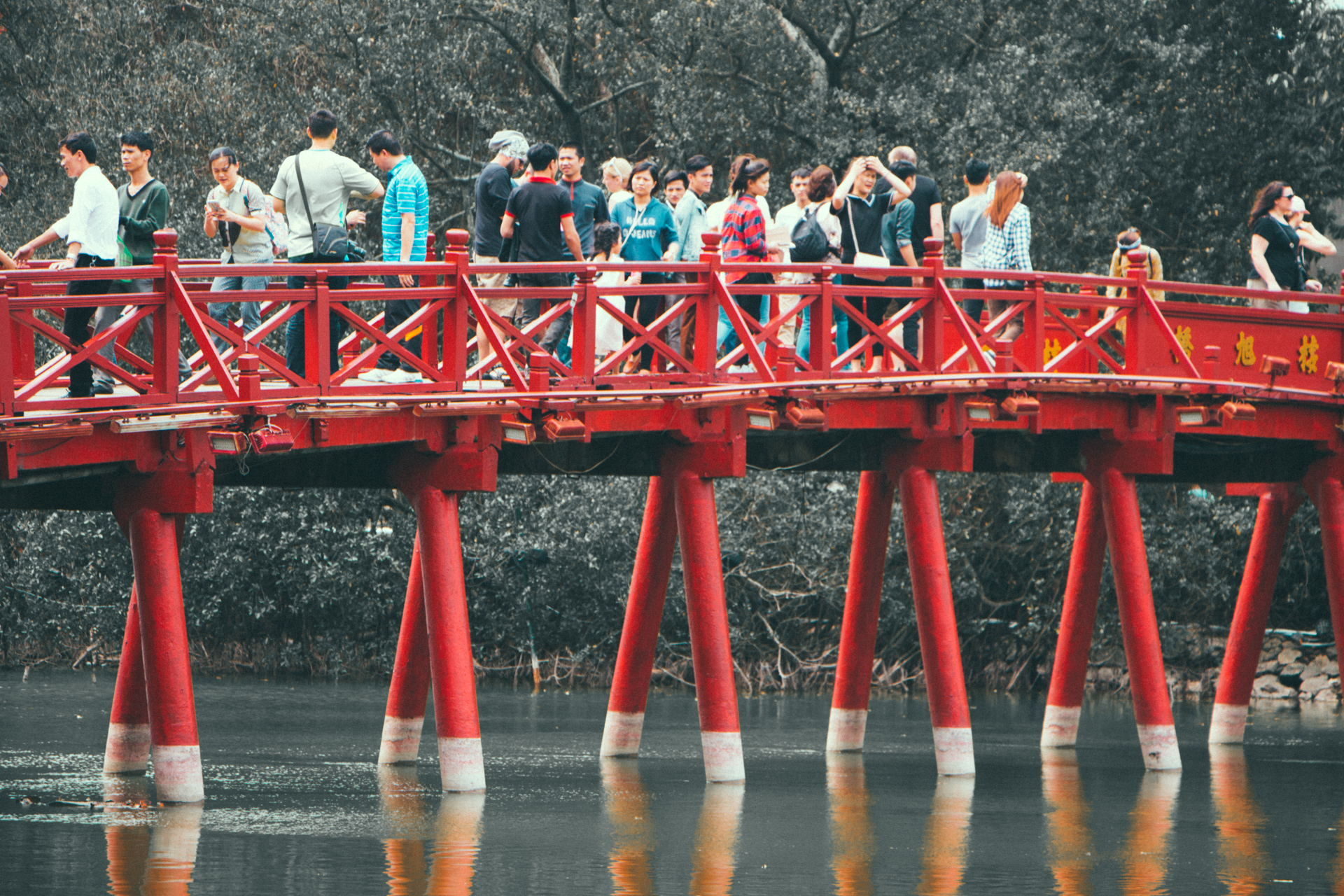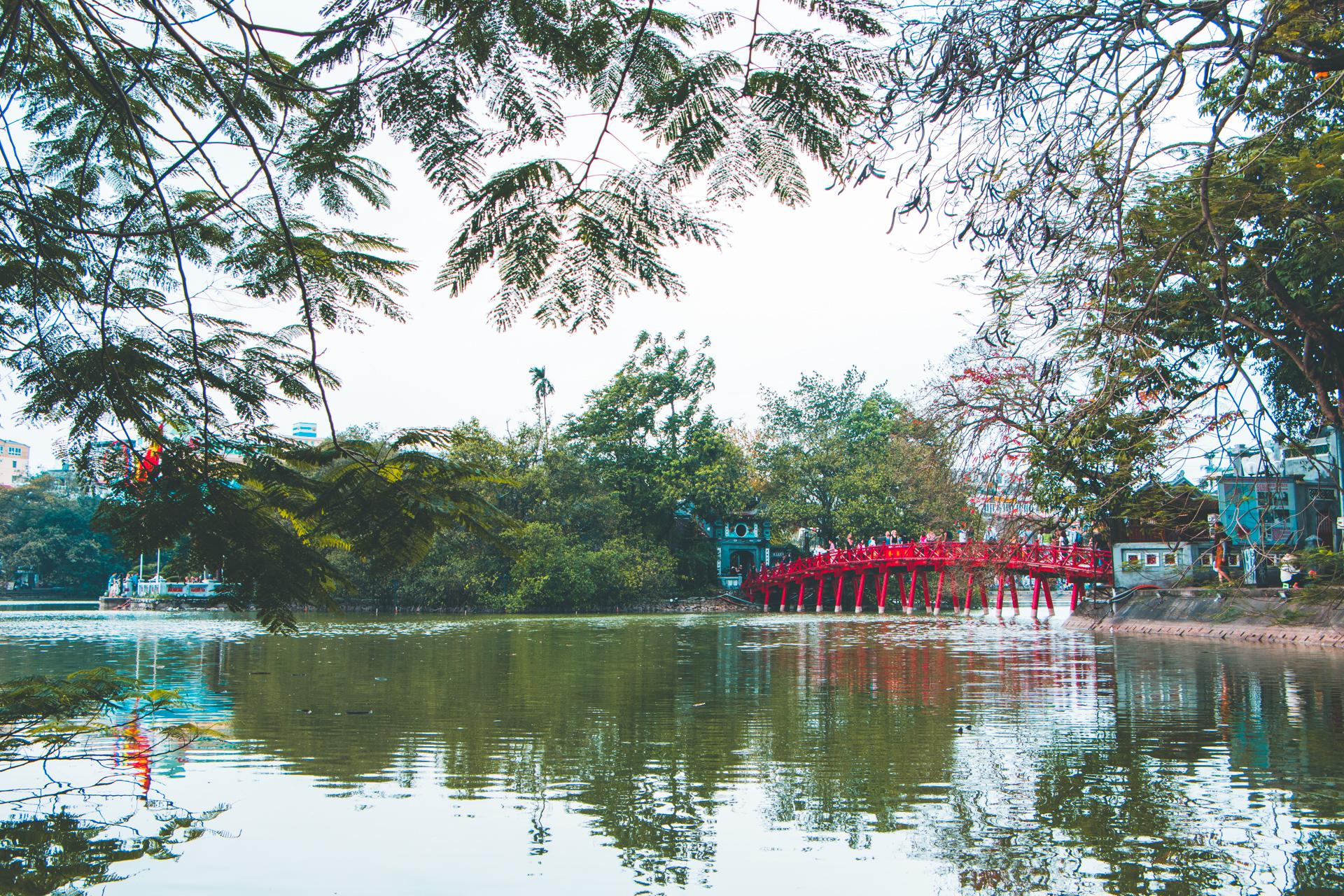 Our first full day in Hanoi we explored the Hoan Kiem Lake with its famous Huc / Red Bridge, and luckily it was the weekend so some of the roads were closed.
It was so fun to see loads of kids out playing with their remote control cars and even with modified swegways they could sit on. It had a great atmosphere as runners and cyclists graced past as they lapped the lake and groups of cute dogs paraded the streets with their owners, which I'm assuming is a regular occurrence on the weekends here.
From Hoan Kiem Lake we then headed to the Hoa Lo Prison to get some culture and background of the city.
Hoa Lo Prison was used by the French colonists in Vietnam for political prisoners, and later by North Vietnam for U.S. Prisoners of War during the Vietnam War.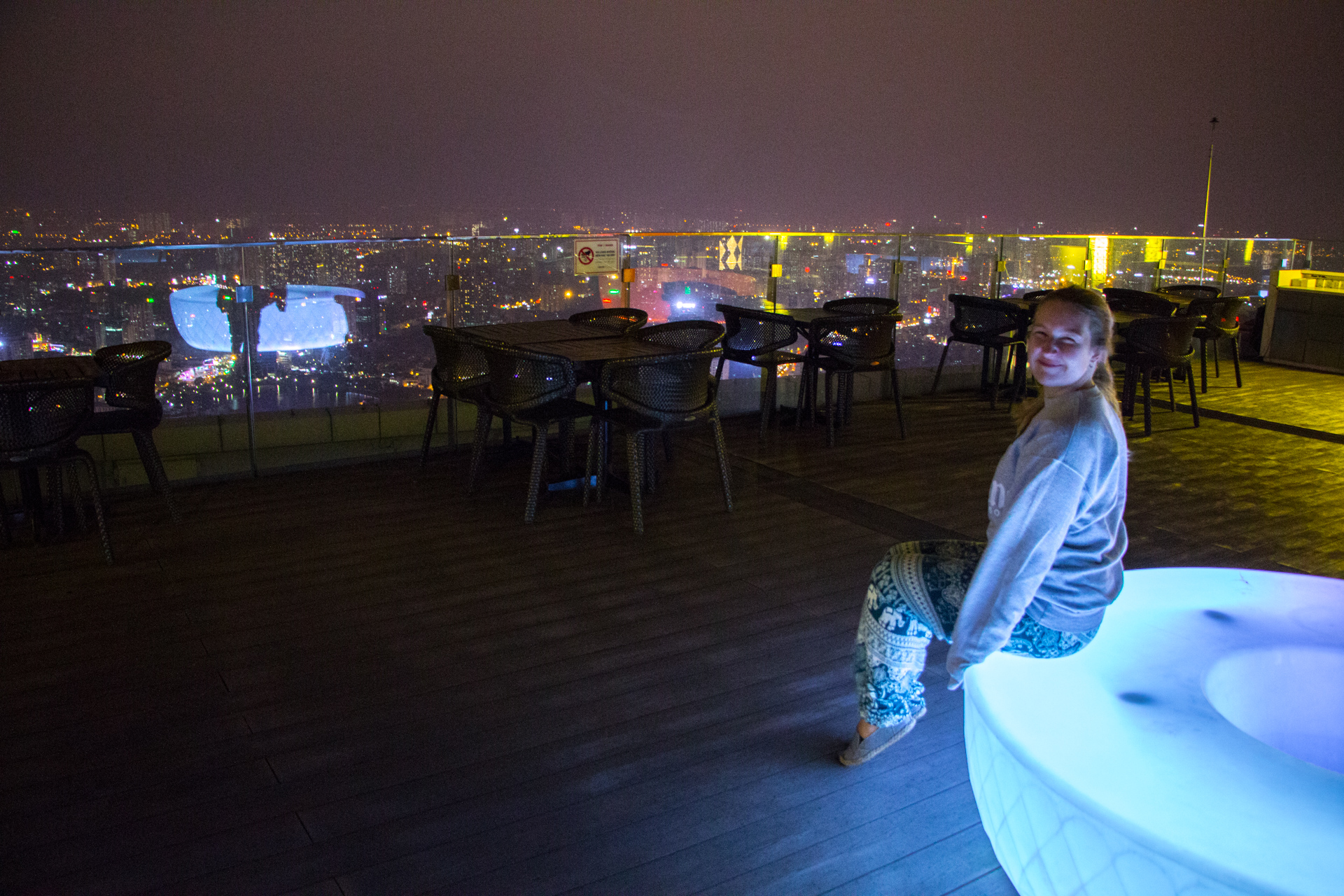 One night for dinner we headed to the "Top of Hanoi" a restaurant, aptly named for being on top of the tallest building at 67 floors, in Hanoi – The Lotte Center.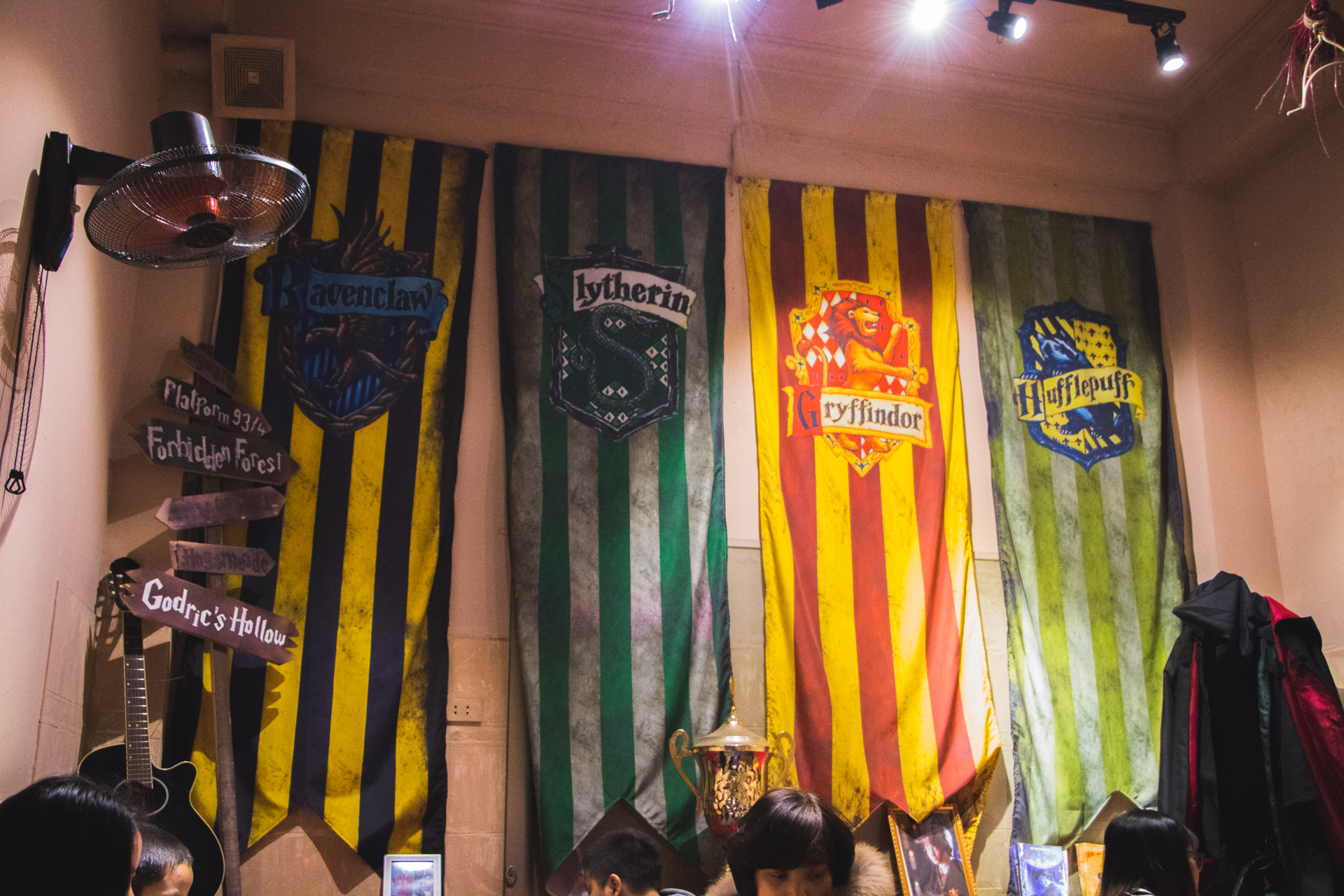 We also decided it would be a good idea to head to the "Harry Potter cafe" one afternoon. Why we thought this was a good idea in a country that has very little link to the brand we have no idea in hindsight. It was just a cafe with some flags and decorations placed around with some overpriced drinks.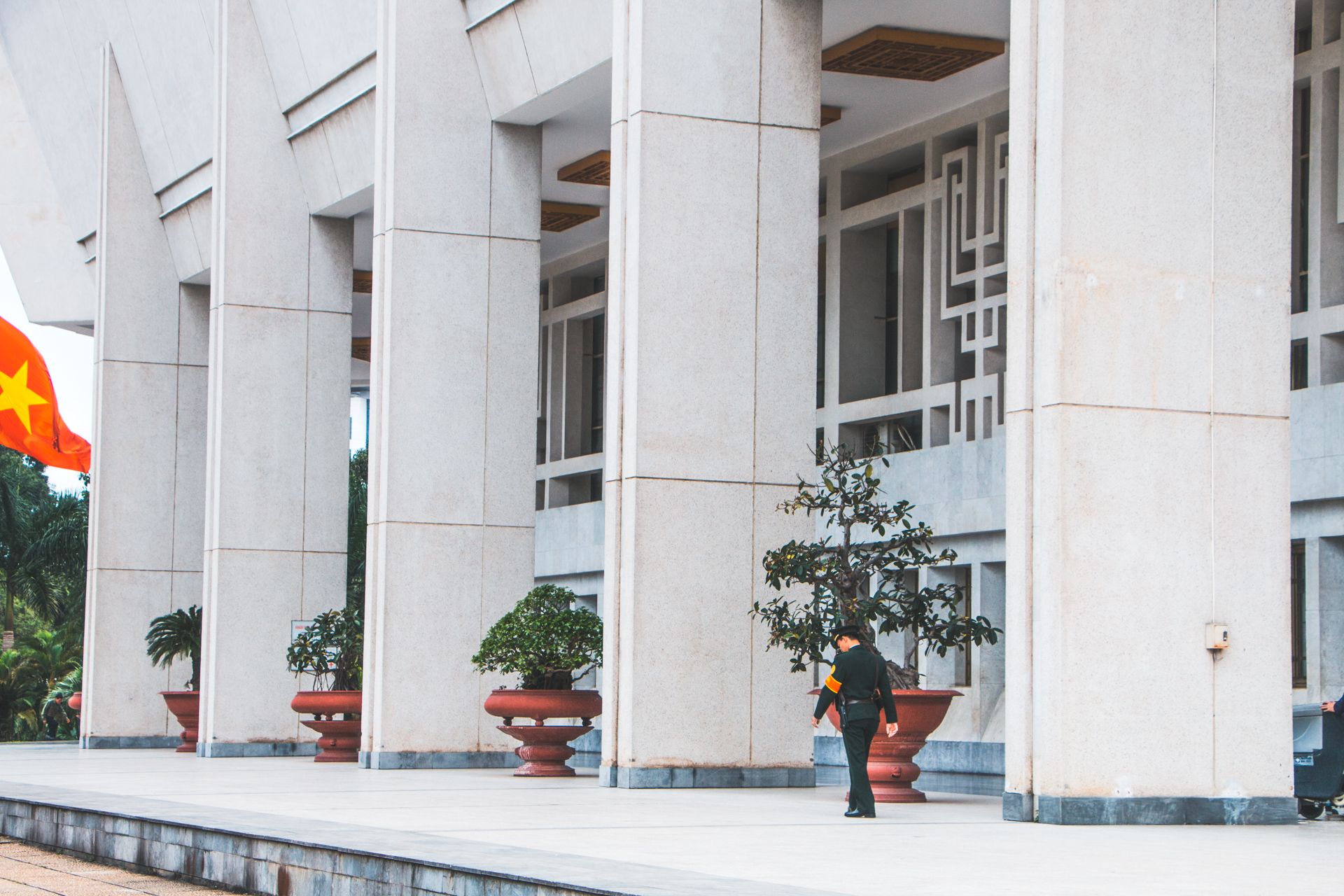 A visit to the Ho Chi Minh mausoleum and museum was next on the agenda. We didn't really understand the museum, it was very abstract with lots of unexplained stories and features that looked like they hadn't yet been finished, but we got the gist of it!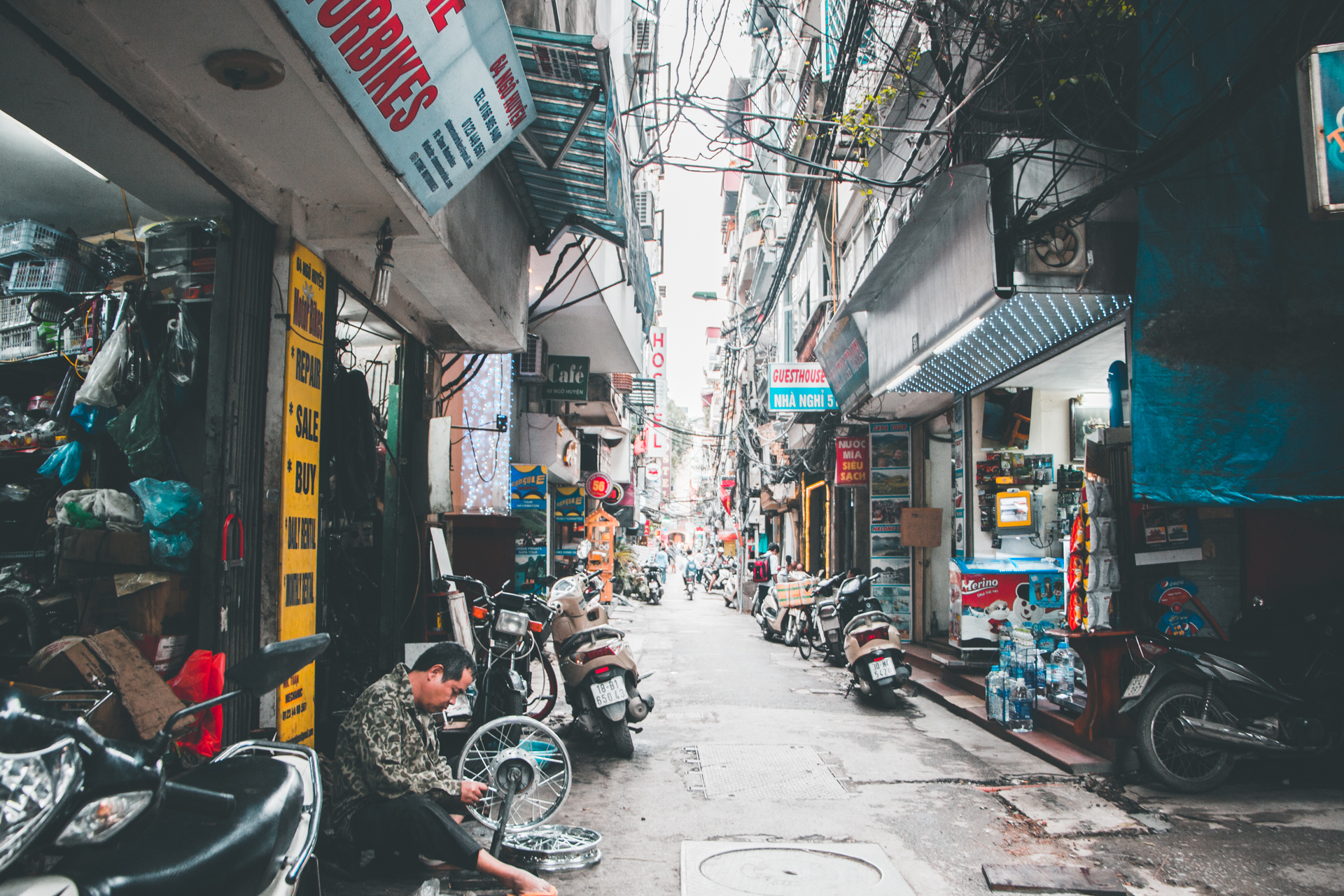 Altogether we stayed in Hanoi for 4 nights, but broken up with a few tours – the first of which was Sapa.
Sapa
From Hanoi we took a 7 hour bus trip to Sapa beginning a 2 night homestay and tour.
The first night we stayed in a pretty horrible hotel (Auberge Hotel), we were on the top floor and it had no heating and very little insulation. There was a bath, but as we began to run it brown water spluttered out and that didn't seem very inviting – we didn't choose this hotel, it was just part of the package. We've stayed in worse hostels so it didn't bother us, we had a bed and a roof over our heads. After a few hours hiking and exploring Cat Cat Village with its waterfalls we hit the hay.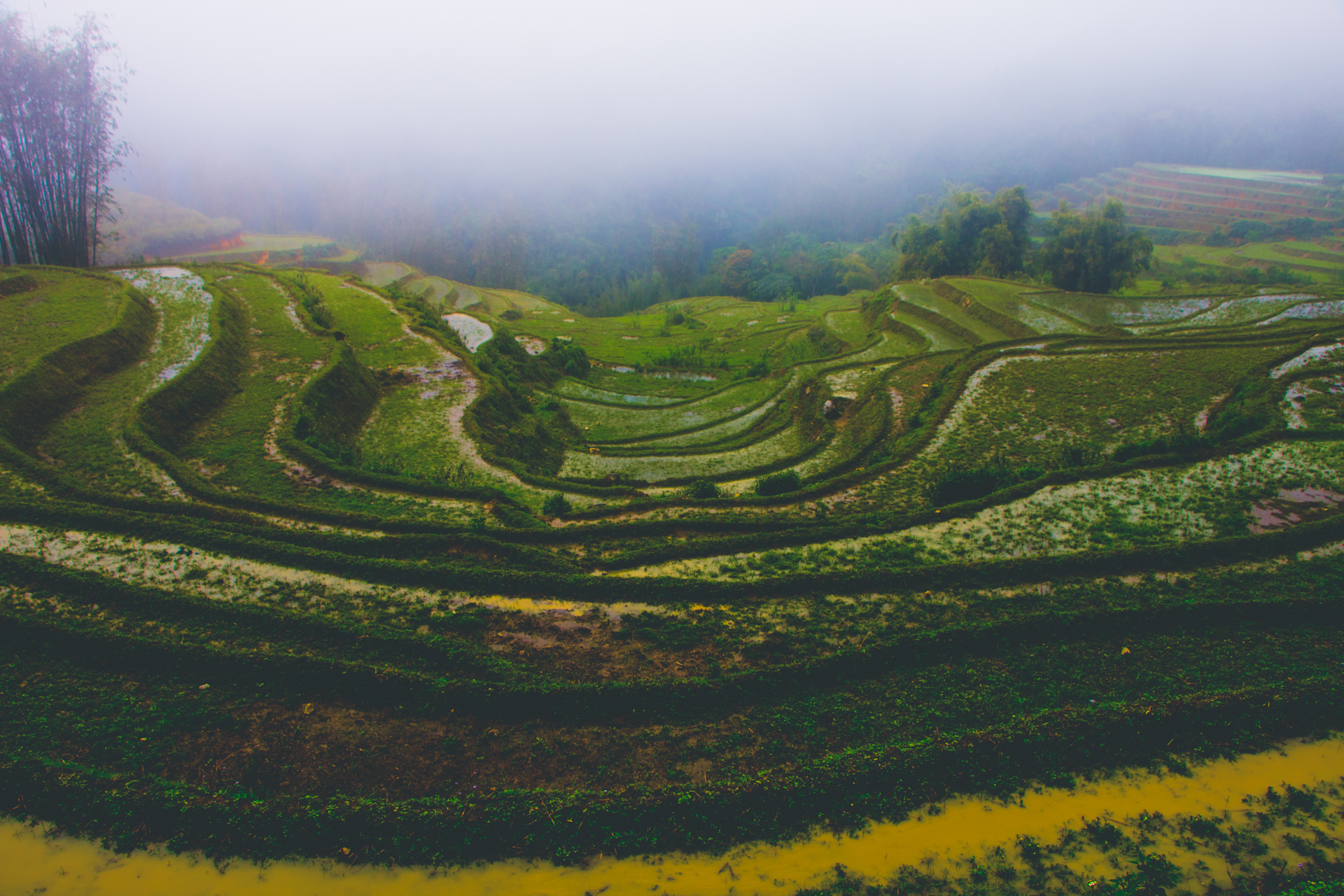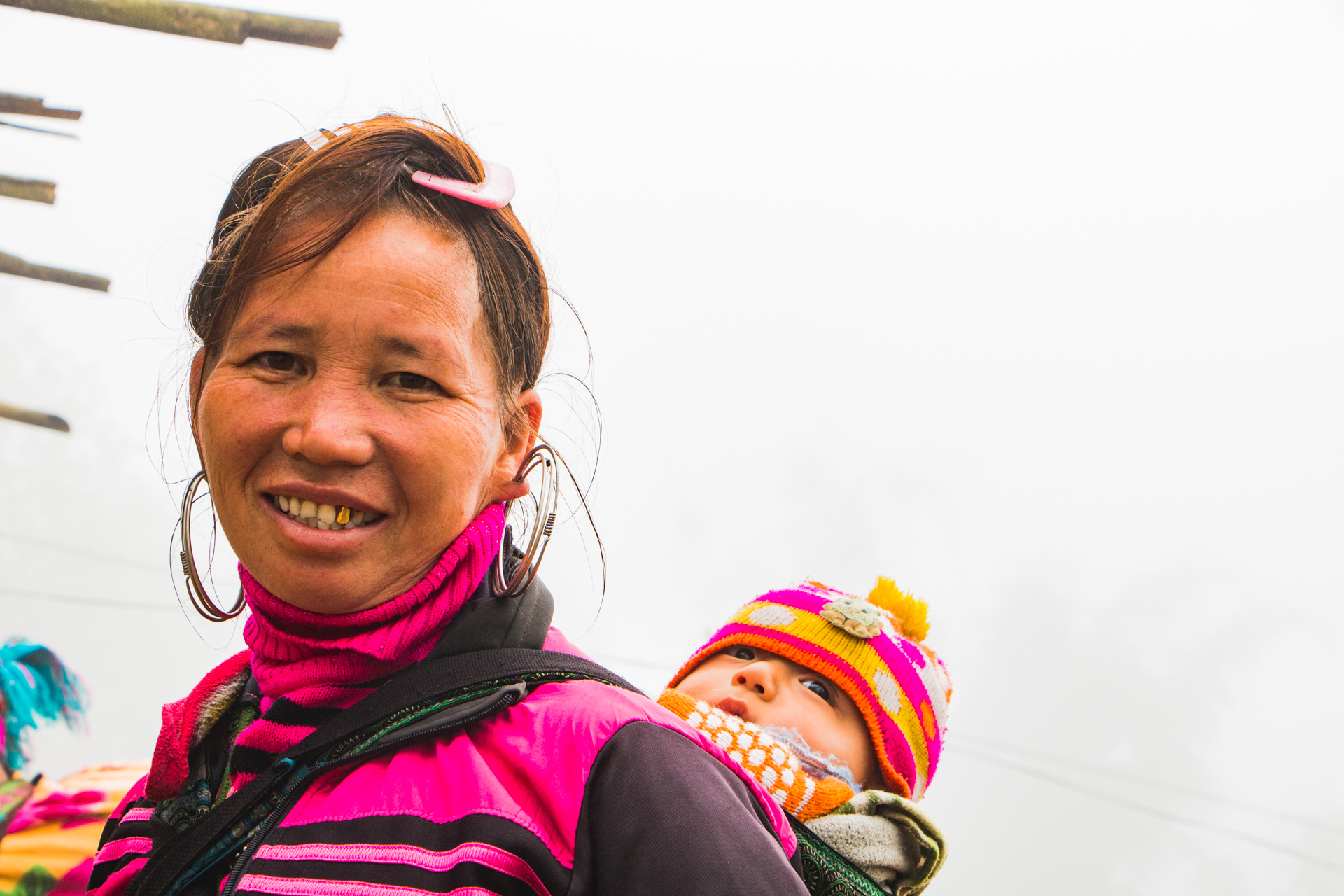 The next morning was an early wake up as we began our 8 hour trek through rice fields, down, up, down up and back up and down many valleys until we eventually reached our homestay hosts for the evening. Their little house perched on the side of a rice field valley had incredible views.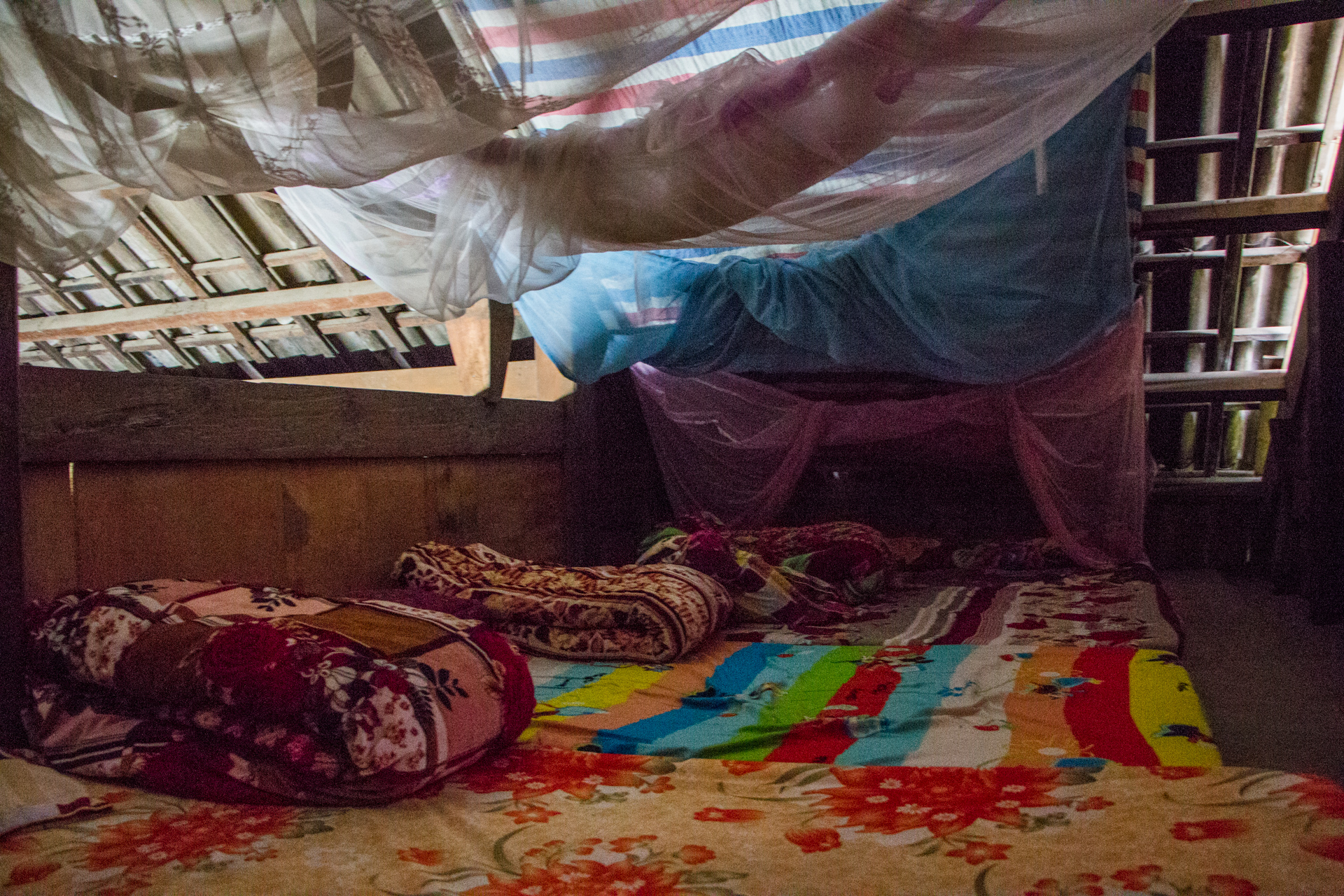 It wasn't luxurious (and we didn't expect or want it to be), but just painting the picture: it had solid mud floors, a hand built wooden structure with a small upper floor area on which there were several thin mattresses with mosquito nets – this was our home for the night.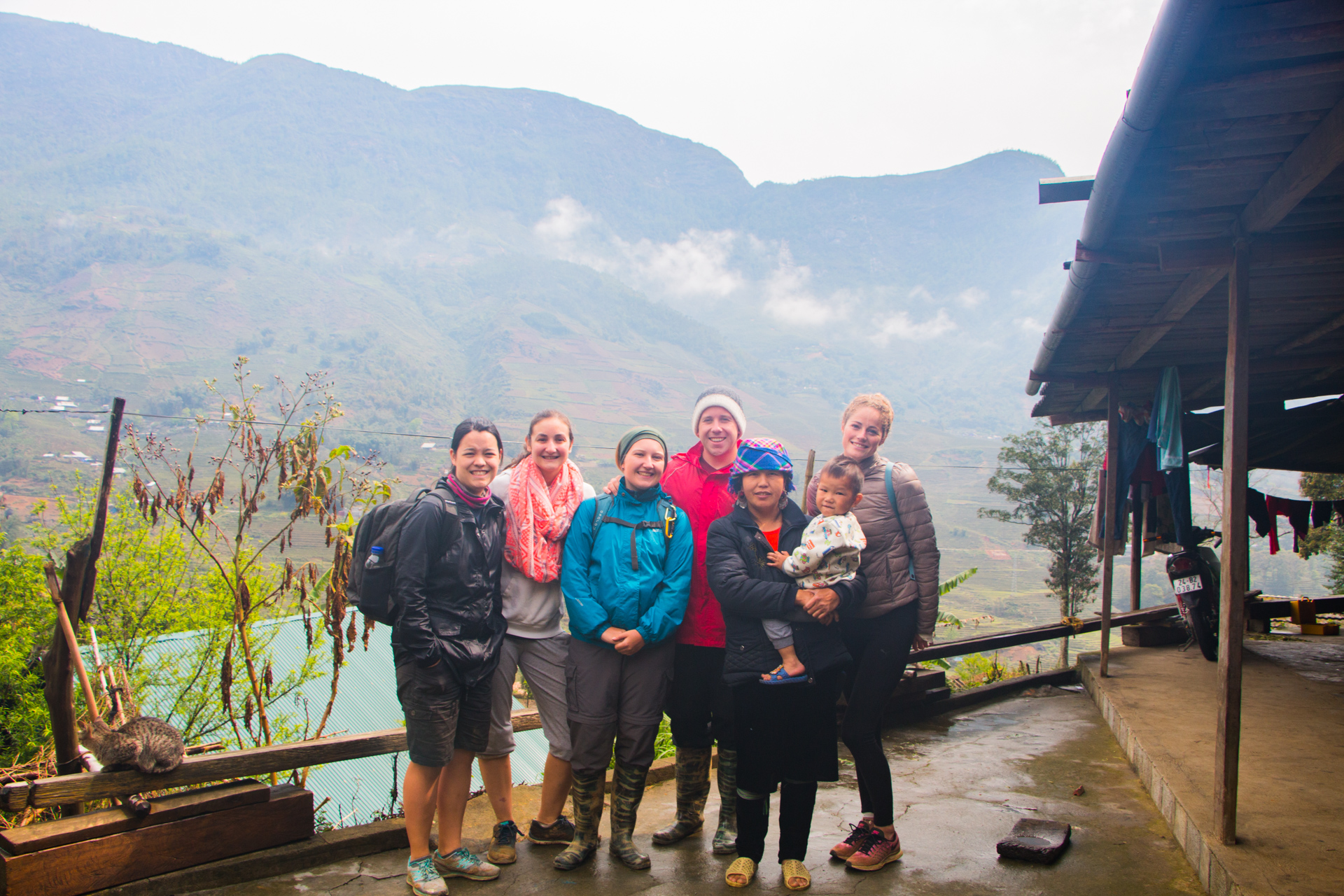 The hosts didn't speak English but as always we managed just fine with some basic smiles and hand gestures. Life here truly is simple, they had 4 children; the youngest of which was playing with his toys, without exaggeration; a box of rocks.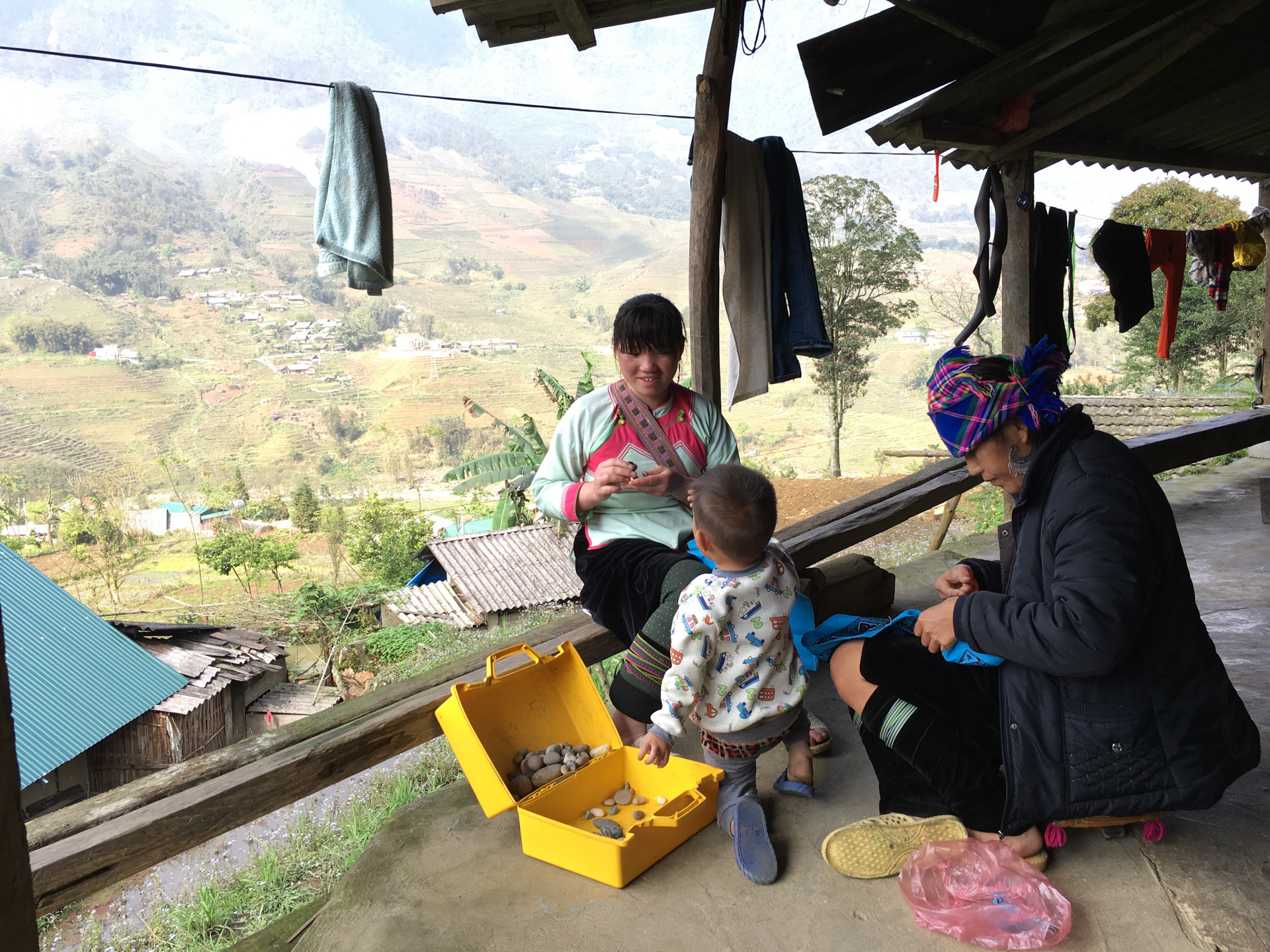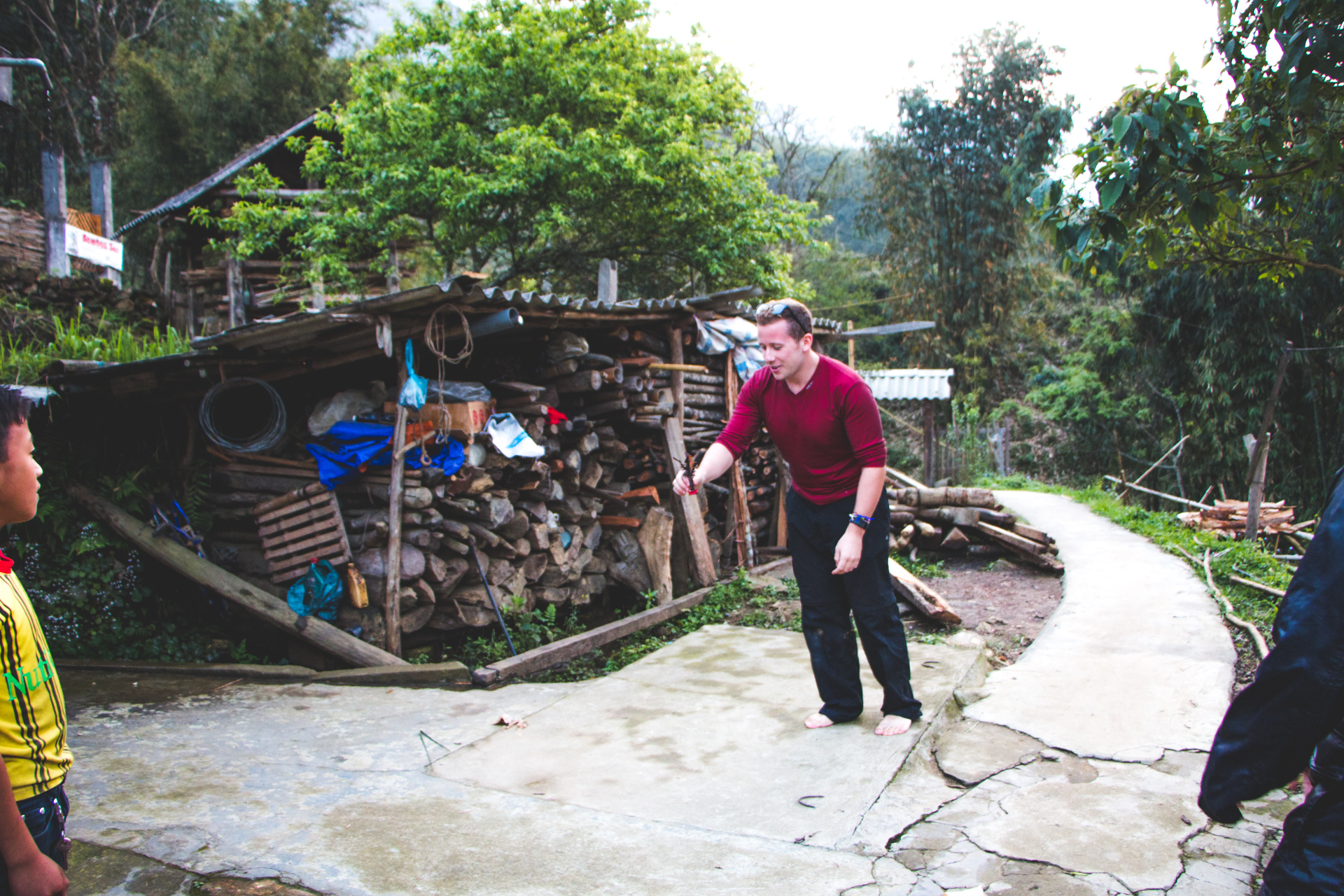 We then spent an hour or so playing the common game of Da Cau (translates literally to "kick shuttlecock") which is what all children in Vietnam especially in rural areas play with for leisure.
Our hosts provided us with dinner, a lovely homemade mix of rice, curries, potatoes and more. Bellies full we spent the rest of the night playing card games with the other 3 girls that were with us.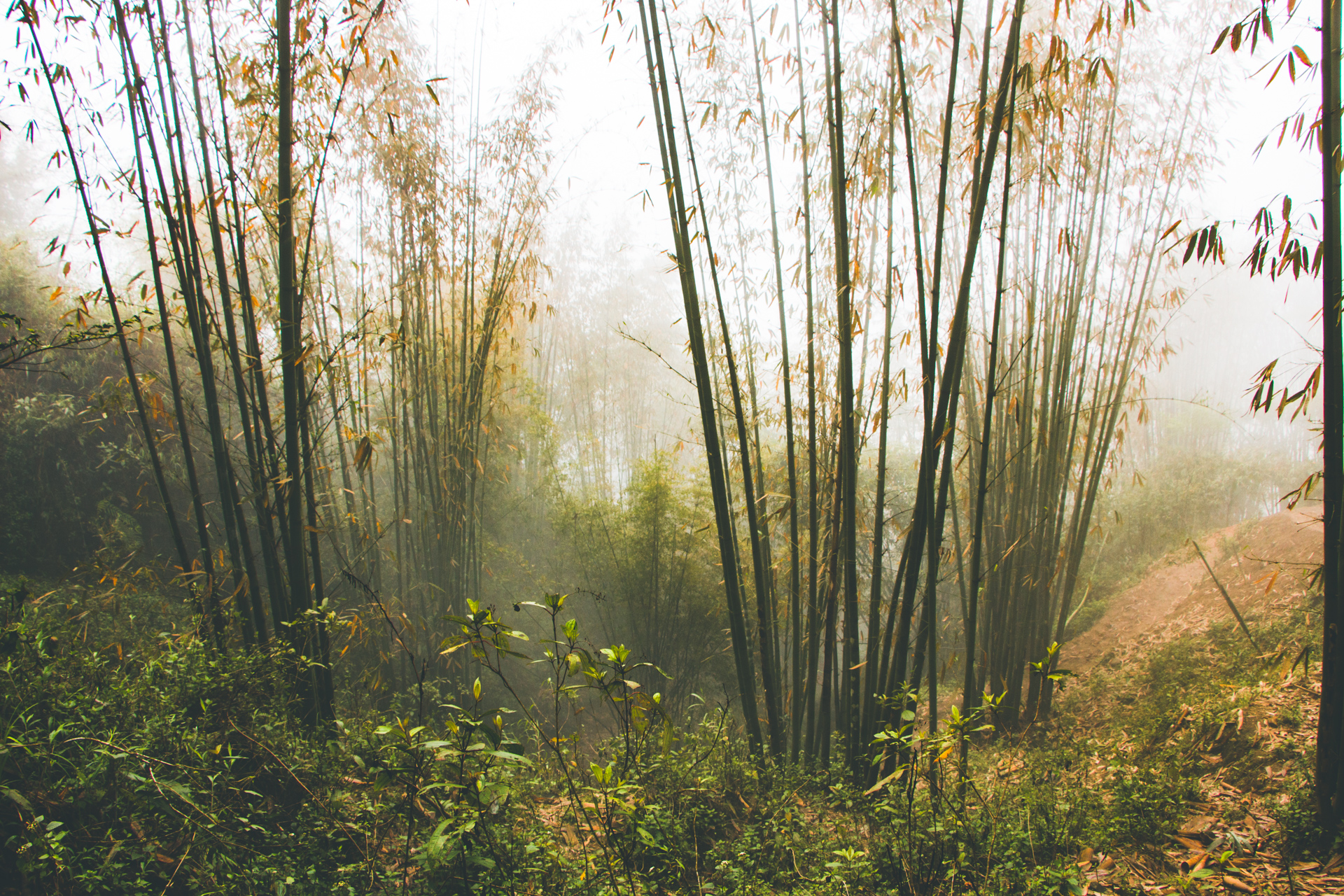 The next morning it was raining but we decided to do the harder walk when given the choice by our tour guide – proceeding through yet more rice fields we eventually got to the bamboo forest. It was awesome walking through the 20+ foot tall bamboos for as far as you could see, truly felt like a scene from Lord of the Rings or something else mystical.
Eventually reaching daylight again we came to a waterfall cascading down some very slippery rocks. Here I decided to jump across it to explore, only a few moments later our tour guide and Alis were giving me disapproving looks, I went back to them and apparently Alis was worried about me… turns out some tourists had slipped down the waterfall and died not too long ago.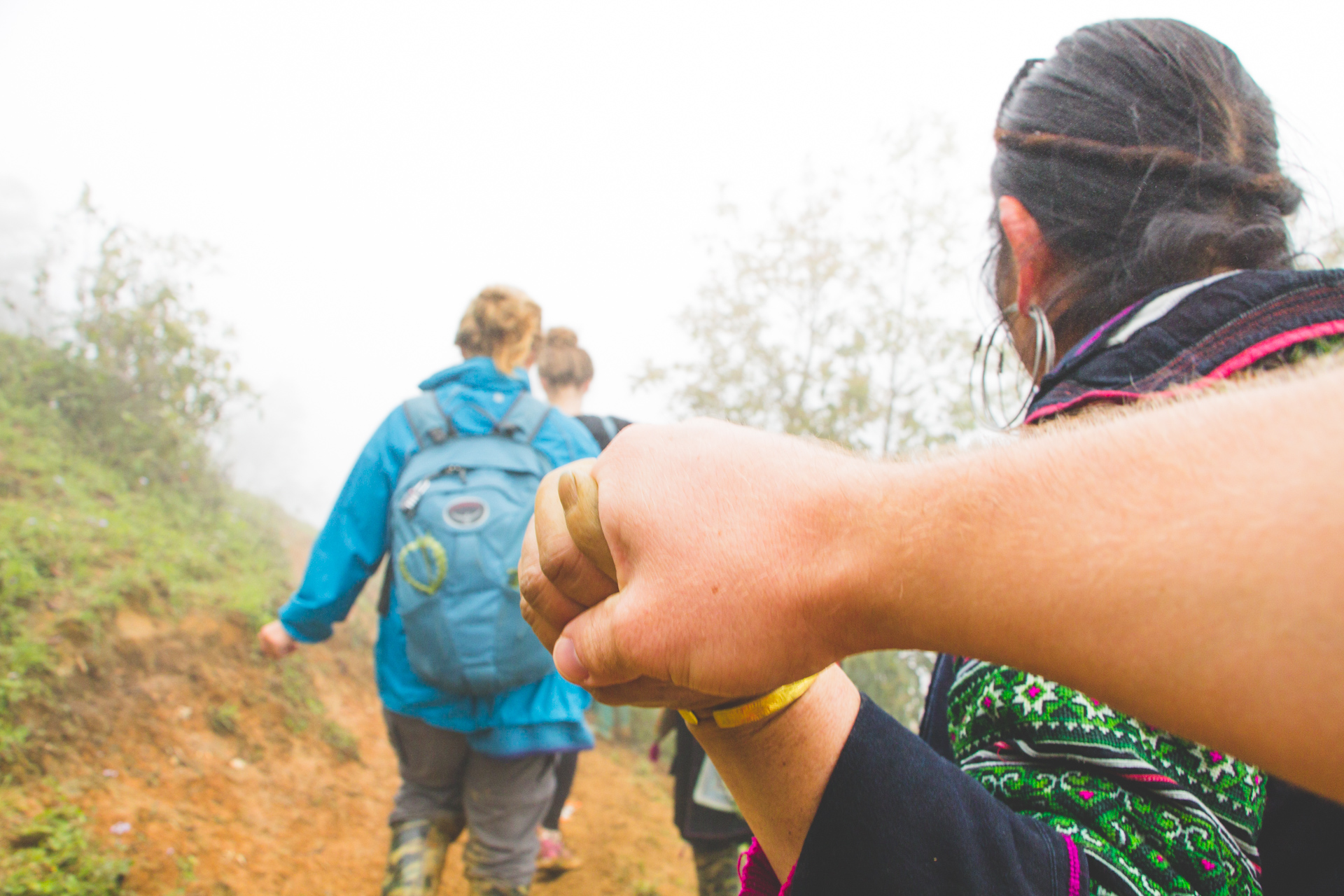 We carried on through more rice fields and finally getting to our bus to take us to the hotel, picking up our bags before getting the 7 hour bus back to Hanoi.
Halong Bay
Arriving back into Hanoi at nearly 11pm from Sapa we checked into our new hotel for the night (Friends Inn and Travel) and slept for about 6 hours with a wake up call at 6am to get on the bus for 4 hours towards Halong Bay.
The journey was pretty relaxing and by crazy coincidence one of the girls we did the Sapa tour with was on the seat next to us on the bus. (We've ran into some quite crazy coincidences whilst travelling, meeting people you met months ago in a completely different country!) Of all the many buses everyday and many different tour companies to be sat next to us must have been quite a small chance of likelihood.
We boarded the boat and got shown our room – a nice wooden cabin with a lovely big window for us to gaze at Halong Bay. First on the itinerary was lunch! A nice spread of food, we then set off and went Kayaking around Halong Bay and ended up in a beautiful area surrounded by the sheer faced limestone karsts.
We spent the rest of the day cruising around Halong bay before we anchored for the night with a fantastic mystical surrounding of the misty seas and limestones rocks strutting out of the water.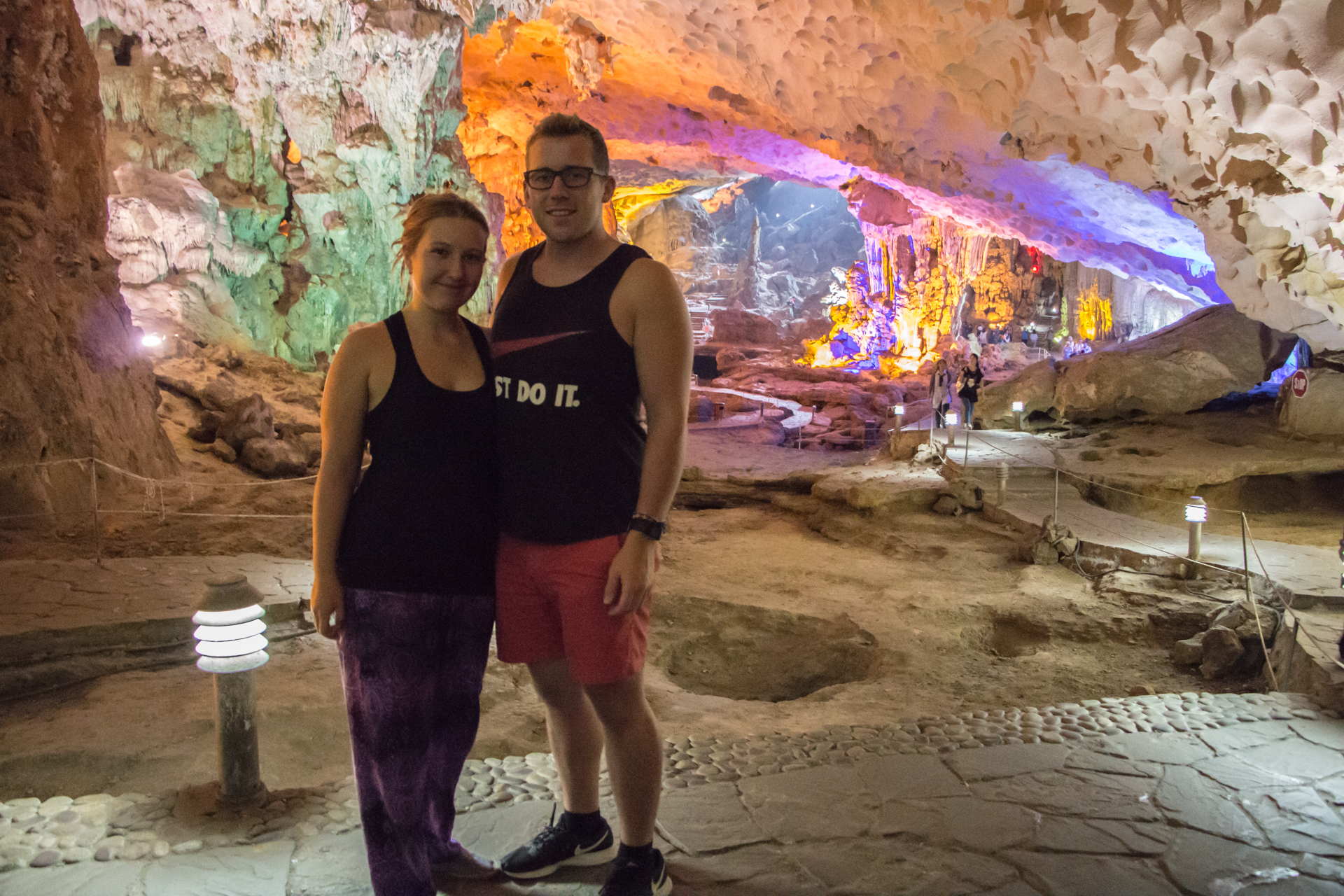 Day 2 aboard the boat was a visit to the Dau Go Cave and Sung Sot Caves. The caves were really well lit by spotlights and some with coloured filters giving it a quite an interesting lighting effect, illuminating all of the rock structures and stalactites/mites.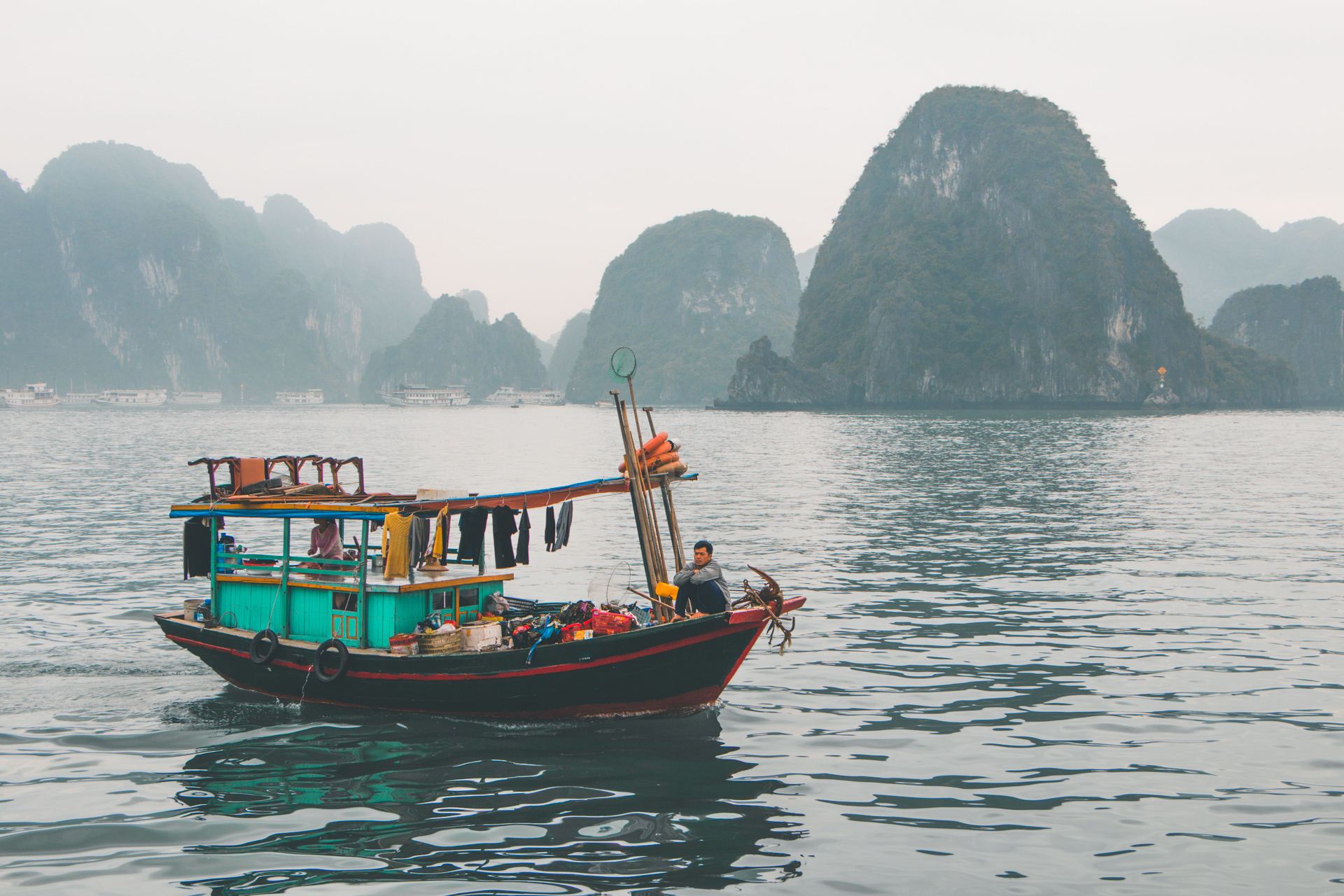 After some more cruising around we headed back towards mainland and got the bus once again to Hanoi, where we sat for an hour waiting for our overnight bus to Hue.
Hue
The sleeper bus brought us into Hue at around 6am, dreary eyed we stumbled off the bus with the typical headache of having to try and haggle a taxi and explain our destination. I checked my phone and we were only a 2 minute walk from our hotel (Than Thien – Friendly Hotel), perfect! We had to wait about an hour until our room was ready, which was expected, most check-ins aren't normally until around 2pm. We got into our room, had a quick relax and then headed into the Old Town and Hue Imperial Citadel area.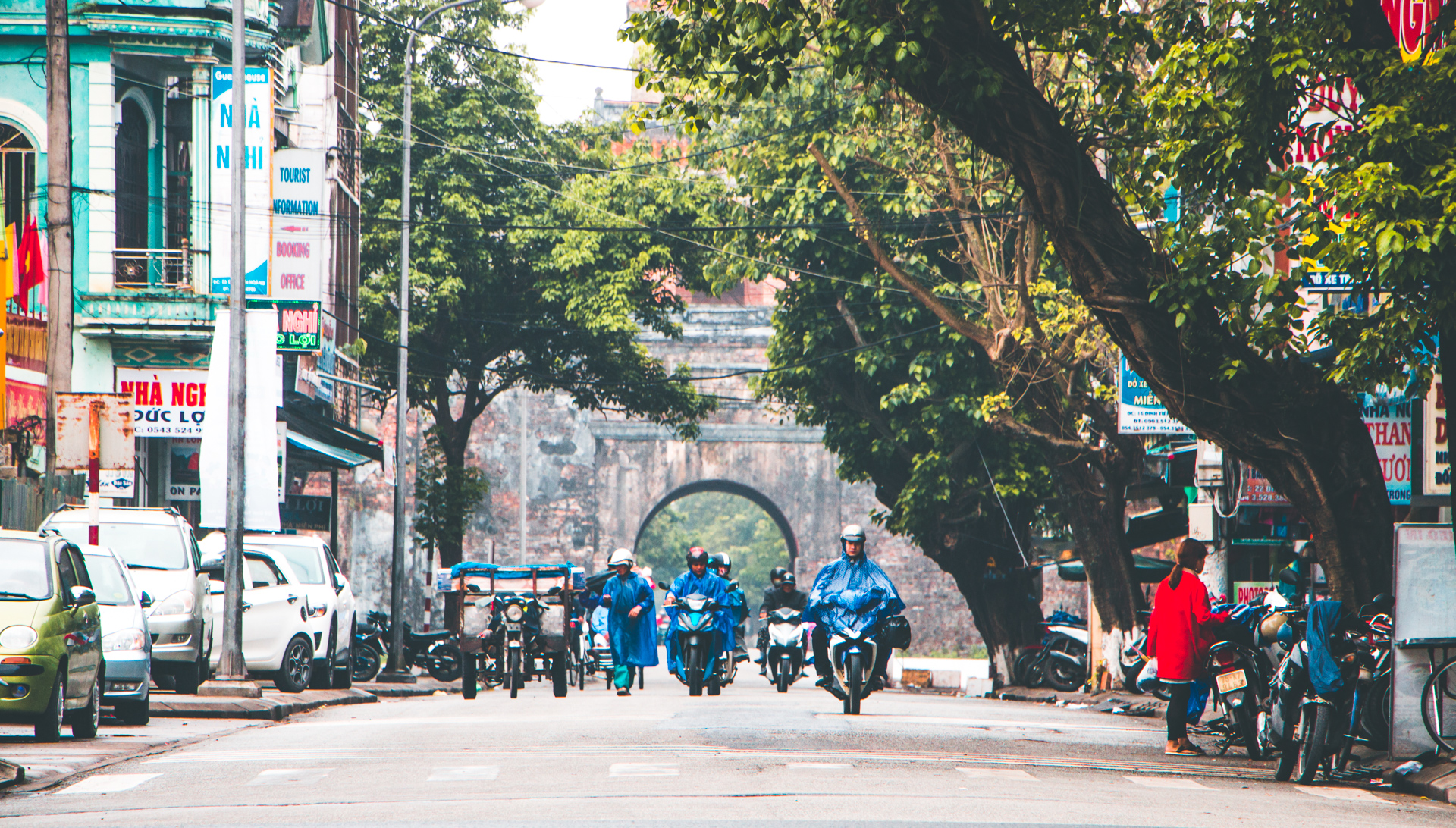 It was a brilliant complex of many temples, buildings and now has a few museums too. The design of the buildings was very interesting to witness, dating back to the 1300's, and the reds of the corridors are truly vibrant!
We spent a few days and nights exploring Hue, going to the cinema and visiting temples before we got another bus to continue our adventures in the Southern Areas of Vietnam.
---