Fun in Florianópolis
Imagine yourself on a white sandy beach and blue ocean… Okay got it? That is Florianópolis, or Floripa for short. After a six hour bus journey from Curitiba we arrived at our next destination. Arriving to a full house, our AirB&B hosts Karen and Phillip just had their first child only three days prior our arrival. The house had grandparents from each side and dogs (which were super cute). Everyone was lovely. The baby didn't even make a sound the whole time we were there. As the house was buzzing we decided to walk down to the main beach called Campeche Beach. It was a good 20min walk but worth it, the sand was white and the softest I've ever felt. It was obviously a surfing beach. We chilled here for a bit then walked back via the supermarket and bought instant noodles and a bag of peas because that is all that we could afford as we only brought a R$20 note with us in our pocket –  that doesn't get you much! We cooked the noodles and Alex couldn't find a colander so ended up pouring most of the peas down the drain which was rather tragic!
Breakfast was a treat – Karen and Phillip are Vegetarians so no ham and cheese for a welcome change:D. We even had vegan chocolate cake which is now my fave, homemade rosemary tea, freshly squeezed orange juice, peanut butter with oats, papaya and banana — an odd but delicious combo. I'll definitely be eating/making that back in the UK. After the nicest breakfast yet Karen suggested that we go down to Lagoa da Conceicao. We caught a bus and here in Floripa they all stop off at central terminals where you can catch connecting buses without buying any further tickets which made life so much easier.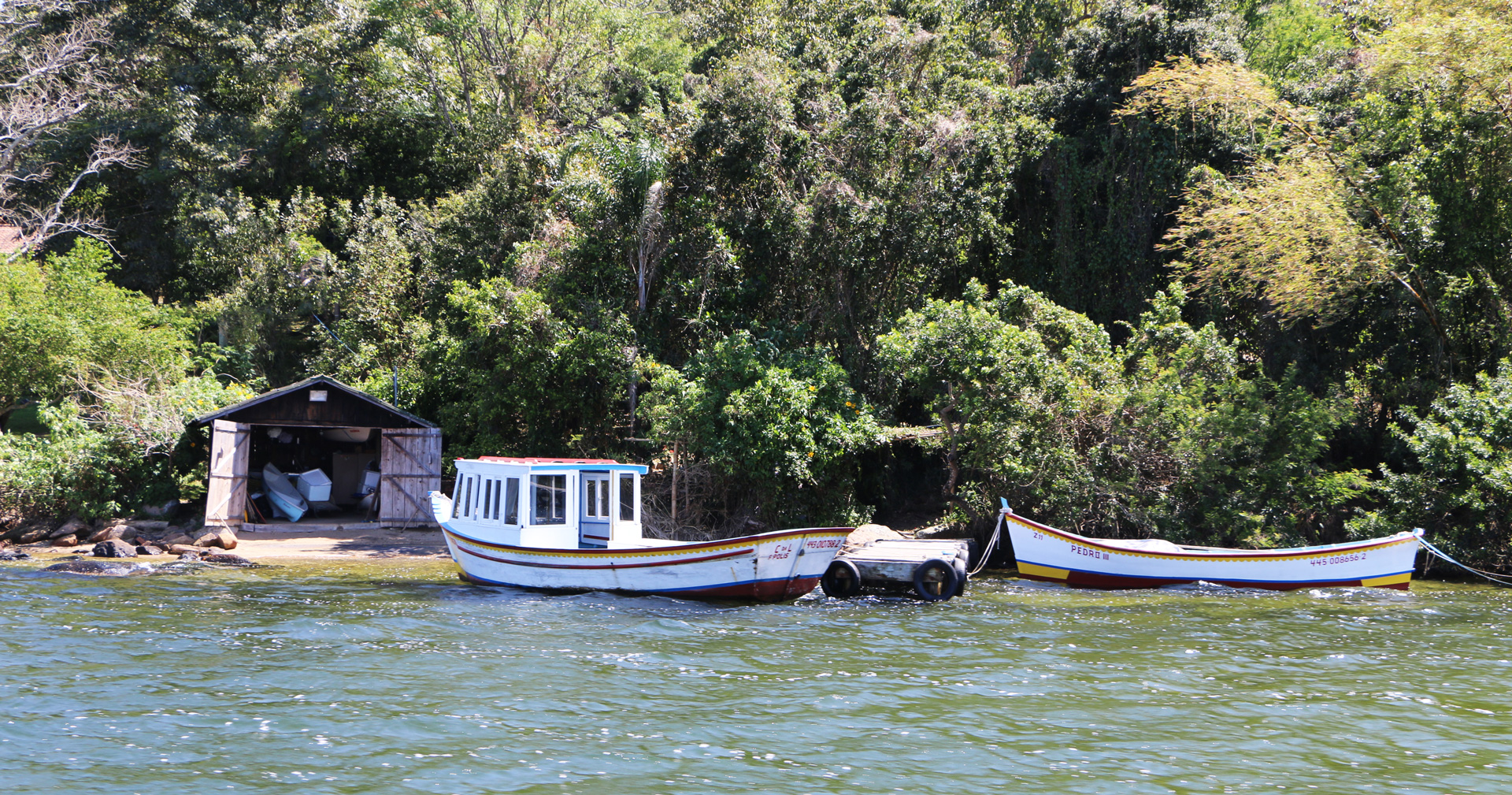 The Lagoa was huge. We walked around for a bit and then caught a water taxi to a village that you can't get to by road and has zero cars. On the boat we met Chelsea — a lovely American lady who told us interesting facts about Brazil. We bonded over Disney as you do, so we tagged along with her when we got to the village.
When we got there we walked to a beautiful waterfall, we climbed up later realising the sign that said do not climb (oops). We walked back down to the sea front and came across some ladies who were selling these delicious sweets like macaroons (made from coconut) but more sticky, I bought a couple because they were so good and then had dinner by the sea.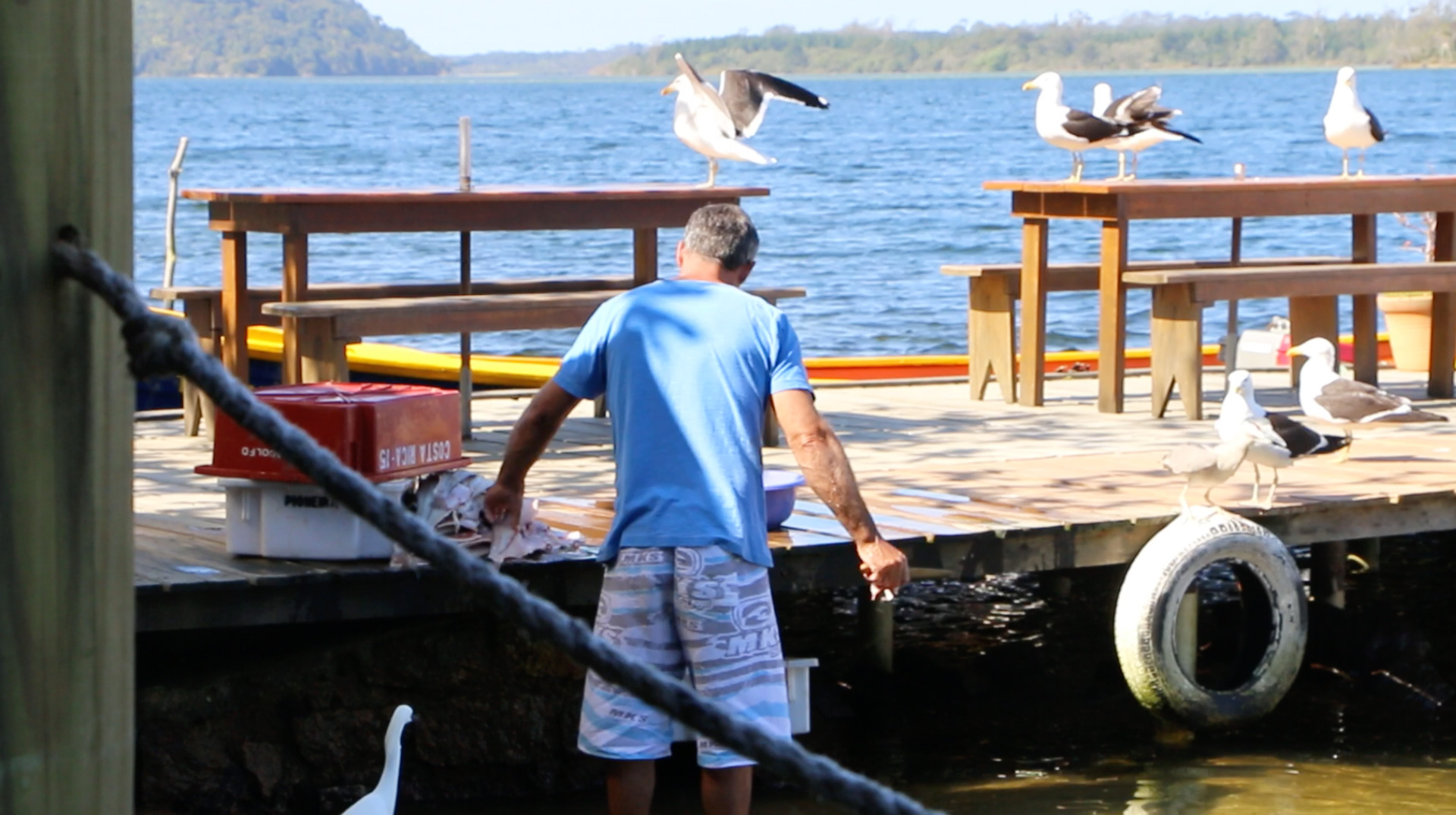 We knew it was definitely fresh as one of the workers was gutting a big load of fish on the pontoon that had just been brought in by boat.
We had a sharing platter that mainly consisted of shrimp! I ain't complaining though, they're my favourite! The meal was so huge that we left some of it behind, however Alex later admitted to me that while Chelsea and I were paying and our backs were turned he went back and helped himself to most of the leftover food.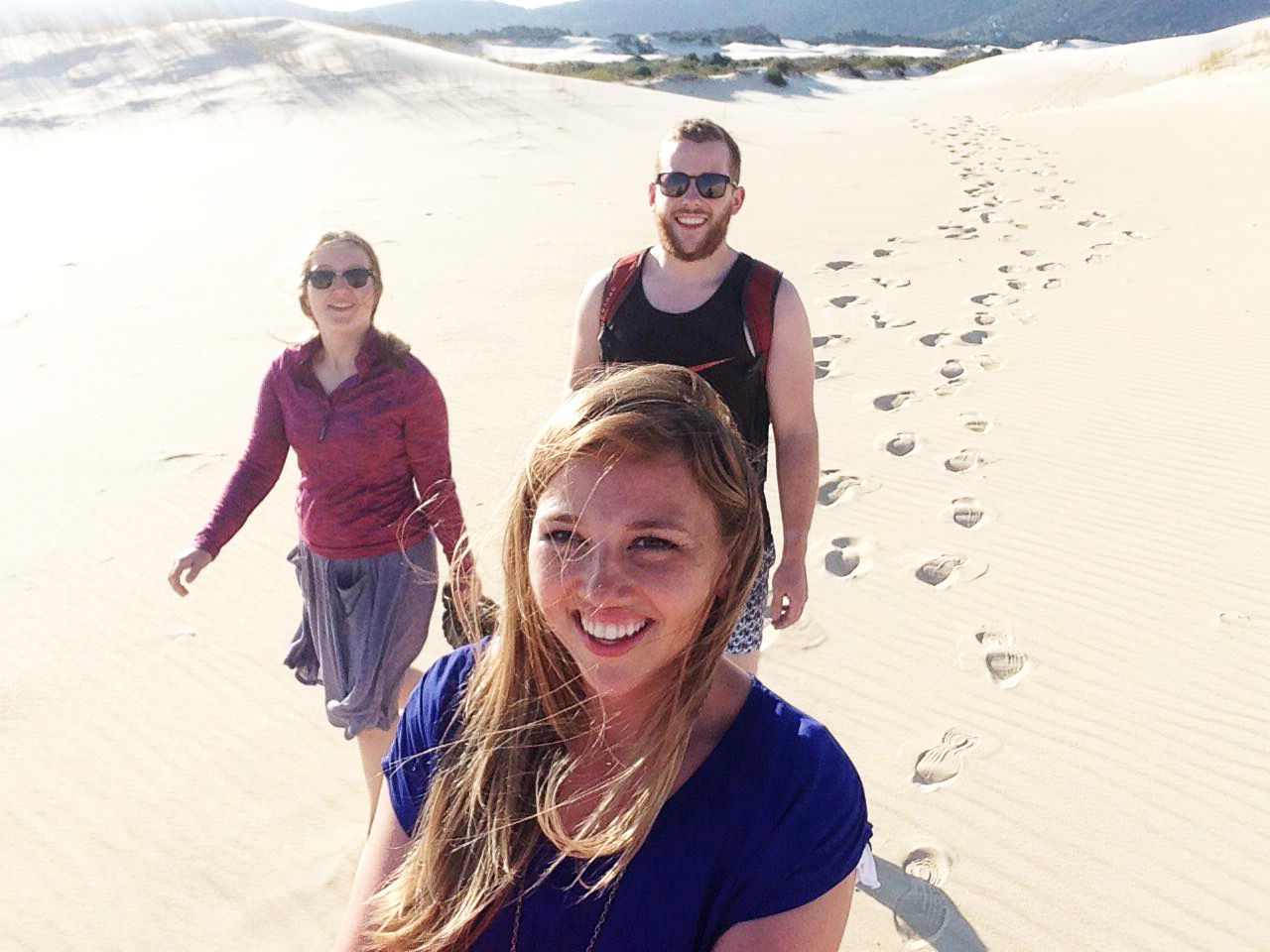 After the boat trip to the mainland Chelsea told us that there are some sand-dunes that you can walk along to find a beautiful beach which we were eager to see, so we followed her across what I can only describe as a desert for an hour I think. We did see owls and a turtle though, wildlife is cool!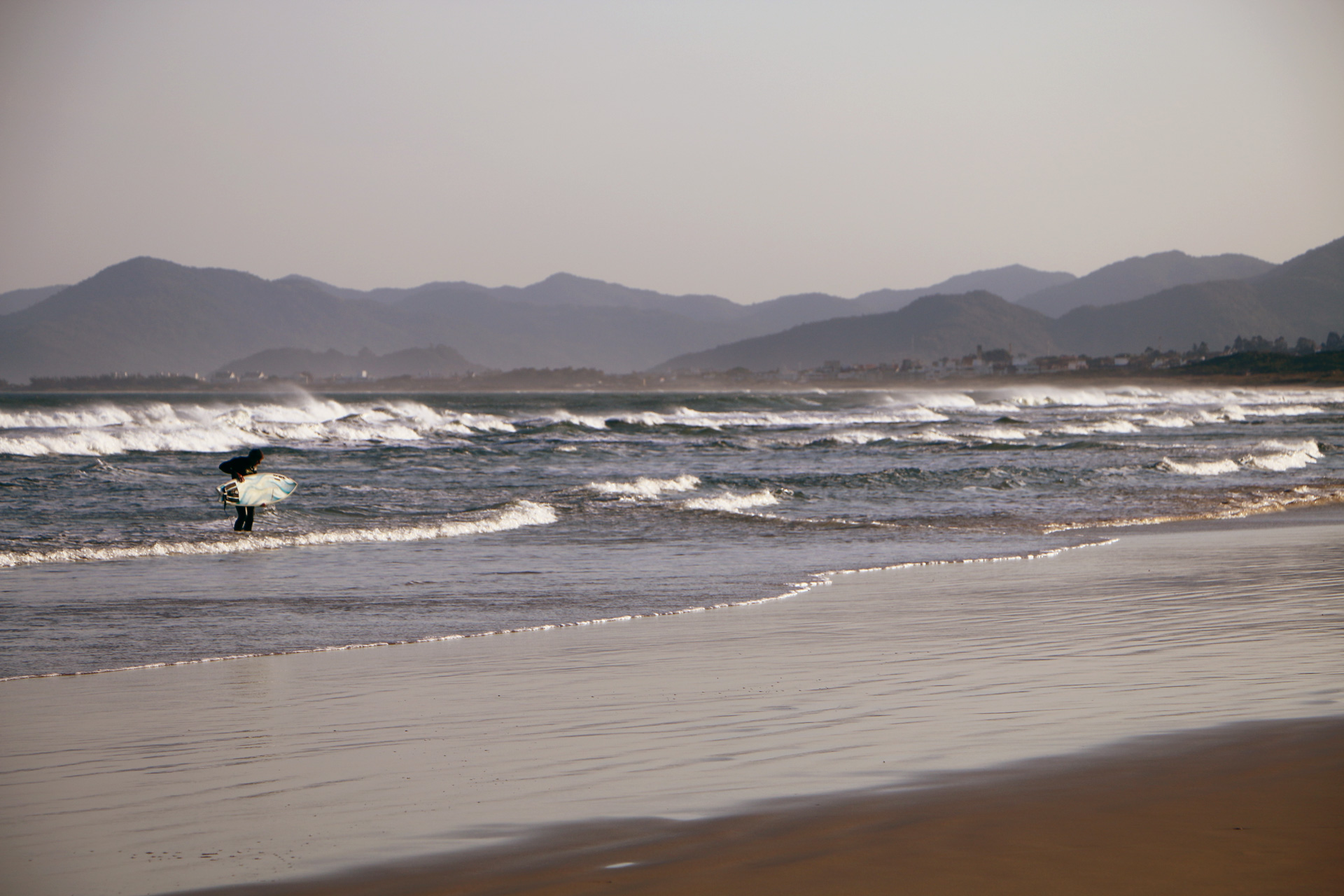 When we eventually got to the beach which is locally known as the beautiful beach, Praia Joaquina, where beautiful people go (we felt a bit out of place!). I was very thirsty but I think it was in my head because there was so much sand around. We stayed there until sunset and caught a bus back after exchanging contact details with Chelsea. We were still quite full from the huge shrimp lunch so we just went to the supermarket and bought some snacks (crisps and Oreo chocolate/wafer bars.. I've never seen them before but they were delicious!).
The next day we agreed to meet with Chelsea in the afternoon, so in the morning we decided to go the Centro district of Floripa, we walked around the shops which reminded me of Wrexham in the 90's and came across a museum of art, although I have no idea what it was about as it was all in Portuguese.
The best bit however was when we went upstairs in this museum and we got told off for not wearing "shoes"… the lady told us we had to wear special duster shoes that basically seemed like they were getting a free floor polishing service, highlight of the day was sliding around in these bad boys! We then walked around the local markets and had a local Brazilian drink called Caldo de Cana, it's really refreshing, but quite a sweet drink made from sugar cane — sooo nice when served ice cold! Our walk continued us to more markets, this time a huge building full of fish mongers, it was a beautiful building that reminded us of Paraty. At 1:30pm we met with Chelsea and one of her friends. The bus journey to the south of the island took over 1 hour, through some of the bumpiest roads I've known, they were made of hexagon tiles, it was like driving over a flowing bumpy honey bee hive.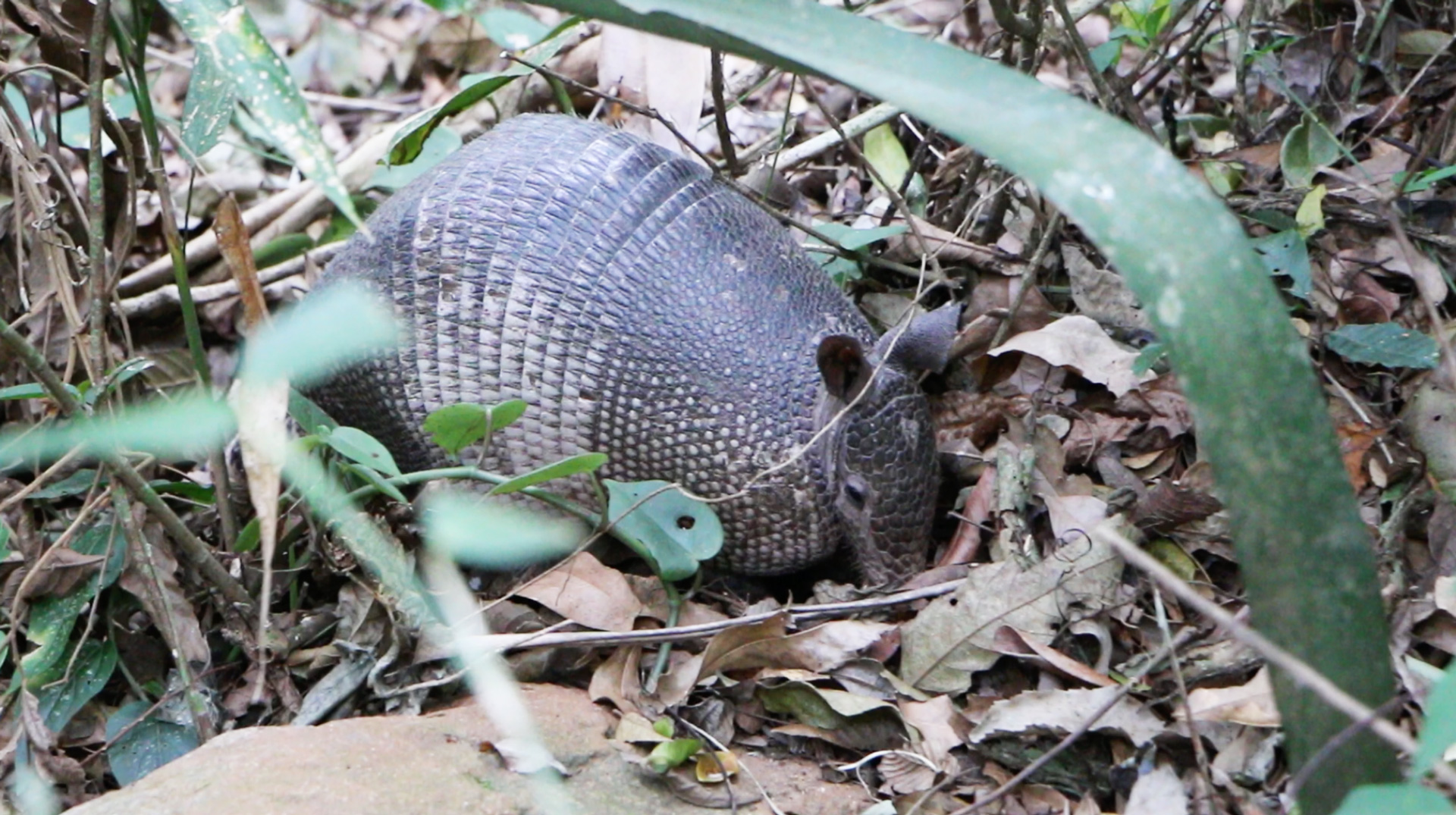 Once our bus finally arrived, we walked for 1 or more hours through a rainforest/trail, we saw our first ever wild armadillo and even some monkeys.. it was fudging awesome! The beach was a little disappointing compared to Campeche, but it was the most southernly point of Florianópolis and the hike was really fun… It's also apparently possible to see some whales here if you're lucky, we didn't this time :(. We hiked back through the rainforest again, lots of uphill and it the Sun had began to set so it was getting dark and weirdly more humid, it was intense. Eventually arriving back on the bus to the terminal we said a quick farewell to Chelsea who was going back to Texas. That night we had a ridiculously pickely pizza from the supermarket, it didn't even have any tomato sauce on it!
Our final day we had our last breakfast with Karen and Philipe, we began talking about how we're listening to Harry Potter audiobooks on our bus journies, and discovered that Karen learnt to speak English by watching Harry Potter and "Friends", we talked for so long about Harry Potter and life in general that Karen was nearly late for her appointment – whoops! We then only had a few hours left before we needed to leave for our bus journey to Foz do Iguacu, so we just chilled on Campeche beach all afternoon.. Alex got severely sunburnt – silly moose! We had a quick lunch from the seaside restaurant of a shrimp pastie and polenta chips with cheese: Alex had never had polenta before – they were yummy!
---