Lazing around in Asuncion
We arrived to Asuncion on the around 7am on the 5th of October after a night bus from Foz do Iguacu and caught a taxi to our Airbnb.. this taxi didn't have a meter! — So we just hoped we had enough cash on us, Alex got the bags out of the car and we got out of the taxi before negotiating the price, as is best practice – if you disagree with a price whilst your bags are still in the taxi they can just drive off with bargaining power!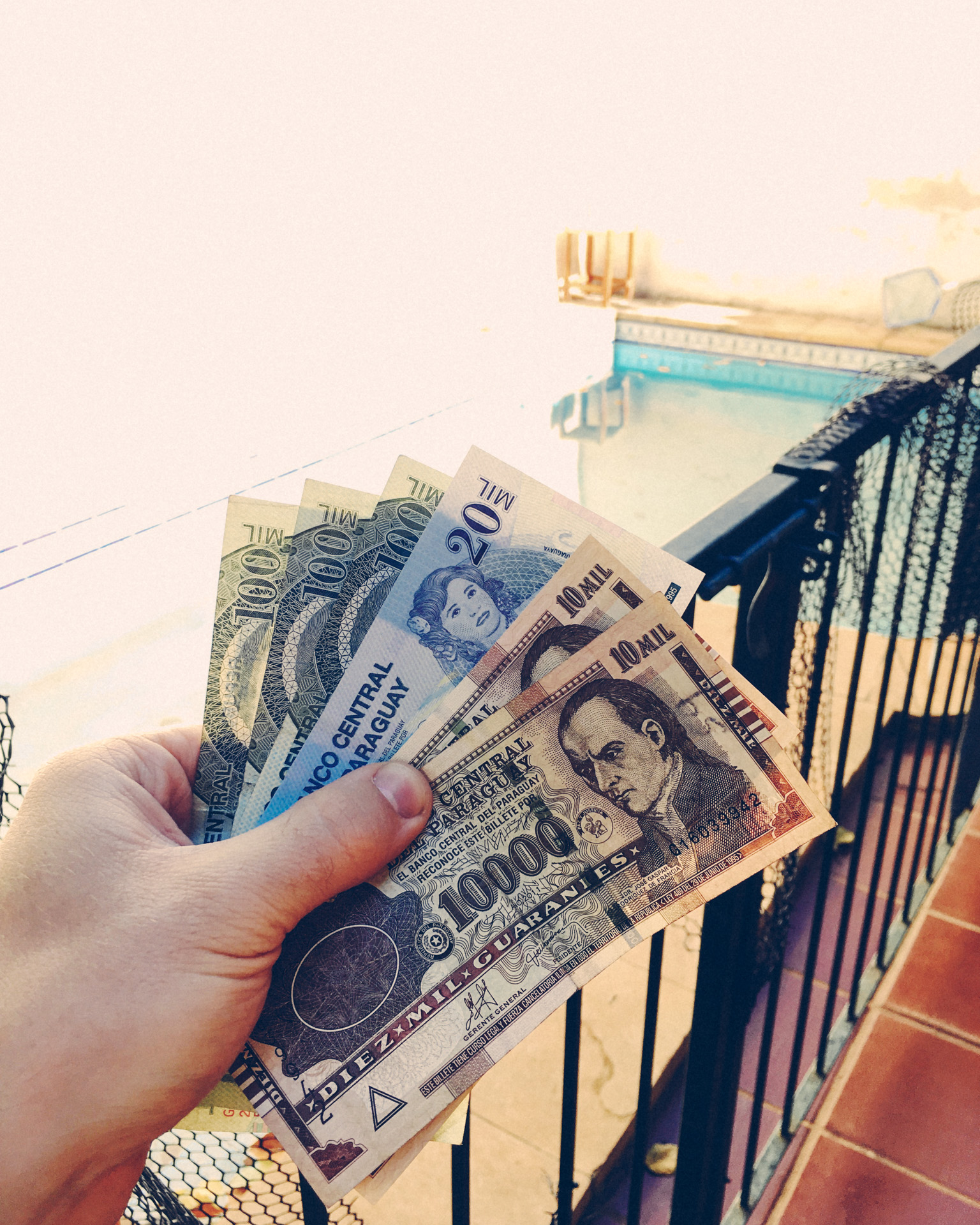 The change in currency from $Real to $Guarani was pretty confusing, there are 6,890 guaranis to the pound, where as the Brazilian Real was $4 to the pound, so that was simply a case of dividing all prices by 1/4. Guaranis now involved dividing by 7 and moving the decimal place – but we got used to it after half a day or so!
We waited outside our Airbnb's house for about 20 minutes, we knocked, banged and knocked again, all the while the dogs in the garden were barking like mad – but couldn't get an answer, finally a guy showed up in his boxers and let us in. It was the Airbnb host's flatmate and he had forgotten we were arriving today apparently. After the night bus which we didn't get a great sleep on and 12 hours of bus travel we were getting cranky. We were shown to our dorm through this huge house — with a maze of rooms, mostly dark corridors and generally a sense of a unkemptness, it sort of felt like a horror movie set. We both went straight to sleep and slept until 3pm. For lunch we went around to the corner to a restaurant we had been recommended called "God's Pan". This restaurant was heavenly and bright compared to our apartment which seemed dark and dingy. I had a pizza sandwich which is a local cuisine, it was quite nice, but I nearly swallowed a cocktail stick that was randomly in it!
From God's Pan we took a walk to the park that was right next door, this was one of the nicest parks I've seen for a city, Alex loved the idea of it, there were so many locals cycling, running and enjoying the parks circular walk which had taps to fill up water bottles every couple of hundred metres and helpful signs to identify the local fauna as well as lots of security – we, as well as the locals had to show a form of ID before being allowed in to the park – we assume this helps avoid graffiti and drunks. We then headed to a supermarket… we just kept walking until we found one, which ended up taking at least 30 minutes!
We bought a mix of random food; Guavas (a South American fruit), brownie, biscuits and fruit. We headed back to our apartment and ate the food whilst watching Harry Potter – the Guava tasted okay; basically a mix of a lemon and watermelon.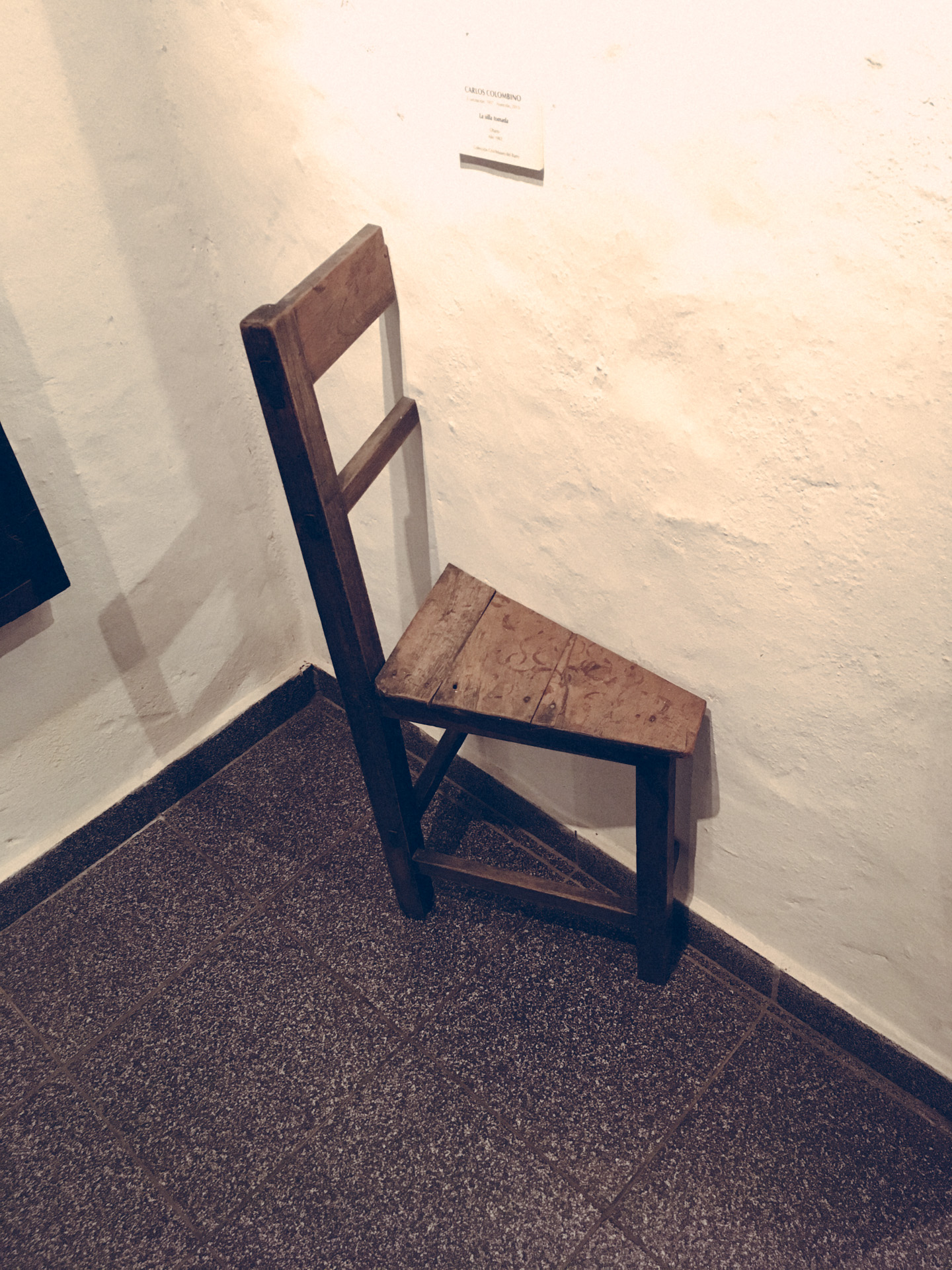 We woke fairly late the next morning and headed to a museum Trip Advisor recommended to us: "Museo del Barro" – a museum with 3 parts and focuses; pottery, indigenous art and a contemporary art collection. It was cool: there were all different types of sculptures and artworks, including  a cool tipi with indigenous drawings. We were just about to go further into the museum but the guy turned the lights off and told us that the museum was closing, so we just headed to the shop and bought a cool little clay tortoise and started walking around the city again!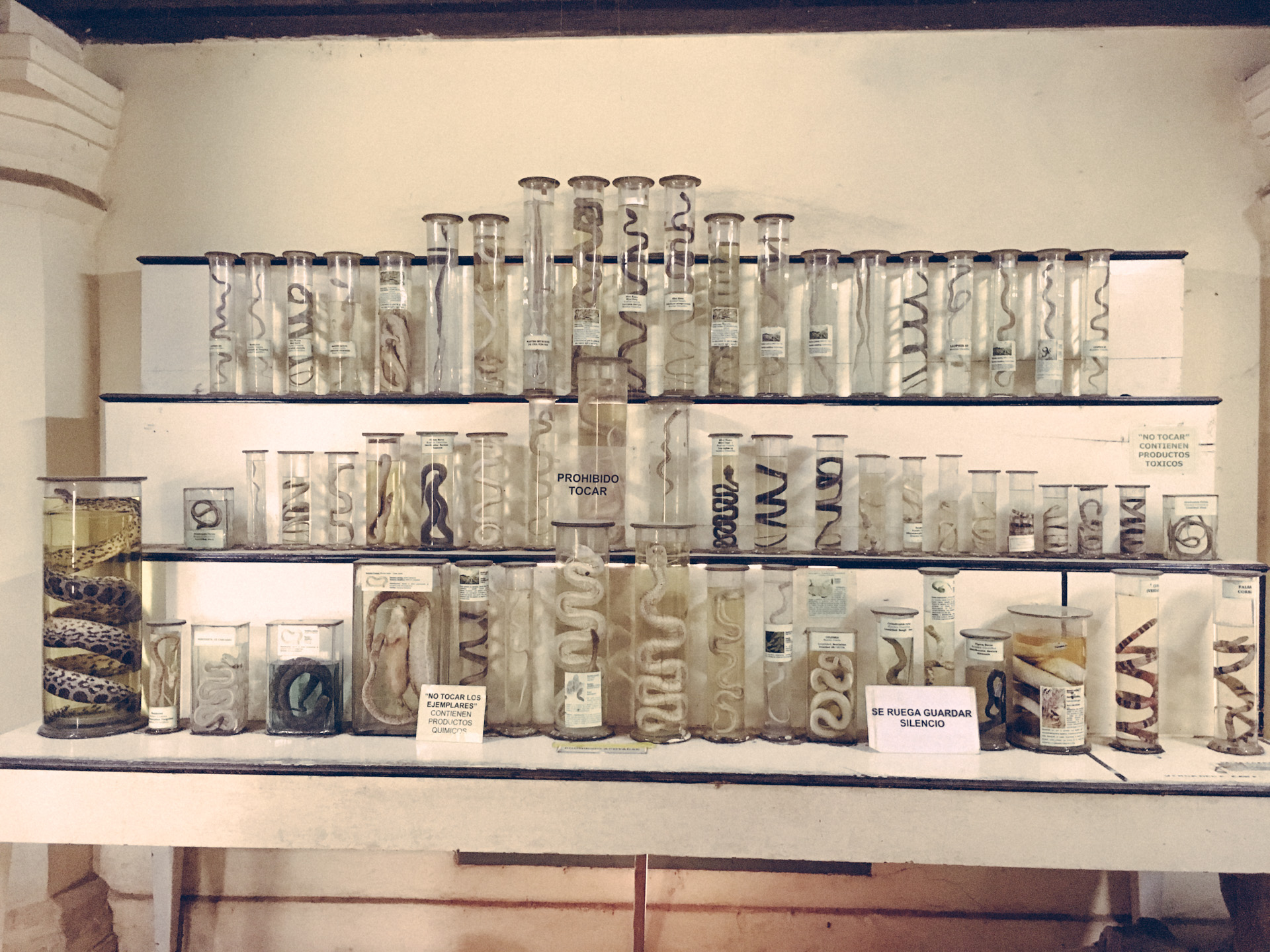 We had been walking for about 20 minutes towards the Botanical Gardens when Alex managed to flag down a taxi in a impulsive moment and then got to the Botanical Gardens within a few minutes. These Botanical Gardens were a bit lacklustre, there was a creepy museum that felt like it hadn't been touched, dusted or generally changed in over 50 years, but it was at least free – there were lots of pickled animals and signs that had faded beyond the point of recognition! Right next to this museum was the zoo, there was a small entrance fee, but we regret paying it. This zoo felt more like a private collection of some guys animals, in one pen there were ostriches, goats and chickens – I'm no zoologist but I'm fairly sure they're not natively living like that! – So much so that Alex didn't feel comfortable taking pictures of these animals so no photos sorry!
Fore-wording: from our travels in Encarnacion after this trip we've learnt that there are quite a few zoo's and private land owners that are slightly dodgy in Paraguay, apparently there are some unfair rules for land owners to give a certain amount of stock the government which isn't really naturally obtainable so the land owners buy animals from randomers to say they caught them on their land.
We left the zoo without really finishing it, it didn't have a great vibe and the paths weren't really clear – there was no obvious way that you were meant to walk, which made getting out actually kind of hard! Finally we were out and flagged down a taxi who had a real hard time understanding Alex's directions and address, multiple times Alex showed him the address on his iPhone, and then even a map with the location, the taxi driver then made a phone call and eventually got us to our apartment.
Lunch was now needed after a full day of walking and concentration so we headed the fresh/organic bakery just down the road from our local favourite God's Pan. We had a lovely fresh sandwich and then went to an organic shop across the road where we bought cheesecake, water and salad for the bus journey the next day. After getting back to our apartment we had another quick look around the place, this is when I discovered a gun just laying on the sofa, very creepy, but they're legal in Paraguay, so it's not a big deal there I suppose!
We were a bit worried how we would get to the bus station in the morning as Uber is not available in Asuncion and there are no taxi apps. Luckily we managed to speak to our Airbnb host (Renee) who happily agreed to phone us a taxi in the morning for 7am. From here, we headed to Encarnacion!
---